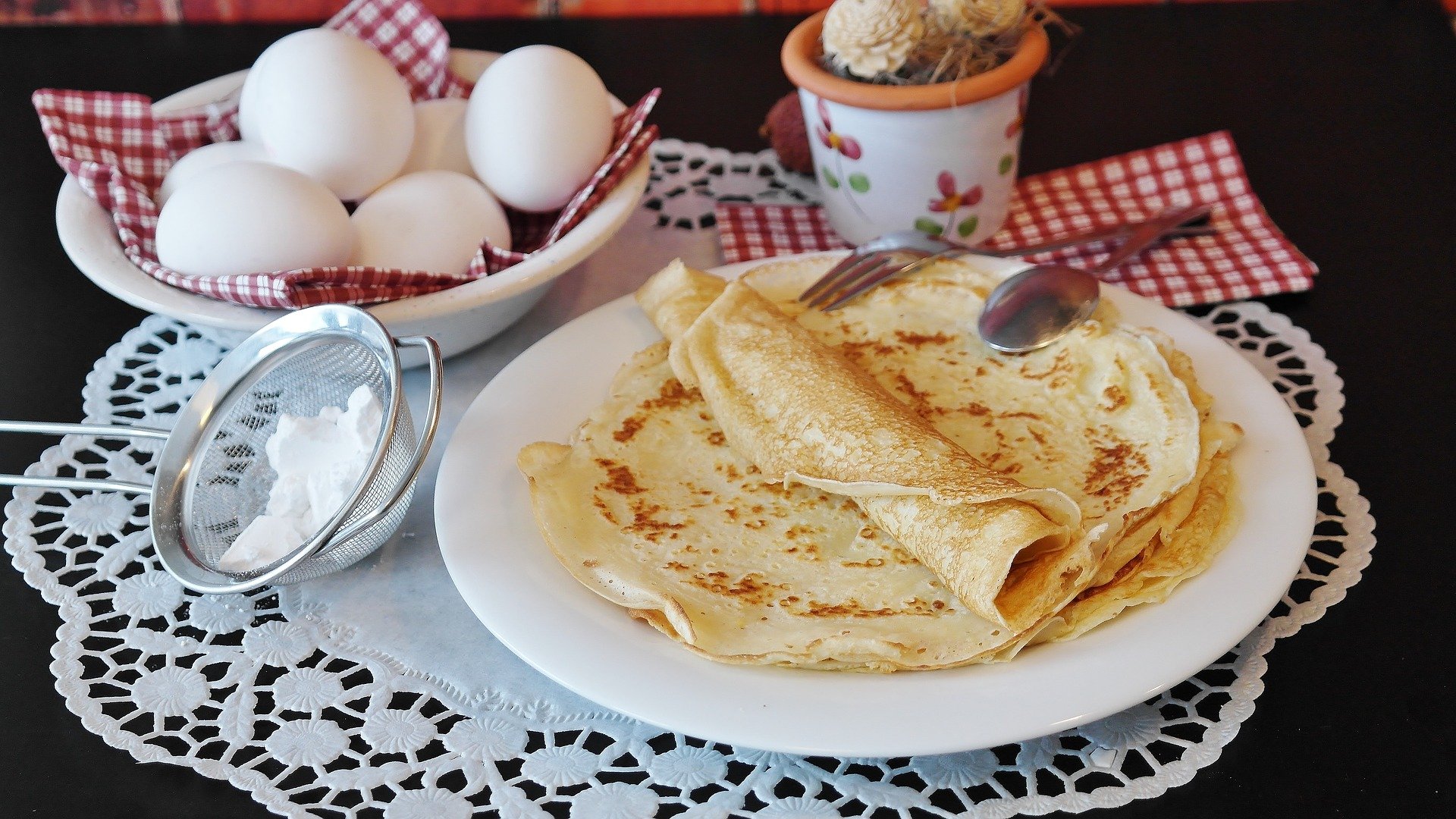 French crepes anyone ? Who is better than me, a French girl born and raise in France to share the authentic French crepes recipe, right?  That is the Authentic french crepes recipe as you will eat in Paris. You guys know I am French right? So after a year of blogging it maybe the time to share my easy and healthy traditional french crepes recipe.
French crepes recipe as you will eat in Paris
Each year on the 2nd February, it is what French people call 'La Chandeleur' or the day when a whole country eat crepes! It is a tradition and most French family will be eating french crepes for the occasion. Don't ask me why – I am actually not to sure about the story – all I know we eat crepes!  Even since I moved in New Zealand we make crepes on that day. The tradition says that we must eat them only after 8 pm. Well, nobody wait up to that time, trust me everyone starts eating them at breakfast. So now, you probably want to know what is exactly is an Authentic French crepe recipe, right? Well, there is actually two authentic french crepes recipes depending on the filling you are going to use.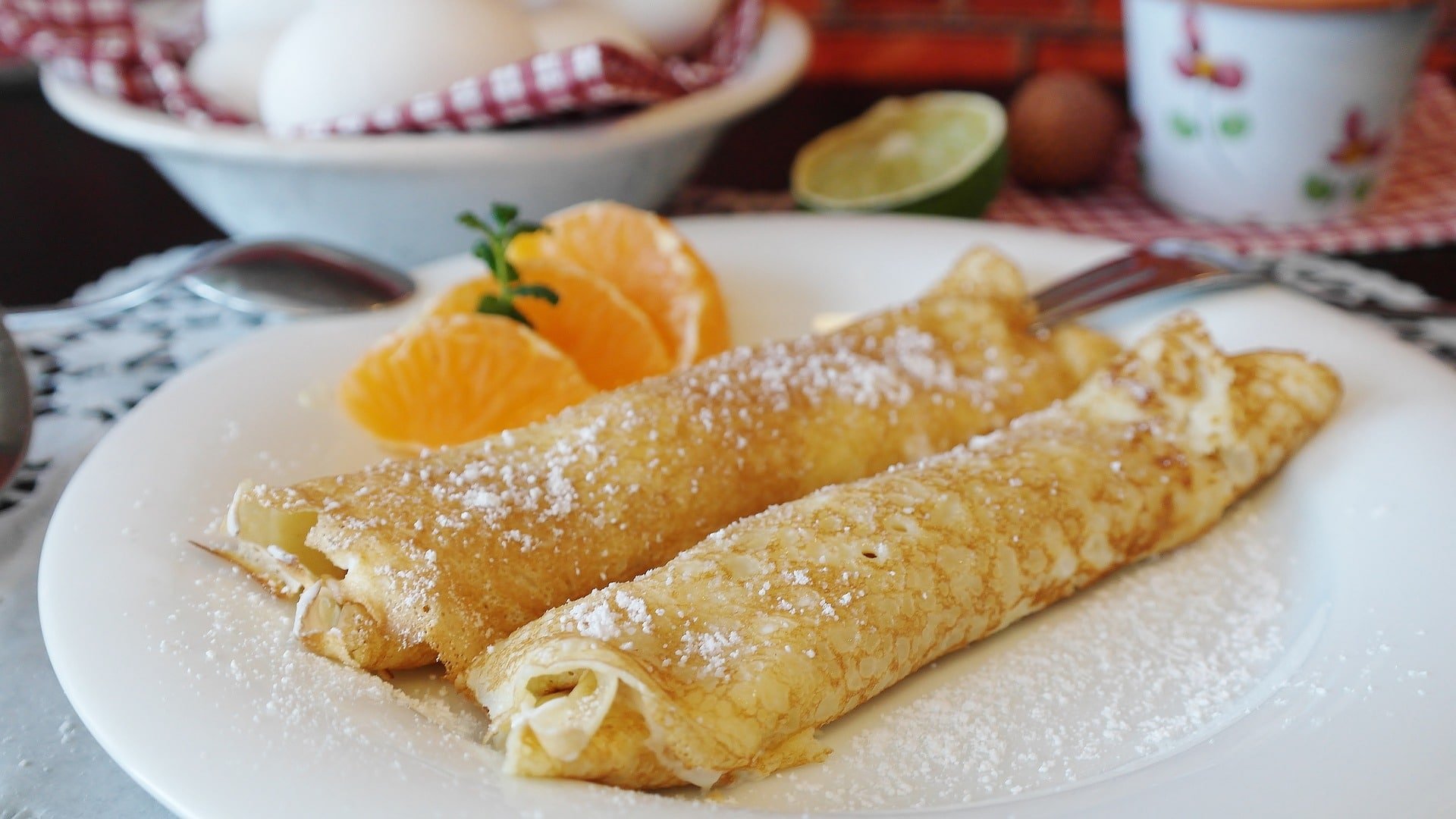 The savory French crepes are made of 3 ingredients : buckwheat flour, eggs and water. However the sweet French crepes – the one I am sharing today – are made of 6 ingredients:
White wheat flour
Eggs
Whole milk
Butter
Sugar
Vanilla essence
It is a pretty easy crepe batter made of milk, eggs and white wheat flour and most often flavored with vanilla extract or orange blossom flower water. Personally, I love orange blossom flower water but it is super hard to find it in New Zealand so I am using vanilla extract since I moved here. I know it is not the healthier recipe in the world but if you want my healthy french crepe recipe made of nut flour – yep, it is a gluten free french crepes recipe – check out my Low Carb Almond Flour Crepe recipe.
So what is the trick to make a perfect french crepe ? It is to pour the batter on a very hot pan while tipping the pan – as you see me on the picture below. That is how you make a thin and crispy crepes. The one you will eat in France. That is all you need to know to make the best french crepe. Remember that french loves eating crepes as a social thing. We do crepes party with friends and family very often. We eat crepes anytime for afternoon tea, birthdays, breakfast but always with many friends or family members.
It is a fun time where anyone will design its own favorite crepe using the toppings he loves. The most favorite french crepes toppings are not healthy at all ! It is icing sugar, jam, honey or the most popular is Nutella chocolate hazelnut spread. Check out my sugar free nutella recipe for a healthier alternative.
Finally, remember that most French people roll their crepes to eat them with their finger. It is only in the restaurant that they fold them in a triangle. Here we go! you know everything about french crepes now ! Don't hesitate to ask me more by leaving a comment! I will love to help you design your best crepes party !
WATCH MY FRENCH CREPE VIDEO AND MAKE IT NOW !
Print Recipe
French crepes recipe
Authentic french crepes recipe as you will eat in Paris. French crepes are thin, crispy on sides and filled with delicious sweet jam or chocolate spread.
Instructions
In a large bowl add the flour, eggs, salt, vanilla extract, melted butter and sugar if used.

Using a whisk or electric mixer, beat in the milk gradually until a smooth batter form with no lumps.

Heat a lightly buttered crepes pan over medium/high heat.

Pour or scoop the batter onto the pan, then tip and rotate the pan to spread batter as thinly as possible.

Brown on both sides about 1-2 minutes on each sides and serve hot with your favorite fillings
Notes
Crepe pan:
I am using
a 10 inches French crepes pan
. It makes 12 perfectly thin and crispy french crepes with this recipe. You can find my crepe pan
here.
Store:
you can cook all the crepes then store them in the fridge, on a plate covered with plastic wrap. It store well up to 2 days. 
Filling ideas:
jam, chocolate spread, honey, maple syrup, apple compote, fruits, nut butters, whipped cream, ice cream, nuts, coconut and more!
Nutrition
Serving:
12
crepes
|
Calories:
96
kcal
|
Carbohydrates:
10.3
g
|
Protein:
3.7
g
|
Fat:
4.4
g
|
Fiber:
0.3
g
|
Sugar:
2.5
g