The Best French Crêpe Recipe
This easy crêpe recipe makes thin and flexible crepes with crispy edges like all classic French crepes you eat in a French restaurant. It's undoubtedly the highest-rated and best crêpe recipe, made with simple ingredients.
What are the best crepe ingredients to use for a thin, crispy crepe to eat for breakfast?
Get the full list and my favorite crepe fillings to enjoy with an Authentic French crepe from Brittany.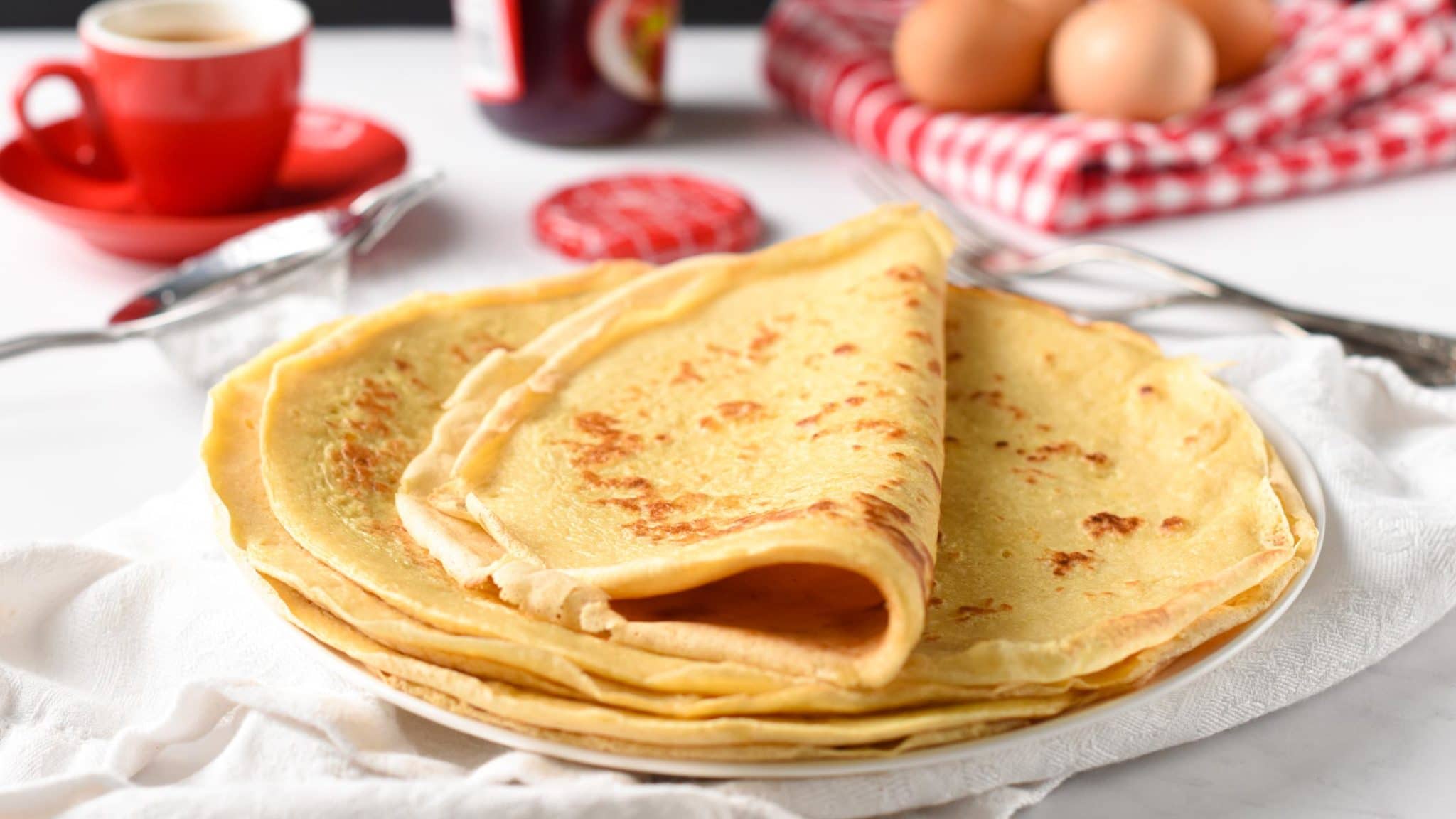 French crepes, anyone? You might have tried some of my other classic French desserts like my floating island dessert, my madeleines, or my croffles, so it's time for the classic of the classics.
I am a French girl born and raised in France, so I am a fan of authentic French recipes and truly French crepes.
This recipe, one of the highest-rated in the world, makes Authentic French crepes as you would eat in Paris or in all the crepe restaurants in Brittany.
Why Are Crêpes Important To French Culture?
Each year on February 2 is what French people call 'La Chandeleur' – Candlemas in English – or the day when a whole country eats crepes!
It is a tradition, and most French families will eat French crepes for the occasion.
No one knows for sure why crepes are associated with a once-religious holiday, but there are a few hypotheses.
It is possible that crepes – essentially large and thin pancakes – symbolize a round, yellow sun coming back after the winter.
Another possibility is that it's around that time that winter wheat harvests happen. If flour was made in too large batches, making crepes was a way to use it.
It is such a deeply rooted tradition that I still make crepes on that day even though I moved to New Zealand years ago. The tradition says that we must eat them only after 8 pm.
So now, you probably want to know what exactly is an authentic French crepe, right?
Well, there are actually two authentic French crepe recipes depending on the filling you are going to use.
Sweet Crepes or Savory Crepes
Yes, it's typically French to serve sweet crepes for breakfast or snacks.
But, savory crepes are also served in the French Brittany region as a meal filled with eggs, ham, and cheese. However, savory crepes are made with different flour.
Sweet crepe recipe – thin, golden in color, and made of all-purpose white wheat flour.
Savory crepes – thicker, heavier, grey-brown in color, and made of buckwheat flour. Try my buckwheat flour crepes to make a savory crepe recipe.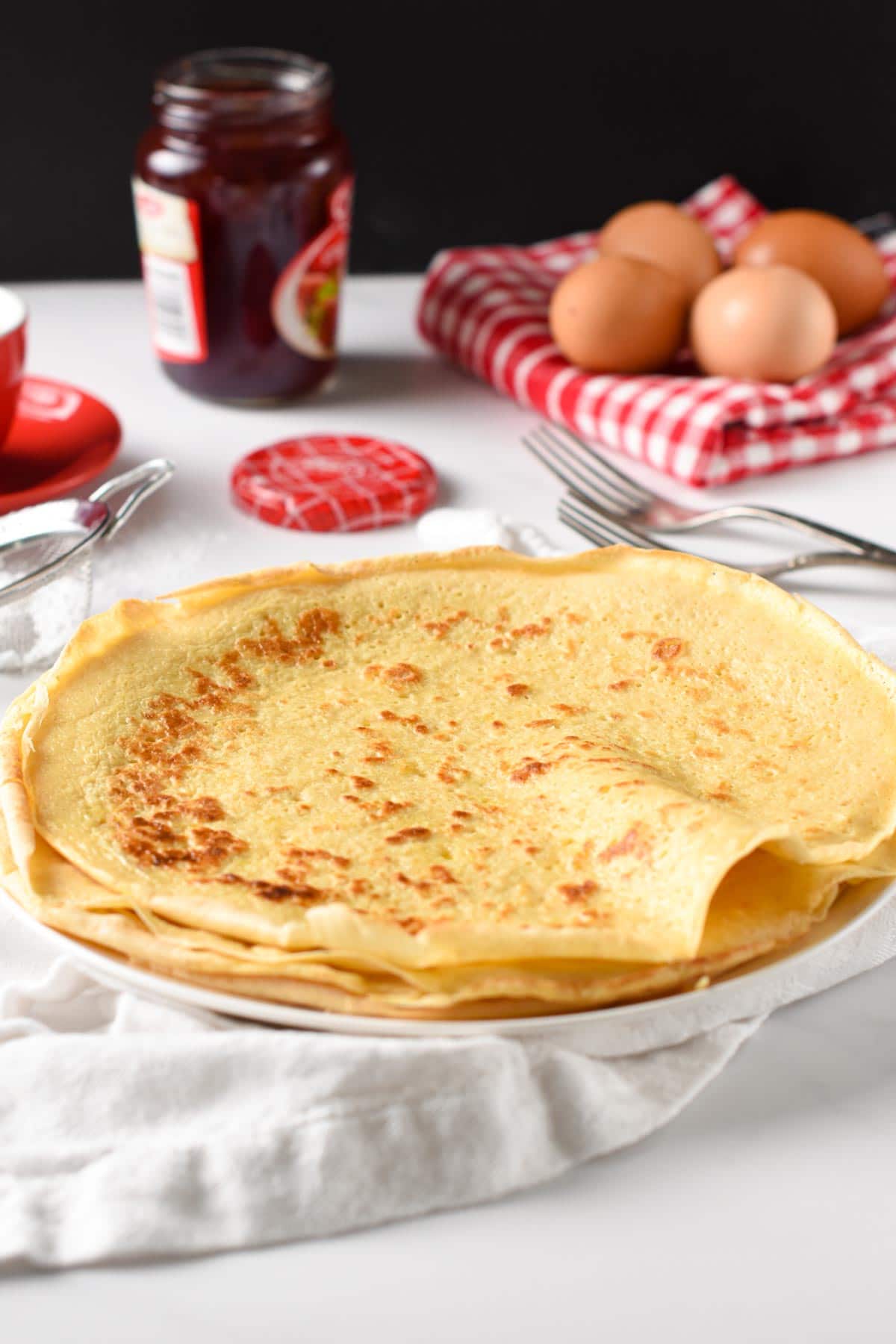 How To Make Crêpes
It's very easy to make a crepe batter crepe. All you need are 6 ingredients, a mixing bowl, a whisk, and a non-stick crepe pan.
Crepe Ingredients
Following is the full list of ingredients to make your perfect French crepe:
All-purpose flour – this refers to white wheat flour. Other options are white spelt flour or white whole-wheat flour.
Eggs
Whole milk or skim milk for a lighter crepe. It will result in crispier crepes. You can also use dairy-free milk alternatives like almond milk, but it makes the crepes slightly crispier.
Melted butter – you can make crepes without butter. Simply replace with melted coconut oil or olive oil.
Sugar or sugar-free alternatives like Monk fruit crystal sweetener or erythritol.
Vanilla essence – m

ost often, the crepe batter is flavored with vanilla extract or

orange blossom flower water

.
Making The Crepe Batter
Add the flour, eggs, salt, vanilla extract, melted butter, and sugar into a large mixing bowl.
Use a whisk or an electric mixer to gradually beat the milk until a smooth batter forms with no lumps.
A crepe batter is always thinner than a pancake batter recipe, and that's normal.
Let the batter rest for 10 minutes. Meanwhile, warm the non-stick crepe pan.
Tips For Perfect Crepes
So what are the tricks on how to make a perfectly thin and crispy French crepe? Let me tell you my secrets.
Choosing The French Crepe Pan
The skillet you use makes a big difference in how the crepe will cook and how thin you can spread the batter.
You must use a non-stick pan for the best results.
It will work in a regular pan, but you will never get such a thin crepe.
Otherwise, use a pancake griddle, but it is more difficult to create beautiful round-shaped crepes on a griddle.
Spreading The Crepe Batter
It takes time and practice to perfectly tilt the pan in a circular motion to spread your batter evenly around the pan.
First, I recommend pouring no more than 1/4 cup of crepe batter. Next, make sure the crepe pan is very hot – preheat over medium heat for a few minutes.
Then, tilt and swirl the pan in a circular motion at the same time you pour the batter – as you see me do in the picture above.
The faster you tilt and rotate the pan, the better the crepe batter spread.
As a result, it will cover the crepe pan surface with a thin layer that results in the most beautiful thin, and crispy French crepes.
Once the crepe is lightly brown, use an offset spatula to loosen the sides and flip the crepe. Finally, keep cooking the crepe on the other side for 1 minute.
Store the cooked crepes on a plate and repeat with the remaining batter.
That's all you need to know to make the best French crepe – the same Authentic French crepes you will eat in France.
Sweet French Crepe Fillings
The most popular French crepe fillings are not quite healthy as French people love sweet crepe recipes!
But you can put any number of toppings on a French crepe. The typical amount is 1 to 4.
1. A Spread
The most commonly used on their own or associated with other ingredients are:
Icing sugar
Sugar or erythritol for a sugar-free topping
Jam – strawberry, blueberry, apricot, or use my sugar-free chia seed jam for a healthier twist
Fruit puree – often apple compote
Honey or maple syrup or sugar-free syrup
A chocolate spread – Nutella is the most popular chocolate hazelnut spread sold in France. For a healthier, sugar-free Nutella, check out my sugar-free Nutella recipe.
Peanut butter – homemade or natural peanut butter.
2. Dry Ingredients
Coconut
Sliced almonds
Sugar or powdered sugar
Cinnamon
3. Other sweet crepes fillings
Fruits – fresh fruits like fresh berries and bananas are often associated with chocolate spreads or cooked apples with cinnamon and sugar.
Alcohol – French crepes with Grand Marnier are very popular. It is a crepe filled with crystal sugar and then covered with the French spirit Grand Marnier. The crepe is then flambeed and served hot. It is a very spectacular dessert in French restaurants. Other alcohols used in crepes are Cognac in combo with apples. Try my Crepe Suzette Recipe for all the details!
Whipped cream or cream cheese
Savory Crepe Fillings
If you prefer your crepe savory, there are many ways of making a delicious salty breakfast or lunch with this recipe.
Prepare your crepes and fill them with:
Smoked Salmon, Crème Fraiche, and Dill: place the salmon and crème on your cooked crepe while still on the hot pan, fold the sides, and add the dill just before serving.
Bacon, Sour Cream, and Onions: Cooked the bacon on another pan, spread the sour cream on the crepe, add the bacon and sliced onions. Cook for about a minute and serve.
Ham and Cheese: Place some of your favorite cheese on the crepe still on the hot pan, add a layer of sliced ham, and spread some more cheese. Fold the crepe in half and cook for another minute.
Egg Crepe: Prepare a sunny side up egg, place it on the crepe (still on the pan), and add a touch of bearnaise sauce or my 3-Ingredient Alfredo Sauce.
Mushroom Crepe: This is my favorite version. Prepare my Mushroom Sauce and pour it on the middle of the crepe, cook for another minute, and serve hot.
How To Fold A French Crepe
After you cook the crepe, bring it to a plate, add fillings and toppings and fold it.
Most French people roll their crepes, and we eat them with our fingers. Restaurant chefs folded crepes in a triangle shape.
But whether you fold or roll, always add the fillings in the open crepes.
Then put the crepe back into the pan to melt and warm the filling before folding and serving them. Here you go! You now know everything about authentic French crepes!
However, don't hesitate to ask me more by leaving a comment! I will love to help you design your best crepe parties!
Are French Crepes Healthy?
They're not low in carbs, that's for sure! French crepes are made with refined white-wheat flour, sugar, and milk, and all of these ingredients are high in carbohydrates and sugar.
However, it is a traditional recipe, and as a French person, I am proud to host this on my low-carb recipe blog to remember my roots.
Healthy French Crepes Alternatives
I know it is not the healthiest recipe in the world, and since I eat low-carb now, I created my own low-carb crepe alternatives. Traditional French crepes don't taste like eggs.
However, low-carb crepe alternatives have a stronger egg flavor. So if you don't mind the carbs, stick to this recipe.
Otherwise, have a look at my low-carb crepe recipes below.
If you want another type of classic breakfast, try my Liege Waffles or my Old-Fashioned Pancakes!
Frequently Asked Questions
Find below my answers to the most common questions on this crepe recipe.
When Do French People Eat Crepes?
French people eat crepes anytime for afternoon tea, birthdays, and breakfast but always with many friends or family members. We invite friends to crepes parties all the time.
French loves eating crepes as a social thing. In France, some families have a crepe-party maker that allows six people to sit around the table, and everyone can cook their small crepes in front of them.
It is a fun simple food that gathers everyone around the table and welcomes creativity as anyone can add their favorite crepe fillings.
Can I Use A Blender?
You can make the French Crepe Batter with a blender instead of using an electric beater. Make sure to blend on low or medium speed.
Can I Make A Crepe Recipe Without A Mixer?
Yes, you can make this crepe recipe without a mixer, it works just as well with a hand whisk.
What Is The Best Crepe Recipe?
The best crepe recipe must make soft, sweet, flexible crepes with a hint of vanilla and a neutral taste to accommodate all fillings.
I strongly feel like this recipe is the best. I've never tried one that makes French crepes as authentic as this one.
And I know I'm not the only one with more than five hundred 5-star ratings, you have decided this is the best recipe!
Can I Make A Crepe Cake?
Making a crepe cake with this recipe is very simple! Stack eight to 10 crepes and add any of your favorite fillings in between them.
You can then top them up with fresh fruits and a raspberry jam.
Can I Make A Savory Crepe?
This recipe is perfect when filled with sweet ingredients, but you can absolutely make a version with savory fillings for brunch.
Add spinach, pan-fried mushrooms, grilled chicken, tomato slices, and fresh cheese like ricotta for delicate savory crepes.
More Crêpe Recipes
If you like simple, healthy, authentic crepes recipes, you'll also love these:
I hope you enjoyed it as much as I did this best crepe recipe in the world!
French Crêpe Recipe
This Authentic Crepe Recipe makes the same crepes you would eat in Paris. French crêpes are thin, crispy on their sides, and filled with delicious sweet jam or chocolate spread.
Nutrition Snapshot
Want My Kitchen Equipment?
Instructions
In a large bowl, add the flour, eggs, salt, vanilla extract, melted butter, and sugar if used.

Using a whisk or electric mixer, beat in the milk gradually until a smooth batter forms with no lumps.

Heat a lightly buttered crepe pan over medium/high heat.

Pour or scoop the batter onto the pan, then tip and rotate the pan to spread the batter as thinly as possible.

Cook until lightly brown on both sides – about 1-2 minutes on each side and serve hot with your favorite fillings.
Notes
Crepe pan: I am using a 10-inch French crepe pan. It makes 12 perfectly thin and crispy French crepes with this recipe. Store: you can cook all the crepes and then store them in the fridge on a plate covered with plastic wrap. It stores well for up to 2 days. Filling ideas: jam, chocolate spread, honey, maple syrup, apple compote, fruits, nut butter, whipped cream, ice cream, nuts, coconut, and more!
My Recipe Notes
Nutrition
Serving:
1
crêpe
Calories:
179.3
kcal
(9%)
Carbohydrates:
22
g
(7%)
Fiber:
2.6
g
(11%)
Net Carbs:
19.4
g
Protein:
7.6
g
(15%)
Fat:
6.8
g
(10%)
Saturated Fat:
3.5
g
(22%)
Polyunsaturated Fat:
0.5
g
Monounsaturated Fat:
1.8
g
Trans Fat:
0.1
g
Cholesterol:
76.2
mg
(25%)
Sodium:
141.9
mg
(6%)
Potassium:
146.4
mg
(4%)
Sugar:
3.7
g
(4%)
Vitamin A:
275.4
IU
(6%)
Vitamin B12:
0.5
µg
(8%)
Vitamin D:
1
µg
(7%)
Calcium:
102.8
mg
(10%)
Iron:
0.9
mg
(5%)
Magnesium:
9.6
mg
(2%)
Zinc:
0.5
mg
(3%)
Posted In: