An easy crepe recipe, learn how to make a delicious authentic french crepe!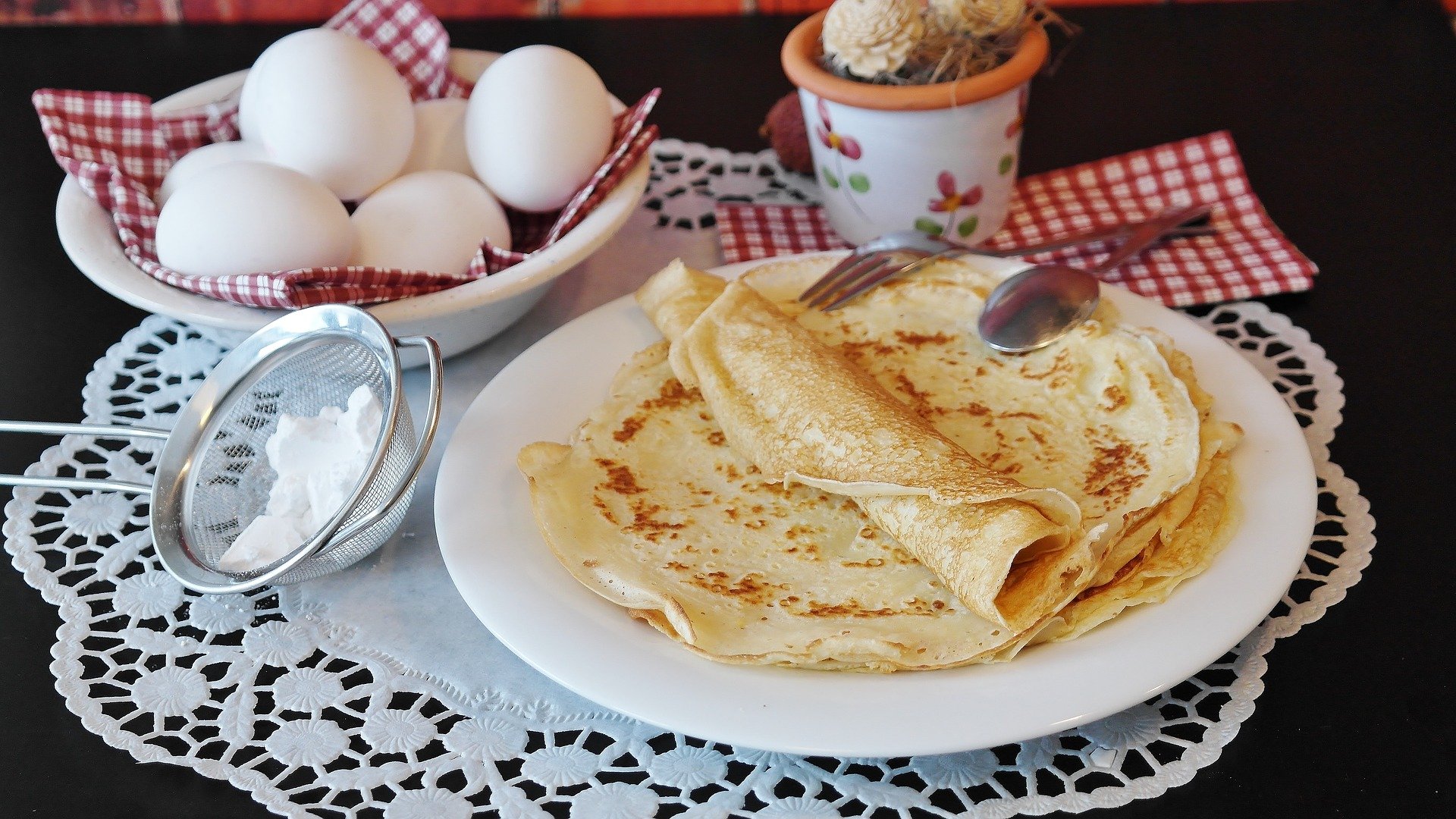 What are the best crepe ingredients to use for a thin, crispy crepe to eat for breakfast? Full list of crepe fillings to enjoy with an Authentic French crepe from Brittany.
French crepes anyone? I am a French girl born and raised in France, so I am a fan of authentic French crepes. This recipe makes Authentic french crepes as you would eat in Paris or anywhere in Brittany.
Why are crepes important to French culture?
Each year on February 2, it is what French people call 'La Chandeleur' – Candlemas in English – or the day when a whole country eat crepes! It is a tradition and most French families will be eating French crepes for the occasion.
No-one knows for sure why crepes are associated with a once-religious holiday, but there are a few hypothesis. It is possible that crepes – essentially large and thin pancakes – are the symbol of a round, yellow sun coming back after the winter. Another possibility is that it's around that time that winter wheat harvests happen. If flour was made in too large batches, making crepes was a way to use it.
It's such a deeply rooted tradition that myself, even though I moved to New Zealand years ago, still make crepes on that day. The tradition says that we must eat them only after 8 pm. Well, nobody waits until that time, trust me everyone starts eating them at breakfast. So now, you probably want to know what exactly is an authentic French crepe, right? Well, there are actually two authentic French crepe recipes depending on the filling you are going to use.
Are sweet crepe recipes from France?
Yes, crepes are French and not only the sweet crepes. Crepes, sweet or savory, are traditional recipes from the French Brittany region. There are two different French crepe recipes, one for sweet crepes using white wheat flour and one for savory crepes using buckwheat flour: buckwheat flour crepes.
French crepe ingredients – what do you need?
You only need the 6 simple ingredients below to make true French crepes. It is pretty easy to make French crepes. The batter is very similar to a pancake batter, using milk, eggs and white wheat flour. Most often, the crepe batter is flavored with vanilla extract or orange blossom flower water.
Personally, I love orange blossom flower water.
Following is the full list of ingredients to make your perfect French crepe:
White wheat flour
Eggs
Whole milk or skim milk for a lighter crepe, it will result in crispier crepes too. You can also use dairy-free milk alternatives like almond milk but it makes the crepes slightly crispier.
Butter or margarine if dairy free.
Sugar or sugar-free alternatives like Monk fruit crystal sweetener or erythritol.
Vanilla essence 
Are French crepes healthy?
Well, not really as French crepes are made of refined white-wheat flours, sugar, milk and all those ingredients are high in carbohydrates and sugar. However, it is a traditional recipe and as a French person, I am proud to host this on my low-carb recipe blog to remember my roots.
Healthy French crepes alternatives
I know it is not the healthiest recipe in the world and since I eat low-carb now, I created my own low-carb crepe alternatives. Traditional French crepes don't taste like eggs. However, low-carb crepe alternatives have a stronger egg flavor. So if you don't mind the carbs, stick to this recipe. Otherwise have a look at my low-carb crepe recipes below.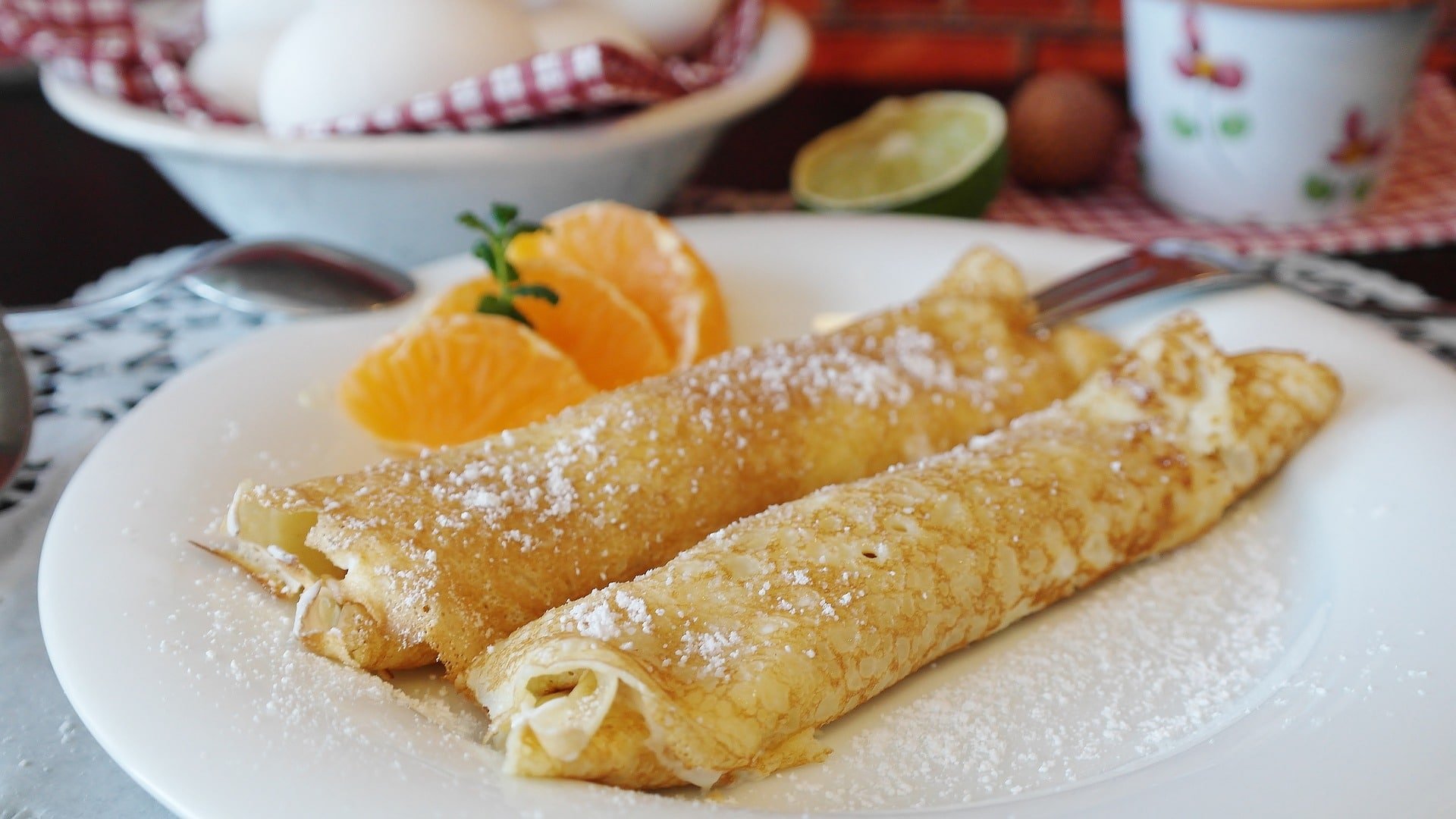 How to make Authentic thin French crepes?
So what are the tricks on how to make a perfectly thin and crispy French crepe. Let me tell you my secrets.
The pan you use makes a big difference on how the crepe will cook and how thin you will able to spread the batter. You must use a non-stick crepe pan for best results. It will work in a regular pan but you will never get such a thin crepe. Otherwise use a pancake griddle but it is more difficult to create beautiful round-shaped crepes on a griddle.
Spreading the crepe batter
It takes time and practice to perfectly tilt the pan in a round circle movement to spread your batter evenly around the pan. I recommend to pour the batter on a very hot pan while tipping the pan at the same time you pour the batter –  as you see me do on the picture above. That is how you will make the most beautiful thin and crispy French crepes.
That's all you need to know to make the best french crepe – the same Authentic French crepes you will eat in France.
When do French people eat crepes?
French people eat crepes anytime for afternoon tea, birthdays, breakfast but always with many friends or family members. We invite friends for crepes-parties all the time. French loves eating crepes as a social thing. In France some family have a crepe-party maker that allows 6 people to sit around the table and everyone can cook their own small crepes in front of them. It is a fun simple food that gathers everyone around the table and welcomes creativity as anyone can add their own favorite crepe fillings.
French crepe fillings
The most popular French crepe filling are not quite healthy! But you can put any number of toppings on a French crepe, the typical amount is 1 to 4.
1. A spread
The most commonly used on their own or associated with other ingredients are:

2. Dry ingredients
Coconut
Sliced almonds
Sugar or powdered sugar
Cinnamon
3. Others crepes fillings
Fruits – fresh fruits like banana are often associated with chocolate spreads or cooked apple with cinnamon and sugar.
Alcohol – French crepes with Grand Marnier are very popular. It is a crepes filled with crystal sugar then covered with the French spirit Grand Marnier. The crepe is then flambeed and served hot. It is a very spectacular dessert in French restaurants. Other alcohols used in crepes are Cognac in combo with apples.
Whipped cream or cream cheese
How to fold a French crepe?
Most French people roll their crepes and we eat them with fingers. Restaurant chefs folded crepes in a triangle shape. But whether if fold or roll, always add the fillings in the open crepes. Then put the crepe back into the pan to melt and warm the filling before folding and serving them. Here you go! You now know everything about true French crepes now! However, don't hesitate to ask me more by leaving a comment! I will love to help you design your best crepe parties!
xoxo Carine