Keto Crepes (Only 1.6g Net Carbs)
Easy Keto Crepes are thin, flexible, and perfect for a French-style Keto Breakfast delicious paired with a cup of my bulletproof coffee.
Bonus, this keto almond flour crepe recipe is also gluten-free, made with low-carb almond flour and only 1.6 grams of net carbs per serving.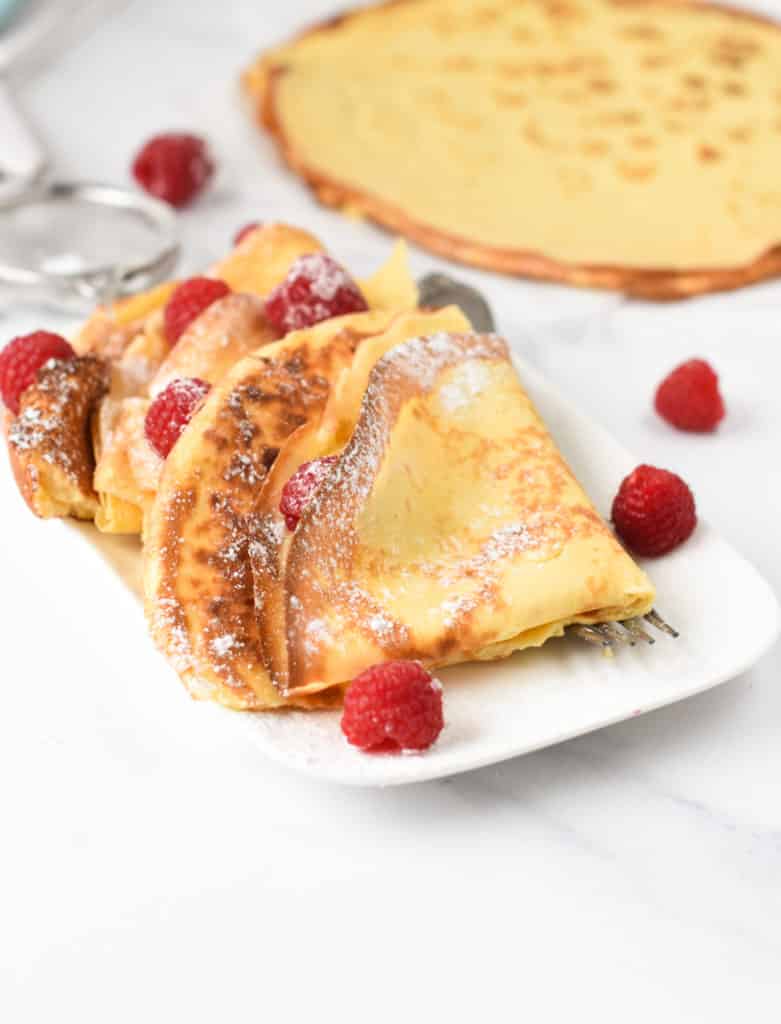 Can You Have Crepes On Keto?
No, you can't eat an authentic French crepe recipe on a keto diet because it's made of wheat flour, milk, and white sugar.
The three main ingredients in crepes are high in carbs and spike your blood sugar level very quickly.
However, you can make easy homemade keto crepes at home using low-carb flour and keto sweeteners.
What Are Keto Crepes?
Keto Crepes, an egg crepe keto recipe, are thin, flexible pancakes usually filled with sweet keto crepe filling like chia seed jam or almond butter.
They mimic the texture of classic French crepes without using high-carb flours or sweeteners.
How To Make Keto Crepes
Keto crepes are easy to make at home using a few basic ingredients. All you need is a high-speed blender or food processor to blend the ingredients.
Ingredients
Ultra-fine almond flour – the best almond flour to make crepes is blanched almond flour. In comparison to almond meal, ultra-fine almond flour is golden in color and made from skinless almonds. Its texture is finer, not gritty, and makes delicious keto baked goods without the grainy texture. Read more about choosing the right keto flour.
Cream cheese
Erythritol or a few stevia drops.
Vanilla extract
Unsweetened almond milk
Blend
First, add all the ingredients into the jug of a high-speed blender and blend at high speed until it forms a smooth crepe batter.
Then, transfer the batter into a large mixing bowl and rest the batter for 5 minutes before cooking.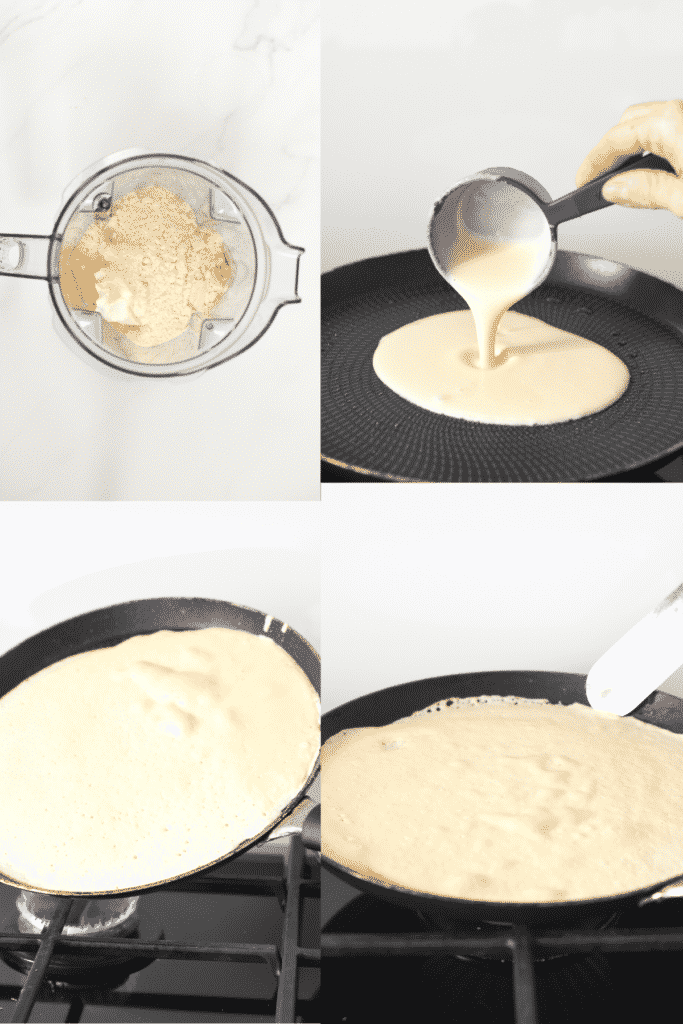 Cooking The Crepes
Finally, heat a 10 inches non-stick crepe pan or skillet over medium heat. Use a piece of absorbent paper to rub the crepe pan with butter or coconut oil.
Pour 1/4 cup of batter into the pan. If you are new at making crepes, it's better to pour the batter on the side of the pan, not the center.
Then, tilt the pan and rotate in a circular motion to spread the batter as thin as possible all other the pan. You might have to add a little more batter if you didn't tilt the pan fast enough, to fill all the pan surface.
Cook the crepe for 2 minutes on one side or until the edges start to dry out and their color is golden brown.
Filling The Crepes
Most classic crepes recipes use a long spatula to slide under the crepes to flip them over. But, for keto crepes, do not use a spatula to avoid breaking the crepe in the center.
Instead, loosen the crispy dry sides of the crepes with a spatula, and then use your fingers to peel off the crepe and flip.
Keep cooking your keto crepe for 1-2 minutes on the other side until golden.
Place the cooked keto crepe on a plate covered with parchment paper and cover the plate with a piece of foil to keep the crepe warm.
Meanwhile, keep cooking the leftover batter, making sure your grease the pan between each keto crepe batter addition.
Storage Instructions
These keto crepes store very well in the fridge for up to 4 days.
Stack the crepes on a plate, wrap them with plastic wrap to prevent them from drying out, and store them.
You can also freeze this crepe keto recipe, but to do so, wrap each crepe individually into plastic wrap or in a zip-lock bag.
Keto Crepe Toppings
Crepes are always filled with some delicious toppings, sweet or savory, depending on what you crave. Below I listed the best keto filling for sweet or savory crepes.
Almond butter
Sliced almonds
Chopped pecan
Unsweetened whipped cream
Toasted desiccated coconut
Can I make savory keto crepes?
Sure, you can use this recipe to make savory low-carb crepes. To do so, skip the sweetener in the batter and replace it with a pinch of salt or garlic salt.
Savory keto crepes toppings ideas
For savory crepes, first, bring back the cooked crepe in the crepe pan and top half of the crepe with any shredded cheese or soft cheese you love like:
Cheddar
Emmental for a French crepes keto-style!
Goat cheese
Blue cheese
Then, top up the cheese with some of the following ingredients:
Ham
Cooked bacon bites
Chopped walnuts
Wilted cooked spinach
Butter fried mushrooms
Finally, fold the other half of the crepe back to close the crepe into a half-moon shape. Cover with a lid for 2 minutes on low heat to melt the cheese.
Serve immediately.
Frequently Asked Questions
Which pan to cook crepes?
You must use a crepe pan or pancake griddle for cooking crepes but never use a frying pan!
There are a few differences between a crepe pan and a frying pan, explaining why a crepe won't cook evenly in a frying pan.
For example, a crepe pan has:
Shallower sides – this makes it easier to flip the crepes and crisp the borders of the crepes fast while keeping the center moist and flexible.
A thinner layer of metal than a normal frying pan cooks the crepe faster.
A flatter bottom, diffusing heat more heavenly.
How do I know my crepes are cooked?
A crepe is ready to be flipped over when the edges are crispy, dry, and pull out by themselves from the pan.
The center of the crepes should also be set, still moist but not runny.
Why do crepes stick to the pan?
A crepe might stick to the pan if you didn't use:
A non-stick crepe pan is made of a non-stick material like Tefal pans.
Oil to grease the pan between each crepe.
A crepe pan – frying pans are not suitable to cook crepes.
A hot pan, you added the batter into a cold or lukewarm pan.
How to make thin keto crepes?
The thickness of your keto crepes depends on the speed at which you tilt and rotate the crepe pan after adding the batter. The faster you tilt the pan, the better it spread on the pan and covers the surface.
The trick to making a thin keto crepe is to:
Warm the crepe pan for 2 minutes before greasing.
Grease with minimal oil using a piece of absorbent paper to spread the fat – adding too much oil fry crepes!
Add the crepe batter to the center of the pan.
Tilt the pan fast with a large angle rotating clockwise.
How many keto crepes can I eat?
For a fulfilling keto breakfast, you can eat 2 keto crepes with the filling of your choice.
Two crepes bring 3.2 grams of net carbs.
Can I change the flour?
No, you can't swap any of the flours in this recipe for any other flour. Stick to the ingredients!
Can I Flambee Keto Crepes?
Yes, you can! Head to my Crepe Suzette Recipe to know how to do so. You can use the exact same orange sauce recipe, but replace all the ingredients with low-carb alternatives!
Nutritional Information
A keto crepe contains 4 times fewer carbs than a regular French crepe recipe or my gluten-free crepe recipe.
Below is the nutrition panel for a 10-inch keto crepe without filling:
Calories: 127 kcal
Carbs: 2.4 g
Fiber: 0.8 g
Net carbs: 1.6 g
Protein: 5.5 g
Fat: 10.7 g
Have you made these keto crepes? Share a comment or review below to tell me how much you love them!
Keto Crepes
Easy Keto Crepes are thin, flexible, and perfect for a French-style Keto Breakfast! These keto almond flour crepes are also gluten-free and bring only 1.6 grams of net carbs per serving.
Serving Size:
1
10-inch crepe
Nutrition Snapshot
Want My Kitchen Equipment?
Instructions
Add all the ingredients into a blender and blend at high speed until creamy and smooth. You may have to stop the blender, scrape down the side of the jug as some flour may pulse on the sides, and repeat blending until smooth. Overall it shouldn't take more than 45 seconds to create a smooth keto crepe batter.

Pour the batter into a mixing bowl rest for 5 minutes.

Heat a non-stick 10-inch crepe pan under medium heat. Rub the pan's surface with a piece of absorbent paper covered with a teaspoon of coconut oil or grass-fed butter. Don't leave too much oil on the pan, or you will fry the crepes.

Pour 1/3 cup of batter into the pan, then tip and rotate the pan fast to spread the batter as thinly as possible and cover the entire pan. It takes a bit of time and practice. Watch my picture above in the post to see the angle I give to the pan to spread the batter evenly. If your batter is too thick and doesn't spread well, that is ok. Stir in 1 or 2 extra tablespoons of almond milk in the batter to thin it out.

Cook gently, for about 2-3 minutes or until the edges dry out, and it's easy to peel off the sides with your fingers and flip it over. I don't recommend sliding a spatula under the crepes. Use your fingers to peel off the side and flip. It's much easier and prevents the crepe from breaking. Cook for 1 more minute on the other side.

Serve with sugar-free monk fruit syrup, keto jam, or almond butter.

Repeat the steps above to cook the next crepes. Always re-grease the pan between each crepe.
Storage
Store the crepe on a plate covered with plastic wrap to prevent them from drying out. Place the plate in the fridge for up to 3 days.

You can freeze the cooked crepes individually and thaw at room temperature the day before.
My Recipe Notes
Nutrition
Serving Size:
1
10-inch crepe
Serving:
1
10-inch crepe
Calories:
127.2
kcal
(6%)
Carbohydrates:
2.4
g
(1%)
Fiber:
0.8
g
(3%)
Net Carbs:
1.6
g
Protein:
5.5
g
(11%)
Fat:
10.7
g
(16%)
Saturated Fat:
3.8
g
(24%)
Polyunsaturated Fat:
0.7
g
Monounsaturated Fat:
2.2
g
Trans Fat:
0.1
g
Cholesterol:
108.6
mg
(36%)
Sodium:
86
mg
(4%)
Potassium:
55.5
mg
(2%)
Sugar:
0.9
g
(1%)
Vitamin A:
325.4
IU
(7%)
Vitamin B12:
0.3
µg
(5%)
Vitamin D:
0.6
µg
(4%)
Calcium:
47.2
mg
(5%)
Iron:
0.8
mg
(4%)
Magnesium:
4.4
mg
(1%)
Zinc:
0.4
mg
(3%)
Posted In: