Coconut flour crepes are easy gluten free crepes perfect to satisfy your sweet tooth with barley no carbs! Those are the best keto crepes you are dreaming of so keep reading.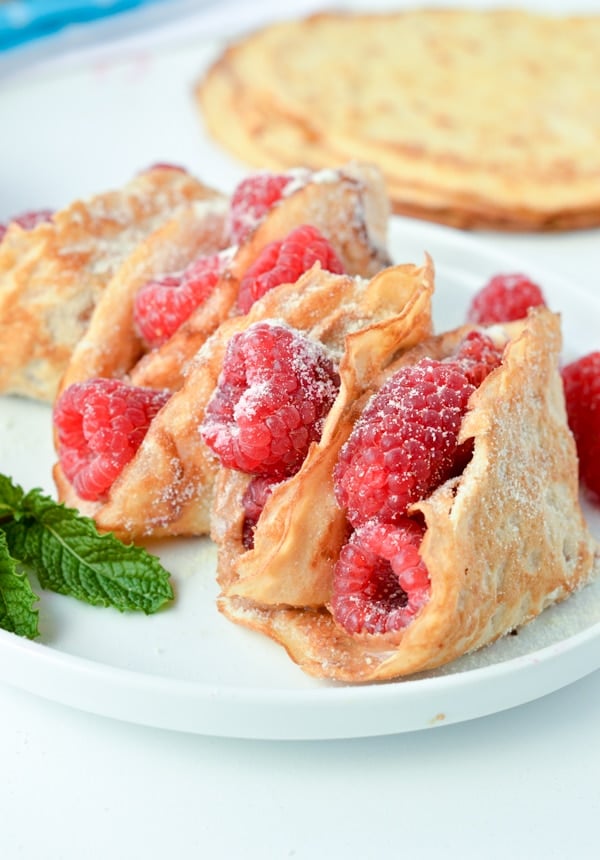 Whatever you crave a sweet crepe for breakfast, dessert a cheesy ham and cheese crepe, this recipe works with any filings.
Coconut flour crepes – gluten free + keto
There is no secret about this, I am a crepe addict. Well, I am French meaning that eating crepes is a tradition, a cultural thing. Since I started a low carb keto diet 6 years ago, I created many low carb crepes recipe. My all time favorite is the low carb almond flour crepes recipe but some days I like to bake with different flour so keto crepes coconut flour here you are!
Easy crepe recipe with 6 ingredients
All you need to make delicious coconut flour crepes are 6 simple low carb ingredients.
Eggs
Coconut flour – make sure you use fresh coconut flour with no lumps for perfect results
Almond meal – also known as ground almond or almond flour – don't be tempted to replace by more coconut flour it won't create the same fluffy light crepes! Coconut flour is very liquid absorbent and if don't respect the ratio it will end up dry and crumbly.
Canned Coconut cream – the thick one from the can, don't skip this ingredients trust me, it makes the texture SO much better
Unsweetened almond milk – or water but honnestly almond milk add an delicious texture too without the carbs so go for it!
Vanilla extract – optional if you want to use those crepes for a savory breakfast, add herbs and salt instead
Keto crepes with coconut flour
Coconut flour is one of my favorite low carb flour. It is not the easiest to bake with at first, because it is highly liquid absorbent and you have to balance this with lots of eggs, milk or another flour to create the perfect results. I had lots of success baking with coconut flour like in my low carb chocolate mug cake or low carb coconut flour porridge.

Crepe filling ideas – sweet and savory options!
So if you are on a low carb diet right now and craving a delicious guilt-free sweet dessert or breakfast my keto coconut flour crepes are the one you need! The best low carb crepe filling are listed below. It recommended to add you crepe filling in the opened crepe. Return the crepe to the crepe pan to melt the sweetener or nut butter or cheese for a savory version. Fold in triangle or roll as a wrap to serve.
Nut butter or seed butter- peanut butter, almond butter, sunflower butter
Yogurt or cream – dairy-free coconut cream or yogurt, yogurt, heavy cream
Sweetener – sugar free crystal sweetener – erythritol, Monk fruit or sugar-free flavored maple syrup, sugar-free powdered erythritol
Fresh berries – raspberries, strawberries or blueberries
Dried ingredients – unsweetened desiccated coconut, sliced almonds, crushed peanuts, unsweetened cocoa powder
Savory filling – cheese, ham, bacon, fried mushrooms, spinach, fried eggs
The texture of those keto coconut crepes is light, fluffy and similar to the french crepes I used to eat before.
XOXO Carine
Coconut flour crepes
Coconut flour crepes are easy low carb desserts crepes perfect to satisfy your sweet tooth with no guilt. They are delicious stuffed with yogurt, fruits or nut butter. It is a 100% Dairy free, paleo and gluten free crepe recipe that all the family loves.
6 crepes
Print The Recipe
NEW
My no-fail Keto Baking Recipe ebooks are now available
for a limited time, 50% OFF if you enter the code
INPLNCHOFFER
In a large mixing bowl, add all the ingredients in this order: eggs, melted coconut oil, almond milk, coconut cream, vanilla extract, coconut flour and almond meal

Using a whisk or electric mixer, beat until a smooth batter form with no lumps. Set aside for 10 minutes to allow the coconut flour to soak the liquid and thicken the batter slightly.

Heat a lightly oil mini egg pan over medium/high heat. I used coconut oil that I rub on the pan with a piece of absorbent paper. My pan is a mini non stick egg pan size 4.7 inches (12 cm). I recommend a small saucepan of this size to make perfect crepes that won't break.

Pour 1/4 cup of the crepe batter onto the pan, then tip and rotate the pan gently to spread batter as thinly as possible. Brown on one side first, cook 2-3 minutes until the sides are crispy and un stick easily from the pan. The center should be set and dry before you flip over to avoid the crepe to break.

Brown on other sides about 1-2 minutes and serve hot with your favorite fillings - see recipe note for inspiration.
Crepes size: I made 6 mini crepes of 12 cm (4.7 inches) with this recipe. I used a non stick mini frying pan.
Storage: you can store your crepes on a plate, covered with plastic wrap, in the fridge up to 2 days. Rewarm in the pan few minutes, add filling and enjoy.
Low carb filling ideas: nut butter (almond butter, peanut butter, coconut butter), yogurt, cream cheese, raspberries, monk fruit sugar or erythritol, sugar free chocolate chips, sliced almond, seeds or crushed peanuts etc. In the picture I used almond butter, erythritol and fresh raspberries.
Net carb per crepes no filling (carbs take away fiber) : 1.4 g
Nutrition Facts
Coconut flour crepes
Amount Per Serving (1 mini crepe (4.7 inches))
Calories 108 Calories from Fat 80
% Daily Value*
Fat 8.9g14%
Carbohydrates 2.5g1%
Fiber 1.1g5%
Sugar 0.3g0%
Protein 4.6g9%
Net Carbs 1.4g
* Percent Daily Values are based on a 2000 calorie diet.