Say hello to this delicious low carb chocolate mug cake (aka. keto mug cake) with only 6g net carb and 250 kcal per serve.
It's that time of the day, you crave that chocolate cake you saw at the bakery. But then you go back home and realize you ave nothing in your cupboard to fix that chocolate craving. So let's call this keto mug cake to the rescue.
What is a low carb chocolate mug cake ?
A low carb chocolate mug cake is a one-serve, 90-second microwave cake recipe made with low-carb, sugar-free ingredients. I like to call this a life-saver cake because it fixes your sweet craving in no time. Plus, it really tastes like a real bakery-style chocolate cake. You won't be disappointed by this simple keto mug cake recipe.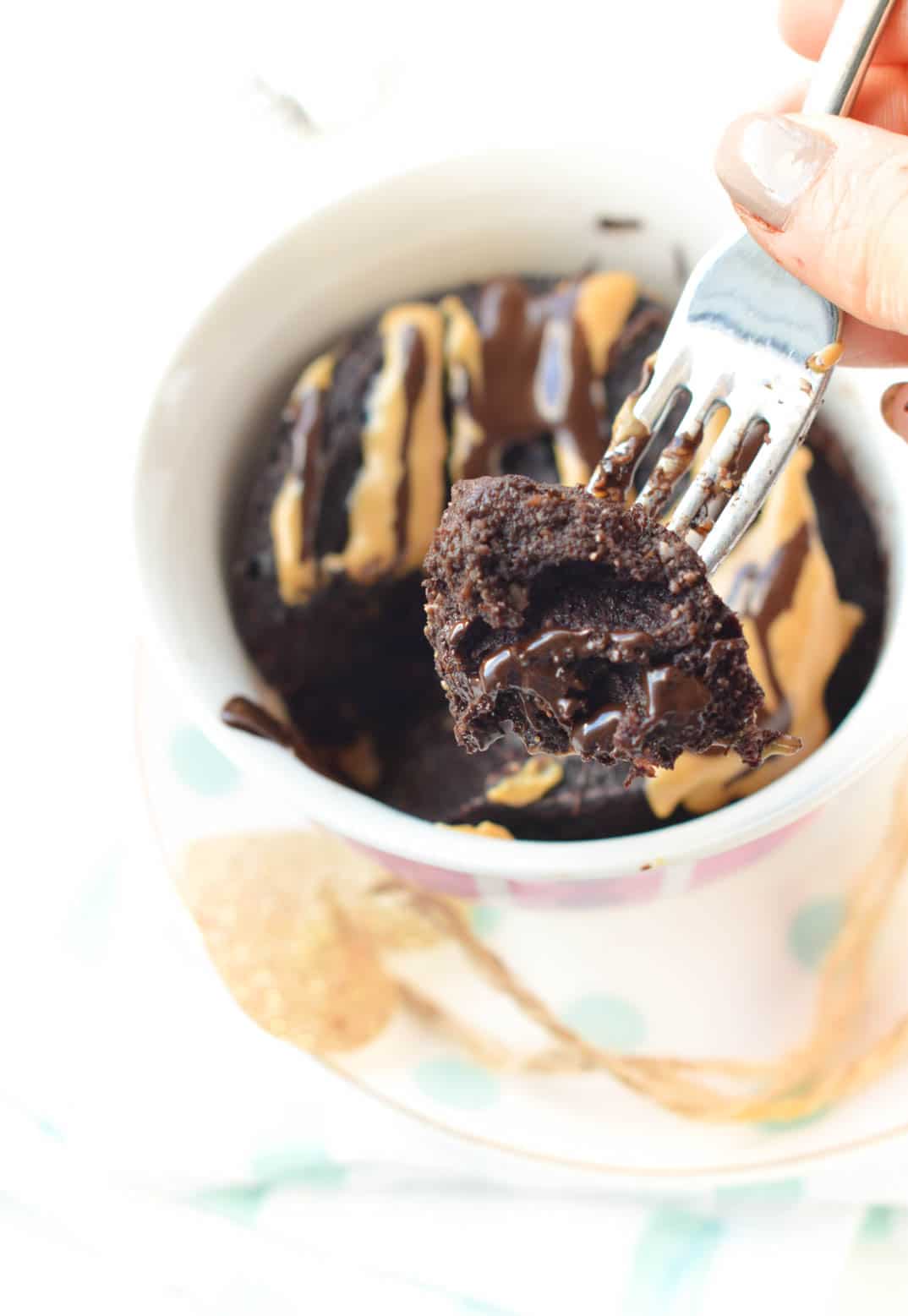 How much carbs in this chocolate keto mug cake?
This low carb chocolate mug cake has it all. It tastes amazing and contains only 6.5g net carb per serve. So I hear you, you think it's a lot of carb especially if you target 25g net carb a day. But, should I remind you that a regular chocolate muffin contains 27 grams net carb? This said, you have two options. Not having a cake on keto low carb diet (which I believe is torture haha) or indulge on this and have cheese and lettuce for dinner. How does it sounds?
This keto mug cake also contains 12 grams of proteins and 6 grams of fiber. Therefore it will fuel you up and you won't need a large dinner after this for snack. 
A sugar-free chocolate cake
This sugar-free chocolate mug cake is made with only 5 ingredients.  All you need to make this recipe are very simple low carb ingredients. Let's have a look at what you need to fix your chocolate craving now.
Almond flour or almond meal, both work very well
Coconut flour
Sugar-free crystal sweetener like erythritol or xylitol
Egg, don't replace by an egg-free alternative
Unsweetened cocoa powder
Baking powder 
I highly recommend to add a pinch of sugar-free chocolate chips in your mug cake for an extra chocolate flavor. And if you feel like extra treats are needed, add that extra drizzle of peanut butter and melted sugar free chocolate on top of it. What is better than peanut butter and chocolate, really?
More low carb keto mug cake
I have plenty of other easy keto mug cake recipes for you to try on the blog:
Enjoy the lovely keto chocolate mug cake recipe.
 xoxo Carine
Low Carb Chocolate mug cake with Coconut Flour
Low Carb Chocolate mug cake recipe with Coconut Flour. A keto mug cake with only 6.5 g net carb per serve and 250 kcal. A healthy 5 minutes guilt free snack. Dairy free, sugar free, gluten free and sweetened with natural Simply-Stevia. 
1 mug cake
Print The Recipe
In a small mixing bowl, whisk egg, erythritol, unsweetened almond milk, oil and baking soda.

Stir in almond meal, coconut flour and unsweetened cocoa powder.

Pour into a mug or ramekin.

Microwave 1 min increase by 30 seconds burst if needed. It is cooked when the top of the cake is firm and pop out of the mug.

Enjoy immediately. If you like drizzle one teaspoon of creamy peanut butter on top and melted sugar free chocolate.
Net carbs: 6.5 g per serve Milk options: you can use the milk of your choice like coconut milk, soy mik or regular cow milk. Baking alternative: if you don't have a microwave, grease a oven-proof ramekin with coconut oil, fill in and bake in hot oven 350 F (180 C) for 10-15 minutes or until a skewer inserted in the middle of the cake comes out clean. Sweetness: you can increase the sweetness of your mug cake by using 3 tablespoons of erythritol Almond meal swap: for a nut free recipe swap almond meal by sunflower seed flour
Nutrition Facts
Low Carb Chocolate mug cake with Coconut Flour
Amount Per Serving (1 mug)
Calories 254 Calories from Fat 167
% Daily Value*
Fat 18.6g29%
Carbohydrates 12.2g4%
Fiber 5.7g24%
Sugar 2.3g3%
Protein 11.9g24%
Net Carbs 6.5g
* Percent Daily Values are based on a 2000 calorie diet.