Coconut Flour Mug Cake a 90-second Keto Snack!
An easy coconut flour mug cake with a deliciously moist, coconut crumb and coconut frosting.
Bonus, this keto mug cake with coconut flour contains only 4.9 grams of net carbs per serving and it's gluten-free and dairy-free.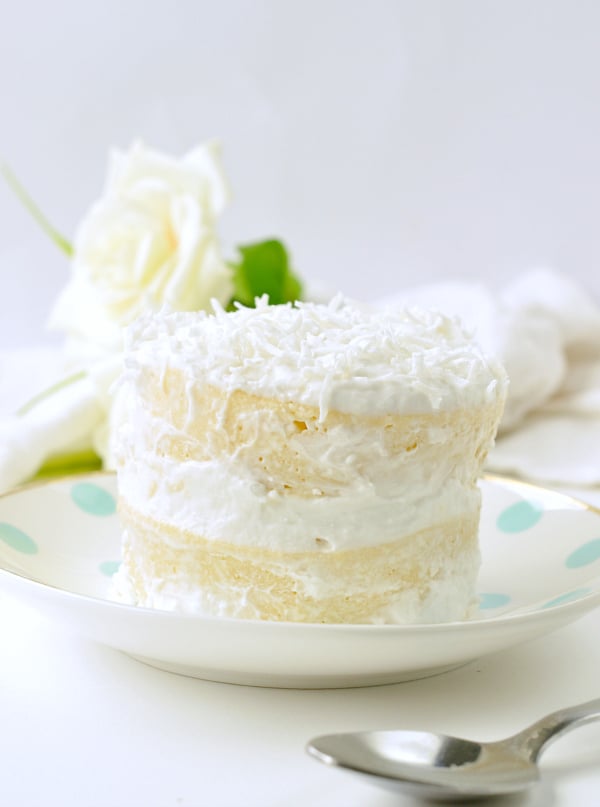 What's A Coconut Flour Mug Cake?
We all crave birthday cakes at some point. Whether it's your birthday or not, that craving must be fixed. As always, I'm here to tell you that this is ok to have keto birthday cake on a keto diet.
Of course, you need to use the right ingredients to keep things very low-carb and high-fat but keep reading, and I will guide you through this in a sec!
How To Make A Coconut Flour Mug Cake
Coconut flour is a gluten-free, low-carb flour with delicious coconut flour, and it is perfect for baking low-carb keto cakes or keto bread.
But it is also a high fiber flour, meaning it absorbs liquid very quickly, and that is why you need to measure your flour with precision to prevent this coconut flour cake in a mug from becoming dry or crumbly.
Ingredients for coconut mug cake keto recipe
You only need a few basic ingredients to make a coconut flour keto mug cake. Let's see what you need to make this lovely keto coconut mug cake in less than 5 minutes:
Coconut flour – make sure it has no lumps for best results. If so, squeeze the lumps between your fingertips before you measure the flour.
Egg – don't replace it with an egg-free option, or it will be very crumbly and dry.
Unsweetened almond milk – or any dairy-free milk you love like hemp milk or coconut milk.
Coconut cream – I use canned coconut cream. You can buy it from the international aisle of most grocery stores. It adds a creamy, moist texture to the cake crumb and delicious coconut flavor. Otherwise, if you can't find it where you live, replace it with heavy cream.
Coconut extract or vanilla extract
Sugar-free crystal sweetener – I love erythritol, but any crystal sweetener also works here.
Baking powder
Make the batter
First, grease a tall coffee mug with coconut oil. The best coffee mug volume is 5 to 12 fl oz to prevent mug cakes from overflowing from the mug.
Then, in a mixing bowl, beat the egg, almond milk, cream, and vanilla extract.
Add the coconut flour, and sweetener, and whisk very well to create a smooth coconut flour mug cake batter with no lumps.
Transfer the batter to the microwave-safe coffee mug.
Microwave on high for 60-90 seconds or until the coconut flour cake is set in the middle and rises.
Baking Coconut Flour Mug Cake
This coconut flour mug cake recipe generally required a baking time of 60 seconds to 90 seconds. Baking time in the microwave very much depends on:
size of mug
power of the microwave
If you divide this recipe in half and cook the coconut mug cake in two separate mugs, the batter requires only 60 seconds of baking time.
The reason why you decrease baking time is to keep the cake moist and soft. If you intend to microwave the whole batch all at once, microwave your keto coconut flour mug cake for 90 seconds.
Of course, some of you may not have a microwave, and that's ok.
Oven-Baking Option
You can bake your coconut flour keto mug cake in greased ovenproof ramekins for 12-18 minutes at 350°F (180°C).
You know the coconut flour mug cake is ready when the batter is set but still moist.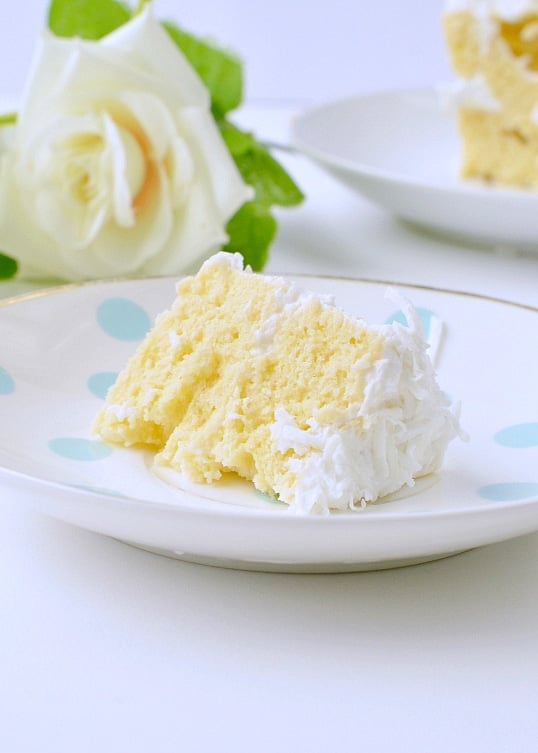 Coconut Frosting
The best way to create a single-serve keto birthday cake with a mug cake recipe is to bake 2 similar cake layers and assemble them with keto frosting.
My favorite keto frosting is dairy-free, made of unsweetened coconut yogurt, unsweetened desiccated coconut, powdered erythritol, and stevia drops.
Actually, pure coconut yogurt is the best keto yogurt you can eat! It has no sugar, no dairy, meaning no lactose sugar.
It's made of 100% coconut cream and probiotics, that is all. I recommend you check the ingredients list of your yogurt before buying, as some brands add starch or sugar!
You can also serve with mug cake with a:
A dollop of whipped cream
A sugar-free chocolate chips
Dust of cocoa powder
Allergy Swaps
If you don't like coconut flour, you can replace it with almond flour, but you will need twice the amount called in the recipe to achieve the same texture.
As always, if you made this keto coconut flour mug cake recipe, share a comment or review below. You know how much I am in love with your recipe pics.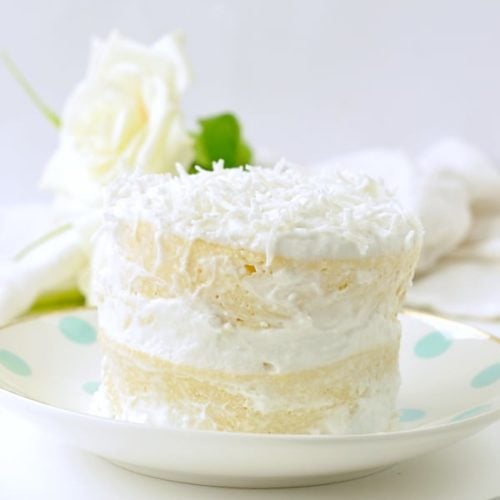 Coconut Flour Mug Cake
An easy coconut flour mug cake recipe ready in 90-second, the perfect keto mug cake with coconut flour to fix your sweet craving with only 5 grams of net carbs.
Nutrition Snapshot
Want My Kitchen Equipment?
Instructions
Grease a tall mug with coconut oil or butter. Set aside.

In a small mixing bowl, beat egg, almond milk, cream, and coconut extract.

Whisk in coconut flour, sweetener, and baking powder. Whisk all the ingredients together until no more lumps and a consistent cake batter form.

Divide the batter evenly into the 2 microwave-proof ramekins or mugs.

Microwave in a tall coffee mug, power 900W for at least 60 seconds, up to 90 seconds. If the cake is too moist after 60 seconds return to the microwave and bake for 30 seconds extra until set in the center and moist crumb forms.
Coconut frosting
Whisk the frosting ingredients all together. Set aside in the fridge while the cake layers reach room temperature. Half the mug cake and assemble as a single birthday cake, spreading frosting between layers of cake and around.
How to bake my mug cake in the oven?
Preheat the oven to 350°F (180°C).

Grease 2 oven-proof ramekins with coconut oil or butter.

Fill each ramekin with half of the batter and bake for 8-12 minutes or until the cake is moist and cooked in the center. Don't overbake, or the cakes are getting very dry in the middle.

Cool it down before frosting as mentioned above.
Storage
You can make the batter the day before, store it in an airtight container in the fridge and bake it the next day. Don't store a microwaved-baked mug cake for more than 2 hours. They get dry and lose all their texture and flavor. If you use the oven, you can store the cake for 3 days in the fridge.
Notes
Coconut yogurt – Always choose one made with only 2 ingredients, coconut cream + probiotics. Some brands are not keto as they add starch or sugar. Don't use them! Otherwise, replace it with cream cheese if you can't find coconut yogurt where you live.
Frosting carbs – the nutrition panel is for 1 mug cake without frosting. If you add the frosting, the nutrition panel is:
Calorie: 325 kcal | Fat: 25.6g| Net Carbs: 6.5g | Protein: 11.1g
My Recipe Notes
Nutrition
Serving:
1
mug cake
Calories:
262.6
kcal
(13%)
Carbohydrates:
12
g
(4%)
Fiber:
7.8
g
(33%)
Net Carbs:
4.2
g
Protein:
10.7
g
(21%)
Fat:
16.3
g
(25%)
Saturated Fat:
11.1
g
(69%)
Polyunsaturated Fat:
1.1
g
Monounsaturated Fat:
2.3
g
Trans Fat:
0.1
g
Cholesterol:
186
mg
(62%)
Sodium:
236.2
mg
(10%)
Potassium:
149.9
mg
(4%)
Sugar:
5
g
(6%)
Vitamin A:
270
IU
(5%)
Vitamin B12:
0.4
µg
(7%)
Vitamin C:
8
mg
(10%)
Vitamin D:
1.7
µg
(11%)
Calcium:
183
mg
(18%)
Iron:
1.9
mg
(11%)
Magnesium:
15.4
mg
(4%)
Zinc:
0.9
mg
(6%)
Posted In: