Keto Coconut Flour Chocolate Cake
This coconut flour chocolate cake is an easy, healthy, gluten-free keto chocolate cake with a chocolate ganache and only 4 grams of net carbs per slice.
The perfect keto chocolate birthday cake is also dairy-free, and you can serve it to all your paleo friends!
There are many occasions all year round for making good cakes, birthday parties, anniversaries, engagement parties, etc.
I've shared many of my favorite cake recipes, such as keto vanilla birthday cake, Coconut Flour Cake, or Keto Cake.
So I decided to share another recipe I like very much. Say hello to my coconut flour cake.
Is Coconut Flour Keto?
Yes, coconut flour is a delicious keto low-carb flour containing only 8 grams of net carbs per 1/4 cup.
Also, note that a 1/4 cup of coconut flour contains 10 grams of fiber which is 5 times more than all-purpose wheat flour.
It means that coconut flour is highly liquid-absorbent, and you must be very precise when measuring it. If you add too much, the cake will be dryer.
How To Make Coconut Flour Chocolate Cake
This delicious coconut flour chocolate cake is not only an easy keto chocolate birthday cake, but it is also dairy-free.
Ingredients
This keto chocolate birthday cake is made with 100% dairy-free wholesome ingredients and is perfect to pair with a cup of my keto coffee
Coconut flour – I love coconut flour recipes. It's one of the best keto flours to use in baking. It contains a lot of fiber and, therefore, not that many net carbs. Learn how to choose your keto flours!
Unsweetened cocoa powder – it gives the most delicious chocolate flavor to the cake.
Eggs – don't try any egg substitute without changing the ratio of flour. It wouldn't work. I personally haven't tried to make a vegan version of this cake yet.
Sugar-free crystal sweetener – as always, use a blend of erythritol, xylitol, or Monk fruit. Don't use pure stevia, or you'd need a different ratio, and the cake wouldn't hold as well. Use my Keto Sweetener converter to easily convert from one to another!
Canned coconut cream – you want to use full-fat unsweetened coconut cream to get the best moist keto chocolate cake with coconut flour. Otherwise, if you do eat dairy, use heavy cream.
Vanilla
Baking powder – or half the amount of baking soda.
Serving Paleo Coconut Flour Chocolate Cake
This chocolate cake is not only keto-friendly, but it is also grain-free and paleo.
I love to serve mine with a dairy-free chocolate ganache. Also, I sometimes add dollops of peanut butter just under the ganache.
While peanut butter is not paleo, it's keto-friendly, and honestly, I can' resist the chocolate and peanut butter combo!
Otherwise, a simple way to decorate your cake is to add some unsweetened coconut on top. It will balance really well the coconut flour flavor of your chocolate cake.
Storage
You might wonder what to do with 12 slices of cake. If you have a small family that does not eat cake every day, there's a way!
My solution is to freeze the cake, sliced in a large airtight box.
Make sure you keep the slices separate from each other to make it easier to separate them. I defrost the cake slice by slice the day before. It is the best option to enjoy the cake for a long time without overindulging.
Once frozen, you can keep this cake for a couple of months.
More Healthy Cake Recipes
If you are a cake lover and crave cakes, I got you covered!
I have a range of delicious cake recipes with less than 8 grams of net carbs per slice.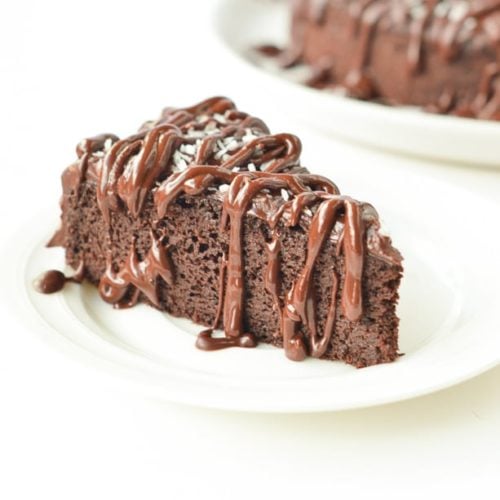 Coconut Flour Chocolate Cake
An easy moist keto chocolate cake, dairy-free and gluten-free with coconut flour and chocolate ganache.
Serving Size:
1
slice with ganache
Ingredients
½

cup

Coconut Flour

2

teaspoons

Baking Powder

or half amount of baking soda

½

cup

Unsweetened Cocoa Powder

4

Eggs

large

½

cup

Erythritol

erythritol, Monk fruit, Xylitol

1

teaspoon

Vanilla Extract

13.5

oz

Coconut Cream

(1 can, 400 ml) or heavy cream
Optional – to decorate
2

tablespoons

Unsweetened Cocoa Powder
This recipe may contain Amazon or other affiliate links. As an Amazon Associate I earn from qualifying purchases.
Instructions
Preheat oven to 170°C (340°F) conventional mode

Grease a 9-inch round cake pan with coconut oil or butter. Set aside.

In a medium-size mixing bowl, whisk together the coconut flour, baking powder, and unsweetened cocoa powder. Set aside

In another bowl, beat eggs with a sugar-free crystal sweetener of your choice. It shouldn't take more than 30 seconds using a manual whisk. Process as if you are making an omelette.

Pour the liquid mixture onto the coconut flour/cocoa blend.

Whisk in vanilla and full-fat coconut cream (or heavy cream).

Stir until fully combined, and a shiny cake batter forms with no lumps.

Transfer the cake batter to the prepared cake pan.

Bake for 50 minutes in the center of the oven. You can add a piece of foil on top of the cake after 30 minutes of baking. This prevents the top of the cake from burning and ensures consistent cooking inside the cake

Your cake is cooked when a skewer inserted in the middle of the cake comes out clean.

Cool in the cake pan for 10 minutes, then release the cake onto a cooling rack for at least 1 hour before adding the chocolate ganache on top.
Chocolate ganache
Meanwhile, prepare the chocolate ganache.

In a medium saucepan, under medium heat, warm the sugar-free dark chocolate with coconut cream (or heavy cream) until it forms bubbles on the side of the saucepan. Don't boil the cream and whisk constantly to prevent the chocolate from burning. It will melt as you go creating a glossy chocolate ganache after about 3 minutes.

Spread the chocolate ganache over the chocolate cake using a piping bag or squeeze sauce bottle. Decorate with unsweetened desiccated coconut if desired (add about 2 tablespoons).
Storage
Store the cake in an airtight cake box in the fridge for up to 4 days.

Freeze the cake sliced, in individual zip lock bags, defrost the day before. I recommend freezing without the frosting for better results.
Notes
Net carb per slice including the chocolate ganache: 4.2 grams Ganache: The ganache will thicken as it cools, so pop the cake in the fridge if too runny, and it will thicken quickly. The ganache can be made the day before, stored in the fridge, and rewarmed to liquefy. You can set aside some ganache to add as an extra on each slice you serve.
Want My Kitchen Equipment?
Serving Size:
1
slice with ganache
Serving:
1
slice with ganache
Calories:
166
kcal
(8%)
Carbohydrates:
8.1
g
(3%)
Fiber:
3.9
g
(16%)
Net Carbs:
4.2
g
Protein:
5
g
(10%)
Fat:
14.4
g
(22%)
Sugar:
1.2
g
(1%)
Posted In: