This is the best Keto Coconut Cake recipe, a moist, soft, fluffy crumb with an intense coconut flavor, a creamy coconut frosting, and crispy toasted coconut on top. Bonus, this coconut cake recipe is gluten-free and dairy-free too! So keep reading to learn more.
Calling all the coconut lovers with this keto coconut cake recipe! I am a coconut fan, and I used to love fluffy, moist coconut cakes from the bakery with crunchy toasted coconut on top.
You know that feeling when you try something new, and the result is way beyond your expectations? That is the story about this keto gluten-free coconut cake.
Let me explain how you can easily – yes, it's a super EASY keto coconut cake – make this recipe at home in less than 40 minutes.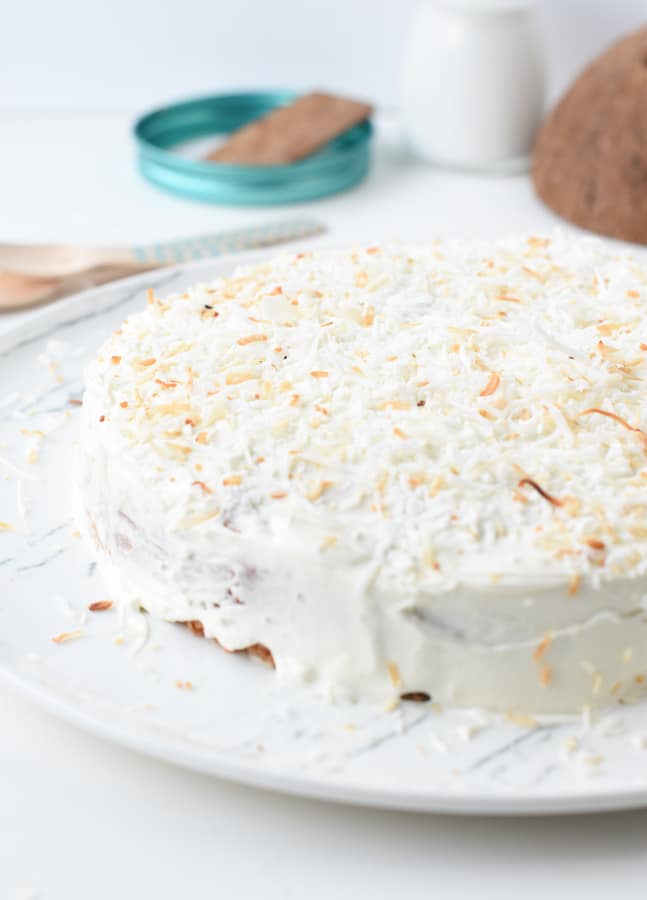 Keto coconut cake ingredients
This low-carb coconut cake is dairy-free, made entirely with coconut products to provide the most intense coconut flavor. These are the ingredients I chose to use in the recipe:
Coconut flour – it's one of the lowest carb flour and the best to add a strong coconut flavor to a coconut cake. However, coconut flour is 4 times more absorbent than other flours, and that's why you must measure this flour very carefully. Make sure your flour is fine, fresh, with no lump. I recommend you work in grams for this recipe or if you are using cups, make sure you heap the cup and level it before adding it to your mixing bowl.
Eggs – large eggs at room temperature are required. If your eggs are too small, the cake will be very dry.
Full-fat canned coconut cream – this is the most important ingredient in this recipe for many reasons. First, it adds a delicious coconut flavor to this coconut cake. Then, the cream creates the best moist, fluffy crumb. That's why you shouldn't use low-fat coconut cream or coconut milk beverages. Finally, if you can't find coconut cream, another option is heavy cream. It won't add the fabulous coconut flavor from the coconut cream, but the cake texture will remain intact. Note that you can buy full-fat canned coconut cream in the Asian aisle of your supermarket. Check the ingredient list for no sugar added, and also remember that you must shake the can before measuring your cream as cream and milk separates in the can.
Coconut extract – this enhances the keto coconut flavor. If you can't find coconut extract without added sugar, simply use coconut stevia drops.
Vanilla extract
Baking powder
Unsweetened desiccated coconut – or shredded coconut if you prefer big pieces of coconut into the cake crumbs.

How to make gluten-free coconut cake with coconut flour?
This is another easy keto cake recipe I am sharing with you. All you have to do is to beat the eggs with cream, vanilla, coconut extract, and erythritol until light in color. Then, beat in the coconut flour until the cake batter is shiny and has no lumps. I highly recommend using a beater to prevent lumps in the batter and to ensure a fluffy cake crumb. Stir in the desiccated coconut at the end and bake your cake in a greased 9-inch cake pan until the top of the cake is golden and the center is set.
ⓧ
Are you new to Keto?
Receive my Keto Quick Start email series to learn all about the Keto diet and kick start your keto journey!
Baking time
Coconut flour is highly liquid absorbent, and that is why coconut flour cakes may cook faster than regular wheat-based cakes.
For a moist coconut flour cake, I recommend you insert a skewer in the center of the cake after 20 minutes and keep checking every 5 minutes for 30 minutes.
Your cake is ready when a little to no crumb sticks on the skewer. Overbaking your coconut flour cake would make it very dry, so be careful about timing.
Also, always adjust the time based on your cake pan size. I am using a 9-inch pan and bake the cake for 25 minutes on fan mode at 180C/350F.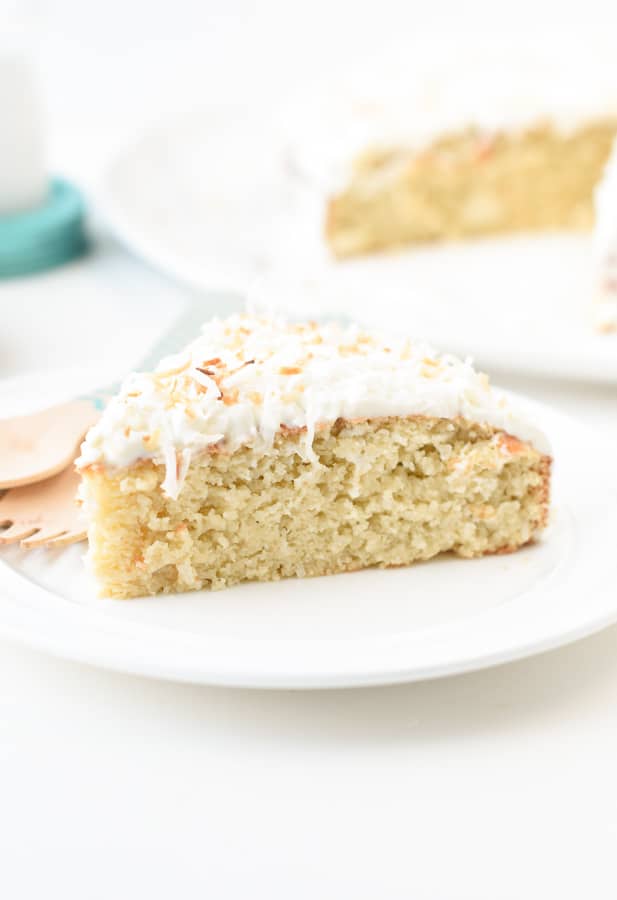 The cake will take longer to bake if you:
Used a smaller cake pan, less than 9 inches in diameter.
Baked on regular mode – usually, baking time will be closer to 30-35 minutes.
Didn't add enough coconut flour.

Does this cake has an eggy taste?
Coconut flour cakes call for many eggs, and this is just how the recipe should be made! As I mentioned earlier, coconut flour is not like all other flour.
It has very special chemistry since it contains 4 times more fiber than regular flour. Fibers are water/liquid absorbent, and if they are not in contact with a liquid binding agent, they create crumbly, dry, and fragile cakes.
Therefore, a coconut flour cake requires lots of liquid, particularly eggs, to bind the flour and prevent the cake from having an unpleasant texture.
This said, it's not because this keto coconut cake uses 4 eggs that it tastes eggy at all! To cover a potential eggy taste in this low carb cake recipe, I am using:
Good quality coconut extract and vanilla extract. I am talking about natural extract, these are strong, intense and they add the best flavor to your cake. It would be very hard for the eggs to overpower the flavor of the natural extract.
Coconut cream instead of heavy cream. Coconut cream is very flavorsome. It not only enhances the coconut flavor of your cake but also covers any eggy taste you don't want in a keto cake.
Eggs at room temperature. Yes, cold eggs enhance the eggy flavor of baking, so make sure you bring the eggs to room temperature before baking this healthy coconut cake. To do so, fill a bowl with lukewarm water and place the eggs in the bowl for 20 minutes or remove the eggs from the fridge 3 hours before baking the cake.
Coconut frosting – the coconut frosting will be the extra coconut flavor on top of this cake that will absolutely cover any egg taste left in the cake, so don't skip it!
Coconut cake cream cheese frosting
While this low-carb coconut cake recipe is dairy-free, I prefer a cream cheese frosting. It adds a delicious creamy layer on top of the fluffy crumb, and you won't regret it. To make this keto cream cheese frosting, you need:
Soft cream cheese – remove the cream cheese from the fridge for 1 hour before using it. If you cut the cream cheese into pieces, it is easier to beat in the next step.
Full-fat coconut cream – same as above, let it warm up before using.
Coconut extract
Powdered erythritol – to sweeten the frosting

A moist gluten-free coconut cake
This is a moist gluten-free coconut cake recipe, and if you want to make sure your cake comes out as most as mine, you must:
Use full-fat canned coconut cream or heavy cream but don't use low-fat products, or the cake crumb will be dry.
Measure the coconut flour precisely. To do so, ensure that your flour is fine, fresh with no lumps. If you are using cups, don't overly heap the flour in the cup and level the cup. Otherwise, use grams/oz for the best result. Note that old bags of coconut flour may have already absorbed some moisture and lost their properties – liquid absorption.
Check baking time – see notes above about checking the baking time often to ensure the best baking time based on the oven, pan size, etc.
More keto coconut flour cake recipes
Made this low-carb pizza crust recipe almond flour? Share a picture with me on Instagram!
XOXO Carine
Recipe Card
Keto Coconut Cake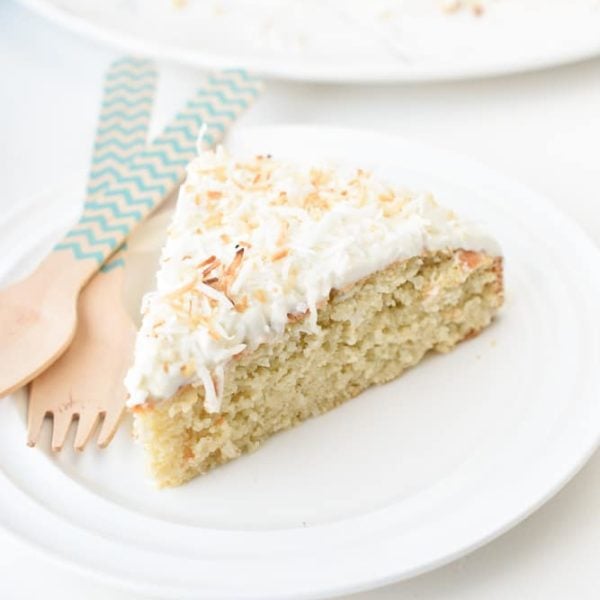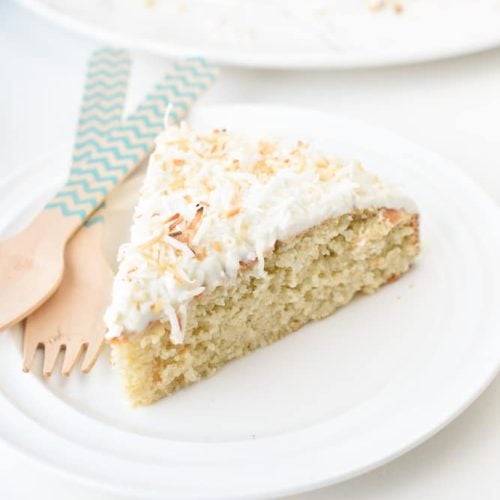 A moist coconut cake for any occasion, 100% gluten-free, dairy-free and sugar-free.
Ingredients
Cream cheese frosting
4.4

oz

Cream Cheese

soft, at room temperature, cubed

¼

cup

Coconut Cream

canned, full fat, shake the can before measuring, or use heavy cream

1

teaspoon

Pure Coconut Extract
Instructions
Preheat oven to 180°C (375°F).

Grease a 9-inch cake pan with coconut oil or butter. Set aside.

In a large bowl, using an electric beater on low/medium speed, beat the eggs with coconut cream, erythritol, coconut extract, and vanilla for 30-45 seconds or until slightly lighter in color.

Beat in coconut flour and baking powder until the batter is shiny and has no lumps. Stop the beater and stir in the desiccated coconut.

Transfer the coconut cake batter onto the prepared cake pan and spread evenly.

Bake in center rack for

20-25 minutes

on fan-mode or for

30-35 minutes

or regular mode. I recommend you insert a pick in the center of the cake every 5 minutes from 20 minutes of baking. If it comes out clean or with a little bit of crumb, it's cooked! This is the best way to prevent a coconut flour cake from overbaking and getting dry (you want the crumb to be soft and moist!)

Cool

5 minutes

in the pan then transfer onto a cooling rack.

Cool

1 hour

on the rack, or wait until it reaches room temperature to frost. Only make the frosting 10 minutes before frosting the cake, or if you want to make the frosting ahead, don't store in the fridge, or it will get hard and difficult to spread.
Cream cheese frosting
To make the frosting, beat the cream cheese with coconut cream, coconut extract, and powdered erythritol until fluffy. If too thick, add more coconut cream until it reaches a texture you love.

Spread the icing on top of the cake and serve with extra toasted desiccated coconut.
Storage
Store the cake in the fridge for up to 4 days or freeze, in an airtight box.

Defrost the cake on the counter.
My Recipe Notes
Tools
Starting Keto
What Is Keto Diet?
Macro Calculator
Sweetener Converter
Keto Meal Plans
Keto Recipe Ebooks
Intermittent Fasting
Keto Fruits
Keto Vegetables
Keto FLours
Fighting Keto Flu
Keto Sweeteners
Nutrition Facts
Keto Coconut Cake
Amount Per Serving (1 slice)
Calories 199
Calories from Fat 153
% Daily Value*
Fat 17g26%
Cholesterol 73mg24%
Sodium 149mg6%
Potassium 122mg3%
Carbohydrates 7g2%
Protein 5g10%
Vitamin A 230IU5%
Vitamin C 1mg1%
Calcium 65mg7%
Iron 1mg6%
Net Carbs 3g
* Percent Daily Values are based on a 2000 calorie diet.