Keto Chocolate Cake (Almond Flour)
This Keto Chocolate Cake recipe is a perfect recipe for a gluten-free birthday cake with a delicious, moist, dark chocolate crumb and almond butter chocolate frosting!
It's a healthy gluten-free keto cake recipe with almond flour for any celebration.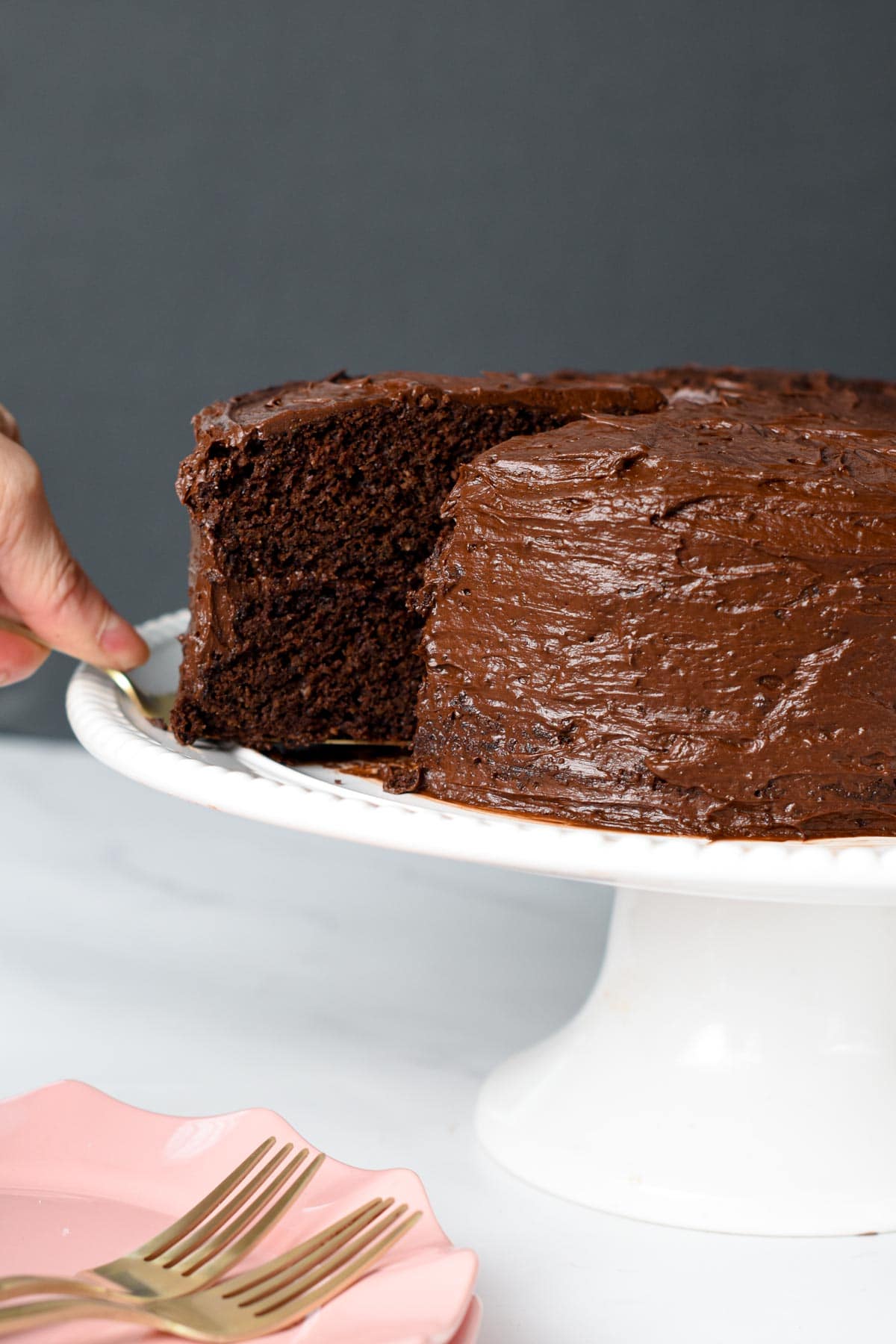 What's A Keto Chocolate Cake?
This chocolate cake is one of the best cakes I have ever made. It's very chocolatey, super simple to make, and no one will even guess it's low in carbs!
Since almond flour is a gluten-free and low-carb flour, almond flour cake recipes are lower in carbs and perfect for making healthy chocolate cakes.
Plus, since the cake is gluten-free and dairy-free, it's suitable for many diets and allergies.
Why You'll Love This Recipe
This cake is full of chocolate, decadent, and tastes beautiful, but it's also:
Gluten-Free
Dairy-Free
Paleo
Low-Carb
Keto
Ready In Under 50 Minutes
How To Make Keto Chocolate Cake
This recipe is so easy to bake to make. No need for regular flour, coconut flour, or butter to get the best chocolate cake taste!
All you need are a few basic ingredients. Let me tell you more about them and give you my tips on how to choose them.
Ingredients
Ultra-fine Almond Flour – Use almond flour with a golden color and fine texture. Don't use an almond meal to make almond flour cakes. It makes cakes very grainy and gritty, and you won't achieve a moist chocolate cake crumb with almond meal. Learn how to choose your keto flour.
Unsweetened Cocoa Powder – Cocoa Powder adds the lovely dark chocolate flavor to your chocolate keto cake without adding sugar and keeps the cake healthy.
Crystal Sweetener of Choice – feel free to choose your favorite crystal sweetener. For a keto almond flour chocolate cake, pick a sweetener like erythritol or allulose. This first option is my go-to as it makes this cake keto-friendly, low in carbs, and therefore diabetes-friendly. But, for a paleo chocolate cake, use the same amount of coconut sugar but no maple syrup! Liquid syrup would make the cake much denser! Finally, for a regular gluten-free chocolate cake with almond flour, pick unrefined cane sugar or sugar!
Large Eggs – don't swap eggs in this recipe. It just doesn't work with flax eggs.
Almond Milk – Use unsweetened almond milk or Unsweetened Coconut Milk if desired.
Coconut Oil – Pick either melted coconut oil or light olive oil.
Baking Powder or use half the amount of baking soda. You can also add a pinch of salt for good measure.
Vanilla Extract
Baking Instructions And Tips
Combining Dry Ingredients
First, in a large mixing bowl, whisk the almond flour, cocoa powder, sweetener, and baking powder until evenly distributed.
Make sure there are no lumps before setting the bowl aside.
Combining Liquid Ingredients
In another bowl, beat the eggs with the melted coconut oil, vanilla extract, and almond milk until the texture is smooth.
You can use a hand mixer or an electric beater as long as you don't over-beat the mixture.
Forming The Almond Flour Cake Batter
Pour the liquid onto the dry ingredients and combine them with a silicone spatula until it forms a thick chocolate cake batter.
This batter is thick, way denser than a regular cake, and that's perfectly normal.
Don't try to thin out the batter by adding more liquid as the bake wouldn't bake properly.
Baking
Preheat the oven to 325°F (160°C). Line one 9-inch round cake pan with parchment paper.
Then, lightly oil the paper and pan with some coconut oil. This is crucial because almond flour cake recipes stick to pans otherwise!
Finally, transfer the batter into the prepared pan and spread it evenly with a spatula.
Bake the cake for 35 to 40 minutes in the center rack of the oven, still at 325°F (160°C), until a toothpick inserted in the center of the cake comes out clean.
For a layered cake, prepare another batch of this almond flour chocolate cake and bake it while the first layer is cooling down.
If you have two pans, you can make them at the same time to have the exact same texture.
Making The Chocolate Frosting
This is the best part of this chocolate keto cake, the frosting!
Of course, you can use any chocolate frosting for your cake, but this almond butter chocolate frosting is a healthy twist to chocolate buttercream, and it is dairy-free!
You can also make my Keto Chocolate Frosting.
Ingredients For Dairy-free Frosting
The ingredients you need to make this sugar-free chocolate frosting are:
Unsalted Butter – dairy-free or dairy butter – both work as long as you don't take a spreadable option, take the block instead.
Almond Butter
Unsweetened Cocoa Powder
Powdered Sugar-free Sweetener or powdered sweetener of choice – I used powdered erythritol to make a keto chocolate cake, but icing sugar works if you are not watching your sugar intake.
Unsweetened Almond Milk
Beat butter, almond butter, and almond milk together in a large mixing bowl until fluffy.
Then, add powdered sweetener and cocoa powder. Beat again until well combined and creamy. If the frosting is too thick, add more almond milk to thin it out.
You can also make a cream cheese frosting, head to my Keto Red Velvet Cake for the recipe.
Assembling The Keto Chocolate Cake
First, make sure the cake layers are cold. It usually requires 3 hours on a cooling rack at room temperature.
Then, if you have a turntable, use it, and place the first cake layer on a plate.
Next, place the plate on the turntable, add 1/3 of the frosting in the middle of the cake, and using a spatula, spread the chocolate frosting from the middle to the side while you turn the table at the same time.
Finally, add the second almond flour cake layer, and add another 1/3 of the chocolate frosting batch. Proceed as before to spread the frosting all over the cake.
Obviously, the frosting will drip on the sides of the cake, but that's ok.
Spread the rest of the low-carb frosting on the side, and keep turning the table while applying medium pressure with your spatula on the side of the cake.
Decorating The Cake
After frosting the low-carb cake, you can decorate it with sliced almonds or low-carb sprinkles.
Frequently Asked Questions
How Can I Make A Moist Cake?
Almond flour is made from grounds almonds, and like almonds, almond flour can burn fast if baked at a high temperature.
So the key to making the best keto chocolate cake recipe moist, not dry or gritty, is to:
Bake at a low temperature – 325°F (160°C) is the best temperature to bake with almond flour.
Bake on the center rack – don't bake almond flour keto cake layers too close to the bottom or top of the oven. They burn!
Beat the liquid ingredients with an electric beater – this adds air to the keto cake batter. As a result, your cake rises more. It won't be dense or packed.
Can I Make It Ahead?
Luckily, you can make this chocolate keto cake one or 2 days before assembling it.
First, bake the cake layers – up to 48 hours before your event.
Next, wrap each cake layer with plastic film wrap to keep the cake batter moist, then store it in a cool place for up to 24 hours or in the fridge if you need to store it for longer.
On the day of your occasion, assemble your chocolate cake with the frosting recipe above.
Don't frost the keto cake more than a day before eating it.
Can I Store This Chocolate Cake?
A chocolate keto cake stores the same as any other cake. Place your cake in a cake box to avoid contact with air and to keep it moist.
Then, pop the cake box in the center rack of your fridge and keep it for up to 4 days.
You can freeze almond flour cakes as well. Of course, make sure you freeze the cake in a sealed freezer-friendly container to prevent air from entering.
Freeze for up to 3 months. Thaw the almond flour chocolate cake the day before at room temperature.
You can freeze the full assembled frosted cake or just the layers if you make this almond flour chocolate cake more than two days ahead.
Can I Store Leftovers?
Yes, you can keep the leftovers of low-carb chocolate cake for a few days in the refrigerator.
Can I Replace The Almond Butter?
Yes, you can sub the almond butter in the frosting with any nut butter like peanut butter, hazelnut butter, cashew butter, or any seed butter like sunflower seed butter.
Can I Replace The Erythritol?
If you don't have erythritol, you can use any other crystal sweetener as long as they have the same replacement ratio.
Allulose
Inulin
Erythritol blend (Erythritol + Stevia or Erythritol + Monk fruit).
If you are not on a keto diet, you can use:
Regular Sugar
Coconut Sugar
Can I Substitute The Almond Flour?
You can use Sunflower Seed Flour as a low-carb alternative, but don't use coconut flour. The latter is so much more water-absorbent that the cake would be dry.
You can also use Cassava flour, but it's higher in carbs, and the cake might not fit into your macros.
Can I Substitute The Almond Milk?
Yes, you can use any of the following:
Coconut Milk
Oat Milk
Rice Milk
Soy Milk
As long as they are unsweetened.
You can also use dairy milk, but your cake would be much higher in carbs since milk is not a keto-friendly dairy product.
What Can I Use For A Chocolate Drizzle?
To make the same drizzle as mine, melt unsweetened high-cocoa chocolate (70%+) with coconut oil in the microwave.
Pour it on the low-carb cake while it's runny.
You can also use my Keto Chocolate Frosting to decorate this cake.
Is The Cake Keto-Friendly?
Yes, this keto flourless chocolate cake is made with keto flour and keto sweeteners – I used erythritol.
As a result, this keto chocolate cake recipe is 100% keto-approved!
One slice of a one-layer almond flour chocolate cake without frosting contains only 2.5 grams of net carbs, which is very low and perfect for including it as a keto dessert recipe on your keto diet.
Can I Turn This Cake Recipe Into Cupcakes?
You can perfectly use this recipe to make chocolate keto cupcakes. One batch of cake batter should fill about 12 muffin cups.
You might have to decrease the baking since cupcakes are smaller and cook faster.
More Keto Cake Recipes
I absolutely love baking with almond flour. It makes delicious healthy low-carb cake recipes that are also gluten-free and perfect for birthday celebrations.
Below I listed more keto birthday cake recipes for you to try.
Have you made this chocolate cake recipe? Share a comment or review below! I love to hear your feedback on my recipes.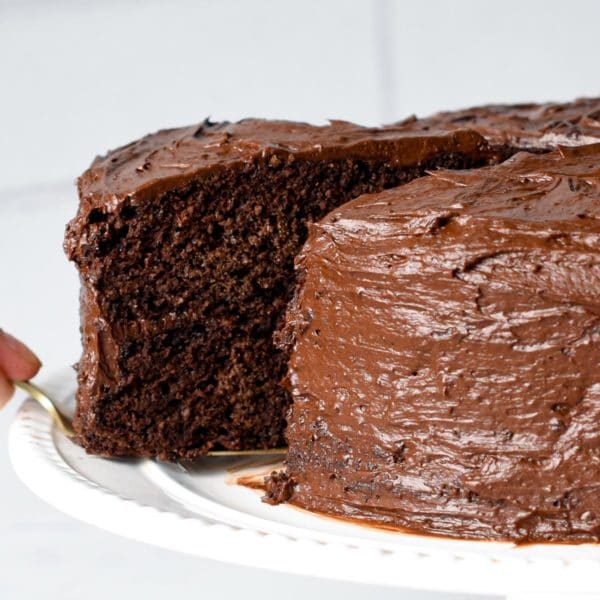 Keto Chocolate Cake
This Keto Chocolate Cake is a perfect cake recipe for a gluten-free birthday with a delicious moist dark chocolate crumb and almond butter chocolate frosting!
Nutrition Snapshot
Want My Kitchen Equipment?
Ingredients
Chocolate Almond Butter Frosting
Instructions
Preheat oven at 325°F (160°C). Line the bottom of a 9-inch round cake pan with some parchment paper. Lightly oil the paper and the sides of the pan with coconut oil or melted butter. Set it aside.

In a large mixing bowl, beat the eggs, melted coconut oil (or butter), unsweetened almond milk, and vanilla using an electric beater for 45 seconds on medium/high speed or until it's fluffy and small bubbles form on the top. Set it aside.

In another bowl, whisk the almond flour, unsweetened cocoa powder, crystal sweetener of choice, and baking powder until evenly distributed.

Pour the egg mixture onto the dry ingredients and use a spoon to gently combine the ingredients and form a thick almond flour chocolate cake batter.

Transfer the chocolate keto cake batter into the prepared round cake pan and place the pan in the center rack of your oven.

Bake for 35 – 40 minutes or until the center is set and a skewer inserted in the middle comes out clean, not wet but with a few pieces of moist crumb on it.

Cool the cake on a cooling rack and wait until it reaches room temperature before frosting.

Repeat the same recipe to create a second cake layer if desired. Make sure you clean, dry, and grease the cake pan again before pouring the second chocolate cake batter batch into it.
Chocolate Almond Butter Frosting
Make the frosting just before frosting the cake to keep it soft and easy to spread.

In a large mixing bowl, beat the softened butter with almond butter and almond milk using an electric beater until it's creamy.

Beat the sugar-free powdered sweetener and unsweetened cocoa powder until fluffy and easy to spread. If your frosting is too dry (this can happen if your almond butter is a bit old/less oily), you can adjust the frosting texture by adding 1 to 4 tablespoons of almond milk at room temperature. Add one tablespoon at a time, beat, and stop adding when it reaches your favorite keto frosting texture. The more you add, the fluffier and creamier it will be. Taste the sweetness and adjust it with stevia drops!
Assembling The Keto Chocolate Cake
Make sure both cake layers are cold before frosting your cake or the frosting will melt. I recommend waiting at least 3 hours after the cake has been baked or placing the cake for 1 hour in the fridge for the best results.

Place one cake layer on a plate, add 1/3 of the fresh frosting in the middle of the cake layer. Spread the frosting from the center to the edge using a flat tool or spatula. Add the second cake layer on top, add 1/3 of the frosting on top of the cake layer, and repeat as before. Use the leftover frosting to spread on the sides of the cake.
Storage
You can store your cake in a cake box or airtight container in the fridge for up to 4 days.
Notes
Nutrition Panel Notes:
The cake serves 12 slices. The nutrition panel card below is for one slice of one cake layer with no frosting using sugar-free keto sweeteners (erythritol).
If you make 2 layers of cake, you have to bake two cakes. The net carbs will be twice the ones shown on the panel, plus frosting.
My Recipe Notes
Nutrition
Serving:
1
slice
Calories:
139.3
kcal
(7%)
Carbohydrates:
4.9
g
(2%)
Fiber:
2.4
g
(10%)
Net Carbs:
2.5
g
Protein:
5.3
g
(11%)
Fat:
12.5
g
(19%)
Saturated Fat:
5.1
g
(32%)
Polyunsaturated Fat:
0.5
g
Monounsaturated Fat:
1.1
g
Trans Fat:
0.1
g
Cholesterol:
62
mg
(21%)
Sodium:
86.5
mg
(4%)
Potassium:
78.2
mg
(2%)
Sugar:
0.6
g
(1%)
Vitamin A:
90
IU
(2%)
Vitamin B12:
0.1
µg
(2%)
Vitamin D:
0.3
µg
(2%)
Calcium:
76.2
mg
(8%)
Iron:
1.3
mg
(7%)
Magnesium:
20.1
mg
(5%)
Zinc:
0.5
mg
(3%)
Posted In: