These Keto Chocolate Muffins are ultra-moist almond flour chocolate muffins easy to make in one bowl and perfect as a keto breakfast muffin on your keto diet.
Plus, these keto muffins are also gluten-free and paleo-friendly, with a dairy-free option provided.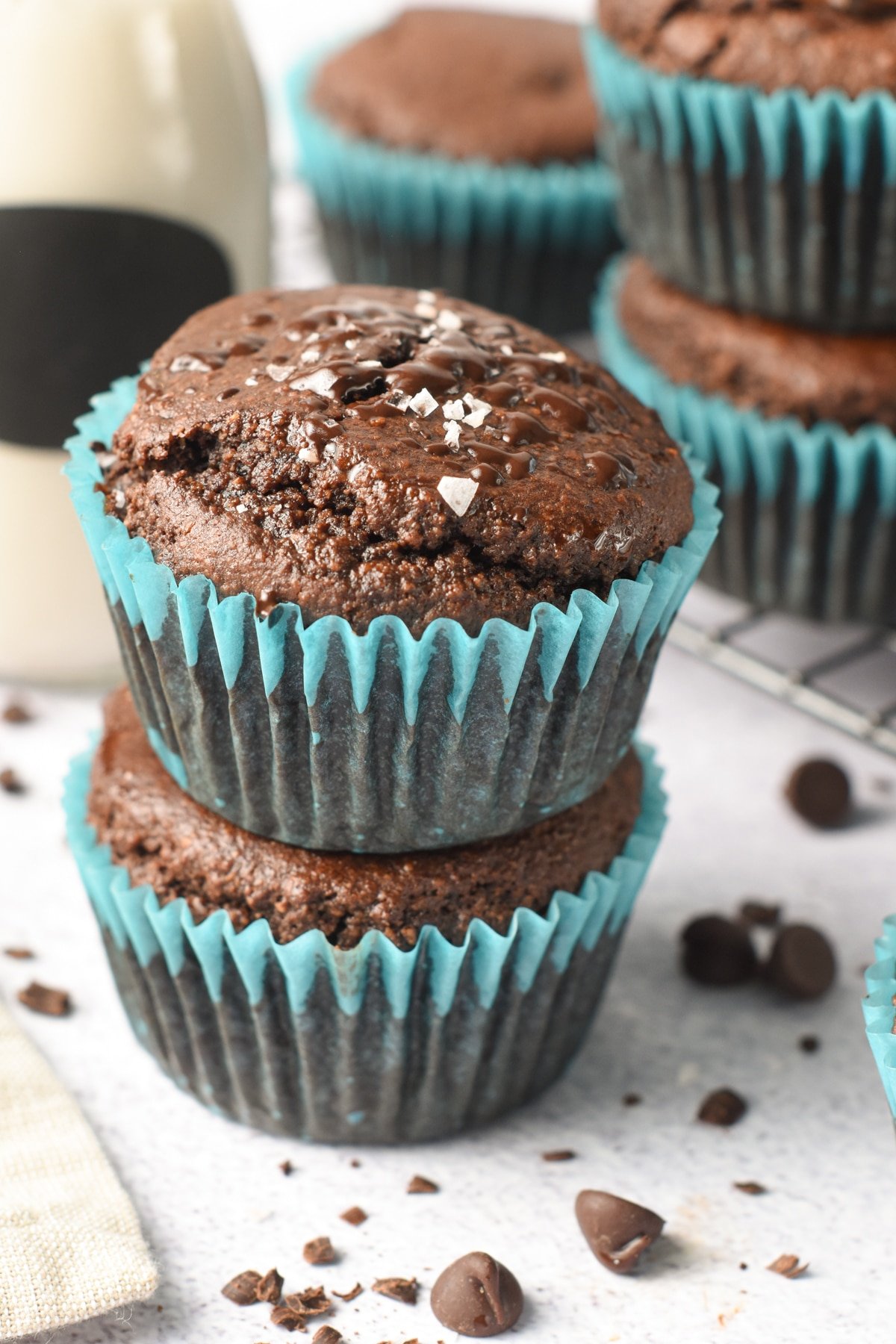 I love keto muffin recipes for so many reasons! They are easy to grab-n-go in the morning as a quick keto breakfast or a delicious sweet snack in the afternoon with a cup of keto latte.
So if, like me, you love chocolate for breakfast, try these keto chocolate muffins! They are ultra-moist decadent chocolate muffins, and nobody will guess they are sugar-free!
But first, let me answer some questions about keto and muffins!
What Are Almond Flour Chocolate Muffins?
I have been creating almond flour recipes for a while: almond flour cupcakes, almond flour pound cake, and now these almond flour chocolate muffins.
These chocolate muffins with almond flour are healthy gluten-free muffins naturally:
Sugar-free
Keto-friendly
Grain-free
Gluten-free
They are entirely made from almond flour, no wheat flour needed, and therefore they are low in carbs and gluten-free.
Almond flour muffins are perfect for anyone looking for a healthy muffin recipe with less sugar, lots of fiber, proteins, and healthy fats.
How To Make Keto Chocolate Muffins
These almond flour chocolate muffins are very easy to make in one bowl and 10 minutes.
Ingredients
All you need to make delicious, moist chocolate muffins are:
Blanched Ultra-Fine Almond Flour – I don't recommend using an almond meal to make keto low-carb muffins. Almond meal has a coarse texture and makes muffins dry and grainy.
Unsweetened Cocoa Powder – make sure you use a cocoa powder with no sweetener added, even stevia or erythritol, or the muffins come out too sweet.
Large Eggs
Melted Coconut Oil or melted butter.
Vanilla Extract
Sugar-Free Chocolate Chips – you can make your own with my sugar-free chocolate chip recipe.
Baking Powder – you can use baking soda. Replace the 2 teaspoons of baking powder with 1 teaspoon of baking soda.
Sugar-Free Crystal Sweetener of choice I like erythritol.
Unsweetened Almond Milk
Sour Cream or Greek yogurt or coconut yogurt for a high-fat dairy-free option.
Sea Salt
Muffin Batter
First, beat the eggs, sweetener, melted coconut oil, vanilla extract, unsweetened almond milk, and sour cream in a mixing bowl. Set it aside when you're done.
In another mixing bowl, whisk all the remaining dry ingredients until evenly combined: almond flour, baking powder, cocoa powder, and sweetener.
Finally, stir the wet ingredients into the dry ingredients until a thick chocolate batter forms. Fold in the chocolate chips at the end.
Baking Almond Flour Chocolate Muffins
Preheat oven to 350°F (180°C). Line a 12-hole muffin tin with paper cases and lightly spray some oil in them to prevent the muffin batter from sticking.
Fill each muffin case with about 1/3 cup of batter.
Place the muffin pan in the center rack of the preheated oven.
Bake the chocolate chip muffins for 25 to 35 minutes or until a pick inserted in the center of one of the muffins comes out clean.
Cooling Down At Room Temperature
Cool the muffins down on a cooling rack for 30 minutes before eating.
You can sprinkle some extra sugar-free dark chocolate chips on the hot muffins to boost the chocolate flavor.
Serving
These keto chocolate muffins contain 4.4 grams of net carbs per serving. They are very fulfilling and depending on your macros, you can enjoy them plain or with some extra toppings or side drinks.
The best keto toppings for muffins are:
A dollop of peanut butter or almond butter
Unsweetened whipped cream
Sliced almonds or any nuts you love
The best hot drinks to serve with these keto muffins are:
Paleo Chocolate Muffin Options
This keto chocolate muffin recipe contains dairy products, but you can easily adapt the recipe to make it dairy-free and paleo-friendly.
For paleo eaters, these are the swaps you should make:
Erythritol – swap for coconut sugar.
Sour cream – swap for dairy-free coconut yogurt made entirely from coconut cream and probiotics with no added sugar or thickening agent.
Storage Instructions
Almond flour muffins store well in the fridge, in a sealed box, for up to 4 days.
You can easily freeze the chocolate muffins in zip lock bags and thaw them at room temperature the day before.
You can rewarm the muffins slightly in a hot oven.
Allergy Swaps
Below I listed some ingredients swaps that work very well with this chocolate muffin recipe.
Nut-free – You can replace the almond flour with the same amount of sunflower seed flour or sesame flour. Both are keto-friendly flour options, also gluten-free. Keep in mind that these options add a light, bitter aftertaste to muffins.
Dairy-free – as mentioned above, you can replace sour cream with any dairy-free yogurt you like or the top thick part of a can of unsweetened coconut cream.
Egg-free – Unfortunately, this recipe doesn't work with egg-replacer like flax egg. You can't make vegan keto muffins with this recipe.
Frequently Asked Questions
Can I Replace Almond Flour With Coconut Flour?
No, you can't swap one keto flour for the other. Coconut flour is a very high-fiber flour that requires up to 4 times more liquids than almond flour in a keto recipe.
Can I Skip Chocolate Chips?
Absolutely, you can skip or swap the sugar-free chocolate chips with other grain-free options like chopped nuts or shredded coconut.
Can I Skip The Sweetener?
Yes, you can make these keto chocolate muffins without the sweetener, but they won't be sweet at all.
The texture will stay the same.
Another option to sweeten sugar-free muffins is to use one of the keto-friendly sweeteners.
More Keto Muffin Recipes
If you like this recipe, you'll love these: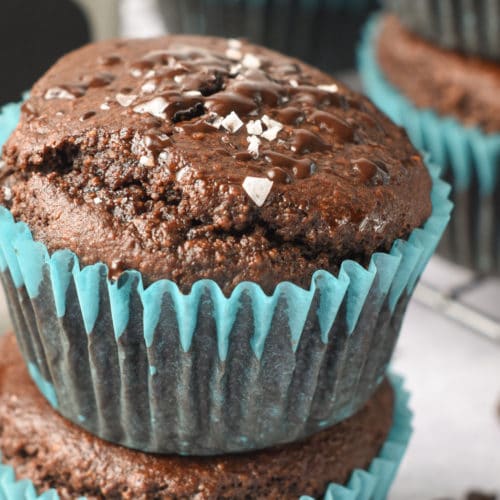 Keto Chocolate Muffins
These Keto Chocolate Muffins are ultra-moist almond flour chocolate muffins easy to make in one bowl and perfect as a keto breakfast muffin.
Ingredients
3

large

Eggs

½

cup

Erythritol

⅓

cup

Unsweetened Almond Milk

½

cup

Sour Cream

or dairy-free coconut yogurt or Greek Yogurt

⅓

cup

Coconut Oil

melted or melted butter

1

teaspoon

Vanilla Extract

2

cups

Almond Flour

½

cup

Unsweetened Cocoa Powder

2

teaspoons

Baking Powder
This recipe may contain Amazon or other affiliate links. As an Amazon Associate I earn from qualifying purchases.
Instructions
Preheat oven to 350°F (180°C). Line a 12-hole muffin pan with muffin paper or grease with an oil spray if preferred. Set it aside.

In a medium-sized mixing bowl, whisk together eggs, sugar-free sweetener of your choice, unsweetened almond milk, yogurt, and melted coconut oil. Make sure all the ingredients are at room temperature. If you are using cold eggs straight out of the fridge, they will solidify the coconut oil creating oil lumps. Otherwise, use butter to prevent this from happening.

In another bowl, whisk the remaining dry ingredients together: baking powder, almond flour, unsweetened cocoa powder until well combined.

Stir the wet ingredients into the dry ingredient until the batter is thick but has no lumps.

Fold in the sugar-free dark chocolate chips until evenly distributed.

Transfer the muffin batter evenly into the 12-muffin case – about 1/3 cup batter for each muffin.

Bake for

25

–

35 minutes

or until a toothpick inserted in the middle of the muffins comes out clean or with few to no crumbs on it.

Cool for

10 minutes

in the muffin pan, then gently transfer onto a cooling rack and cool for

30 minutes

to 1 hour before eating. Be patient. They get the best texture at room temperature.
Storage
Store in an airtight muffin box for up to 4 days at room temperature or in the fridge.

Can be frozen in airtight zip lock bags, preferably without the paper cup. Defrost the day before at room temperature. Can be toasted or rewarmed in an oven at 100°C/210°F.
Serving
Eat plain or top with unsweetened whipped coconut cream (or heavy cream) or unsweetened coconut yogurt.
Want My Kitchen Equipment?
Serving:
1
muffin
Calories:
231.2
kcal
(12%)
Carbohydrates:
10.9
g
(4%)
Fiber:
6.5
g
(27%)
Net Carbs:
4.4
g
Protein:
6.5
g
(13%)
Fat:
21.3
g
(33%)
Saturated Fat:
9.1
g
(57%)
Polyunsaturated Fat:
0.5
g
Monounsaturated Fat:
1.5
g
Trans Fat:
0.1
g
Cholesterol:
51.5
mg
(17%)
Sodium:
105.9
mg
(5%)
Potassium:
86
mg
(2%)
Sugar:
1.1
g
(1%)
Vitamin A:
127.2
IU
(3%)
Vitamin B12:
0.1
µg
(2%)
Vitamin C:
0.1
mg
Vitamin D:
0.3
µg
(2%)
Calcium:
108.9
mg
(11%)
Iron:
1.5
mg
(8%)
Magnesium:
20.6
mg
(5%)
Zinc:
0.4
mg
(3%)
Posted In: