The perfect keto hot chocolate! This low-carb hot chocolate is an easy low-carb recipe with only 4 ingredients. It makes for a delicious velvety sugar-free drink for your cold mornings. Made with almond milk, unsweetened cocoa powder and stevia this is the BEST keto hot chocolate to start the day. All of that with only 4.3g of net carbs per serve.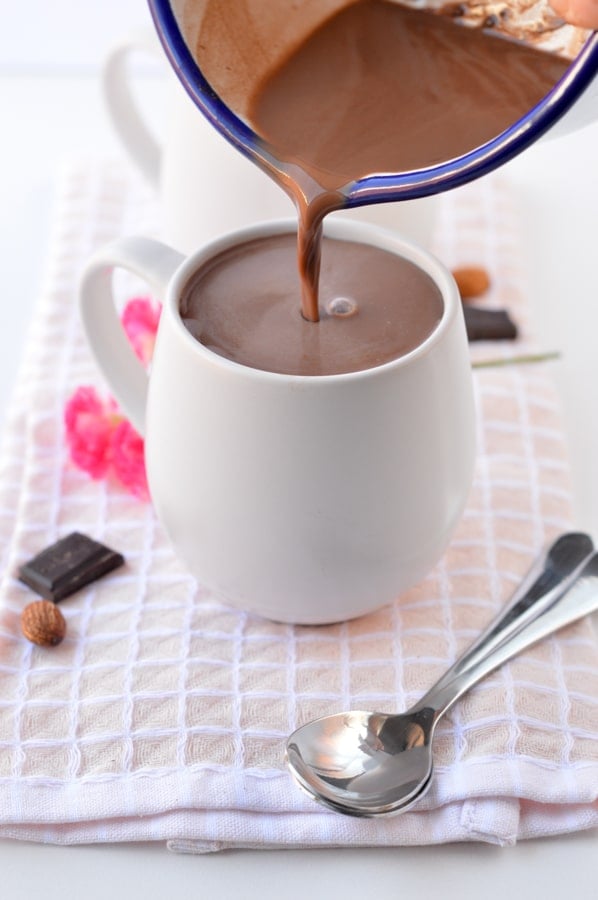 Low-Carb Hot chocolate, an easy morning drink
When mornings are getting colder and you need a little boost, there's nothing better than a hot drink. This low-carb hot chocolate is the best swap to my keto bulletproof latte. I am a chocolate lover so this keto hot chocolate is a delicious alternative. I've had many requests for a sugar-free hot chocolate recipe, so time to share my vision of a creamy and dairy-free keto hot chocolate.
Is hot chocolate keto?
Let's get this straight, regular hot chocolate is not keto because cow milk is a important source of sugar and a lot of traditional recipes also add raw sugar. But if you are asking the question, it must be because you are after a low-carb keto hot chocolate, right? Look no further, this recipe is the perfect keto hot chocolate!
How to make keto hot chocolate with only 4 ingredients?
This keto hot chocolate is a very simple recipe made with only 4 ingredients. These are what I use
Unsweetened almond milk – no surprise it is the key ingredients of a delicious low carb hot chocolate. I love to use the Almond breeze range, unsweetened Almond milk or unsweetened vanilla almond milk, both have no carbs, very few calories and no added sugar.
Unsweetened cocoa powder 
Sugar-free chocolate bar or chips – yes, you need some chocolate to make a rich creamy texture in your hot chocolate. I love to use Lilly's sugar free chocolate chips as it is sweetened with stevia. You can also use any sugar-free dark chocolate bars or 90% dark chocolate if preferred.
Erythritol – I love to use erythritol since it's both healthy, keto-friendly and not bitter. If you prefer to use other sweeteners, be sure to check our round up of all the keto-friendly sweeteners
What is the difference between hot cocoa and hot chocolate?
Pretty simple, hot cocoa as the name tells you, is a light hot beverage made from cocoa powder, sweetener and milk. On the opposite, an hot chocolate is higher in fat, which is great on a keto diet to boost your macros. As it contains chocolate, it gives a creamy rich texture to your drink. In this recipe I am using sugar-free stevia sweetened chocolate. It contains no sugar and a good amount of fat that adds a delicious velvety texture to the drink.
Serve with whipped coconut cream
You can of course serve your hot chocolate plain, with no topping. It will be light and delicious. But my advice, for a rich comforting drink, is to add a generous dollop of whipped coconut cream on top of your hot chocolate. I am using canned coconut cream to keep my drink dairy-free. I scoop out the cream from the can, whip the cream in a cold mixing bowl with an electric whisk and sweeten it with stevia drops. You can also use regular whipped cream, provided it's sugar-free. The must is to add chopped sugar-free dark chocolate on top. Make sure you combine the toppings with the drink to boost the creamy flavor of the drink. 
Other breakfast drink recipes
xoxo Carine
This recipe is sponsored by Almond Breeze Made from the best California Almonds and I received a compensation to develop this recipe but note that I only recommend product I love and trust on this blog. Thank you.