Keto Hot Chocolate with 4 Ingredients
An easy, creamy keto hot chocolate recipe made with only 4 ingredients for a comforting drink on cold days.
Bonus, this almond milk hot chocolate is also dairy-free, vegan, and contains only 4.3 grams of net carbs per serving for a quick sweet keto snack.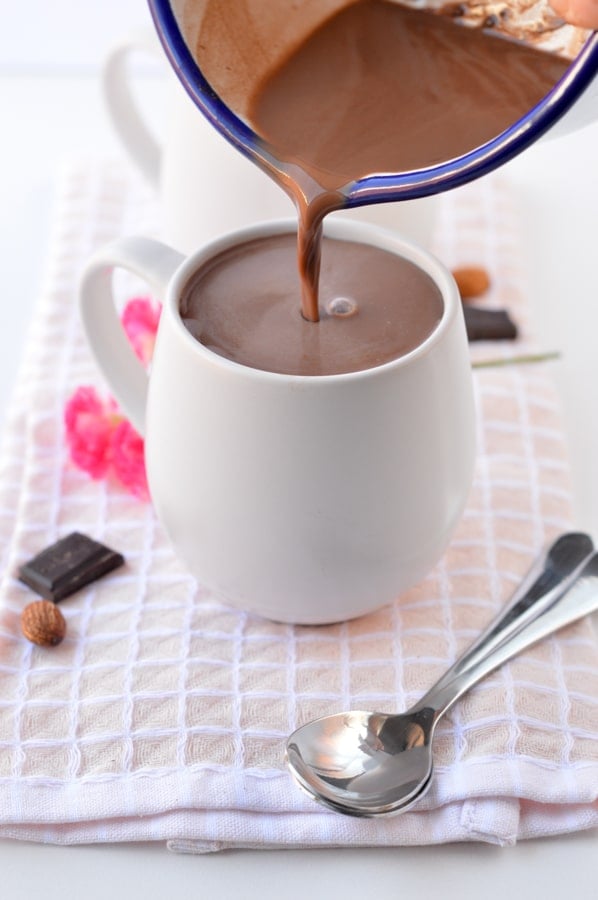 Is Hot Chocolate Keto?
Regular hot chocolate is not keto-friendly because cow milk is an important source of carbs and many traditional recipes also add raw sugar.
But if you are asking the question, it must be because you are after a low-carb keto hot chocolate.
Look no further, this recipe is the best keto hot chocolate recipe, and all you need is 4 ingredients!
Why You'll Love This Recipe
This hot chocolate is amazing as it tastes perfectly like a classic hot chocolate while being:
Sugar-Free
Gluten-Free
Low-Carb
Keto-Friendly
Dairy-Free
Egg-Free
Vegan
Ready In Under 10 Minutes
How To Make Keto Hot Chocolate
It's super easy to make this keto vegan hot chocolate at home in less than 5 minutes.
You don't need any fancy tools and only 4 ingredients that you probably have in your pantry right now.
Ingredients
This sugar-free hot chocolate requires the 4 wholesome ingredients below
Unsweetened almond milk – you can also use other low-carb milk alternatives like hemp milk or coconut milk. However, they often contain a bit more carbs per serving and a light aftertaste. Almond milk is bland in flavor, and it contains the least carbs, so the best option for a low-carb hot chocolate recipe.
Unsweetened cocoa powder
Sugar-free chocolate chips – yes, you need some real chocolate to make a rich, creamy dairy-free hot chocolate. I love to use Choc Zero sugar-free chocolate chips as it is sweetened with keto-friendly sweeteners. You can also use dark chocolate with more than 85% cocoa if you prefer or make your own sugar-free chocolate chips.
Erythritol – I love to use erythritol as a natural keto-friendly sweetener. However, remember that erythritol, like many keto sugar alcohols, has a cooling effect. It means they cool down your drink quite quickly.
Melting Chocolate And Milk
First, bring the sugar-free chocolate chips in a saucepan with unsweetened almond milk, unsweetened cocoa powder, and erythritol.
Start on medium heat, stirring with a whisk to help the chocolate melt and dissolve in the drink.
When the almond milk is hot and starts simmering, remove from heat and serve immediately.
Making Creamier Keto Hot Chocolate
Almond milk hot chocolate is low-carb, low calories, but also light in texture. They are not as rich as cow milk hot chocolate.
So on a keto diet, to boost the creaminess of your hot chocolate mix without adding too many carbs, you can add 1/4 cup of heavy whipping cream to the hot chocolate mixture in the saucepan, along with the previous ingredients.
Frequently Asked Questions
What is the difference between hot cocoa and hot chocolate?
As the name suggests, hot cocoa is a light hot beverage made from cocoa powder, sweeteners, and milk.
On the opposite, hot chocolate is higher in fat, which is great on a keto diet to boost your fat macros and weight loss.
The fat in hot chocolate comes from the dark chocolate, added with the cocoa powder. This increases the creamy, rich texture of your keto hot drink. In this keto-friendly hot chocolate recipe, the sugar-free chocolate chips add the extra fat that leads to a delicious velvety sugar-free hot chocolate drink.
What's the difference between cocoa and cacao?
Chocolate is always made from the beans of the cacao tree that are roasted and turned into both a solid powder (called cocoa powder) and a fat (cocoa butter).
Traditionally, the word cacao is used to name the tree, the beans, and very unrefined forms of chocolate (cacao nibs or raw cacao powder for example). Cocoa is then used to describe refined products such as cocoa butter and cocoa powder.
But these naming conventions are just a usage, not rules.
Is cocoa powder OK on keto?
Cocoa Powder is compatible with a keto diet as long as it's unsweetened. Several brands load their cocoa powder with sugar, partly to make it cheaper.
Can you drink hot chocolate on a diet?
Classic hot chocolate contains a lot of sugar and therefore calories. On a diet, it's generally recommended to reduce your calorie intake. Cutting the sugar from the milk and chocolate powder is essential.
When should I drink keto hot chocolate?
This keto recipe for hot chocolate is the best keto hot drink recipe for breakfast. If you don't like coffee in the morning or don't feel like having your regular keto bulletproof latte, try this low-carb no sugar hot chocolate instead!
It is a delicious alternative to coffee or tea, and with only 4 grams of net carbs, it keeps room for more breakfast food.
Of course, this low-carb homemade hot chocolate is also a great afternoon snack when a chocolate craving comes!
How Should I Serve Keto Hot Chocolate?
You can, of course, serve your low-carb gluten-free hot chocolate plain in a mug with no topping. It will be light and delicious. But my advice, for a rich, comforting drink, is to add a generous dollop of:
Unsweetened heavy whipping cream.
Unsweetened whipped coconut cream for a dairy-free option, keto vegan-approved.
Also, adding some grated sugar-free dark chocolate on top, a few drops of vanilla extract, or a pinch of cinnamon makes the drink even better and boosts the chocolate flavor!
Or you can drop one or two keto marshmallows for extra smoothness.
I also recommend pairing them with a keto cookie for a perfect association.
Can you make hot chocolate with almond milk?
You can make an almond milk hot chocolate, 100% dairy-free, sugar-free, and keto-friendly.
Of course, almond milk is lighter in texture than regular dairy milk, so the texture of your drink will be slightly less creamy.
But, you can also froth almond milk in a milk frother to give some texture and foamy texture to the milk. To do so, use fresh almond milk, not packaged almond milk that often won't foam well in milk frother.
Also, look at the amount of protein in your almond milk. The more protein, the better it froths!
So to the question, can you use almond milk for hot chocolate on keto? The answer is yes, and it's so delicious that you should absolutely try this now.
More Keto Hot Drink Recipes
If you enjoy a keto hot drink recipe as a comforting, heart-warming drink, try some of the keto recipes below!
Have you made this sugar-free hot chocolate recipe? Share a comment or review below! I love to hear your feedback on my recipes.
Keto Hot Chocolate Recipe
This Keto Hot Chocolate is a 100% dairy-free, vegan, and sugar-free low-carb hot chocolate for a quick sweet breakfast or snack.
Serving Size:
1
hot chocolate
Nutrition Snapshot
Want My Kitchen Equipment?
Instructions
In a small saucepan, under medium heat, simmer unsweetened almond milk (or use 50% heavy cream, and 50% almond milk for an ultra-creamy hot chocolate). Simmer for 1-2 minutes or until bubbles form on the side of the saucepan.

When the milk is hot, remove from heat, whisk in cocoa powder, sugar-free sweetener, chocolate chips, and cinnamon – if used. Stir until chocolate is melted.

Serve immediately with unsweetened whipped cream and shaved sugar-free chocolate.
Notes
Microwave option: you can warm the almond milk for 1 minute in the microwave, stir in the rest of the ingredients, rewarm for 45 seconds, stir and enjoy!
My Recipe Notes
Nutrition
Serving Size:
1
hot chocolate
Serving:
1
hot chocolate
Calories:
79.3
kcal
(4%)
Carbohydrates:
8.2
g
(3%)
Fiber:
3.9
g
(16%)
Net Carbs:
4.3
g
Protein:
3.2
g
(6%)
Fat:
6.5
g
(10%)
Saturated Fat:
1.5
g
(9%)
Sodium:
326.1
mg
(14%)
Potassium:
80
mg
(2%)
Sugar:
0.4
g
Calcium:
306.7
mg
(31%)
Iron:
0.7
mg
(4%)
Magnesium:
30.1
mg
(8%)
Zinc:
0.4
mg
(3%)
Posted In: