Keto Vanilla Milkshake – 3.7g Net Carbs
A creamy, frothy keto vanilla milkshake recipe using only 5 ingredients and ready in 5 minutes. How does it sound?
This is simply the perfect keto summer snack to fix a vanilla ice cream craving with only 3.7 grams of net carbs per serving! Plus, there's a dairy-free paleo option!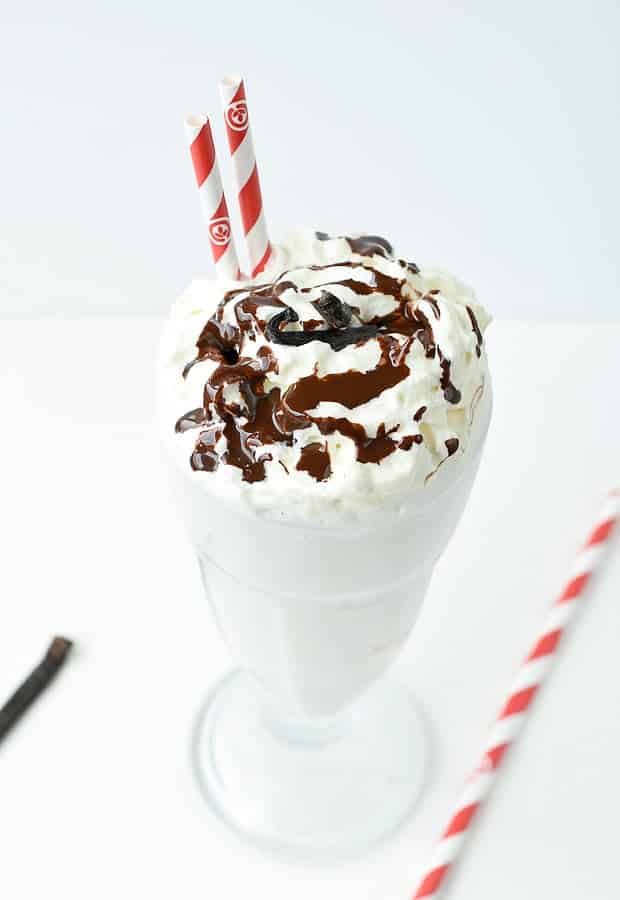 What's A Keto Milkshake?
A Keto Milkshake is a frothy creamy drink made without ice cream.
Instead, it's using a blend of cream, dairy-free milk – usually unsweetened almond milk or unsweetened coconut milk – ice cubes, and sugar-free sweetener.
All together, they create the most creamy refreshing milkshake without the sugar from ice cream or lactose from milk.
Why You'll Love This Recipe
This keto milkshake is delicious and it's also:
Egg-Free
Gluten-Free
Dairy-Free Option
Vegan Option
Paleo
Keto-Friendly
Super-Frothy
How To Make Keto Vanilla Milkshake
You won't believe how easy it is to make a keto milkshake at home without using store-bought ice cream. In fact, a typical milkshake is usually made of a blend of ice cream and milk.
While it can be easy to buy keto-friendly ice cream and milk in store to make your own milkshake, this is not the healthiest option.
In fact, most keto ice creams, even the healthiest ones, always contain additives like gums, vegetable glycerin, and milk protein powder.
These three additives are sometimes causing digestive discomfort and are not for everyone.
Plus, if you are on a budget, store-bought keto ice cream can get quite expensive.
So here is my keto-friendly milkshake version without ice cream that will fix all of your ice cream or milkshake cravings in a second.
Milkshake Ingredients
This is a 5-ingredient milkshake recipe, a low-carb milkshake with heavy cream, almond milk, and ice cream.
This is the secret trio of ingredients to make a frothy, smooth and creamy vanilla keto milkshake 100% sugar-free and low in carbs. It is a less processed version of your favorite drink, made only with wholesome ingredients.
Let's see the 5 ingredients you need to start making this healthy keto summer snack and all the alternatives you have to make it dairy-free, and vegan!
Unsweetened vanilla almond milk – you may not be able to find vanilla almond milk in your grocery store. If not, use regular unsweetened almond milk.
Heavy cream – a keto milkshake with heavy cream is so much smoother! Of course, you can use canned coconut cream if you are on a paleo or dairy-free diet, but it will add a strong coconut flavor to the milkshake. Cream is a keto-friendly ingredient.
Ice cubes – ice cubes blended with cream and dairy-free milk give the same texture as ice cream in this drink.
Liquid vanilla stevia – liquid flavored stevia is the best way to add a strong boost of vanilla to your milkshake. I don't recommend vanilla essence as most contain alcohol and give a weird aftertaste to a cold drink. However, there are other options like sugar-free vanilla syrup such as ChocZero's. Alternatively, you can scrape the seeds from a vanilla pod, probably the most expensive way to flavor a milkshake, but surely the tastiest.
Erythritol – while you are using stevia drops to add a vanilla flavor to the milkshake, you still need a boost of sugar alcohol to enhance sweetness. Allulose or Erythritol Monk fruit blends will also work.
Making The Keto Milkshake
All you need are the ingredients listed above. The combination of cream, milk, and ice cubes will mimic the ice cream texture.
However, the texture can come out a tiny bit different, depending on how many ice cubes you added.
For example, too many ice cubes can make the drink too frothy and icy. On the other hand, not enough ice cubes will leave the drink liquid and runny.
So let's see how you can troubleshoot a homemade milkshake in a few seconds.
Storage Instructions
Like regular milkshakes, keto milkshakes don't lend themselves to storing.
I recommend making these fresh and consuming your keto vanilla milkshake immediately.
Frequently Asked Questions
How Can I Make My Keto Milkshake Smoother?
I get it, you made the recipe, and it is a bit too frothy for you. This happens when you add slightly too many ice cubes to the drink.
In order to balance the texture to a more creamy, smooth drink, add a bit more heavy cream, starting with 2 tablespoons.
Always blend again after adding some ingredients to your keto shake. Taste and serve.
How Can I Boost The Vanilla Flavor?
This recipe uses vanilla-flavored almond milk, and vanilla stevia drops to bring out all the vanilla flavors without adding sugar or carbs. The other options to boost the flavor consist of adding:
more stevia drops, 1 drop at a time blending between each addition. Taste and repeat if needed.
1/2 teaspoon vanilla seeds from a fresh vanilla pod, expensive but flavorsome and natural.
Sugar-free vanilla syrup – these syrups taste like the ones used in your favorite takeaway coffee store and remind you of frappuccino. Add 1 tablespoon at a time, blending between each addition. Taste and repeat if needed.
How Can I Make A Frothier Keto Milkshake?
We all love our milkshakes differently.
For an icy, frothy keto shake, simply add more ice cubes, 2 at a time, and blend between addition. Repeat this until the texture is the one you love.
When Should I Drink A Keto Shake?
You can enjoy a keto shake for breakfast, to break a fast, or skip a solid breakfast. It's actually a tasty keto-sweet breakfast that can replace eggs.
Then, as a fulfilling morning, afternoon, or night snack to fix an ice cream craving. Finally, as a meal replacement on the go.
However, depending on the time of the day you enjoy your keto shake, I recommend boosting the recipe with a few extra keto ingredients.
Breakfast or meal replacement – add 1 or 2 tablespoons of keto vanilla collagen protein powder to make a fulfilling keto protein shake.
Snack – the recipe is very fulfilling on its own but if you feel hungry or you miss some fat in your macro, boost the recipe with 1 or 2 teaspoons of MCT oil. MCT oil helps you boost your fat-burning journey on keto. Note that even if coconut oil also contains MCT oil, I don't recommend adding coconut oil to this milkshake as it will solidify in contact with ice cubes and create oil lumps in the milkshake.
More Keto Milkshake Recipes
You may also like to try my other keto milkshake and smoothie recipes below.
All are perfect to snack and refresh on your keto journey without adding too many carbs to your daily macro.
Made this Vanilla keto milkshake recipe and want to share your feedback, question, or a picture of your creation with me? Drop a comment below!
Keto Vanilla Milkshake
This creamy keto milkshake recipe with almond milk and heavy cream is perfect for a snack and refreshing in summer.
Serving Size:
1
milkshake
Nutrition Snapshot
Want My Kitchen Equipment?
Instructions
Place all the ingredients into a high-speed blender and blend on high speed until frothy.

Taste and adjust sweetness by adding up to 2 extra drops of liquid vanilla stevia drops. Add more ice cubes to get the texture frothier. Blend again to combine.

Serve immediately with whipped cream on top and a drizzle of melted sugar-free chocolate
My Recipe Notes
Nutrition
Serving Size:
1
milkshake
Serving:
1
milkshake
Calories:
320.4
kcal
(16%)
Carbohydrates:
4.7
g
(2%)
Fiber:
1
g
(4%)
Net Carbs:
3.7
g
Protein:
3.3
g
(7%)
Fat:
33.4
g
(51%)
Saturated Fat:
18.3
g
(114%)
Cholesterol:
108.7
mg
(36%)
Sodium:
475.3
mg
(21%)
Potassium:
59.5
mg
(2%)
Sugar:
0.4
g
Vitamin A:
1166.2
IU
(23%)
Calcium:
451.6
mg
(45%)
Posted In: