Keto Peanut Butter Smoothie (Best Keto Smoothie)
This Keto peanut butter smoothie is a light and refreshing keto smoothie with a delicious peanut butter flavor.
Plus, this is a dairy-free low-carb smoothie with only 4.7 grams of net carbs per serving.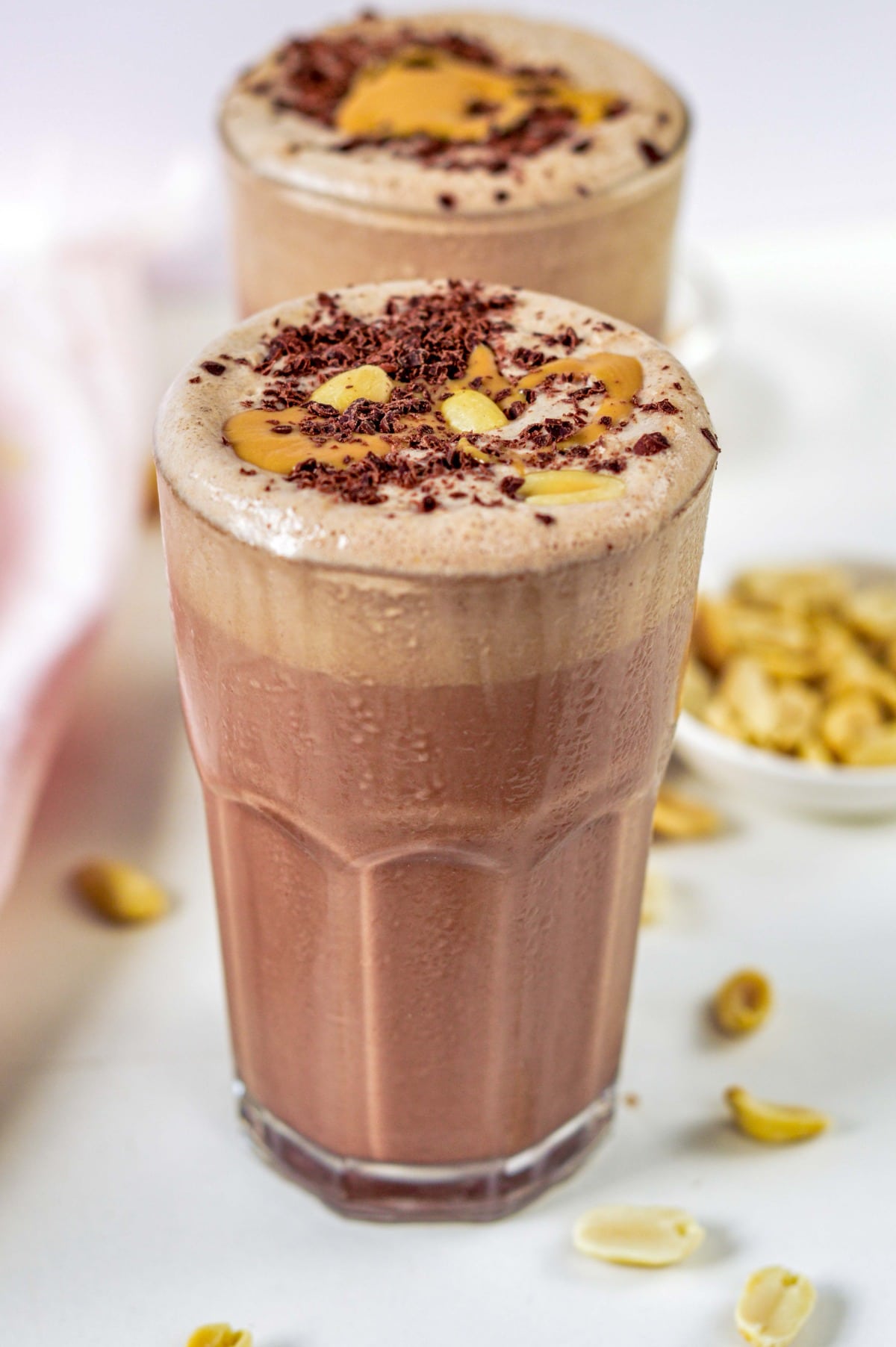 Calling all the peanut butter lovers! You're one of them, right? You will love this keto smoothie recipe as a sweet keto snack, a post-workout drink, or breakfast on the go.
Low-carb smoothies are so convenient to kick off a busy day. And let's face it, we all get bored of eggs for breakfast, so a keto breakfast smoothie is a great alternative.
Why You'll Love This Keto Smoothie Recipe
This keto smoothie is amazing, and it is:
Gluten-Free
Egg-Free
Dairy-Free Option
Vegan Option
Low-Carb
Keto-Friendly
Only 5 Ingredients
Ready in 5 Minutes
How To Make Keto Smoothie With Peanut Butter
This is an easy keto breakfast smoothie ready in 5 minutes using only 6 wholesome ingredients.
Bonus, it's also a vegan smoothie if you are using canned coconut cream instead of heavy cream!
Ingredients
Let's have a look at the ingredients you need to make this magical refreshing keto drink.
Peanut butter – as mentioned above, make sure you use natural peanut butter, no added sugar, no added oil. It's full of healthy fat and contains almost no carbs.
Sugar-free crystal sweetener – I love to use Erythritol or Monk fruit blend, but xylitol will work as well. Learn more about keto sweeteners.
Unsweetened cocoa powder – this adds a delicious chocolate flavor for the best chocolate smoothie.
Cream – heavy cream or canned coconut cream for a dairy-free alternative. Learn why cream is a good keto-friendly dairy product.
Unsweetened almond milk
Ice cubes – play with the amount of ice and change the texture! For an icier, frothier low-carb smoothie recipe, add a few more ice cubes!
Peanut Butter Smoothie Nutrition
This keto smoothie is a light, refreshing smoothie. It is not a thick shake like my keto chocolate avocado smoothie recipe.
However, this is a very fulfilling drink for breakfast with 15 grams of fat, 5 grams of proteins, and only 4.7 grams of net carbs!
Making This Keto Smoothie
Making a keto smoothie like this Peanut Butter Smoothie is ridiculously easy!
You need to combine your keto-friendly ingredients in a blender, in any order, and blend.
That's it!
You can make variations of this keto smoothie if you add keto-friendly fruits or even keto-friendly vegetables.
You can also pick another keto-friendly plant-based milk like coconut milk.
Expert Tip: Varying Taste
This keto smoothie is a very versatile recipe that makes it tops the list of my best keto smoothie recipes.
You can transform it by adding the following ingredients:
Raspberries or Strawberries
Spinach or Kale – full of nutrients, vitamins, antioxidants, and minerals.
Almond Butter – instead of peanut butter. You can also use other nut butter.
MCT Oil – while it barely changes the flavor, it boosts the healthy fats in your smoothie.
Chia Seeds – to add thickness
Vanilla extract or almond extract.
Turmeric – for a touch of spices.
Fresh Mint, Cucumber, or Celery – for a fresh taste.
Frequently Asked Questions
Let me answer the common questions about this keto smoothie.
Why can't I use dairy milk in a keto smoothie?
Of all dairy products, milk is one of the highest in carbs.
Milk is therefore not keto-friendly since it contains a large amount of lactose, one of the disaccharides that increase blood sugar levels quickly.
Are You Allowed Smoothies On Keto?
Classic takeaway smoothies are most of the time not keto-friendly. However, keto smoothie recipes like this one are perfectly fine to have daily.
Can I Add Bananas To My Keto Smoothie?
Bananas are not recommended on a keto diet because they are quite high in carbs.
As a result, a very small amount of banana contains as many carbs as many raspberries or strawberries.
Can I Use Another Nut Milk?
You can use any plant based milk such as coconut milk, cashew milk, or almond milk.
Can I Take A Peanut Butter Smoothie As A Protein Shake?
Absolutely! Many Keto-friendly smoothies can be used as protein shakes. Just make sure to include enough good protein sources!
One way to add some healthy, keto-friendly vegetarian proteins is to add a scoop of low-carb protein powder. Most of them would not alter the total carbs but would boost your proteins!
More Keto Smoothie Recipes
If you love low-carb, keto, or healthy smoothies, make sure to check out my other smoothie recipes: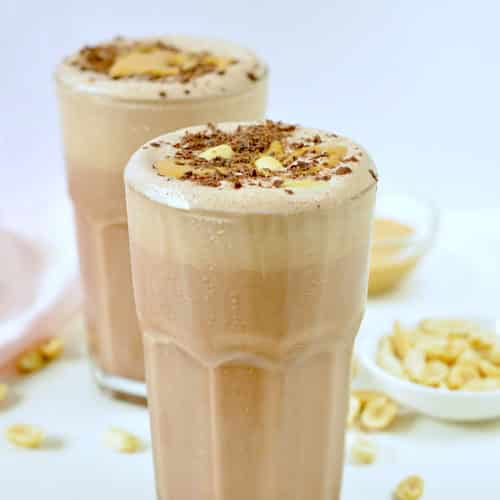 Keto Smoothie With Peanut Butter
This Keto peanut butter smoothie is a light and refreshing keto smoothie with a delicious peanut butter flavor.
Ingredients
1

cup

Unsweetened Almond Milk

2

tablespoons

Natural Peanut Butter

no added sugar, no added oil

3

tablespoons

Erythritol

erythritol or xylitol or monk fruit

¼

cup

Heavy Cream

or canned coconut cream if dairy-free

1

cup

Crushed Ice

or more for a frothy/icee smoothie

1

tablespoon

Unsweetened Cocoa Powder
This recipe may contain Amazon or other affiliate links. As an Amazon Associate I earn from qualifying purchases.
Instructions
In a blender, add all the ingredients, the order doesn't matter.

Blend on high speed until smooth. If you want a frothier/icy smoothie, add a few more ice cubes, blend again until smooth.

Serve as one large smoothie or 2 small smoothies. The nutrition panel below is for 2 smoothies.
Storage
Store leftover in the fridge, in an airtight container, or an airtight glass mason jar. Before serving, you can blend the smoothie with 2 extra ice cubes to add a frothy texture without adding carbs or serve straight away. Store up to 24 hours in the fridge.
Notes
Net carbs: 4.7g per serving, recipe makes 2 smoothies.
Want My Kitchen Equipment?
Serving:
1
smoothie
Calories:
172
kcal
(9%)
Carbohydrates:
6.3
g
(2%)
Fiber:
1.6
g
(7%)
Net Carbs:
4.7
g
Protein:
5.2
g
(10%)
Fat:
15.4
g
(24%)
Sugar:
2.2
g
(2%)
Posted In: