This Keto peanut butter smoothie is a light and refreshing chocolate peanut butter smoothie with a delicious peanut butter flavor. Plus, this is a dairy-free low-carb smoothie with only 4.7g net carb per serve.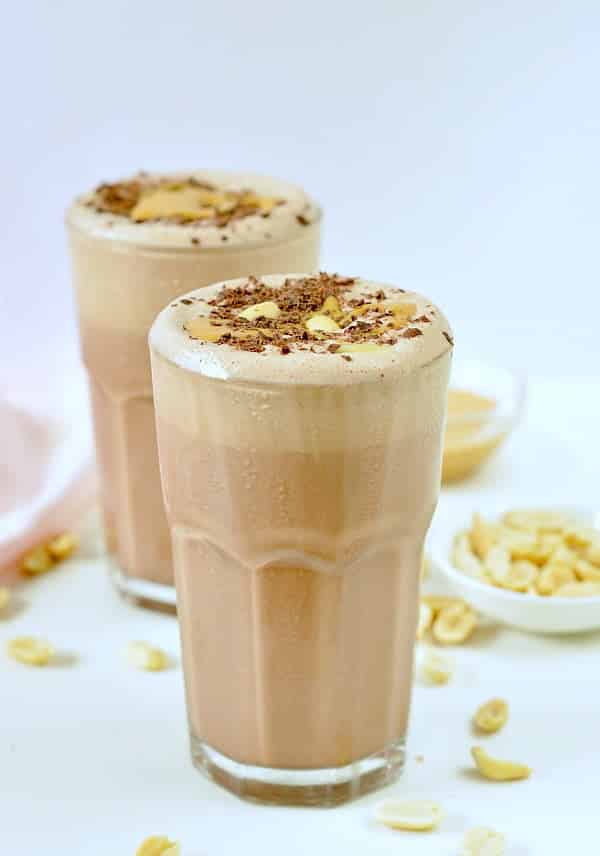 Calling all the peanut butter lovers! It's you, right? You will love this chocolate peanut butter smoothie as a sweet keto snack or breakfast on the go. Low-carb smoothies are so convenient to kick off a busy day. And let's face it, we all get bored of eggs for breakfast so a keto breakfast smoothie is a great alternative.
Is peanut butter keto friendly?
Yes, you can have peanut butter on a keto diet. Obvisouly, it has to be pure peanut butter made of 100% peanuts with no added sugar, no added oil. In fact, vegetable oils are not keto friendly and many peanut butter brands add oils or sugar to their products. So make sure to check the ingredient list and look for peanuts only or peanuts and salt.
Keto Peanut butter smoothie
This is an easy keto breakfast smoothie ready in 5 minutes using only 6 wholesome ingredients. Bonus, it's also a vegan smoothie if you are using canned coconut cream instead of heavy cream! Let's have a look at the ingredients you need to make this magical refreshing keto drink.
Peanut butter – as mentioned above make sure you use pure peanut butter, no added sugar, no added oil
Sugar-free crystal sweetener – I love to use Erythritol or Monk fruit blend but xylitol will work too
Unsweetened cocoa powder – this adds a delicious chocolate flavor for the best chocolate peanut butter smoothie
Cream – heavy cream or canned coconut cream for a dairy-free alternative
Unsweetened almond milk
Ice cubes – play with the amount of ice and change the texture ! For a icier, frothier keto smoothie, simply add a few more ice cubes!

A light refreshing keto breakfast smoothie
This chocolate peanut butter smoothie is a light, refreshing smoothie. It is not a thick shake like my keto chocolate avocado smoothie recipe. However, this is a very fulfilling drink for breakfast with 15 grams of fat, 5 grams of proteins and only 4.7 grams of net carbs!
More low carb smoothies recipes to try
If you love low-carb smoothies make sure to check out my others keto smoothie recipes:
Did you make this keto breakfast smoothie yet? Share a picture with me on Instagram ! I love to see your creations and reshare them in my story.
XOXO Carine
Keto peanut butter smoothie
This Keto peanut butter smoothie is a light and refreshing chocolate peanut butter smoothie with a delicious peanut butter flavor.
2 smoothies
Print The Recipe
In a blender add all the ingredients, order doesn't matter.

Blend on high speed until smooth. If you want a frothier/icee smoothy add a few more ice cubes, blend again until smooth.

Serve as one large smoothie or 2 small smoothies. Nutrition panel below is for 2 smoothies.
Storage
Store leftover in the fridge, in an airtight container or in an airtight glass mason jar. Before serving you can blend the smoothie with 2 extra ice cubes to add a frothy texure without adding carbs or serve straight away. Store up to 24 hours in the fridge.
Net carbs: 4.7g per serve, recipe makes 2 smoothies
Nutrition Facts
Keto peanut butter smoothie
Amount Per Serving (1 smoothie)
Calories 172 Calories from Fat 139
% Daily Value*
Fat 15.4g24%
Carbohydrates 6.3g2%
Fiber 1.6g7%
Sugar 2.2g2%
Protein 5.2g10%
* Percent Daily Values are based on a 2000 calorie diet.