Keto Chocolate Smoothie (4g Net Carbs)
This easy keto chocolate smoothie is a creamy, frothy, and thick keto breakfast shake for chocolate lovers with only 4 grams of net carbs!
Plus, this keto smoothie with almond milk is also dairy-free, gluten-free, and sugar-free, made without frozen bananas!
What Is A Keto Chocolate Smoothie?
A keto chocolate smoothie is a low-carb smoothie recipe made with almond milk, cocoa powder, and ripe avocado.
It's also known as a chocolate avocado smoothie because avocado is the key ingredient to provide the creamy texture to this keto smoothie.
Obviously, a keto chocolate smoothie has no banana.
Banana is not a keto-friendly fruit, and it can't be used in a keto chocolate smoothie recipe to add a frothy, creamy texture.
How To Make A Keto Chocolate Smoothie
A keto chocolate smoothie has no banana. While bananas are often used to thicken smoothies, they also contain a lot of natural sugar not suitable for a keto diet or for diabetics.
Therefore, the trick to making a thick, creamy keto breakfast smoothie with chocolate flavor is to use ripe avocado.
Avocado is naturally creamy, bland in flavor when combined with cocoa powder, and adds the perfect thickness to keto smoothie recipes.
Plus, avocado is rich in healthy fat, and it's a great addition to a keto breakfast to reach your fat macros.
Ingredients
All you need to make a keto chocolate smoothie are 6 wholesome ingredients.
Let's see all you need to make this decadent keto chocolate smoothie with almond milk and the swap options you can use if you have food allergies.
Ripe avocado – avocado is a low-carb keto-friendly vegetable also full of healthy fats. For an avocado smoothie recipe, first, make sure your ripe avocado is soft with no black spots on the flesh. If the flesh shows brown or black spots, your avocado is overripe, and it will add a bitter taste to your keto chocolate avocado smoothie.
Unsweetened cocoa powder
Unsweetened almond milk – or unsweetened dairy-free milk you love like coconut milk or hemp milk. I recommend making keto smoothies with almond milk because it contains the lowest carb count per cup, and it has a bland flavor. Learn why cow milk is not a keto-friendly product.
Hemp powder or chia seeds – this adds proteins and fiber to your keto breakfast smoothie. Plus, these amazing plant-based proteins are high in fat, perfect for making high-fat, low-carb drinks. In fact, on a keto diet, you fuel your body with fat, not carbs. Drinking high-fat smoothies can contribute to weight loss and fat burning. Bonus, the fiber in chia seeds or hemp powder adds thickness to your keto chocolate smoothie. If you don't have some, you can replace this powder with a flaxseed meal or protein powder.
Ice cubes – this adds extra thickness to the drink. Play with the amount based on your taste buds.
Erythritol – or keto crystal sweetener you love.
Vanilla extract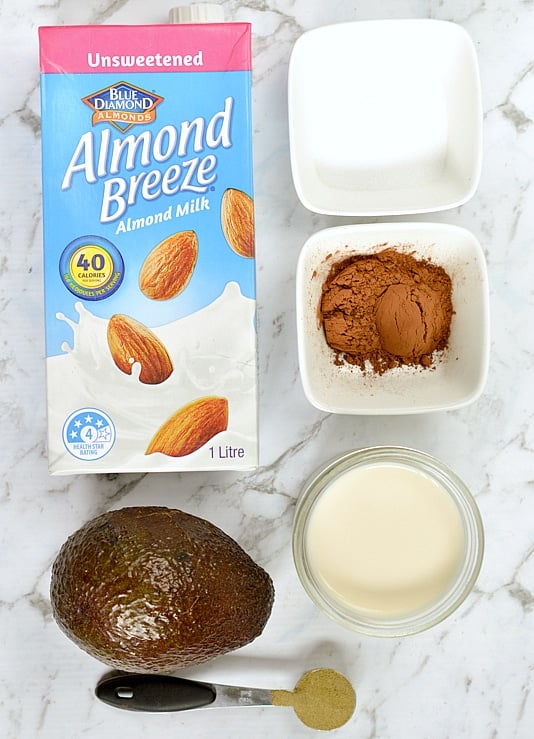 Instructions
Making this keto smoothie is very straightforward.
Just combine all the ingredients in your high-speed blender and blend for about one minute until the texture is smooth and frothy.
Smoothie Add-ons
There are so many ways you can twist this easy keto chocolate smoothie recipe to make it even more delicious.
Below I listed some tasty adds-on you can choose from to change the flavor, texture, and taste of this simple drink:
Peanut butter – chocolate and peanut butter are the perfect food match. Add 1 tablespoon to your blender for a boost of taste and creaminess.
MCT oil – to boost the fat in your drink. This is a perfect option if you have an issue reaching your fat macros in the morning.
Keto protein powder – this thickens the smoothie as well, so don't add too much. Start with 1 tablespoon, blend, and adjust the consistency if needed.
Sugar-free maple syrup or vanilla syrup – add flavors to your smoothie by adding a drizzle of sugar-free keto flavored syrup (I love Choc Zero, affiliate link).
Storage Instructions
This keto smoothie recipe contains avocado, and therefore it doesn't store very long in the fridge.
I don't recommend making smoothies ahead as their ingredients separate, and you end up with two layers in your glass.
Frequently Asked Questions
When Can I Eat Keto Smoothie?
This keto chocolate smoothie is absolutely delicious for breakfast and nourishing to start the day with healthy fats, proteins, and fiber that keep you full for hours.
Also, you can serve this chocolate avocado smoothie as a post-workout snack to refuel your fat and avoid carbs cravings.
Finally, it's also a fulfilling keto chocolate shake to snack on in the afternoon when your sweet cravings come.
Can I Swap Avocado For Something Else?
You can make a keto chocolate smoothie without avocado. To swap avocado in this recipe, replace it with 1/3 cup of cream cheese.
This will add a similar amount of fat to your keto chocolate smoothie and taste like chocolate cheesecake.
Can I Use Frozen Avocado?
Using frozen Avocado is the best idea to add an extra boost of creaminess to your keto chocolate smoothie. In fact, frozen avocado acts like frozen bananas in drinks, and it's the best keto smoothie thickener.
However, if you use frozen avocado, reduce the number of ice cubes, or the drink will be too thick and turn into a smoothie bowl.
Did you try this keto chocolate smoothie? Share a comment or leave a review below. I love to hear back from you.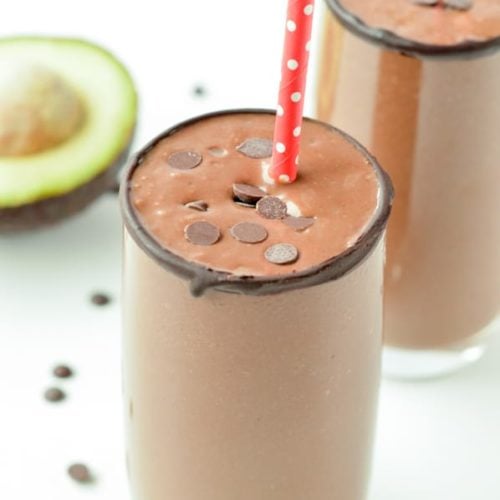 Keto Chocolate Smoothie
A thick, creamy and decadent keto chocolate smoothie recipe with avocado to start the day with healthy fat and a sweet treat.
Nutrition Snapshot
Want My Kitchen Equipment?
Instructions
Add all the ingredients into a blender. The order doesn't matter. Make sure you are using ripe avocado with no black spots on its flesh, or the smoothie will taste bitter.

Blend at high speed for 45 seconds to 1 minute, stop the blender and taste your smoothie.

Adjust texture and sweetness if desired. If you like your smoothie sweeter, add extra erythritol or few vanilla stevia drops. You can also add 2 or 3 extra ice cubes to thicken your smoothie.

Blend again until smooth and serve immediately.
My Recipe Notes
Nutrition
Serving:
1
smoothie
Calories:
202.2
kcal
(10%)
Carbohydrates:
13.9
g
(5%)
Fiber:
9.9
g
(41%)
Net Carbs:
4
g
Protein:
4.9
g
(10%)
Fat:
16.7
g
(26%)
Saturated Fat:
2.4
g
(15%)
Trans Fat:
0.1
g
Sodium:
340.8
mg
(15%)
Potassium:
512.2
mg
(15%)
Sugar:
1.1
g
(1%)
Vitamin A:
116.1
IU
(2%)
Vitamin C:
7.9
mg
(10%)
Calcium:
349.2
mg
(35%)
Iron:
1.8
mg
(10%)
Magnesium:
75.3
mg
(19%)
Zinc:
1.2
mg
(8%)
Posted In: