Refresh with this decadent keto chocolate avocado smoothie! A healthy keto avocado smoothie, dairy-free using almond milk and of course no banana!
What is a chocolate avocado smoothie?
A chocolate avocado smoothie is a creamy chocolate smoothie thickens with ripe avocado and flavored with unsweetened cocoa powder. It's also known as an avocado milkshake. In fact, it has the similar creamy texture of a keto chocolate milkshake without the sugar loaded ice-cream.
How to make a keto chocolate smoothie?
A keto chocolate smoothie has no banana. While bananas are often used to thicken smoothies, they also contain a lot of natural sugar not suitable for diabetics. Therefore, the trick to make the most delicious thick sugar-free chocolate smoothie is avocado. Avocado is naturally creamy, bland in flavor when combined with cocoa powder and adds the perfect thickness to keto smoothies. Plus, it helps you reach your fat intake and gives you fiber and protein to feel full for longer.
An easy 6-ingredient dairy-free milkshake recipe
We all love 6-ingredient recipes that are ready in 5 minutes. This chocolate smoothie is definitely one of them.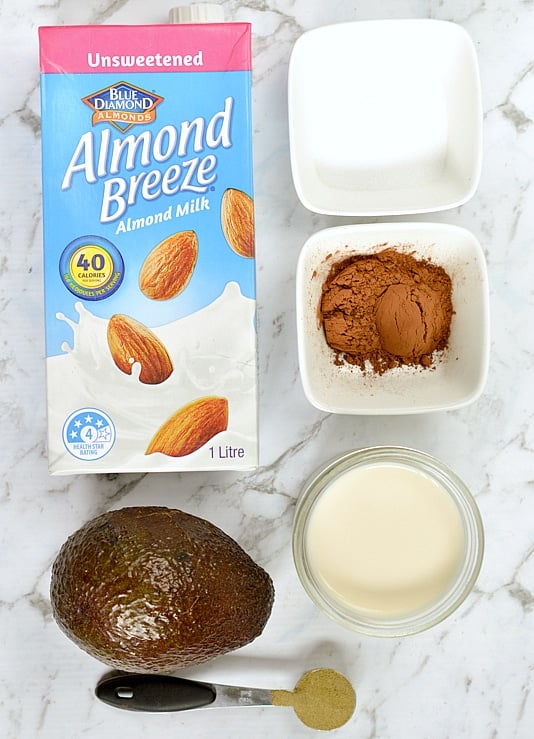 Let's see all you need to make this decadent chocolate drink
Ripe avocado – of course, this is the key to the perfect creamy keto smoothie. Make sure your avocado is soft with no black spots. Avocados are very good keto-friendly vegetables.
Unsweetened cocoa powder 
Unsweetened almond milk – I love to use Almond Breeze unsweetened almond milk as it doesn't contain added sugar and it's very bland in smoothies
Hemp powder –  amazing plant-based protein high in fat, perfect to boost fat burning on keto diet. It also adds thickness to this keto chocolate smoothie. If you don't have some, you can replace this powder by chia powder, keto protein powder or flaxmeal
Ice cubes – this adds extra thickness to the drink
Sugar-free crystal sweetener – Monk fruit crystal, xylitol, erythritol or stevia drops! All work well
When to eat your keto smoothie?
This keto smoothie is a great breakfast smoothie as it contains lots of fats, fiber and protein that are all very fulfilling. You can also enjoy this smoothie as keto protein shake after the gym to reload on nutrient and protein. Otherwise, it's a nice summer drink to refresh in the afternoon and indulge on chocolate.
More avocado keto recipes
There's something very special about the chocolate-avocado combo. I am pretty sure I shared all the possible chocolate avocado recipes on this blog. If you like it too, I recommend you check my other recipes.
Enjoy this fresh and creamy avocado milkshake and don't forget to share a picture of your creation with me on Instagram if you give it a try!
XOXO Carine.
This recipe is sponsored by Almond Breeze Made from the best California Almonds and I received a compensation to develop this recipe but note that I only recommend product I love and trust on this blog. Thank you.