Peanut Butter Smoothie Without Banana
Let's make a creamy Peanut Butter Smoothie without Banana with the thickest texture but less sugar and carbs for a guilt-free summer smoothie.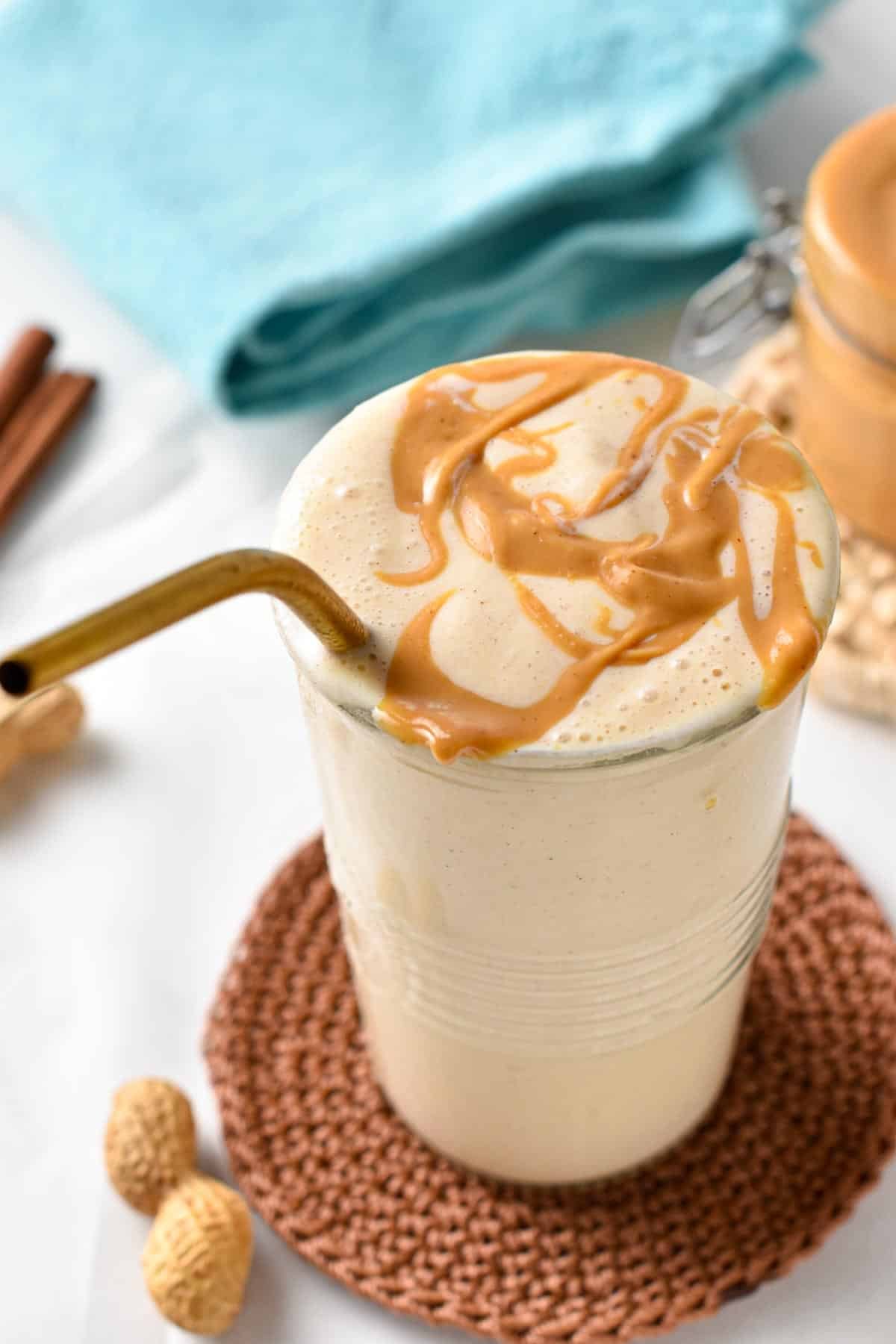 I love peanut butter and smoothies, but most of the time, recipes for smoothies call for frozen bananas.
I love bananas, don't get me wrong, they are perfect post-workout option to refuel on quick sugar. But, if you are after low-sugar smoothie, try this peanut butter smoothie without bananas.
It's naturally thickened with a surprising vegetable. Let me share my tricks with you to make low-carb peanut butter smoothies this summer.
What Is Peanut Butter Smoothie Without Banana?
It's a a creamy peanut butter smoothie made with no bananas as a thickener.
It's perfect for those with banana allergies, following a low-carb diet, or anyone who doesn't enjoy the banana flavor in their smoothies. It's naturally gluten-free with a vegan option.
How To Make Peanut Butter Smoothie Without Banana
It's incredible how you can easily make a thick, smooth, creamy banana-free smoothie.
Ingredients
All you need to make this peanut butter smoothie are:
Natural Peanut Butter with no added oil or added sugar. Feel free to use powdered peanut butter to cut down the fat if desired.
Non-Dairy Milk like almond milk, oat milk, or soy milk for a boost of protein. Regular milk and skim milk also work great.
Sweetener of Choice – You can use a crystal sweetener, like sugar-free allulose, erythritol, or coconut sugar. Otherwise, try monk fruit syrup or maple syrup.
Frozen Cauliflower Rice or frozen zucchini slices – These two vegetables have absolutely no flavor when blended with milk and peanut butter. But they add the lovely creamy texture you are after and some extra nutrients.
Plain Greek Yogurt – This adds proteins and a lovely smooth creamy texture.
Crushed Ice for extra frothy texture.
Ground Cinnamon – It's optional, but I love the combo of peanut butter and cinnamon. It turns the smoothie into a lovely breakfast smoothie.
Preparation
In a high-speed blender, add all the ingredients – the order doesn't matter. Blend it until smooth. It takes about one minute on high-speed.
Adjusting
Depending on your taste and goals, you can add ingredients to the smoothie to boost its texture or nutrition profile. For example you may want to increase:
Sweetness – Add more sweetener or a handful of frozen raspberries or strawberries. They go so well with peanut butter flavors.
Protein – Add a scoop of your favorite vanilla protein powder or chocolate protein powder.
Fiber – Add 1 or 2 teaspoons of chia seeds or ground flaxseeds. Flax seeds are also great for thickening smoothies and adding healthy fats.
Wholegrains – For a highly nutritious breakfast, add 3 to 4 tablespoons of oats to your smoothie.
Healthy Fats – Try adding 1 or 2 tablespoons of cashew butter or raw almonds to make the smoothie more filling and creamier. It also boosts your omega-3 and omega-6 fatty acids.
Collagen – Try adding one tablespoon of your favorite collagen powder.
Flavor Variations
You can use this recipe to create a range of smoothie flavors. Below are some ideas to give a twist to your smoothie flavor.
Coconut Peanut Butter – Use coconut yogurt and coconut milk. Serve with toasted coconut flakes.
Almond Butter Smoothie – Swap the peanut butter for almond butter and use almond milk.
Chocolate Peanut Butter Smoothie – Add one tablespoon of unsweetened cocoa powder.
Serving
This peanut butter smoothie without banana is delicious on its own or with some toppings like:
A drizzle of peanut butter
Sliced almonds
Crushed peanuts
Shredded coconut
Drizzle melted dark chocolate
Whipped cream
A dollop of extra yogurt
Allergy Swaps
If you have some food allergies, I listed below some options to make this delicious smoothie with the following ingredient substitutions:
Nut-Free – You can swap the peanut butter for tahini to make a tahini smoothie or sunflower seed butter. Swap the almond milk for oat milk, coconut milk, or skim milk.
Dairy-Free – Pick dairy-free yogurt like plain coconut yogurt, almond, or soy yogurt.
Vegan – Use your favorite plant-based milk and plant-based yogurt.
Frequently Asked Questions
Below are my answers to your most common questions about this easy peanut butter smoothie.
How Do You Thicken A Smoothie Without Banana?
Bananas are used to thicken smoothies and provide a creamy texture.
A similar texture can be achieved by using other ingredients like frozen mango, frozen zucchini, or frozen cauliflower.
You can add two tablespoons of raw nuts, nut butter, or a combination of yogurt and ice.
What Does A Peanut Butter Smoothie Do To Your Body?
Peanut butter is high in protein and healthy fats and is a fulling plant-based ingredient to add to a smoothie.
Therefore, peanut butter smoothies are a great filling snack or breakfast to satisfy a sweet craving.
More Smoothie Recipes
Below you will find some more smoothie recipe inspiration for you to try.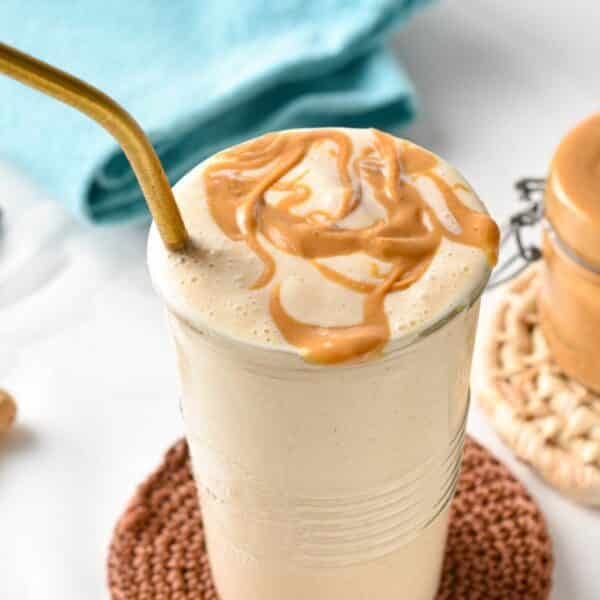 Peanut Butter Smoothie Without Banana
Let's make a creamy Peanut Butter Smoothie without Banana with the thickest texture but less sugar and carbs for a guilt-free summer smoothie.
Serving Size:
1
smoothie (with sugar-free maple syrup)
Nutrition Snapshot
Want My Kitchen Equipment?
Instructions
In a blender, add all the ingredients, the order doesn't matter.

Blend on high speed until smooth and creamy. Taste and adjust, adding more sweetener if needed or more ice for a frothier texture.
My Recipe Notes
Nutrition
Serving Size:
1
smoothie (with sugar-free maple syrup)
Serving:
1
smoothie (with sugar-free maple syrup)
Calories:
149.8
kcal
(7%)
Carbohydrates:
8
g
(3%)
Fiber:
2
g
(8%)
Net Carbs:
6
g
Protein:
10
g
(20%)
Fat:
9.6
g
(15%)
Saturated Fat:
1.7
g
(11%)
Polyunsaturated Fat:
2.5
g
Monounsaturated Fat:
4.7
g
Trans Fat:
0.01
g
Cholesterol:
2.5
mg
(1%)
Sodium:
225
mg
(10%)
Potassium:
281.4
mg
(8%)
Sugar:
4.2
g
(5%)
Vitamin A:
2.7
IU
Vitamin B12:
0.3
µg
(5%)
Vitamin C:
19.3
mg
(23%)
Calcium:
189.8
mg
(19%)
Iron:
0.5
mg
(3%)
Magnesium:
39.6
mg
(10%)
Zinc:
0.8
mg
(5%)
Posted In: