Keto Blueberry Smoothie with Almond Milk
This keto blueberry smoothie with almond milk is the best easy breakfast smoothie on your keto journey.
Bonus, this healthy blueberry smoothie has a dairy-free option and contains only 6 grams of net carbs per serving to keep your macros on track!

What's A Keto Smoothie?
Keto smoothies are low-carb versions of classic smoothies. They are made with fresh fruits, ice, and milk alternatives.
A typical keto smoothie like this one has about 30 grams of net carbs less than a classic smoothie.
How To Make Keto Blueberry Smoothie
It's very easy to make your own blueberry keto smoothie at home.
All you need are a few ingredients, a high-speed blender to blend all the ingredients into a creamy, healthy blueberry smoothie.
Ingredients
All you need to make this blueberry smoothie keto recipe are:
Unsweetened almond milk, you can also use packaged unsweetened coconut milk for a lovely keto blueberry coconut smoothie. Learn why regular milk is high in carbs.
Frozen blueberries – blueberries are keto-friendly fruit that you can safely add to your keto diet. They still contain more carbs than raspberries or strawberries and should be used sparingly to limit carbs intake.
Ice cubes – because this recipe doesn't use high-carb frozen fruits to deliver a creamy texture, ice cubes are needed to achieve a frothy almond milk blueberry smoothie keto recipe.
MCT oil – this is a great addition to any keto smoothie. It adds the fat you need to feel full and helps reach your fat macro. Therefore, you burn fat faster. Of course, you can make the recipe without MCT oil, but I highly recommend it as a fat-burning booster.
Plain yogurt – you can use any plain yogurt you love, including Greek yogurt or dairy-free coconut yogurt. Always have a look at the ingredients list when buying yogurt. You shouldn't see any hidden sugar names on the list. For example, coconut yogurt, a great keto vegan option for smoothies, should be made of 2 ingredients: pure coconut cream and probiotics. Therefore it contains mostly fat and no added carbs. Learn how to choose keto-friendly yogurt.
Erythritol – or stevia drops. Many flavored stevia drops go so well in smoothies, like vanilla stevia drops or lemon stevia drops.
Vanilla extract
Blending All Ingredients
Next, bring all the ingredients into a high-speed blender jug and blend until your keto smoothie recipe is smooth and frothy.
Adjusting The Recipe
We all have different tastes when it comes to smoothies. Some people love them very sweet, frothy, thick, creamy. So have a taste before serving.
How to make keto smoothie sweeter?
For a sweeter keto blueberry smoothie, add more:
Erythritol – add 1 teaspoon at a time.
Few drops of stevia – starting with one drop.
For a thicker blueberry smoothie, add extra:
Ice cubes – this is the best way to make your keto blueberry smoothie frothier without adding carbs. However, too many ice cubes make it icy, so don't add too much ice!
More yogurt – this adds creaminess and texture.
Almond butter – add 1 tablespoon of almond butter to make the smoothie creamier.
More frozen fruits – perfect option to make the smoothie sweeter, but don't go overboard as it will increase your net carbs quickly.
Frequently Asked Questions
Is This Keto Blueberry Smoothie Healthy?
This keto blueberry smoothie recipe is definitely a healthy smoothie for everyone, not only people on a keto diet.
It contains all the healthy ingredients a healthy smoothie should have:
Calcium – it's a blueberry yogurt smoothie recipe, so it adds calcium from plain yogurt and almond milk if you use a fortified brand!
Low-sugar – only sugar from blueberries, so it's a low-carb smoothie recipe perfect for diabetics.
Healthy fats – healthy medium-chain triglycerides fat from MCT oil.
Gluten-free
Vegan option – if you use dairy-free yogurt like soy yogurt or coconut yogurt.
Can I Swap MCT Oil With Coconut Oil?
Yes, you can but watch out because coconut oil firms up when it gets in contact with cold liquids.
You may see some coconut oil lumps gradually forming in the drink if you don't drink it too fast.
Otherwise, make the keto blueberry smoothie without MCT oil. It comes out great and tasty!
Can I Add Protein Powder?
Yes, adding 2-3 tablespoons of protein powder to your blueberry almond milk smoothie is a great option to not only boost your proteins but add a creamy texture.
Made this Keto Berry Smoothie recipe yet? Share a picture with me on Instagram!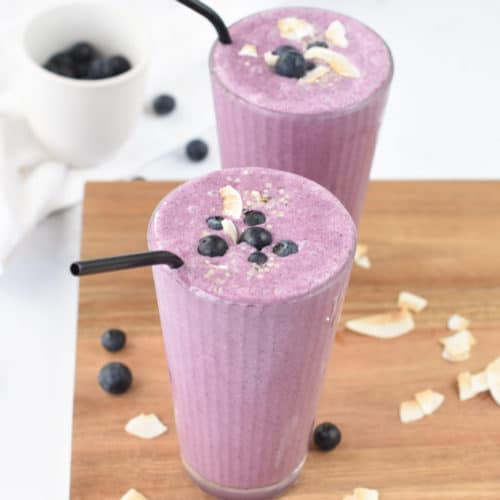 Keto Blueberry Smoothie With Almond Milk
An easy breakfast smoothie recipe on your keto diet to start the day with a keto sweet breakfast.
Serving Size:
1
smoothie (1 cup)
Ingredients
¼

cup

Frozen Blueberries

½

cup

Unsweetened Almond Milk

or unsweetened coconut milk

¼

cup

Plain Yogurt

or unsweetened whipped cream or dairy-free unsweetened coconut yogurt if vegan.

2

tablespoons

Erythritol

or Lemon Stevia Drops

5-6

Ice Cubes

½

teaspoon

Vanilla Extract

1

teaspoon

MCT Oil

or coconut oil – optional
This recipe may contain Amazon or other affiliate links. As an Amazon Associate I earn from qualifying purchases.
Instructions
In a blender, add all the ingredients except the ice cubes.

Blend at high speed until smooth. If you want a frothier blueberry smoothie, add more ice cubes, blend at high speed to combine, and serve immediately. For a sweeter smoothie, add more erythritol 1 teaspoon at a time, blend between each addition.

I don't recommend making this smoothie ahead of time, or it will form layers in the fridge. You will also lose the texture from the frozen berries and ice cubes.
Notes
For a thicker smoothie, you can add some of the ingredients below. The nutrition panel doesn't include these optional suggestions:
1 tablespoon almond butter
1-2 tablespoons keto protein powder
Want My Kitchen Equipment?
Serving Size:
1
smoothie (1 cup)
Serving:
1
smoothie (1 cup)
Calories:
102.6
kcal
(5%)
Carbohydrates:
7.7
g
(3%)
Fiber:
1.3
g
(5%)
Net Carbs:
6.4
g
Protein:
6
g
(12%)
Fat:
5.8
g
(9%)
Saturated Fat:
3.5
g
(22%)
Cholesterol:
2.5
mg
(1%)
Sodium:
184.4
mg
(8%)
Potassium:
99
mg
(3%)
Sugar:
5.4
g
(6%)
Vitamin A:
22
IU
Vitamin B12:
0.4
µg
(7%)
Vitamin C:
3.6
mg
(4%)
Calcium:
209.3
mg
(21%)
Iron:
0.1
mg
(1%)
Magnesium:
8.4
mg
(2%)
Zinc:
0.3
mg
(2%)
Posted In: