Marzipan Chocolate Truffles
This easy, Marzipan Chocolate recipe makes delicious, sweet Christmas truffles that the whole family loves.
These chocolate-coated marzipan truffles are also keto, gluten-free, and vegan for everyone to enjoy!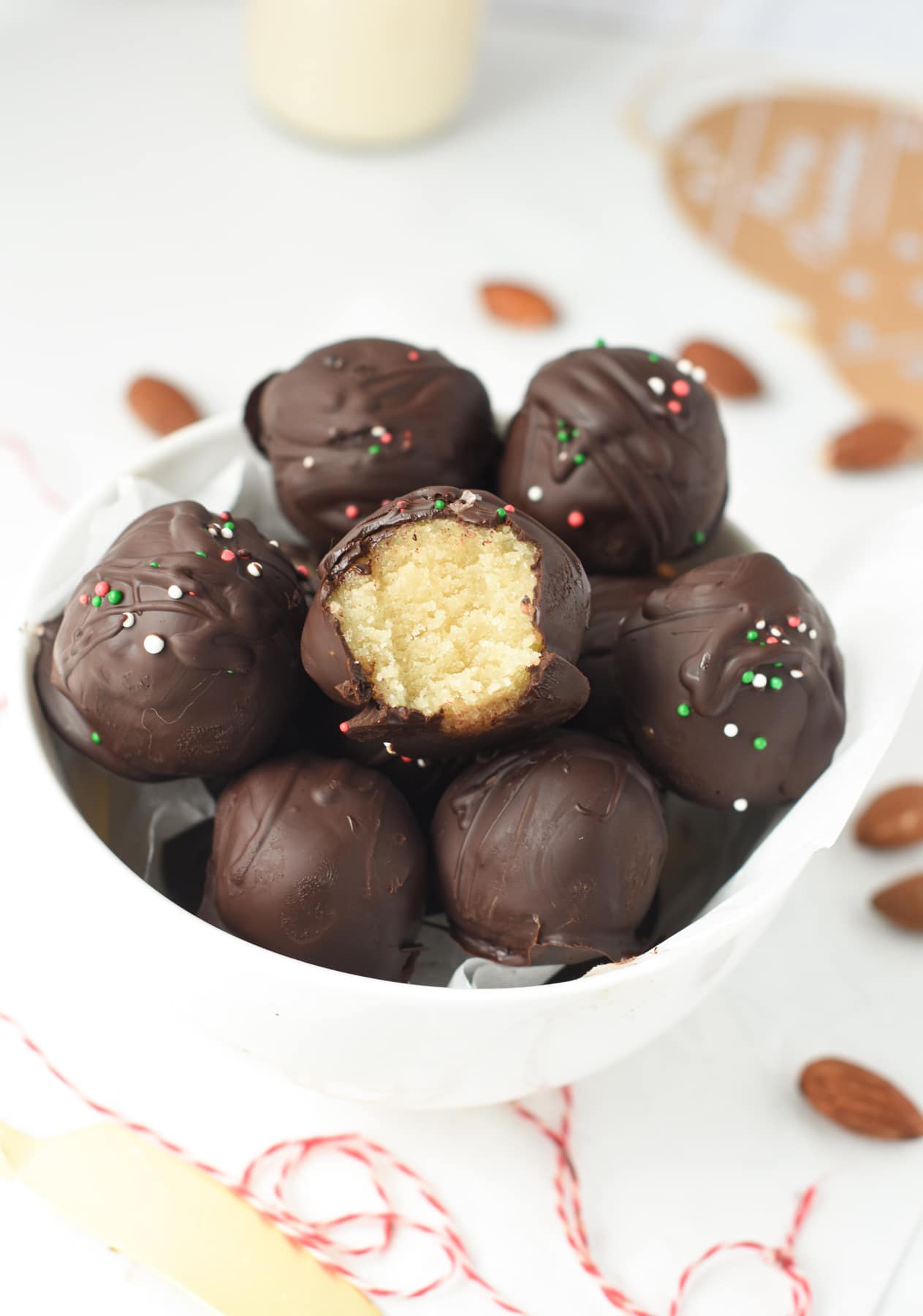 Christmas and Thanksgiving are just around the corner, so it's the truffle season. Time to whip a batch of my homemade marzipan recipe and make delicious almond truffles.
What I love the most about these healthy truffles is that they are naturally:
Gluten-free
Vegan – no egg white needed in this marzipan recipe!
Dairy-free
Keto Sugar-free with only 2.4 grams of net carbs per serving! No corn syrup or sugar is added to these healthy chocolates.
How To Make Marzipan Chocolate
It's super easy to make delicious Marzipan chocolate at home for your holiday treat platter.
Ingredients
All you need are:
Homemade Marzipan recipe – I made a recipe for keto marzipan last week. It's the easiest 1-bowl recipe ever, made of ultra-fine almond flour, water, almond extract, and powder sweetener.
Sugar-free dark chocolate chips or any dark chocolate with more than 70% cocoa. You can make your own with my sugar-free chocolate chip recipe.
Coconut oil – measure it melted. You can swap it for any oil you like.
Sprinkle of choice or chopped nuts or just a pinch of salt.
First, prepare a batch of Marzipan following my recipe.
Then, split the marzipan log into 16 balls of the same size and roll each ball between your hands to form round, smooth balls of marzipan paste.
Place each ball on a plate covered with a piece of lightly oiled parchment paper or wax paper. Leave about half a thumb of space between each ball, so they don't touch each other.
Then, freeze the balls for 5 minutes. This makes it easier to coat the marzipan with melted chocolate.
Melting the chocolate
To melt the chocolate, you can either use a microwave or the double boiler method.
Microwave method
Add the sugar-free chocolate chips with coconut oil to a microwave-safe bowl.
Microwave by 30-second bursts and stir between, repeating this until the chocolate is fully melted, smooth and shiny.
Double boiler method
Another option, my favorite, is to melt the chocolate using a double boiler. Boil water in a saucepan, remove from the heat, and set it aside on a wooden board.
Place the glass mixing bowl containing the chocolate chips and coconut oil over the saucepan, making sure the bottom of the mixing bowl touches the hot water.
Stir until the chocolate is fully melted. That's the best way to melt chocolate and keep its shine!
Remove the marzipan balls from the freezer.
Using a fork, dip the ball of marzipan into the melted chocolate and stay a few seconds above the bowl of melted chocolate to remove the excess chocolate from the truffle.
Finally, place the chocolate-coated marzipan truffles on the plate with oiled parchment paper.
Repeat these steps until all the marzipan balls are coated with melted chocolate.
Decorate
Obviously, this is optional to decorate the truffles, but so much more attractive, and it brings out the best of the holiday spirit to your dessert table.
My recommendation to keep things healthy and tasty is to add a pinch of:
Christmas Sprinkles – you can find keto sugar-free sprinkles online.
A pinch of sea salt flakes.
Chopped nuts like pecans or almonds.
Shredded coconut – looks like snow and taste amazing with almonds.
A drizzle of white chocolate.

Freeze or refrigerate
Place the plate with the covered truffles in the fridge for 5-8 minutes or 30 minutes in the fridge, until the chocolate shell sets.
You can set the shell at room temperature if it's not too hot in your house, but it takes about 12 hours or overnight.
Frequently Asked Questions
Can I Make Marzipan Bars?
Absolutely! You can shape this marzipan as bars and make single-serve dark chocolate marzipan bars.
Can I Make Them Ahead?
You can make ahead your marzipan chocolate balls and store them in a sealed container in the fridge or on a plate wrapped with plastic wrap for up to 1 week.
Another option is to freeze the almond truffles and thaw them the day before in the fridge.
Simply keep in mind that chocolate-coated truffles lose their shine after a few days in the fridge.
More Healthy Sweet Treat Recipes
Below I listed more delicious recipes to bring to your Christmas or Thanksgiving table as healthy desserts that are allergy-friendly and everyone can enjoy.
Have you made these healthy marzipan truffles for your holiday table? Share a comment or review below to tell me how much your family and friends enjoy them!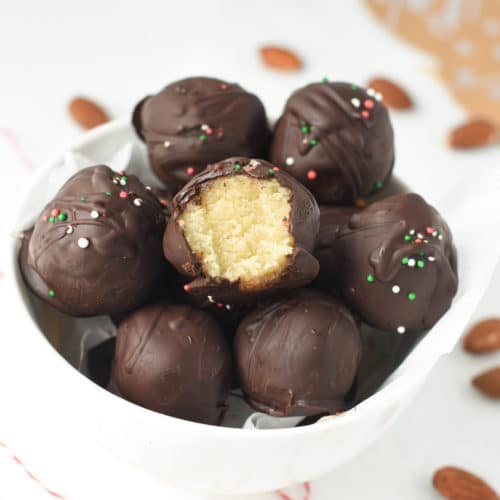 Marzipan Chocolate
An easy Keto truffle recipe made with sugar-free Marzipan and coated with sugar-free Chocolate.
Ingredients
1

batch

Homemade Marzipan

10.5

oz

Sugar-Free Dark Chocolate Chips

1

teaspoon

Coconut Oil
This recipe may contain Amazon or other affiliate links. As an Amazon Associate I earn from qualifying purchases.
Instructions
Cover a plate with parchment paper. Slightly oil the paper with coconut oil. Set aside.

When the marzipan log is ready, divide the marzipan into 16 balls of the same size and roll each ball between your hands to form smooth balls of marzipan.

Place each ball on the prepared plate and freeze for 5 minutes to set.

Meanwhile, melt the chocolate using the double boiler method. To do so, boil water in a saucepan. When the water is boiling, remove the saucepan from the heat and place it on a wooden chopping board.

In a large glass mixing bowl, place the sugar-free chocolate chips and coconut oil.

Place the glass bowl over the hot pot of water and stir the chocolate with a wooden or silicone spatula until it's fully melted and shiny.

Place the bowl with melted chocolate away from the hot pot and bring the plate with marzipan balls next to it.

Use a fork to dip each marzipan balls into the melted chocolate, stay a few seconds above the bowl of melted chocolate to remove excess chocolate, then place the dipped ball back to the plate covered with parchment paper.

Repeat until all truffles are coated.

Sprinkle some chopped nuts, sprinkles, a pinch of sea salt flakes on top of the truffle to decorate them.

Freeze again for 5 minutes for an ultra-quick set of the chocolate shell, or place 30 minutes in the fridge.

Store in an airtight container in the fridge for up to 1 week or freeze up to 3 months and thaw in the fridge the day before.
Want My Kitchen Equipment?
Serving:
1
serving
Calories:
136.9
kcal
(7%)
Carbohydrates:
12.9
g
(4%)
Fiber:
10.5
g
(44%)
Net Carbs:
2.4
g
Protein:
2.2
g
(4%)
Fat:
12.1
g
(19%)
Saturated Fat:
4.2
g
(26%)
Polyunsaturated Fat:
0.1
g
Monounsaturated Fat:
0.1
g
Posted In: