Low-Carb Keto Marzipan (Vegan)
This easy 4-Ingredient Low-Carb Keto Marzipan recipe is a 10-minute Keto Christmas Dessert Recipe with a delicious nutty fondant texture and only 1 gram of net carbs per serving!
Bonus, this is an egg-free marzipan recipe, also suitable for vegan keto food lovers.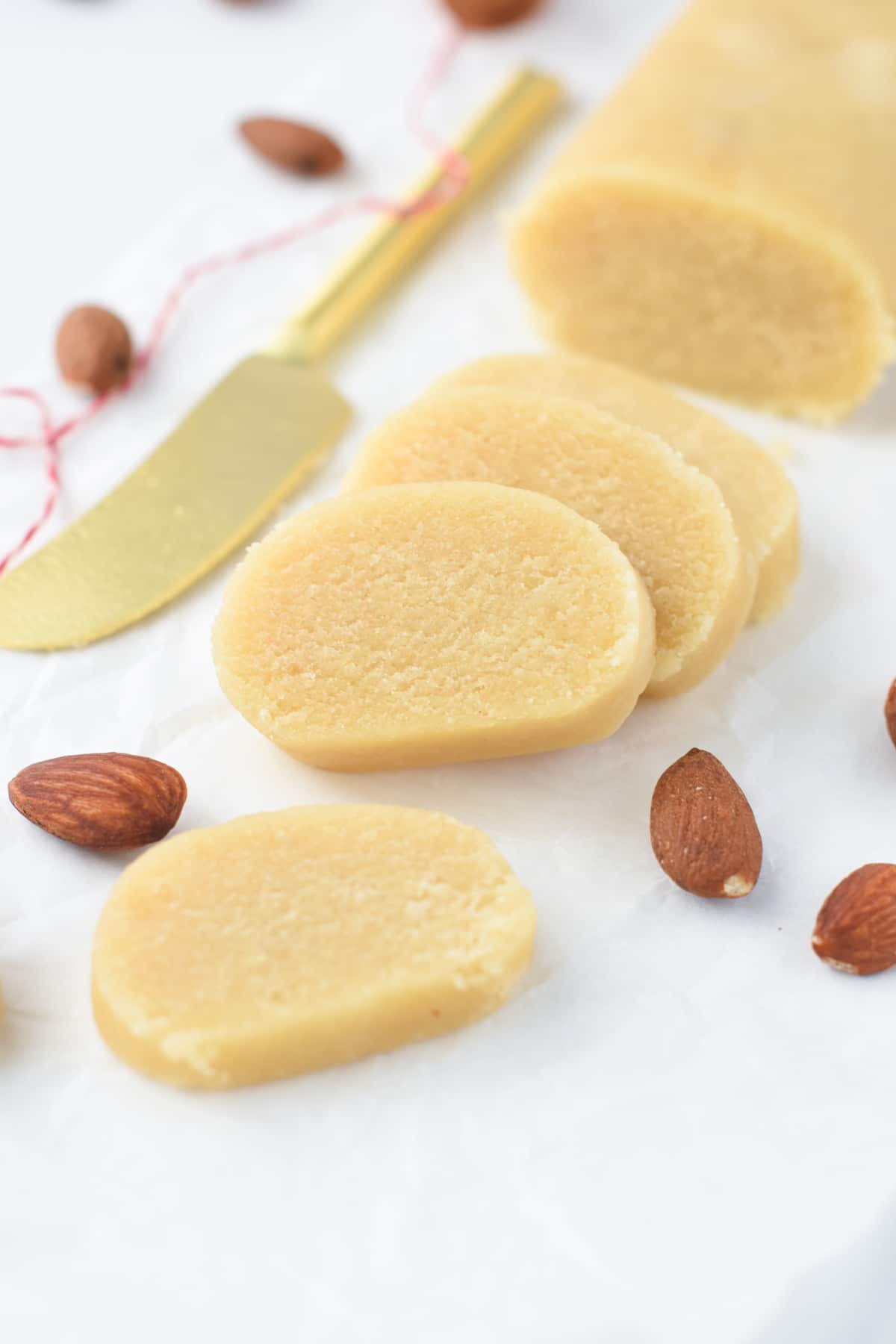 It's almost Christmas and a great time to start preparing or testing some delicious keto dessert recipes to share with family and friends.
As a French person, I used to buy logs of marzipan in store. It is a traditional almond flavored dessert that I used to love, plain or covered with chocolate.
But it's also a high-carb and high-sugar treat, so here's my sugar-free, low-carb version for you!
What's Marzipan?
Marzipan is a traditional German almond sweet dessert made of almond flour, almond extract, powdered sugar, and egg whites.
It's used in many different recipes like Marzipan cookies, marzipan chocolate, marzipan rose, or animals or on its own as a treat.
Is Marzipan Keto?
No, a traditional marzipan recipe contains a lot of added powdered sugar, and it's therefore high in carbs.
How To Make Keto Marzipan
Luckily, it's super easy to make a keto marzipan recipe at home.
Since I didn't want to use raw egg whites in my marzipan, this recipe is also a keto vegan marzipan recipe.
Ingredients
All you need to make this sugar-free marzipan recipe are:
Ultra-fine blanched almond flour – the recipe works with almond meal, but the marzipan color won't be as light and golden. Plus, the texture will be grainier, so I recommend finely ground almond flour instead.
Keto Powdered sweetener of choice – any powder keto sweetener like powdered erythritol or allulose works. Don't use the granulated form, or the texture of the marzipan won't be smooth.
Almond extract or rose water extract.
Water – the traditional recipe uses raw egg whites, which work well. However, water makes the recipe last longer, and it provides an option for keto vegan marzipan food lovers!
Blend
To make a smooth low-carb marzipan recipe, bring all the ingredients into a food processor, and using the S blade attachment, blend at high speed for about 1 minute.
Stop the food processor when the mixture starts to come together or be sticky enough to form a ball if squeezed in your hand.
Shape into a log
Transfer the marzipan dough onto a piece of parchment paper – this prevents the dough from sticking to your benchtop.
Slightly oil your hands and knead to gather the pieces of dough and form a ball.
Flatten the ball and turn it into a log shape.
Wrap the log into plastic film. Seal the plastic wrap very well on both sides and store 1 hour in the fridge to firm up.
Remove the marzipan from the plastic wrap, place it on a chopping board, and use a long sharp knife to cut it into slices of about 15 g each or 0.5 ounces per serving.
You can cut all the marzipan at once and store the slices in an airtight container in the fridge for up to 2 weeks.
You can also freeze the marzipan and thaw at room temperature a single serving just 30 minutes before eating it.
Serving Marzipan
There are many ways to eat marzipan.
In Europe, most people enjoy a piece of marzipan as a snack. It's a popular side to a cup of bulletproof tea or coffee latte in the afternoon.
Another option is to use this marzipan recipe to make my marzipan chocolate truffles recipe. These are perfect as a keto recipe to celebrate Christmas.
Allergy Swaps
This healthy marzipan recipe is naturally:
Gluten-free
Egg-free
Keto – sugar-free
Paleo
Dairy-free
However, if you want to make marzipan almond-free, you can swap almond flour by some of the keto flours below:
Sunflower seed flour
Hazelnut flour to make hazelnut marzipan
Sesame seed flour
Frequently Asked Questions
Can I Make Marzipan Without A Food Processor?
Most marzipan recipes, keto or not, use a food processor to create the smoothest melt-in-your-mouth almond fondant without grainy bites or almonds.
However, if you really crave this sweet treat and you don't have a food processor, you can gather the ingredients in a bowl. The result won't be as smooth, and it will probably fall apart and require more water.
What Can I Do If My Marzipan Is Dry?
It happens if your almond flour is coarse and soaks more liquid. To fix that, add more water to the food processor, one teaspoon at a time until the dough is soft, sticky, and easy to shape into a ball.
Can I Freeze Marzipan?
Absolutely yes! The best is to freeze single servings of marzipan so you can easily thaw one portion in 30 minutes at room temperature.
Can I Dip The Log In Chocolate?
Yes, you can melt 100 grams of sugar-free chocolate chips with 1/2 teaspoon coconut oil in a saucepan over medium heat.
Then, remove the marzipan log from the fridge and pour the melted chocolate on top.
Place the dipped marzipan log on a rack to drain extra melted chocolate and pop in the freezer for a few minutes to quickly harden the chocolate shell.
Keto Marzipan Recipe
An easy 4-Ingredient Keto Vegan Marzipan recipe with a delicious melt-in-your-mouth texture full of almond flavors
Serving Size:
1
serving (15g, 0.5oz)
This recipe may contain Amazon or other affiliate links. As an Amazon Associate I earn from qualifying purchases.
Instructions
Place all the ingredients in a food processor, and using the S blade attachment, blend for 1 minute on high speed until it comes together into a sticky paste.

Bring all ingredients together on a piece of parchment paper and knead for a few seconds until they stick together into a bowl. You can add a few teaspoons of water if too dry.

Wrap in a log shape in plastic wrap and refrigerate for 1 hour.

Slice into 15g (0.5oz) slices and serve as a snack or dessert or side to a cup of coffee.
Storage
Store in the fridge for up to 2 weeks in a sealed container.

They can be rolled into balls to make marzipan chocolate truffles.
Want My Kitchen Equipment?
Serving Size:
1
serving (15g, 0.5oz)
Serving:
1
serving (15g, 0.5oz)
Calories:
59.7
kcal
(3%)
Carbohydrates:
2.2
g
(1%)
Fiber:
1.1
g
(5%)
Net Carbs:
1.1
g
Protein:
2.2
g
(4%)
Fat:
5.2
g
(8%)
Saturated Fat:
0.4
g
(3%)
Sodium:
0.2
mg
Potassium:
0.2
mg
Sugar:
0.4
g
Calcium:
22.1
mg
(2%)
Iron:
0.4
mg
(2%)
Magnesium:
0.1
mg
Posted In: