Healthy Avocado Chocolate truffles are easy and delicious fudgy chocolate truffles, 100% dairy-free, vegan, and paleo. These no-bake dark chocolate truffles make a lovely addition to your Christmas or Valentine's truffle plate, and nobody will spot the avocado.
Healthy Avocado Chocolate truffles: how to ripen avocados?
I love dark chocolate truffles. I think there is no celebration without chocolate truffles. Here I am sharing with you my healthier chocolate truffle recipe. These easy avocado chocolate truffles are super easy to make – all you need is a super ripe avocado.
I know that finding ripe avocados in winter is a challenge if you live in the US or Europe. So here is my trick.
To ripen an avocado quickly, place them in a fruit basket near bananas or wrap them into a piece of foil. Within 3-4 days, they should turn into smooth, ripe avocados. That's how it looks like for me. Well, I am living in New Zealand, the country where I found the most delicious avocados.
The batter will be moist and sticky. You will have to store it in the fridge for at least 30 minutes to firm up. Then, I recommend slightly rubbing your hands with coconut oil before rolling the truffles into your hands. It makes the process easier, and it won't stick to your fingers.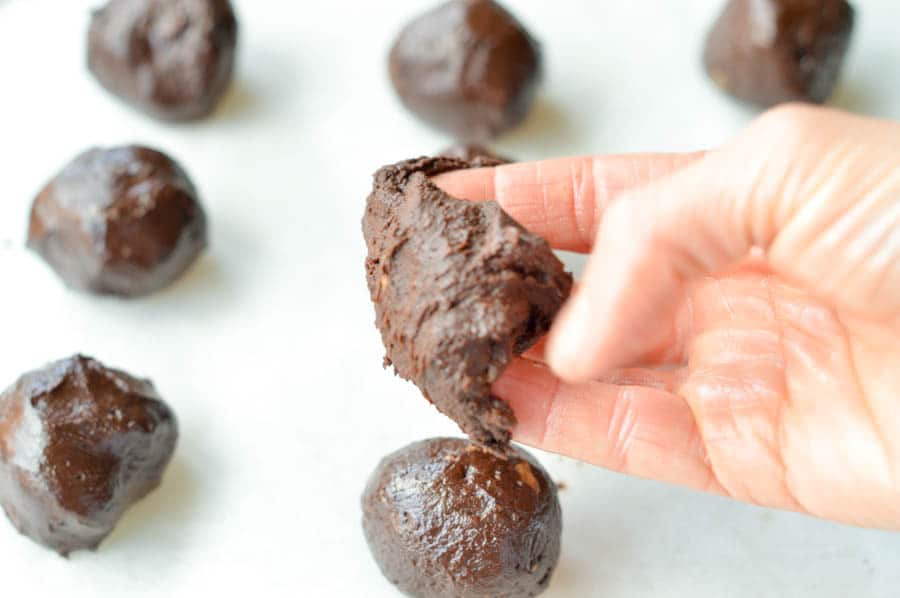 I place all my truffles on a simple chopping board covered with parchment paper and decorate most of them with dust of unsweetened cocoa powder.
ⓧ
Are you new to Keto?
Receive my Keto Quick Start email series to learn all about the Keto diet and kick start your keto journey!
To create beautiful Christmas colors on these avocado chocolate truffles, I played with natural powders. The red ones are made with beetroot powder, the green ones with matcha powder, and the white ones are rolled into desiccated coconut. I also used a tiny bit of sugar-free icing on some of them. It is basically erythritol icing powder.
I made this recipe two times. First time I used a strong 90% dark chocolate. The darker, the better! But the kids prefer lighter chocolate, around 80%. Look how fudgy they are! and they taste amazing, no avocado aftertaste at all!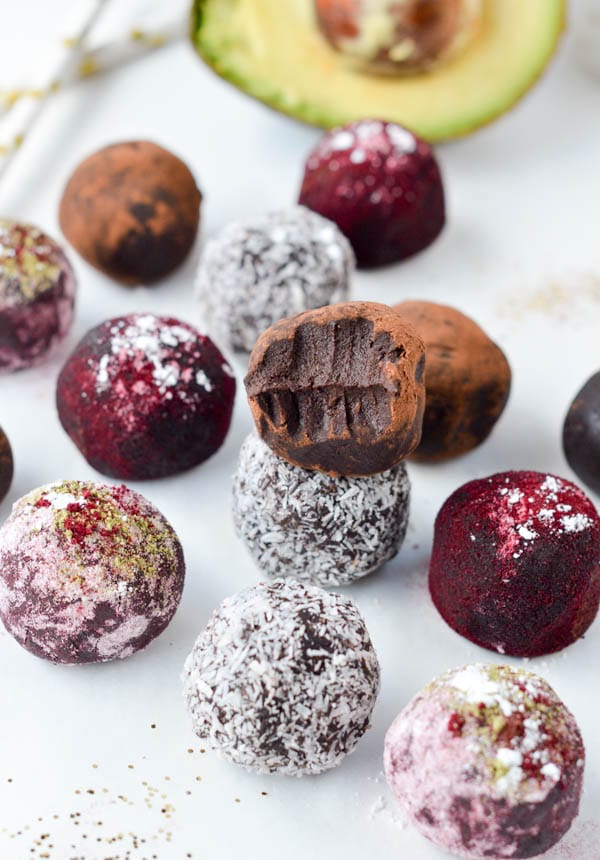 This recipe makes 25 truffles. You can easily store them in the fridge in an airtight container for up to 4 days. But believe me, you will eat them before.
You may also like the following recipes
Recipe Card
Healthy Avocado Chocolate Truffles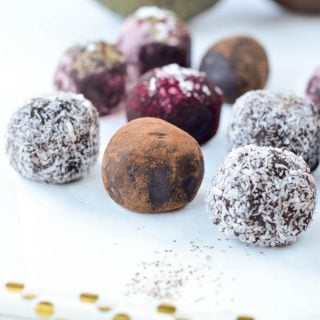 Healthy Avocado Chocolate truffles are easy and delicious fudgy chocolate truffles, 100% dairy-free, vegan, and paleo. No-bake dark chocolate truffles to add some healthy touch to your Christmas truffle plate.
Instructions
Place the ripe avocado flesh in a bowl. Using a fork, mash the avocado into a smooth puree. You can also process the avocado flesh in a food processor.

Add the sugar-free maple syrup, melted chocolate, unsweetened cocoa powder, vanilla, and stevia drops if you want to increase the sweetness. Stir to combine. 

Cover the mixing bowl and refrigerate for 30 minutes to 1 hour. That's an important step to firm up the batter and make the truffles easy to roll up.

Slightly grease your hands with coconut oil and shape the truffles with your hands. 

Roll each truffle into the coating of your choice: unsweetened cocoa powder or desiccated coconut, and place the truffles on a plate covered with parchment paper. Store in the fridge 30 more minutes before eating. The texture will be even better.

This recipe makes about 25 truffles. Store well in the fridge for up to 4 days in an airtight container.
Coating natural colors: for the green coating, I used matcha powder and spirulina powder. The red coating is beetroot powder.  Chocolate: this recipe will work well with any dark chocolate. For a bitter, slightly sweet truffle, use 78%-85% dark chocolate. For a sweet truffle, use dark chocolate between 55%-70%.  Storage: they store really well in the fridge - up to 4 days in an airtight container. If you are using a powder for coating the truffles like unsweetened cocoa powder, it will get absorbed quickly, and you will have to roll them again into the coating before serving. To prevent that, roll them into a solid coating like desiccated coconut.
My Recipe Notes
Tools
Starting Keto
What Is Keto Diet?
Macro Calculator
Sweetener Converter
Keto Meal Plans
Keto Recipe Ebooks
Intermittent Fasting
Keto Fruits
Keto Vegetables
Keto FLours
Fighting Keto Flu
Keto Sweeteners
Nutrition Facts
Healthy Avocado Chocolate Truffles
Amount Per Serving (1 truffle)
Calories 43
Calories from Fat 33
% Daily Value*
Fat 3.7g6%
Carbohydrates 3.6g1%
Protein 0.8g2%
Net Carbs 0.8g
* Percent Daily Values are based on a 2000 calorie diet.