Keto Chocolate Avocado Ice Cream
This keto chocolate avocado ice cream is a super creamy keto chocolate ice cream 100% dairy-free and made with almond milk and coconut milk.
Plus, one serving of this healthy recipe contains only 2 grams of net carbs! A real summer treat.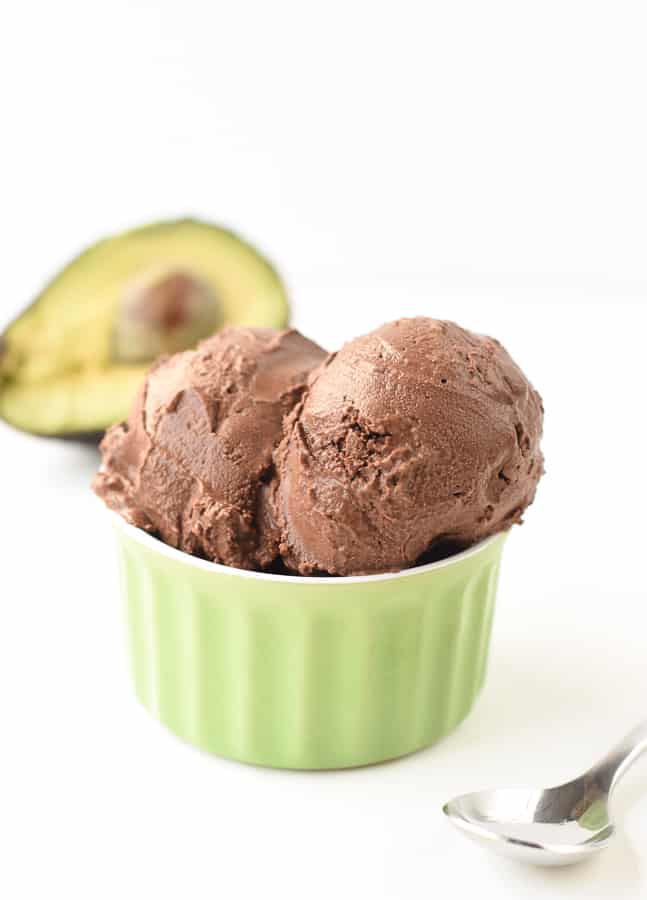 What do I need to make keto avocado chocolate ice cream?
Not all keto chocolate ice creams use avocado as the main ingredient.
However, ripe avocado is an amazing keto-friendly vegetable to add creamy, fudgy texture to ice creams without using dairy.
Bonus, keto avocado ice creams are made in a blender, which means you don't have to cook or boil any liquid in this recipe.
As a result, this keto chocolate avocado dessert is ready in 30 minutes with minimal cleaning!
1. Ingredients at room temperature
The key to succeeding in making keto ice cream with avocado is to choose the perfect ingredients.
First, make sure all the ingredients are at room temperature.
In fact, this keto dessert recipe uses coconut oil, and since coconut oil solidifies under 23°C/73°F, you don't want to bring it in contact with cold coconut milk!
If you did, the ice cream would never blend, and oil lumps would form.
2. Choice of avocado
This is a chocolate avocado keto ice cream, so avocado is the main ingredient of this dessert recipe.
Therefore, the choice of avocado will impact the taste and texture of your ice cream. You must choose ripe avocado with soft, creamy flesh, green in color with no black spots.
The best way to choose ripe avocado is to look under the avocado cap. Remove the cap. If the color under is green, you found the perfectly ripe avocado.
Otherwise, if it's dark, it means this avocado is overripe, and the ice cream would be terribly bitter.
3. Measure with precision
Since all avocados have different sizes, the best way to achieve the ideal texture and exact carb count per serving for this recipe is to measure the avocado flesh in weight, not cups.
This avocado ice cream uses 1 cup of avocado flesh, which means 215 grams/ 7.6 oz of mashed flesh or about 2 medium-size avocados.
How To Make Keto Chocolate Ice Cream
1. Ingredients
You must use a blender to make this keto avocado chocolate ice cream. This is the key to pulsing all the ingredients together.
However, it is also important that you always add the ingredients in the right order to make it easier for the blade to blend all the ingredients.
The ingredients you need in order of addition are:
Ripe avocado – add the avocado flesh first. It should be creamy as softened cream cheese or sour cream. Ripe avocado flesh is not firm, hard, or dark in color.
Erythritol – next, add the sugar-free granulated sweetener. You can also use xylitol or stevia drops in this recipe. Use my keto sweetener converter to check how many Stevia drops you will need to replace erythritol in this recipe.
Vanilla extract
Salt
Unsweetened cocoa powder or cacao powder. Note that cacao powder is a raw version of cocoa that has a stronger dark chocolate flavor. If you love dark chocolate desserts, then cacao powder is a great option.
Canned coconut milk – you must use coconut milk from the can with a minimum of 15% fat (or heavy cream but at room temperature!). Most of the time, coconut milk and cream are separated in the cans. That is why you must shake the coconut milk can before opening it to make sure the coconut milk is consistent. Also, note that you can't use coconut beverages in this ice cream recipe. This is a keto ice cream recipe made with an ice cream maker. And an ice cream made in an ice cream maker requires a higher amount of fat, or it would form crystals. That is why you can't use coconut water which mostly contains water and barely any fat. Another option is to use canned coconut cream. Coconut cream contains around 30% fat, so it would make this keto ice cream fudgier but difficult to blend as well. You may have to add a splash of more almond milk to help the blender combine the ingredients.
Unsweetened almond milk – you need a combo of coconut milk and almond milk to achieve the right texture. You can't replace almond milk with more coconut milk, or the batter will be so thick that it won't blend.
Coconut oil – the best is to use refined coconut oil to avoid a coconut flavor in your ice cream. You can't replace coconut with another keto oil. This is the key to making fudgy keto and paleo ice cream!
2. Churn
You should obtain a thick, shiny chocolate pudding batter after blending all the ice cream ingredients. It shouldn't be runny or watery.
If it were the case, it would mean that you probably used coconut beverage and not full-fat coconut milk.
To make ice cream, add the chocolate avocado pudding to the ice cream maker bowl.
Churn until the ice cream maker blade stops spinning and the ice cream is frozen.
3. Freeze
Transfer the chocolate ice cream into an airtight sealed container in the freezer and freeze for at least one hour before serving.
Making Keto Ice Cream With An Ice Cream Maker
Keto ice cream maker recipes are higher in fat than popsicle ice cream recipes.
In fact, the fat in the recipe prevents the ice cream from forming crystals in the ice cream maker machine, resulting in a highly fudgy texture that scoops easily even after hours in the freezer.
That is why you cannot always use a popsicle ice cream recipe in an ice cream maker! You must use a fail-proof ice cream maker recipe for the best texture.
Add the keto ice cream batter to your frozen ice cream maker bowl and churn following the manufacturer's instructions.
Serving Keto Ice Cream
Keto ice cream made with ice cream makers won't form crystals and scoops very well, even after spending days in the freezer.
However, always bring the container to room temperature for 10 minutes before scooping for the best fudgy texture.
Then, serve this keto chocolate ice cream on top of a chocolate cake, keto brownie recipe, or on its own. The best keto toppings for ice cream are:
Heavy whipping cream – or whipped coconut cream if you are making paleo ice cream. Also, make sure you buy unsweetened whipped cream to avoid added sugar. Learn more about net carbs in dairy products.
Chocolate sauce – melt sugar-free dark chocolate (or chocolate chip) with coconut oil and drizzle on top of your ice cream scoops. In fact, melting dark chocolate with coconut oil decreases the hardening point of the chocolate sauce. It means that it will create a chocolate shell instantly when in contact with the ice cream. For paleo ice cream, dark chocolate with more than 85% cocoa can be used.
Dark chocolate chip – use sugar-free chocolate chips sweetened with stevia, no maltitol! Maltitol is not a keto-friendly sweetener.
Sugar-free caramel syrup – Many delicious stevia-sweetened keto-friendly ice cream syrups exist to serve with ice cream. The best flavor is caramel syrup or vanilla syrup.
Frequently Asked Questions
Can you taste avocado in avocado ice cream?
That is probably the first question that comes to your mind, does chocolate avocado ice cream taste like avocado?
No, this keto ice cream tastes like conventional ice cream. Despite not having the non-keto ingredients usually found in ice creams like corn syrup or condensed milk!
It has a strong dark chocolate flavor but no avocado aftertaste at all. It is a healthy recipe for healthy foodies looking for a dark chocolate dessert.
Why does my ice cream taste bitter?
Your avocado ice cream shouldn't taste like avocado or bitter. The only reasons this could happen are if you:
Used over-ripe avocados with dark spots on the flesh.
Replaced sugar-free granulated sweetener with stevia drops, and added a little too much of it!
Can I use MCT oil in keto ice cream?
You can replace coconut oil with MCT oil in this recipe. MCT oil has no coconut flavor, and it is a great fat-burning product to use in keto ice creams.
Can I make keto ice cream without an ice cream maker?
If you don't have an ice cream maker, you can enjoy this keto ice cream recipe as popsicles. Fill plastic popsicles with the chocolate pudding mixture.
It might be a bit challenging to fill the molds since the ice cream mixture is thick, so you will need a stick to push down the pudding into the popsicle mold.
Freeze overnight and enjoy the next day. Also, note that the pudding you obtain after blending the ice cream ingredients can actually be stored in the fridge and enjoyed as a chocolate keto pudding!
So, if you crave a quick sweet dark chocolate dessert, that is a great option too.
More Keto Ice Cream Recipes
If you like Keto Ice Cream, you'll love the following recipes!
More Keto Avocado Recipes
I love creating keto recipes with avocado. My all-time favorite is these avocado brownies with almond flour.
Other delicious keto avocado recipes you can try are:
Have you made this keto ice cream recipe? Share a comment below!
Keto Avocado Chocolate Ice Cream
A fudgy keto chocolate ice cream made with an ice cream maker
Yield:
servings (of 1/3 cup)
Nutrition Snapshot
Want My Kitchen Equipment?
Instructions
The day before, place the ice cream maker bowl in the freezer.

Bring all the ingredients at room temperature before you start. No cold ingredients straight out of the fridge, or the coconut oil will form lumps. Measure coconut oil, melted.

Open the avocados halfway. The flesh must be soft as sour cream, green in color, no black spots, or it will add a bitter taste to the chocolate ice cream.

Scoop out the flesh, pack into a cup, sweep the top of the cup to precisely measure 1 cup of soft avocado or weight 215 grams/7.6 oz.

Place the avocado flesh into a blender or food processor.

Add erythritol, vanilla, salt, unsweetened cocoa powder, canned coconut milk (not coconut beverage, it is too low in fat, and the ice cream will not be fudgy), unsweetened almond milk and melted coconut oil.

Blend/process on high speed until it forms a very thick creamy, shiny chocolate pudding. If it is too thick and doesn't blend well, add a splash of more unsweetened almond milk (at room temperature) up to 1/3 cup in total, blending between each addition. Note that the more you add, the less fudgy the ice cream will be.

Transfer the ice cream batter into a frozen ice cream maker bowl.

Churn for 20 minutes, following the ice cream maker manufacturer's instructions.

Stop the ice cream maker when the blade can't move, and the ice cream is fudgy and frozen.

Transfer ice cream into a loaf pan covered with parchment or into a sealed glass/silicone container.

Freeze at least 1 hour before serving.
Storage
Store up to 3 months in the freezer in an airtight container.

Remove the container from the freezer 10 minutes before serving.

One serving is 1/3 cup (80ml)
My Recipe Notes
Nutrition
Yield:
servings (of 1/3 cup)
Serving:
80
ml
Calories:
146.9
kcal
(7%)
Carbohydrates:
4.1
g
(1%)
Fiber:
2.1
g
(9%)
Net Carbs:
2
g
Protein:
1.4
g
(3%)
Fat:
15.5
g
(24%)
Saturated Fat:
12
g
(75%)
Sodium:
17.7
mg
(1%)
Potassium:
156.7
mg
(4%)
Sugar:
0.2
g
Vitamin A:
18.3
IU
Vitamin C:
1.4
mg
(2%)
Calcium:
22
mg
(2%)
Iron:
1.2
mg
(7%)
Posted In: