Strawberry Ice Cream Popsicle
An easy Strawberry Ice Cream Popsicle recipe made with wholesome ingredients for a refreshing, creamy treat on hot summer days.
Bonus, these are sugar-free popsicles too sweetened with natural sugar-free sweetener and therefore low in carbs!
What Are Strawberry Ice Cream Popsicles?
Strawberry cream popsicles are creamy popsicles made with fresh strawberries, yogurt, heavy cream, and natural sweetener.
They are healthy strawberry ice cream easy to make with no ice cream maker and ready in only a few hours.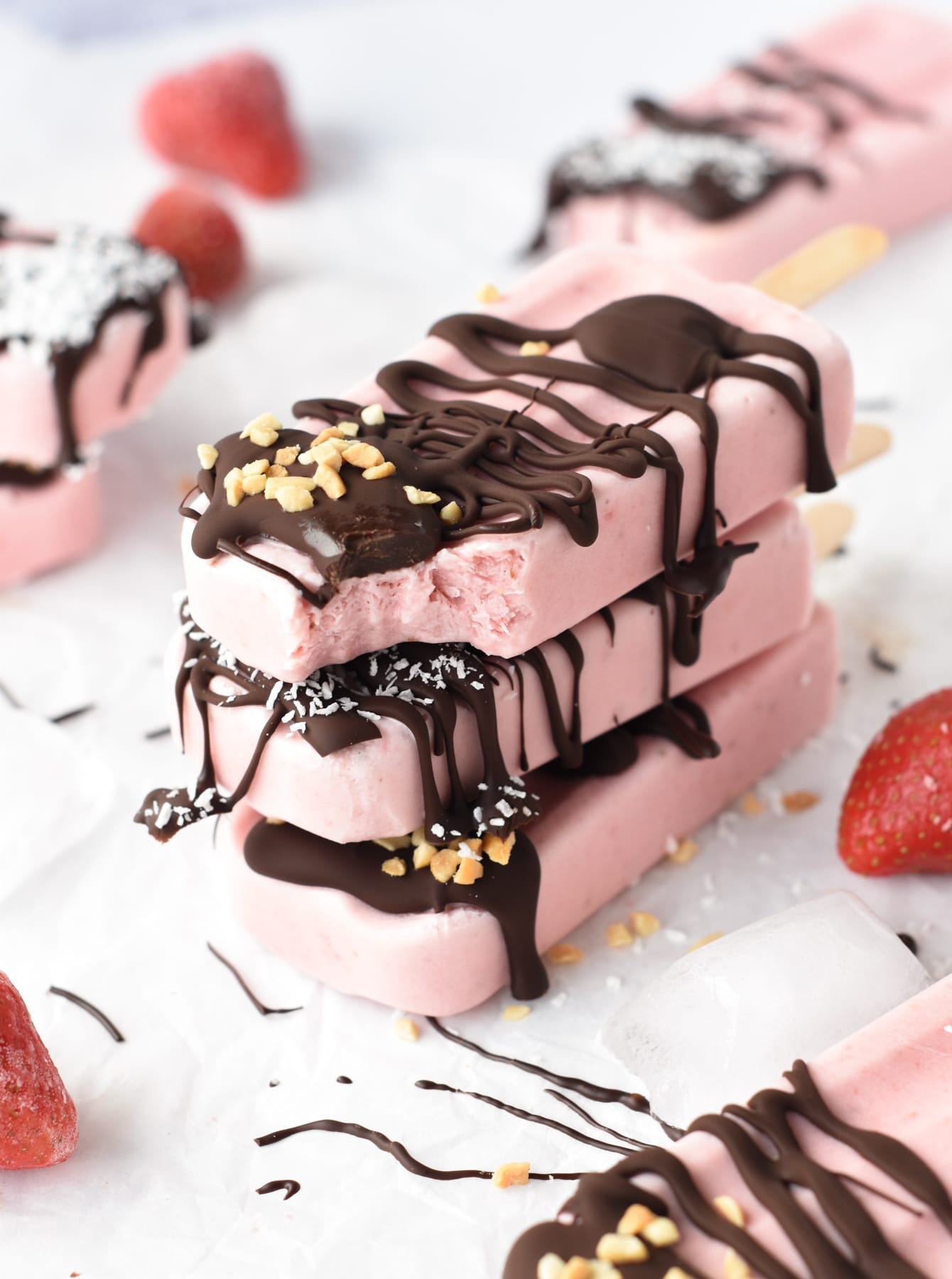 How To Make Strawberry Ice Cream Popsicles
It's very easy to make strawberry popsicles at home. All you need are a few simple ingredients but, most of all, two essential pieces of equipment.
Equipment for making popsicles at home
First, you must have a food processor or blender to prepare the popsicle batter.
This is essential to pulse the fruits, cream, and yogurt together into a smooth, creamy, fruity mixture.
Next, you must have popsicle molds. These are easy to buy from any shop, but some are more convenient than others.
I recommend popsicle molds with individual popsicles cases.
It means that you will be able to unlock one popsicle at a time from the entire mold, and therefore you don't have to release the entire popsicle batch when you crave just one!
Finally, you need wooden popsicle sticks to insert in each popsicle and release them easily.
Now that your equipment is ready, let's jump to the recipe ingredient
Ingredients
You need only 6 ingredients to make strawberry ice cream popsicles.
Full-fat yogurt – I recommend full-fat Greek yogurt. It makes the popsicles creamier and adds a lot of protein to the treats, which turns your ice cream into a nourishing snack. For dairy-free strawberry popsicles, use pure coconut yogurt or soy yogurt, or almond yogurt. Yes, yogurt is a keto-friendly ingredient!
Heavy cream or canned coconut cream if dairy-free. Learn how to choose keto-friendly cream.
Sweetener of choice – I used a sugar-free maple-flavored syrup to make sugar-free popsicles, but any liquid sweetener would work if you are not on a keto diet, such as maple syrup or honey. Other keto sweeteners that work here are 1/2 teaspoon of stevia drops or powdered erythritol.
Sliced strawberry – ripe strawberries make the ice cream even sweeter!
Lime juice
Vanilla extract
Blend
Now, add all the ingredients in any order to the jug of your blender. Blend at high speed until smooth and creamy.
Finally, fill in the popsicle mold up to the top and add a wooden stick in the center of each popsicle.
Freeze overnight
Place the popsicle mold in the fridge overnight or long enough to set the popsicles.
The time varies depending on the temperature of your freezer and the size of the popsicle mold. It can take between 4 and 8 hours to be ready.
Serving
Remove the popsicle from the main mold. Then, run the mold under warm water and pull out the popsicle from the mold to release.
Flavor Variations
You can use this recipe to make a variety of ice cream popsicle recipes. Simply replace the strawberries with other fresh fruits like:
Raspberries
Blueberries
Ripe avocado and add mint extract to make healthy mint popsicle ice cream.
For a sugar-free topical ice cream – use tropical stevia water drops any low-carb fruit you love.
Storage
These homemade strawberry popsicles store up to 5 months in the freezer.
You can also decorate the popsicles with chocolate shells. To do so, release the popsicles from their molds.
Then, dip the frozen popsicles into a tall glass filled with melted dark chocolate chips. Since the popsicles are cold, the chocolate sets and hardens pretty fast.
Finally, return the dipped strawberry ice cream to the freezer on a plate covered with parchment paper.
When the shell is all set, transfer all the popsicles to an airtight container and keep them in the freezer for later.
Allergy Swaps
You can make dairy-free strawberry ice cream popsicles easily. Simply follow the ingredients swap recommendation below:
Heavy cream – canned coconut cream, shake the can first and then measure the amount called by the recipe.
Yogurt – the best high-fat dairy-free yogurt is pure coconut yogurt made from coconut cream and probiotics. Other options are soy yogurt or almond yogurt.

More Keto Ice Cream Recipes
If you like Keto Ice Cream, you'll love the following recipes!
Have you made this easy recipe for strawberry popsicles? Share a comment or review below.
Strawberry Ice Cream Popsicle
These Strawberry Ice Cream Popsicles are an easy sugar-free popsicle recipe with delicious strawberry ice cream flavors.
Serving Size:
1
popsicle (using raspberries)
Ingredients
Optional-for no icy texture
1

teaspoon

Vodka

or spirit of choice
This recipe may contain Amazon or other affiliate links. As an Amazon Associate I earn from qualifying purchases.
Instructions
Place all the ingredients into a high-speed blender and blend at high speed until smooth. Adjust sweetener and lemon juice if desired.

Fill the popsicles mold up to the top and insert a popsicle wooden stick in the center of each popsicle.

Freeze overnight and store up to 3 months in the freezer.

Release one popsicle from the fridge at a time, place the mold under hot tap water to pull out the popsicle from its mold.
Notes
Sweetener: you can replace the liquid sweetener with powdered erythritol or any liquid sweetener you love if not sugar-free.
Want My Kitchen Equipment?
Serving Size:
1
popsicle (using raspberries)
Serving:
1
popsicle (using raspberries)
Calories:
81.9
kcal
(4%)
Carbohydrates:
4.3
g
(1%)
Fiber:
1.5
g
(6%)
Net Carbs:
2.8
g
Protein:
3.2
g
(6%)
Fat:
5.9
g
(9%)
Saturated Fat:
3.5
g
(22%)
Polyunsaturated Fat:
0.4
g
Monounsaturated Fat:
1.7
g
Trans Fat:
0.1
g
Cholesterol:
21.6
mg
(7%)
Sodium:
35.3
mg
(2%)
Potassium:
83.3
mg
(2%)
Sugar:
1.9
g
(2%)
Vitamin A:
228
IU
(5%)
Vitamin B12:
0.2
µg
(3%)
Vitamin C:
6.5
mg
(8%)
Vitamin D:
0.1
µg
(1%)
Calcium:
61.9
mg
(6%)
Iron:
0.2
mg
(1%)
Magnesium:
9
mg
(2%)
Zinc:
0.3
mg
(2%)
Posted In: