Chocolate Popsicle Recipe (Sugar-Free, Vegan)
These healthy Chocolate Popsicles are easy sugar-free chocolate popsicles with the most delicious fudgy chocolate texture.
Plus, they are dairy-free, gluten-free, and contain only 2.9 grams of net carbs each!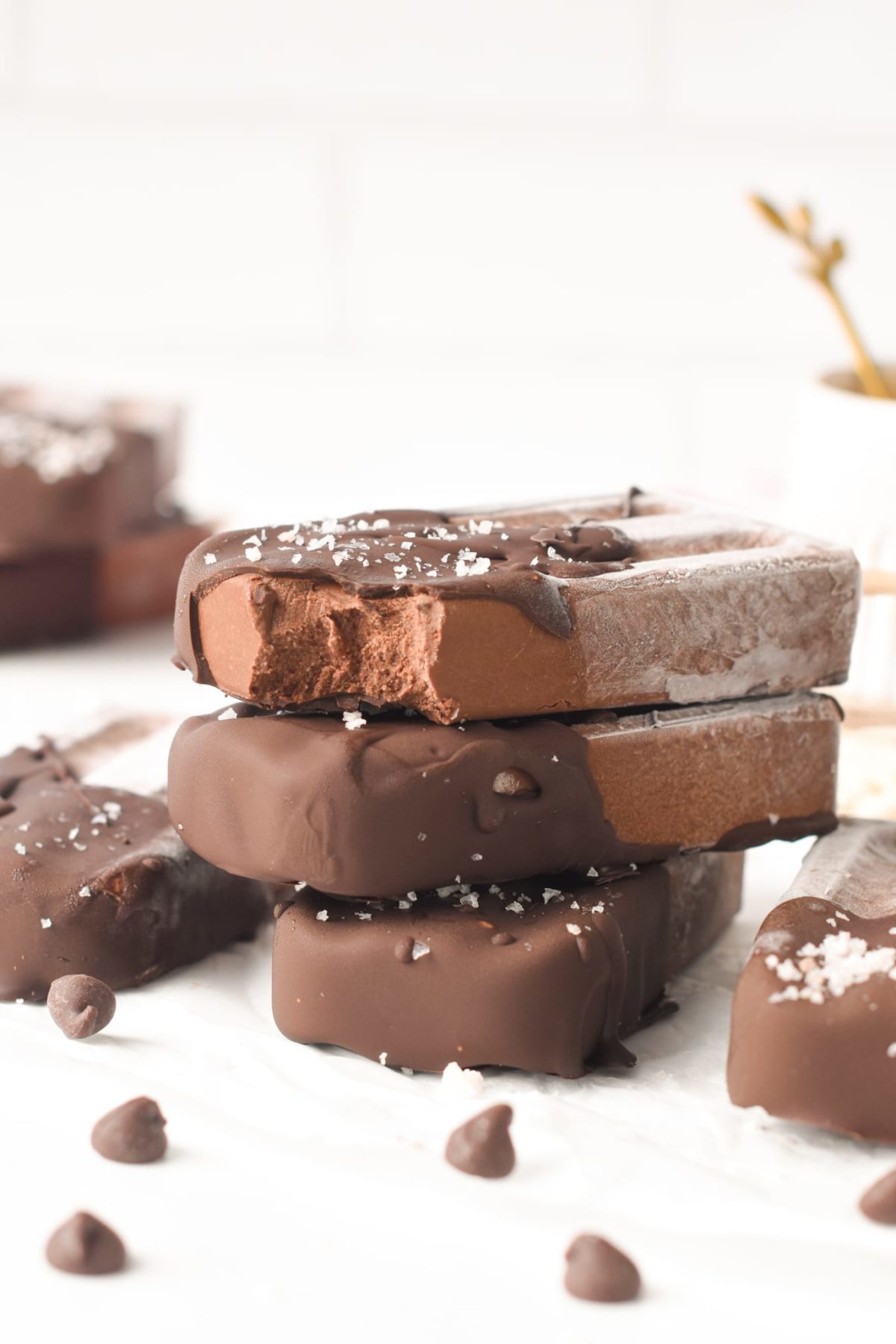 I love ice cream, but making ice cream with an ice cream maker is overwhelming, and it takes ages.
So if you love quick frozen treats that don't take hours to make and taste amazing, try making your own popsicles.
How To Make Chocolate Popsicles
It's very simple to make popsicles, way easier than real ice cream.
But of course, you need some popsicle mold first. I highly recommend using some mold that you can separate individually.
You can release one popsicle at a time instead of the whole batch. See mine below in the pictures.
Ingredients
So to make sugar-free chocolate popsicles, you need:
Canned coconut cream or heavy cream if you don't mind the dairy or if you don't like coconut flavor.
Unsweetened Almond Milk – Unsweetened almond milk is perfect for creating sugar-free desserts.
Granulated sweetened of choice – I used a sugar-free sweetener called erythritol, but any sweetener works here, including liquid sweeteners.
Unsweetened cocoa powder
Sugar-free chocolate chips or your favorite sugar-free chocolate bars or any dark chocolate with more than 85% cocoa is great! Obviously, dark chocolate makes the pops less sweet and more bitter, so you may want to add more sweetener if it's what you use. You can make your own chocolate chips with my sugar-free chocolate chip recipe
MCT oil – this acts as a stabilizer. It prevents the ice cream from crystalizing and also boosts the healthy fat on your keto diet, so I highly recommend this addition to keto ice cream.
Cooking
In a non-stick saucepan, add all the ingredients, stir and cook until chocolate chips are melted, and a light boil forms.
It takes about 2-3 minutes to do so, and the liquid should be creamy and shiny.
Set it aside 10 minutes to cool down.
Meanwhile, prepare a popsicle stand with 8 popsicle molds.
Filling Popsicle Molds
When the chocolate liquid has cooled down, fill each popsicle mold up to the top.
Close the top lid of your popsicle stand, and then insert a wooden popsicle stick in the center of each popsicle.
Freeze overnight to set the popsicles.
Serving Ideas
The next day, remove one popsicle mold from the stand and place it under hot tap water.
Gently pull the plastic mold on in one direction and the wooden stick in the opposite direction until it releases your ice cream.
Serve the ice cream plain or dip it into a melted sugar-free dark chocolate mixture.
Chocolate-Covered Popsicle Option
To make a chocolate shell, place 1 cup of sugar-free dark chocolate chips in a bowl with 1 tablespoon of coconut oil.
Microwave until fully melted or melt over medium heat in a non-stick saucepan.
Transfer the melted chocolate into a tall glass and dip the frozen popsicles into the melted chocolate. Wait a few seconds above the glass to let the excess chocolate run out into the bowl.
Place the dipped popsicle onto a plate covered with parchment paper.
Freeze again until the shell is fully set – it takes about 15 minutes.
Topping Ideas
You can sprinkle some extra keto-friendly toppings on the chocolate shell before setting it in the freezer.
Some delicious crunchy toppings for your popsicles are:
Crushed peanuts
Unsweetened shredded coconut
Grated chocolate
Taste And Storage
These chocolate popsicles are super creamy and fudgy. They can form a few crystals if you skip the coconut oil.
They store up to 3 months in the freezer if kept in their plastic popsicle mold.
More Keto Ice Cream Recipes
Below I listed some more keto-friendly ice cream recipes for you to try:
Have you made these healthy sugar-free chocolate popsicles? Share a comment or review below to connect with me,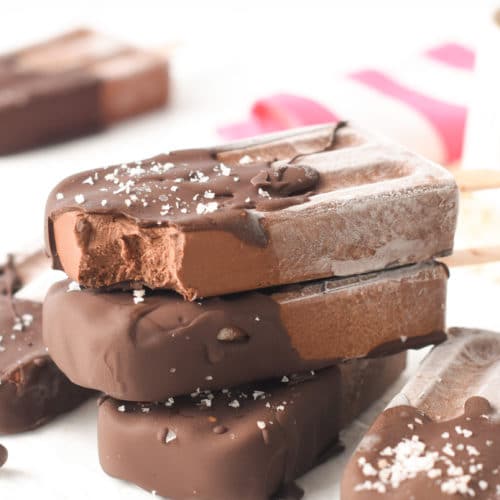 Chocolate Popsicles
These healthy Chocolate Fudge Popsicles are 100% sugar-free, dairy-free and vegan friendly.
Yield:
popsicles (1/3 cup each)
Ingredients
1

cup

Coconut Cream

shake can before openings/measuring or heavy cream

1 ¼

cup

Unsweetened Almond Milk

⅓

cup

Granulated Sweetener of Choice

I used erythritol

⅓

cup

Unsweetened Cocoa Powder

½

cup

Sugar-Free Dark Chocolate Chips

or chocolate chips you love
Optional – avoid the pops to become 'icy'
1

tablespoon

Melted Coconut Oil

or MCT Oil or peanut butter
This recipe may contain Amazon or other affiliate links. As an Amazon Associate I earn from qualifying purchases.
Instructions
Prepare an 8-cavity Ice pop mold (mine are 1/3 cup (80ml) capacity each), and each popsicle mold can be removed individually for an easier single-serve snack. If your pop mold has 10 cavities, see the recipe notes to adjust the recipe volume.

Add all the ingredients in a saucepan and cook for one minute, stirring often, until chocolate chips melt and the mixture is consistent.

Cool down for 10-15 minutes.

Fill the ice cream mold up to the top with the lukewarm chocolate mixture. Then, place a popsicle stick in the center of each mold.

Freeze for at least 4 hours or overnight or until the popsicles are fully frozen.

The next day, release one popsicle mold, place the mold under warm water, hold the mold with one hand, pinch the stick with your thumb and index on the other hand and pull to release.
Storage
Store in the popsicle mold. Don't release all popsicles and store them in an airtight box, or they would make crystal and lose creaminess. Keep for up to 8 weeks in the freezer.
Chocolate shell (optional)
Prepare a plate covered with lightly oiled parchment paper. Set aside.

In a non-stick saucepan melt dark chocolate chips and coconut oil. Stir and cook until fully melted.

Transfer the chocolate mixture into a tall glass.

Release pops from their plastic mold, one at a time to keep them frozen before dipping.

Dip each popsicle, one at a time, for a few seconds into the melted chocolate, wait a bit above the glass after dipping to let the excess chocolate run down the glass.

Place the dipped pops on the plate, then place the plate in the freezer for 15 minutes or until the chocolate shell is hard.
Notes
The popsicle mold that you can use for this recipe is a 6-cavity one or 10-cavity version.
Coconut cream and coconut milk used in this recipe are made of 2 ingredients, coconut extract, and water. You must use the same for the best result. Check the can information, it must be:
Full-fat
No added sugar
GMO-free
Emulsifier and additive-free
My mold has 8 cavities of 1/3 cup volume. For a 10-cavity pop mold, add these extra ingredients to the recipe:
1/2 cup (110ml) full-fat canned coconut milk
2 tablespoons (30ml) full-fat canned coconut cream
2 tablespoons erythritol
1 tablespoon unsweetened shredded coconut
Want My Kitchen Equipment?
Yield:
popsicles (1/3 cup each)
Serving:
1
popsicle
Calories:
151.9
kcal
(8%)
Carbohydrates:
11.6
g
(4%)
Fiber:
8.7
g
(36%)
Net Carbs:
2.9
g
Protein:
1.1
g
(2%)
Fat:
15
g
(23%)
Saturated Fat:
9.6
g
(60%)
Polyunsaturated Fat:
0.3
g
Monounsaturated Fat:
2.4
g
Cholesterol:
27.2
mg
(9%)
Sodium:
10.5
mg
Potassium:
69.5
mg
(2%)
Sugar:
0.1
g
Vitamin A:
291.6
IU
(6%)
Vitamin B12:
0.1
µg
(2%)
Vitamin C:
0.1
mg
Vitamin D:
0.1
µg
(1%)
Calcium:
19.5
mg
(2%)
Iron:
0.5
mg
(3%)
Magnesium:
19.3
mg
(5%)
Zinc:
0.3
mg
(2%)
Posted In: