This Cottage Cheese Ice Cream is an easy 4-ingredient homemade high-protein ice cream packed with 6.7 grams of protein per serving.
Plus, it's easy to make in less than 5 minutes, so you can always have a batch on hand.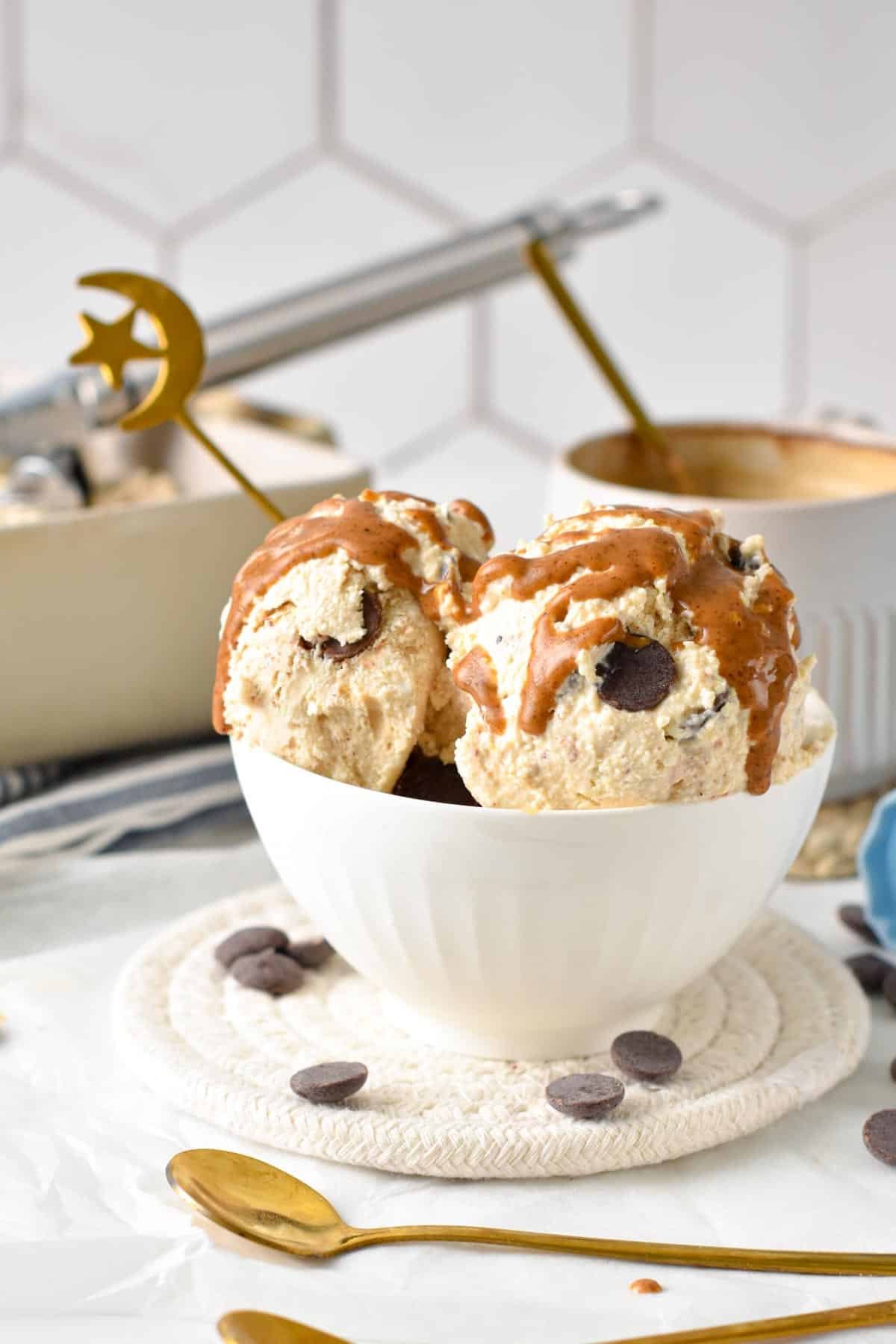 You might be wondering what to do with cottage cheese.
Cottage cheese is a major food trend for its interesting nutrition profile: packed with protein, calcium, and vitamins and low in fat and calories.
While eating cottage cheese in savory recipes seems natural like in my scrambled eggs with cottage cheese or cottage cheese dip, you can make many delicious sweet recipes with cottage cheese.
The latest TikTok food trend is to turn cottage cheese into ice cream using minimal ingredients.
I couldn't resist trying and the result is mind-blowing, and the flavors are so delicious.
How To Make Cottage Cheese Ice Cream
It's so easy to make a batch of ice cream with cottage cheese and so healthy that you will make this non-stop.
Ingredients
All you need to make a batch of cottage cheese ice cream are:
Full-Fat Cottage Cheese – I don't recommend using fat-free or low-fat cottage cheese, the ice cream won't turn out as smooth and creamy.
Nut Butter – I like almond butter to add proteins to the ice cream, and it also adds flavor and creaminess. However, peanut butter, cashew butter, or sunflower seed butter also work well.
Sugar-Free Maple Syrup – or feel free to use regular maple syrup, honey, or any unrefined sugar-free liquid sweetener you love.
Vanilla Extract
Preparation
In a high-speed blender, or food processor, add all the ingredients: cottage cheese, almond butter, maple syrup, and vanilla.
Blend or process on high speed until the mixture is well combined. Blend until smooth – it shouldn't take more than 1 minute to make.
Note that even if you are blending cottage cheese, it keeps a little grainy look, and that's normal.
Fold in any optional ingredients that add crunch to the ice cream.
Optional Add-On Ideas
I recommend stirring 1/2 cup of a mix of the below to add taste and crunch to the ice cream:
Cookie pieces like Graham crackers, or try my homemade almond flour cookies.
Dark Chocolate Chips
Frozen Fruits, like blueberries, strawberries, or raspberries.
Freezing
Transfer the ice cream mixture to a glass dish or loaf pan.
Freeze the dish for 3 hours or until firm and scoopable.
Scooping The Ice Cream
The longer you freeze this non-churn cottage cheese ice cream, the harder it becomes.
That's why this ice cream gets hard as a rock the next day, and you will need some patience, thawing the batch for at least 15 minutes to be able to scoop it.
Flavors
Of course, you can use this cottage cheese ice cream recipe to create a range of ice cream flavors.
Strawberry Cheesecake Cottage Cheese Ice Cream – Blend in 1/3 cup of fresh or frozen strawberries, and add 1/4 cup Greek yogurt or cream cheese instead of peanut butter.
Cookie Dough Cottage Cheese Ice Cream – Use almond butter and stir in 1/3 cup dark chocolate chips at the end.
Chocolate Cottage Cheese Ice Cream – Stir in 2 tablespoons unsweetened cocoa powder, and at the end, stir in 1/3 cup of dark chocolate chips.
Banana Peanut Butter – Add 1 small ripe banana in the blender and use peanut butter.
Smores – Add 1/2 cup of frozen banana and at the end stir in 1/3 cup of chopped marshmallow and 5 crushed graham crackers.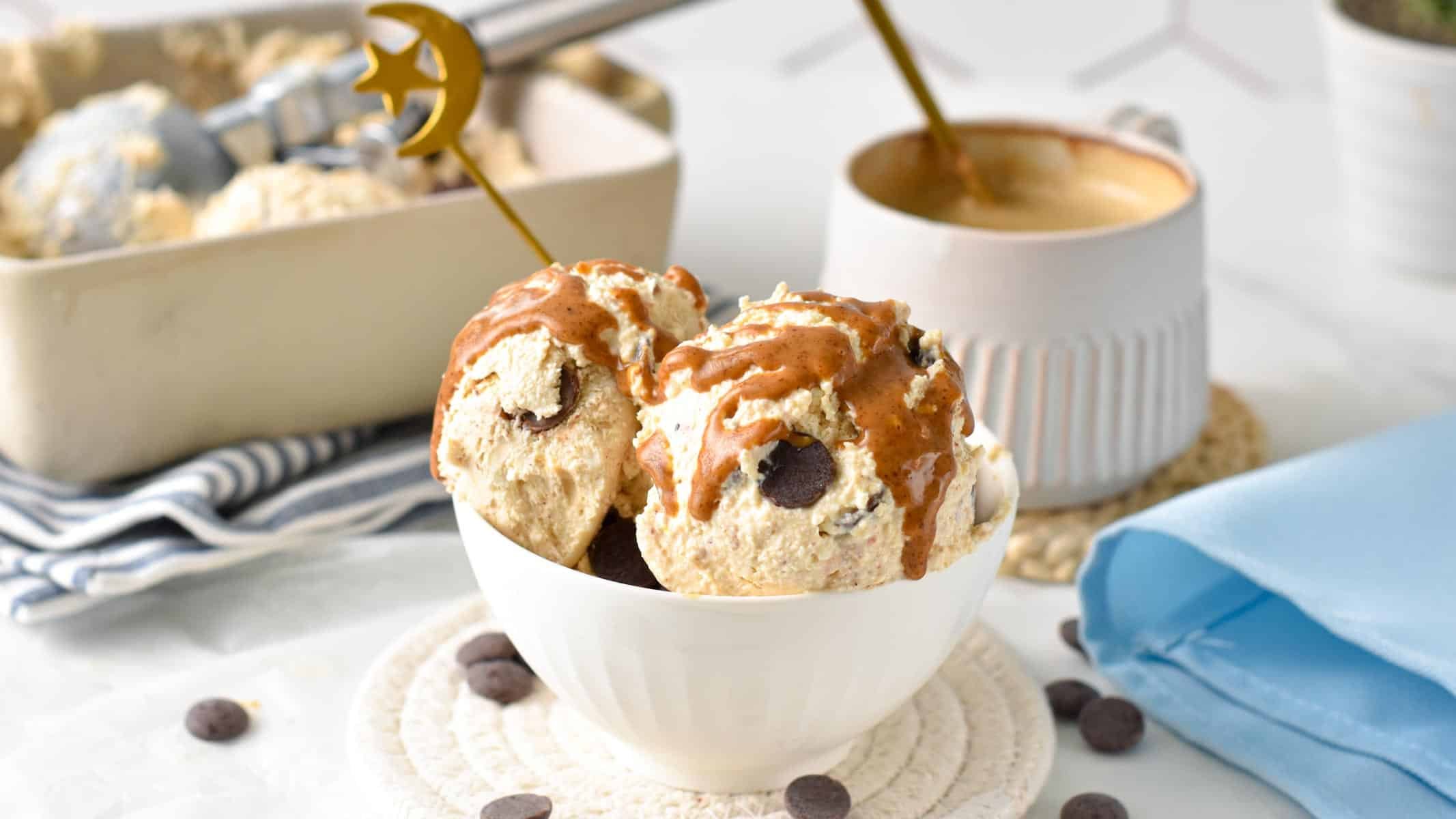 Serving
Serve the cottage cheese ice cream as a dessert a healthy sweet treat.
Place one scoop – about 3 tablespoons in a bowl. Add some of the below on top if you like:
A swirl of almond butter
Whipped cream
Chopped nuts
Desiccated coconut
Chocolate chips
Allergy Swaps
Here are some ingredients swap ideas if you need them.
Nut-Free – Swap the nut butter for sunflower seed butter or tahini.
Sweetener Option – Use any liquid sweetener you prefer including coconut nectar, agave syrup, or maple syrup, or honey.
Sugar-Free – Use sugar-free chocolate chips and sugar-free syrup.
Frequently Asked Questions
Below are the most frequent answers to your questions about this recipe.
Is Cottage Cheese Ice Cream Healthier Than Ice Cream?
Yes, cottage cheese ice cream contains more proteins and way less saturated fat and sugar than store-bought ice cream.
It's also higher in protein than frozen yogurt and therefore, a great snack to fix a sweet tooth.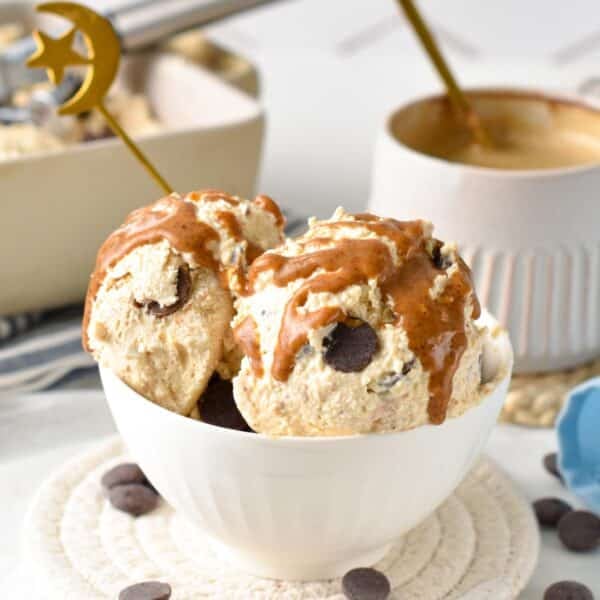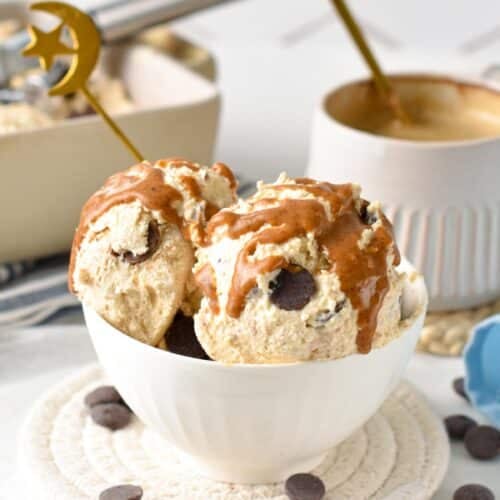 Cottage Cheese Ice Cream
This Cottage Cheese Ice Cream is a high-protein ice cream made with just a few ingredients for an easy protein dessert.
Serving Size:
3
tablespoons
Ingredients
2

cups

Cottage Cheese

plain, full-fat

¼

cup

Sugar-Free Maple Syrup

or any liquid sweetener you love

1

teaspoon

Vanilla Extract

2

tablespoons

Almond Butter
This recipe may contain Amazon or other affiliate links. As an Amazon Associate I earn from qualifying purchases.
Instructions
In a food processor, add all the ingredients except the optional ingredients: chocolate chips and almonds. Blend until smooth – about 1 minute on high speed.

Fold in chocolate chips and chopped almonds, and stir with a silicone spatula to incorporate.

Transfer the mixture into a glass container, and add a drizzle of extra almond butter and chocolate chips on top.

Freeze for 3 hours or until just set and scoopable.

Remove from the freezer and use an ice cream scoop to serve. If too hard to scoop, bring it back to room temperature for 15 minutes.
Want My Kitchen Equipment?
Serving Size:
3
tablespoons
Serving:
3
tablespoons
Calories:
130
kcal
(7%)
Carbohydrates:
15.1
g
(5%)
Fiber:
8.4
g
(35%)
Net Carbs:
6.7
g
Protein:
6.7
g
(13%)
Fat:
6.7
g
(10%)
Saturated Fat:
2.6
g
(16%)
Polyunsaturated Fat:
0.6
g
Monounsaturated Fat:
1.7
g
Cholesterol:
8.9
mg
(3%)
Sodium:
165.7
mg
(7%)
Potassium:
85.3
mg
(2%)
Sugar:
1.6
g
(2%)
Vitamin A:
73.5
IU
(1%)
Vitamin B12:
0.2
µg
(3%)
Vitamin D:
0.1
µg
(1%)
Calcium:
57.5
mg
(6%)
Iron:
0.5
mg
(3%)
Magnesium:
15.4
mg
(4%)
Zinc:
0.3
mg
(2%)
Posted In: