This Cottage Cheese Dip recipe is an easy high-protein dip for an appetizer or quick snack. Plus, all you need to make this healthy dip is just a few minutes.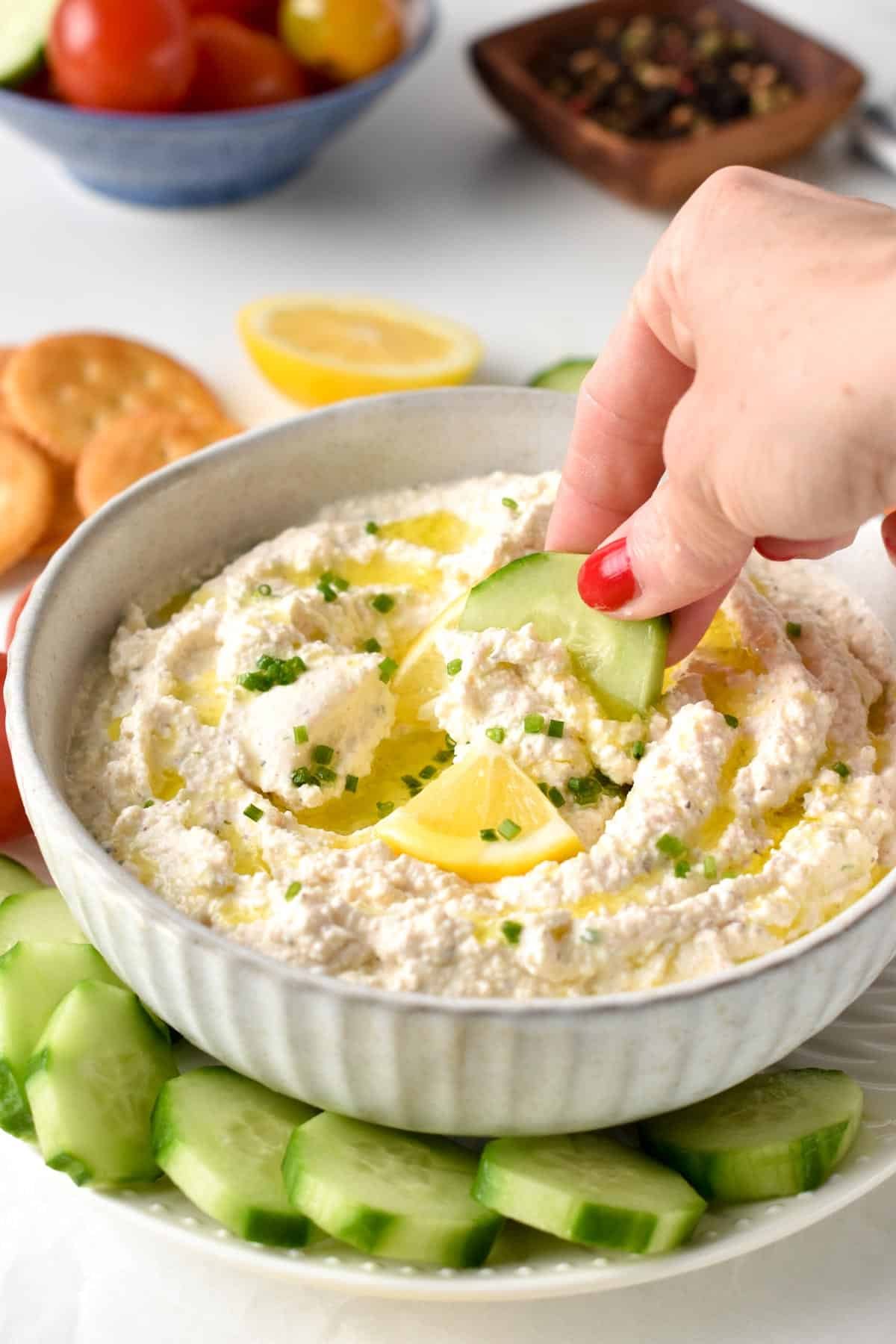 I love easy dip recipes and I have shared so many using cream cheese, like my pizza dip.
But, since I discovered cottage cheese and its wonderfully creamy texture and high protein profile, I am in awe.
It makes any dip, smoothie, or dessert so much tastier. It has a light slaty and sour flavor and a lighter texture than cream cheese.
A cottage cheese dip is a cold dip made from whipped cottage cheese and spices.
It's the perfect appetizer to dip raw vegetables and crackers or high-protein spread to sandwiches.
Making this creamy high-protein dip is the easiest dip recipe you will ever make. Let's see where to start.
Cottage Cheese Dip Ingredients
All you need to make this easy dip with cottage cheese are:
Full-Fat Cottage Cheese – You can also use low-fat cottage cheese but it won't come out as creamy.
Lemon Juice or lime juice
Paprika
Salt
Ground Black Pepper
Garlic Powder
Dried Dill
Onion Powder
Fresh Dill to serve
How To Make Cottage Cheese Dip
A great cottage cheese dip is made in a food processor or blender. Add all the cups of cottage cheese and the remaining ingredients to the bowl of the food processor.
Blend on medium-high speed until just combined.
The dip is ready when creamy, and looks like whipped creamy consistency.
Transfer to a bowl and drizzle olive oil on top, fresh chopped dill, and an extra pinch of ground pepper.
What To Dip In Cottage Cheese Dip
This cottage cheese dip goes very on an appetizer platter along with my Greek yogurt ranch dip, easy guacamole, crackers, and vegetables.
This cottage cheese dip is perfect with crunchy veggies and bread. My favorite food to dip in this recipe are:
Celery sticks
Cucumber sticks or cucumber slices
Carrots
Gherkins
Radish
Crackers – try my flaxseed crackers for a healthy option
Spreading
This dip is also a great swap for mayonnaise or sauce in a sandwich.
Spread a layer on pita bread, or whole meal bread and add your favorite cold meat, and vegetable to create the best high-protein, filling sandwich.
You can also use this as a pizza base, it tastes amazingly warm.
Sauce Swap
Did you know that cottage cheese is a great swap to high-fat or calorie sauce?
In fact, you can use this flavorsome cottage cheese dip as a replacement for the bechamel, cream cheese, or cheese sauce in pasta or lasagna,
With only 98 kcal per 100 grams, it's a low-calorie and high-protein replacement to the sauce and adds the best creamy texture to a warm meal.
The best meal to incorporate this warm cottage cheese dip are:
Lasagna – to replace bechamel or cheese sauce
Broccoli gratin – to replace the cheese sauce and decrease saturated fat.
Scrambled eggs – or try my scrambled eggs to cottage cheese.
Toasted sandwich instead of mayonnaise or cheese slices.
Oatmeal to add protein and creamy texture.
Frequently Asked Questions
Below are the most frequent questions about this recipe.
What is good to mix with cottage cheese?
You can blend cottage cheese with other creamy ingredients like avocado, sour cream, and cream cheese. the best way to flavor the combination of ingredients is to add dry spices like dried herbs – dill, mint, parsley, spicy pepper, or chili.
Can cottage cheese be heated?
Yes, cottage cheese is a great low-fat and high-protein swap to bechamel to make cottage cheese lasagna or replace cream cheese in hot dips.
How do you make cottage chees more interesting?
Cottage cheese on its own is pretty bland in flavor. Add a kick to cottage cheese by stirring finely chopped fresh herbs like mint, Parsley, or dry spices like garlic powder, onion powder, bagel seasoning, or some dried herbs, or sauce like sriracha or hot sauce.
What is good in cottage cheese?
Cottage cheese is very popular right now because it's higher in protein and lower in fat than Greek yogurt or other cheese. Since it's dairy, it's also high in calcium, vitamins, and a complete protein. With 11.5 grams of protein per 100 grams and only 98 kcal, cottage cheese contains 4 grams more protein per serving than yogurt.
More Dip Recipes
If you like this recipe, you'll like my many other dip recipes.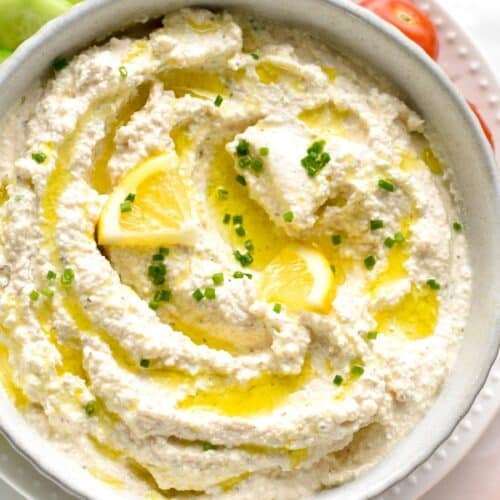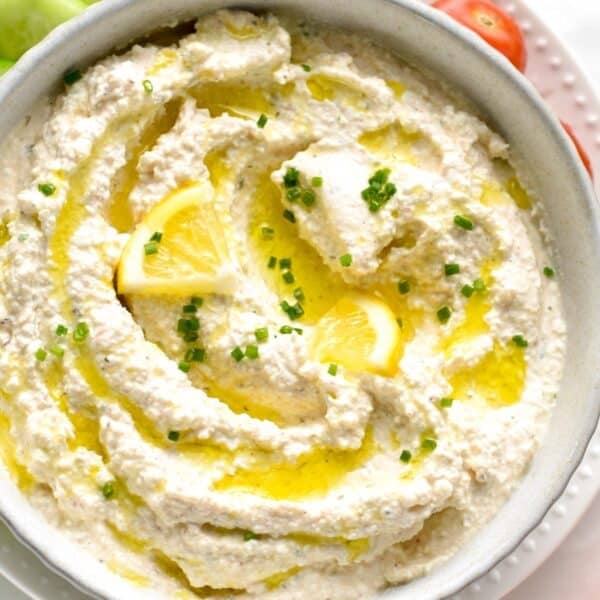 Cottage Cheese Dip
This Cottage Cheese Dip recipe is an easy high-protein dip for an appetizer or quick snack. Plus, all you need to make this healthy dip is just a few minutes.
Ingredients
2

cups

Cottage Cheese

½

teaspoon

Onion Powder

1

teaspoon

Garlic Powder

¼

teaspoon

Salt

⅛

teaspoon

Pepper

1

teaspoon

Dried Dill

¼

teaspoon

Paprika

1

tablespoon

Lemon Juice
This recipe may contain Amazon or other affiliate links. As an Amazon Associate I earn from qualifying purchases.
Instructions
In a food processor, add all the ingredients.

Blend until smooth, and place the dip in a shallow bowl. Refrigerate for 30 minutes or overnight, covering the bowl with plastic wrap.

Serve with a drizzle of olive oil and fresh parsley or fresh dill on top. Dip in carrot, celery, or cucumber sticks as an appetizer or snack.
Notes
Storage
Store the dip in an airtight container in the refrigerator for up to 4 days.
You can also place the cottage cheese in a sealed container in the freezer and keep it for a month. Then, the day before serving, thaw in the fridge.
Allergy Swaps
If you have some food allergies, here are some options to adapt this whipped cottage cheese dip recipe.
Citrus-Free

– You can swap lemon for apple cider vinegar or a tablespoon of sour cream. Sour cream has a tangy flavor like lemon, that goes very well with this

cottage cheese recipe.
Sodium-Free

– Skip the salt and pick a cottage cheese brand low in sodium to reach your goals.
Dairy-Free

– I don't have access to dairy-free cottage cheese in my country. However, you can blend half of it, pat dry, firm tofu with half dairy-free cream cheese. This way, you will reach the same protein profile and creaminess as cottage cheese.
Serving:
1
serving
Calories:
27.1
kcal
(1%)
Carbohydrates:
1.2
g
Fiber:
0.1
g
Net Carbs:
1.1
g
Protein:
3
g
(6%)
Fat:
1.1
g
(2%)
Saturated Fat:
0.5
g
(3%)
Polyunsaturated Fat:
0.04
g
Monounsaturated Fat:
0.2
g
Cholesterol:
4.5
mg
(2%)
Sodium:
119.3
mg
(5%)
Potassium:
34.1
mg
(1%)
Sugar:
0.7
g
(1%)
Vitamin A:
55.9
IU
(1%)
Vitamin B12:
0.1
µg
(2%)
Vitamin C:
0.4
mg
Vitamin D:
0.03
µg
Calcium:
23.5
mg
(2%)
Iron:
0.1
mg
(1%)
Magnesium:
2.7
mg
(1%)
Zinc:
0.1
mg
(1%)
Posted In: