Greek Yogurt Ranch Dip (Low-Calorie, High-Protein)
This Greek Yogurt Ranch Dip is a quick and easy high-protein, low-calorie dip recipe perfect as an appetizer or snack to dip any raw vegetables, chips, or crackers.
Plus, this homemade ranch dip recipe brings you 12 grams of proteins and less than 100 kcal for a fulfilling snack.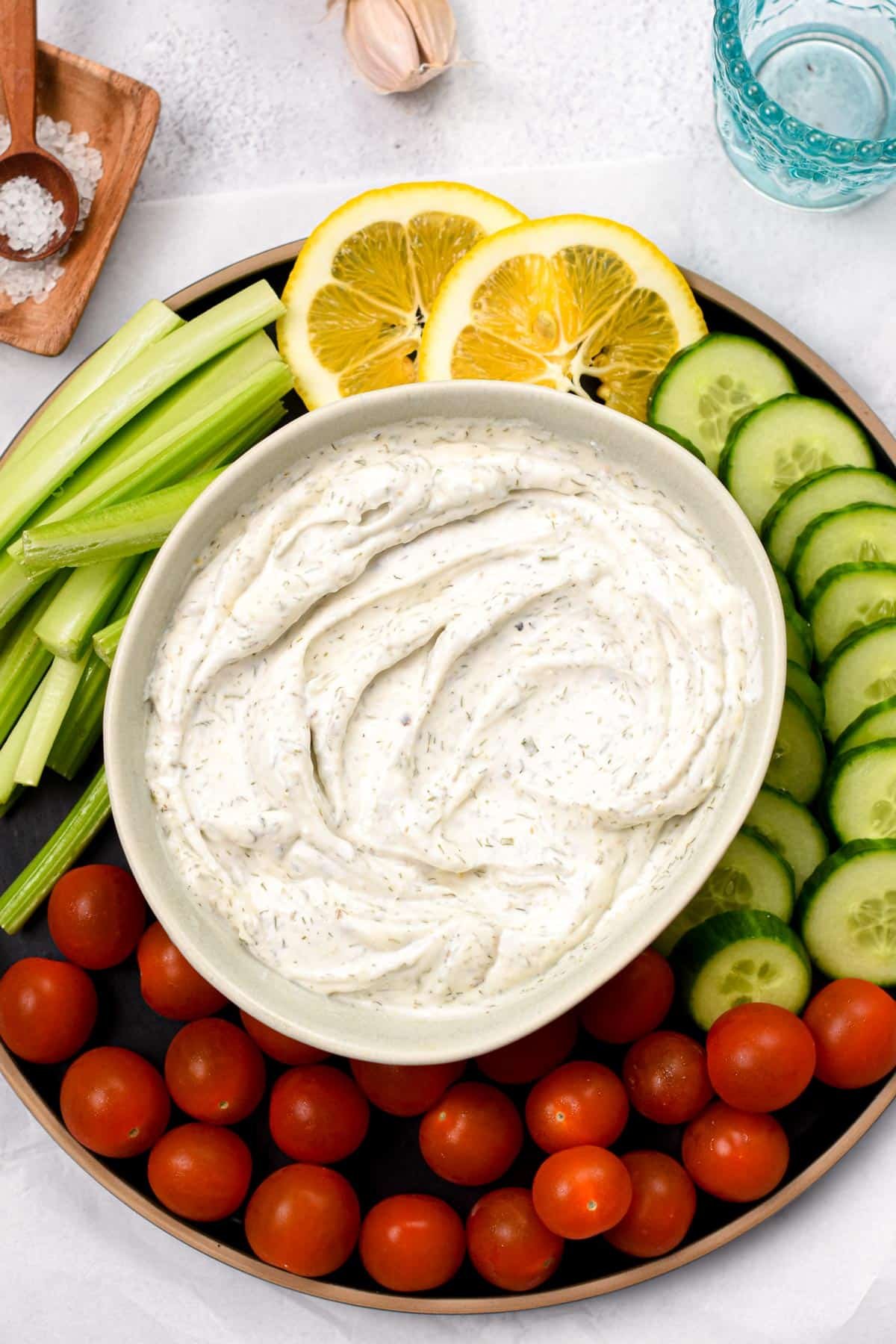 What's A Greek Yogurt Ranch Dip?
A ranch dip is a creamy thick dip with a healthier twist to the classic American ranch dressing recipe usually made from sour cream, or mayonnaise.
It's using the same combination of ranch flavors and spices: garlic, onion, dill, and chives, but Greek yogurt as a base for a healthier dip, higher in proteins.
Why You'll Love This Recipe
A Greek yogurt ranch dip is naturally:
High-protein
Low-carb and keto-friendly
Gluten-free
Nut-free
Easy to make dairy-free and vegan-friendly using plain Greek Style coconut yogurt or soy yogurt.
How To Make Greek Yogurt Ranch Dip
This ranch dip with Greek yogurt is a very easy dip recipe, ready in less than 10 minutes using only a few simple ingredients.
It's a great recipe for a last-minute appetizer or everyday snack.
Ingredients
All you need are:
Plain Greek Yogurt – feel free to use your favorite one, some Greek yogurt varieties are high-protein with an even thicker texture that goes very well in this recipe.
Onion Powder
Garlic Powder
Dried Dill – or dried parsley
Dried Chives or other dried herbs
Lemon Juice
Salt and Pepper
Preparation
In a large mixing bowl, add all the ingredients, and using a spoon stir and combine all the ingredients together until smooth and flavorsome.
Refrigerate for one hour, covered with a silicon lid or plastic wrap to enhance the dip flavors.
You can top the dip with a drizzle of extra virgin olive oil, fresh dill, or ground pepper.
Optional Spices
You can play with spices and add some of the below up to 1/4 teaspoon to add a little special flavor to the dip. The options are endless.
Smoked paprika
Paprika
Cumin
Chili flakes
Serving Greek Yogurt Dip
This is a fresh dip that goes very well with any raw fresh veggies, chips, and crackers like:
Allergy Swaps
Below are some ideas to make this dip if you have some food allergies:
Dairy-Free – any dairy-free thick, plain yogurt works well to make this dip. For example, you can try plain coconut yogurt or soy yogurt.
Lemon Swap – you can replace lemon with apple cider vinegar or pickle juice.
Frequently Asked Questions
Below are your most frequent questions about this dip recipe
Can I Make Ahead Ranch Dip?
Yes, absolutely and you can store the dip for up to 5 days in an airtight container in the fridge. It's a great dip to make ahead for a week of healthy snacks.
How Much Can I Eat As A Healthy High-Protein Snack?
One half-a-cup serving brings you 12 grams of proteins and 98 kcal.
It's a healthy fulfilling snack served with 1 cup of raw vegetables.
Can I Use Low-Fat Yogurt?
Yes, you can but make sure the yogurt is thick and creamy to ensure the best dip texture.
Can I Use Ready-Made Ranch Seasoning?
Yes, you can skip all the dry spices in the recipe for 2-3 teaspoons of ranch seasoning.
Can I Turn Greek Yogurt Ranch Dip Into A Dressing?
Yes, you can make salad dressing from this Greek yogurt ranch dip recipe by using more yogurt, runnier yogurt, or adding almond milk.
More Dip & Sauce Recipes
If you like simple dips and sauces, you'll love these recipes:
Did you try this easy Greek yogurt dip recipe? Share a comment or review below.
Greek Yogurt Ranch Dip
This Greek Yogurt Ranch Dip is a healthy 10-minute high-protein low-calorie dip perfect as an appetizer or snack to dip any raw vegetables, chips, or crackers. Plus, this ranch dip recipe is also easy to make dairy-free using your favorite dairy-free Greek yogurt.
Yield:
servings (1/2 cup)
Serving Size:
1
serving (1/2 cup)
Ingredients
1 ½

cups

Greek Yogurt

1 ½

teaspoons

Dried Dill

2

teaspoons

Lemon Juice

½

teaspoon

Onion Powder

½

teaspoon

Garlic Powder

1

teaspoon

Dried Chives

¼

teaspoon

Salt

⅛

teaspoon

Ground Pepper
This recipe may contain Amazon or other affiliate links. As an Amazon Associate I earn from qualifying purchases.
Instructions
Add all the ingredients to a mixing bowl and stir to evenly combine.

Cover the bowl with plastic wrap and refrigerate it for at least an hour before serving.

Serve with raw vegetable sticks like celery, cucumber, carrots, or radish.
Storage
Store in the fridge in the sealed container for up to the expiration date of your Greek yogurt pot.
Want My Kitchen Equipment?
Serving Size:
1
serving (1/2 cup)
Yield:
servings (1/2 cup)
Serving:
1
serving (1/2 cup)
Calories:
96.4
kcal
(5%)
Carbohydrates:
6.9
g
(2%)
Fiber:
0.6
g
(3%)
Net Carbs:
6.3
g
Protein:
11.9
g
(24%)
Fat:
2.4
g
(4%)
Saturated Fat:
1.4
g
(9%)
Polyunsaturated Fat:
0.02
g
Monounsaturated Fat:
0.01
g
Cholesterol:
6.6
mg
(2%)
Sodium:
243.3
mg
(11%)
Potassium:
84.5
mg
(2%)
Sugar:
4.6
g
(5%)
Vitamin A:
1227.3
IU
(25%)
Vitamin C:
12.5
mg
(15%)
Calcium:
159.8
mg
(16%)
Iron:
0.7
mg
(4%)
Magnesium:
14.6
mg
(4%)
Zinc:
0.1
mg
(1%)
Posted In: