This Whipped Feta Dip is a creamy cheese dip you will ready in 10 minutes, sure to impress your guests. This easy dip is also gluten-free and a great vegetarian appetizer.
Homemade dip recipes are amazing and if you've tried my Baked Feta Dip, my Taco Dip, or my 3-Ingredient Easy Onion Dip, you know what I'm talking about!
When I don't have much time to whip up a baked dip, I opt for a quick cold dip like this one.
What Is Whipped Feta Dip?
This whipped feta cheese dip recipe is ready in under 10 minutes, and the flavoring options are limitless.
It is a simple dip, perfect for a summer barbecue, a Mediterranean diet food platter next to Homemade Pita Chips, or just for dipping veggies.
How To Make Whipped Feta Dip
It takes less than 10 minutes to make this creamy whipped feta dip.
Ingredients
The dip ingredients you need are very basic:
Full-Fat Feta Cheese – Any kind of feta cheese works. I recommend full-fat feta for an ultra-creamy texture. You can use goat feta, cow feta, or authentic sheep feta. It's up to you to choose your favorite flavor. You can even use vegan feta alternatives for a plant-based option.
Greek Yogurt – Plain and unsweetened. Again, plant-based alternatives work for this recipe.
Sour Cream – Either classic sour cream or vegan sour cream.
Extra-Virgin Olive Oil
Lemon Juice
Dried Oregano
Dried Marjoram
Pepper
Salt – I like to first taste the dip, then add salt because some feta cheese varieties are already high in sodium and too much salt makes the dip ultra salty.
Preparation
To whip the feta cheese, you need a food processor with a metallic S-blade attachment.
First, roughly break the block of feta into pieces. In the bowl of the food processor, add the pieces of feta cheese, sour cream, Greek yogurt, dried herbs, ground black pepper, olive oil, and lemon.
Process until smooth, on medium-high speed.
You may have to stop the food processor a few times, and use a silicone spatula to scrape down the side of the bowl as the dip splatters the inside.
Bring the dip back to the center of the food processor, close it, and process again.
Stop when the dip is creamy, with no lumps of pieces of feta seen.
If the dip is too thick to your liking, you can add more Greek yogurt or sour cream to thin it out.
Decorating
This easy whipped feta dip is even more delicious if served with some:
Dried herbs like Italian herbs to garnish
Drizzle of olive oil
Red pepper flakes for a spicy feta dip
Lemon zest for tangy flavors
Fresh dill or parsley
Flavors
You can play with flavors and combine the feta cheese with more spices, as listed below.
Spicy Feta Dip – Stir in 1/2 teaspoon of chili powder and serve it with freshly chopped jalapeno and chili flakes.
Lemon Feta Dip – Stir 2 teaspoons of lemon zest in the dip.
Paprika Feta Dip – stir in 1/4 teaspoon of paprika or smoked paprika.
Basil Feta Dip – Add a handful of fresh basil to the blender.
Serving Whipped Feta Dip
Whipped feta is an amazing appetizer for dipping food like crackers or raw vegetables. You can dip some of the below:
Cucumber sticks
Celery sticks
But this dip is also a great spread for sandwiches, spreading in pita bread, or any bread slice.
You can also use this whipped feta dip recipe leftovers to stir into warm, cooked pasta and make creamy feta pasta.
Storage Instructions
You can store the dip in the refrigerator in an airtight container for up to 4 days.
I don't recommend freezing the dip, but it's possible to do so in small freezer bags.
Allergy Swaps
This feta cheese dip is naturally low-carb and gluten-free. However, I listed some food substitution ideas to adapt it to common allergies.
Dairy-Free – You can use dairy-free ingredients in this recipe with great success, like dairy-free feta cheese, vegan sour cream, and soy or oat milk yogurt.
Sour Cream – You can use cream cheese or sour cream in this recipe or simply more Greek yogurt.
Greek Yogurt – You can replace it with more sour cream or any other unsweetened plain yogurt you love.
Low-FODMAP – Skip the garlic powder.
Oil Swaps – You can also use avocado oil, almond oil, or walnut oil. They add a lovely flavor to the dip.
Low-Sodium – Pick the lowest sodium feta in store and skip the salt in the recipe.
Frequently Asked Questions
Below are my answers to your most common questions about this whipped feta dip.
Can I Freeze Feta?
Yes, you can freeze feta cheese, whole, cubed, or crumbled.
Place the cheese in an airtight container or zip-lock bags.
Thaw them in the fridge the day before using. Feta cheese can be frozen for up to 3 months.
How Does Feta Cheese Taste?
Feta cheese is a creamy, soft, and salty cheese with a light tangy flavor.
Goat feta cheese is less creamy, harder, and a bit more earthy.
Authentic sheep feta cheese, on the other hand, is very soft and creamy and works best for cold recipes like feta dip or Greek salad recipes.
Can I Whip Feta Cheese Instead?
It's possible to whip feta with an electric beater instead of using a food processor, but the result will be chunky, never as smooth and creamy as the food processor method.
More Dip Recipes
I love homemade dip recipes to share with family and guests on movie night or games day.
Here are some more simple dip recipes for you to try:
Have you tried this easy whipped feta dip recipe? Share a comment or review below.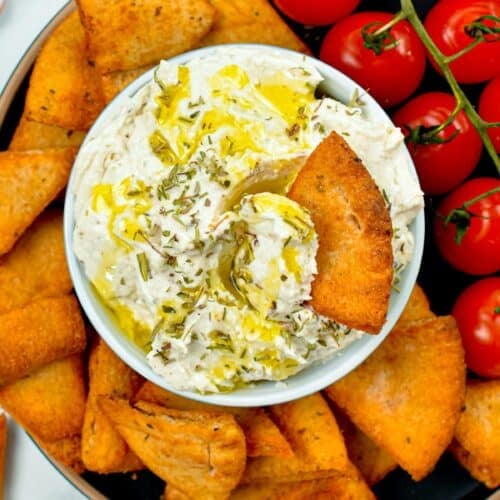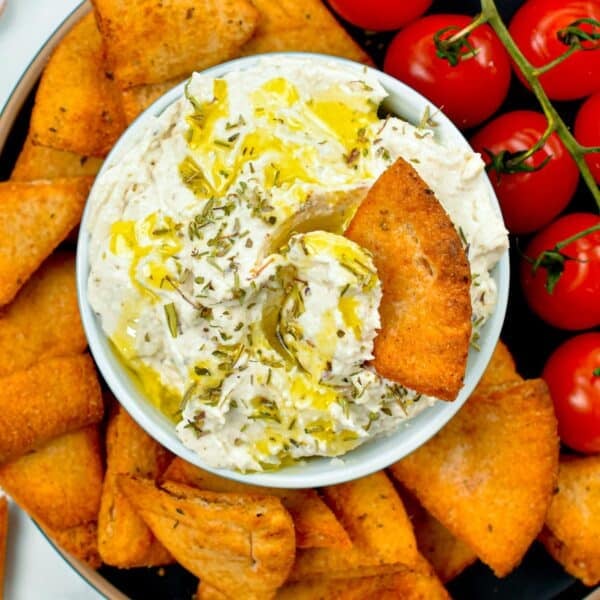 Whipped Feta Dip
This Whipped Feta Dip is the creamiest cheese dip you will ever make, and it's ready in under 10 minutes, it's sure to impress your guest. Plus, this easy dip is also gluten-free and a great vegetarian appetizer.
Ingredients
1

block

Feta

(8 ounces) full-fat

⅓

cup

Sour Cream

⅓

cup

Greek Yogurt

2

teaspoons

Extra Virgin Olive Oil

2

teaspoons

Lemon Juice

½

teaspoon

Garlic Powder

¼

teaspoon

Dried Oregano

¼

teaspoon

Dried Marjoram

⅛

teaspoon

Salt

⅛

teaspoon

Pepper
To serve
1

teaspoon

Extra Virgin Olive Oil

1

pinch

Dried Thyme
This recipe may contain Amazon or other affiliate links. As an Amazon Associate I earn from qualifying purchases.
Instructions
In a food processor, add pieces of feta cheese, olive oil, lemon juice, Greek yogurt, sour cream, dried herbs, and pepper.

Blend on medium speed until the dip is creamy and smooth and no lumps of feta cheese can be seen.

If the dip bursts on the side of the bowl, stop the food processor, scrape down the sides of the bowl, and repeat until the dip is smooth. If too thick to your liking, add a bit more Greek Yogurt to thin it out.

Taste dip, add salt if desired, and pulse a few times to incorporate.

Serve with a drizzle of olive oil and dried thyme. Dip in pita chips, crackers, or raw vegetable sticks.
Serving
Store leftovers in the fridge in an airtight container for up to 3-4 days.
Want My Kitchen Equipment?
Serving:
1
serving
Calories:
162.8
kcal
(8%)
Carbohydrates:
3
g
(1%)
Fiber:
0.1
g
Net Carbs:
2.9
g
Protein:
7
g
(14%)
Fat:
13.8
g
(21%)
Saturated Fat:
6.9
g
(43%)
Polyunsaturated Fat:
0.6
g
Monounsaturated Fat:
4.5
g
Cholesterol:
41.8
mg
(14%)
Sodium:
487.2
mg
(21%)
Potassium:
46
mg
(1%)
Sugar:
1
g
(1%)
Vitamin A:
249.2
IU
(5%)
Vitamin B12:
0.7
µg
(12%)
Vitamin C:
0.8
mg
(1%)
Vitamin D:
0.1
µg
(1%)
Calcium:
215.9
mg
(22%)
Iron:
0.4
mg
(2%)
Magnesium:
9.1
mg
(2%)
Zinc:
1.1
mg
(7%)
Posted In: