This Baked Feta Dip is the most delicious hot dip with Mediterranean flavors. A creamy cheese feta dip baked with olives, roasted cherry tomatoes, and garlic.
I have a genuine love for Mediterranean cuisine. It's a healthy way to add more healthy fats and vegetables to your plate. Plus, the flavors never disappoint, and all the family loves it.
Last time I shared my whipped feta dip recipe, which is a cold refreshing dip.
Today, it's a new version, a baked feta dip that you can easily make in less than 10 minutes as a quick appetizer.
How To Make Baked Feta Dip
You only need a few ingredients and just 10 minutes to prepare this fantastic feta dip.
Therefore, it's the perfect dip for game day or a very easy appetizer for last-minute guests.
Dip Ingredients
All you need to make this baked feta dip are:
Feta Cheese – You can use any feta cheese variety, but full-fat feta works best for a creamy dip. Some feta cheese varieties are made from goat cheese. They work very well in this recipe as well.
Garlic Cloves – Use whole and peeled garlic. There's no need to crush the cloves. They are going to be roasted whole in the dish.
Kalamata Olives – These are purple olives often used in Greek recipes.
Green Olives
Extra-Virgin Olive Oil
Dried Oregano
Dried Marjoram
Pepper
Salt – Go easy on the salt because feta is already very salty, and too much of it could ruin the dip.
Preparation
Preheat the oven to 400°F (200°C).
Prepare an 8-inch x 8-inch baking dish or any small baking dish that fits all the ingredients.
Add the block of feta in the center. Next, arrange the whole cherry tomatoes, olives, and peeled garlic cloves all around it.
Finally, drizzle some olive oil, dried herbs, salt, and pepper on top of the dish.
Bake the dip ingredients for about 35 minutes until the tomatoes are roasted and burst out and the cheese melts.
Serving Baked Feta Dip
This dip must be served hot, straight out of the oven. But there are two ways of serving it.
Plain
You can serve the dip as is with extra ground pepper on top and fresh basil leaves.
You can dip your favorite bread or crackers in the warm cheese, gathering some of the cooked ingredients around as you go.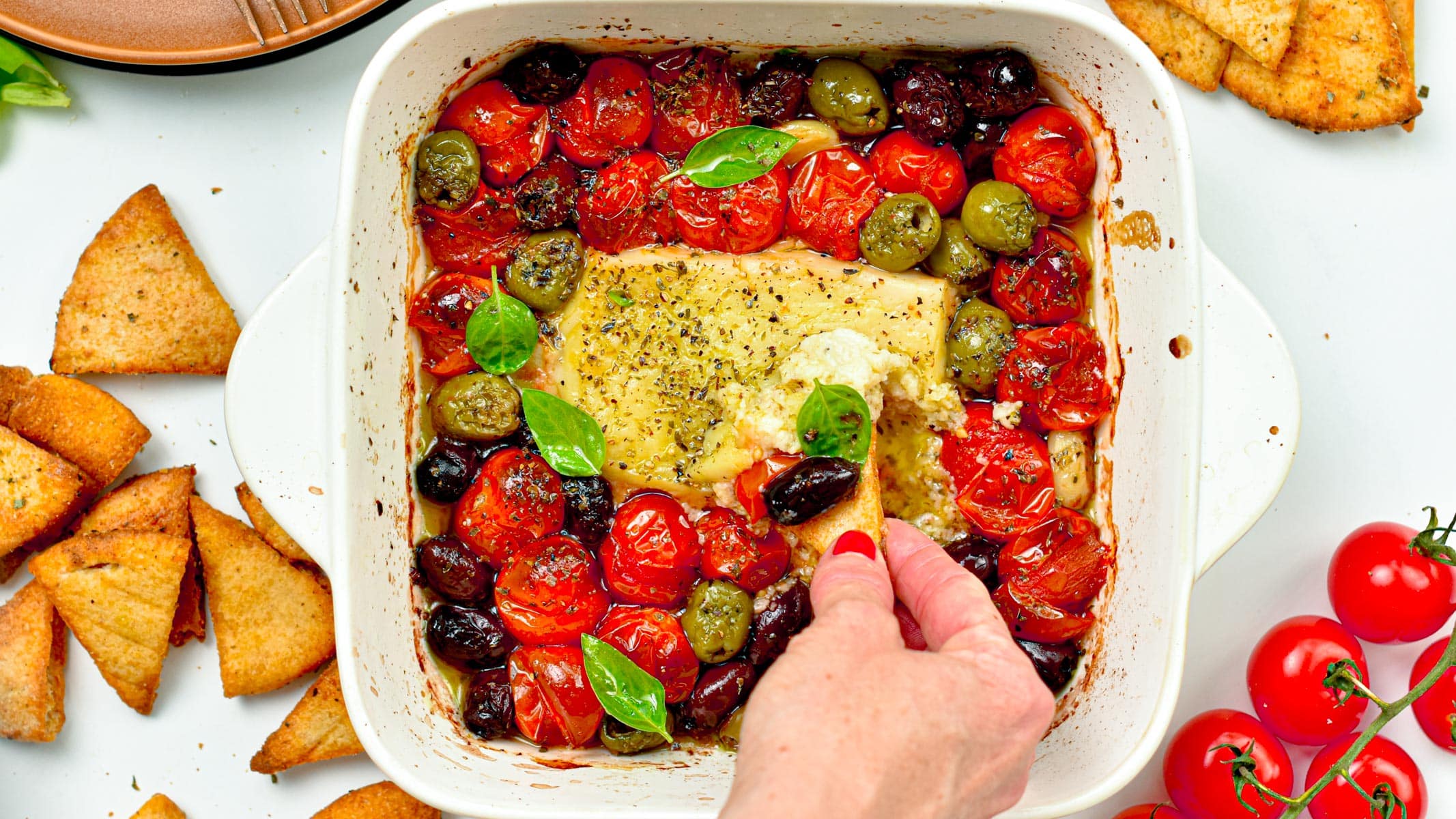 Mashed
My favorite way of enjoying this dip is mashed.
Use a fork and mash all the ingredients together to crumble the feta into the cooked vegetables.
It will look messy, but the tomato feta olives flavor is absolutely amazing.
Serving
This feta dip is delicious served with:
Storage Instructions
This baked feta dip tastes better straight out of the oven.
However, you can store leftovers in the fridge in an airtight container. Then, rewarm the dip in the microwave or a non-stick saucepan the next day.
Another idea is to stir the mashed dip into your favorite cooked pasta. It makes a delicious baked feta pasta recipe.
Allergy Swaps
Below are some ingredients substitutions you can make to adapt the recipe for common food allergies.
Dairy-Free – You can use vegan feta cheese for this recipe.
Oil Swaps – Any oil works, but olive oil is the one that adds the most delicious flavor to this Mediterranean appetizer. However, avocado oil is also a great option.
Low-FODMAP – Skip the garlic cloves.
Frequently Asked Questions
Below are my answers to your most frequent questions about this recipe.
Can I Add More Feta Cheese?
Yes, you can add two blocks of feta cheese next to each other in a large baking dish.
Obviously, if you serve this dip to feed a crowd, double all the ingredients, not just the feta or the balance of cheese to vegetables will be off.
Is Feta Made With Goat Milk?
No, traditional feta cheese is made from sheep milk, but you can often find goat milk feta, cow milk feta cheese, or a combination of the three milk.
Is Feta Cheese Pasteurized?
Most creamy soft cheese like feta or mozzarella are pasteurized in the US.
All feta cheese in New Zealand and Australia is made from pasteurized milk to destroy traces of listeria, and therefore they are safe for pregnant women.
Can I Make Baked Feta Cheese Dip In The Air Fryer?
Yes, set the air fryer to 350°F (180°C) and air fry for 25 to 30 minutes.
Air fry until the tomatoes are roasted and burst out and the cheese is soft and melted.
More Dip Recipes
I love homemade dip recipes to share with family and guest on movie night or games day.
Here are some more simple dip recipes for you to try:
Have you tried this easy baked feta dip recipe? Share a comment or review below!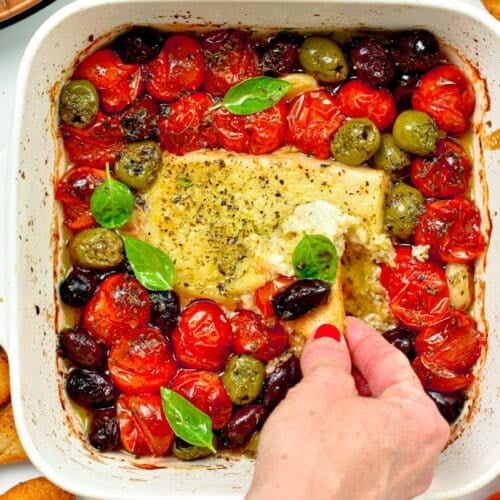 Baked Feta Dip
This Baked Feta Dip is a delicious hot dip with Mediterranean flavors. A creamy cheese feta dip baked with olives, roasted cherry tomatoes, and garlic.
Nutrition
Want My Kitchen Equipment?
Instructions
Preheat the oven to 400°F (200°C).

Place the block of feta in the center of a baking dish.

Arrange the cherry tomatoes, whole peeled garlic, and olives all around the block of cheese.

In a small bowl, whisk the olive oil, dried herbs, and pepper.

Drizzle the oil mixture all over the dish.

Bake for 30 minutes or until the tomatoes burst and the feta is soft, melts, and is easy to mash with a fork.

Serve warm, as is, or use a fork to mash the ingredients together.

Serve topped with chili flakes and fresh basil, and dip in crackers or baguette slices.
Storage
Store leftovers in the fridge up to 2 days in a sealed container.
My Recipe Notes
Nutrition Facts
Baked Feta Dip
Amount Per Serving (1 serving)
Calories 199.1
Calories from Fat 162
% Daily Value*
Fat 18g28%
Cholesterol 33.5mg11%
Sodium 726.5mg32%
Potassium 123.2mg4%
Carbohydrates 4.5g2%
Protein 6g12%
Net Carbs 3.5g
Vitamin A 418.4IU8%
Vitamin B12 0.6µg10%
Vitamin C 9.1mg11%
Vitamin D 0.1µg1%
Calcium 206.2mg21%
Iron 0.7mg4%
Magnesium 13.6mg3%
Zinc 1.2mg8%
* Percent Daily Values are based on a 2000 calorie diet.