Zaalouk (Moroccan Eggplant Dip)
This one-pan Zaalouk recipe is the easiest, flavorsome Moroccan eggplant cold dip for bread or a side to Moroccan dish.
This recipe is also suitable for anyone as it's naturally low-carb, gluten-free, and vegan-friendly.
Moroccan cuisine is one of the most popular cuisines in France. Moroccan bread, like Batbouts or Khobz are some of the best ways things you can dip in this Zaalouk.
What's Zaalouk?
Zaalouk, also known as Zalouk or Za'luk is a simple Moroccan cold, refreshing eggplant tomato dip.
It has a chunky texture, and it's packed with Mediterranean and Berber flavors.
It's a typical dip in Moroccan cuisine and Middle Eastern countries, especially Moroccan cuisine.
Depending on the country, the dip has many variations with more or less eggplant and with or without tomatoes.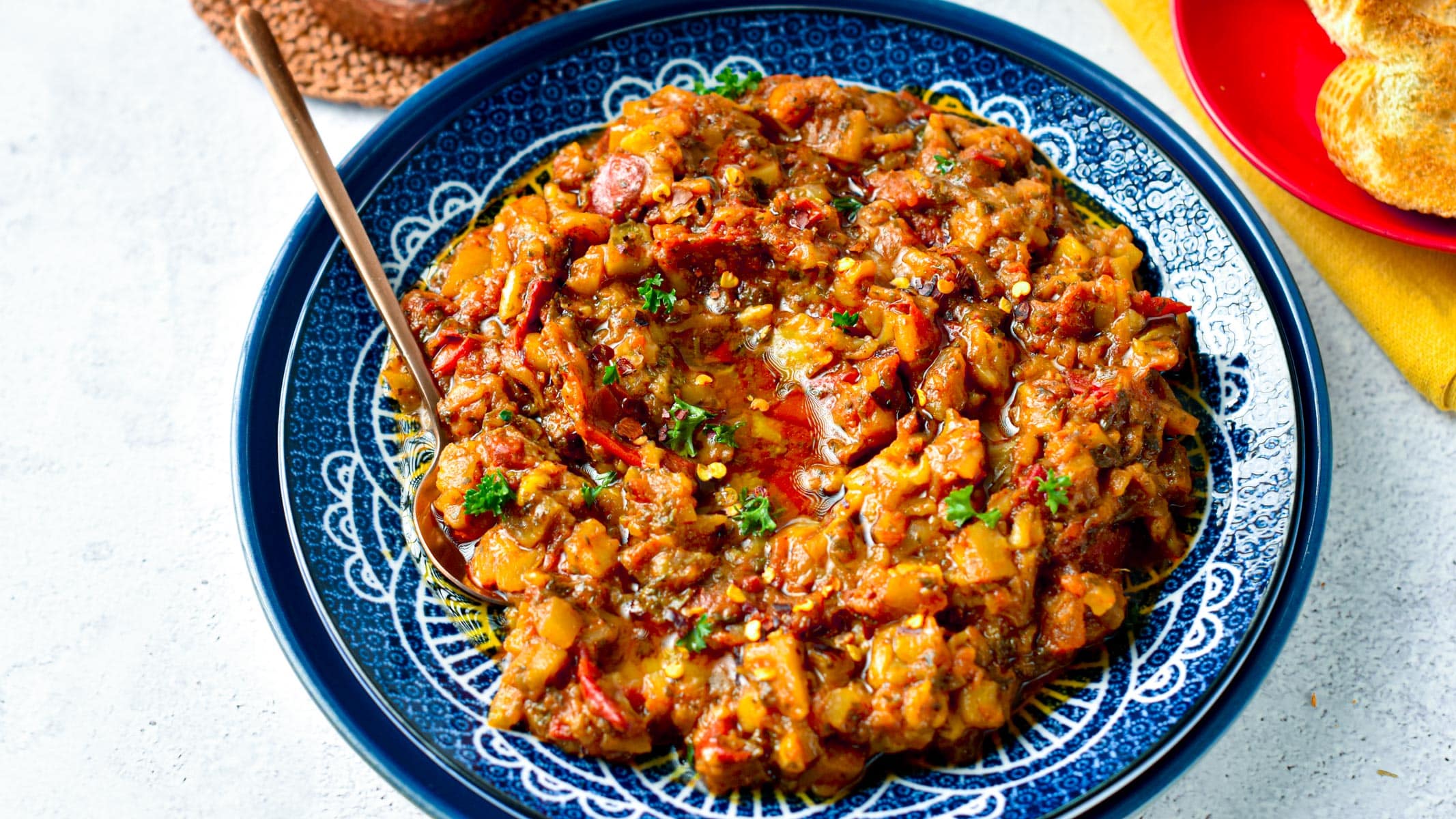 How To Make Zaalouk
It's super easy to make this Zaalouk recipe, and the good thing about it is you can't fail with Zaalouk. There are many different versions with other vegetables.
It's really up to you to create your very own. Mine is packed with tomato flavors and made in one pan without the need to oven-roast the eggplants for a quick cold dip.
Ingredients
All you need to make this easy eggplant tomato dip are:
Eggplant– Pick a fresh firm eggplant.
Large Tomatoes – They need to be deseeded. Remove the watery center part. Cut the remaining flesh into small cubes.
Olive Oil – Pick a good quality extra-virgin olive oil.
Salt
Cumin
Dried Cilantro – Also known as coriander.
Fresh Parsley
Garlic Cloves
Tomato Paste – Not all Zaalouk recipes contain tomato paste. It's optional, but I recommend adding this for a thicker dip with a deep tomato flavor.
Cayenne Pepper – This is spicy. Add only if you like your dip spicy. You can also use Moroccan spices.
There are two ways of cooking the eggplant for a Zaalouk recipe.
You can cook the eggplant in the oven or cook all the ingredients at once in a pan. It's also possible to grill even boil the eggplant, but I prefer the other options.
My favorite way is to make the dip in one pan. It's faster, requires less cleaning, and tastes amazing.
Oven-Roasted Eggplant Method
Preheat the oven to 350°F (180°C). Line a baking sheet with parchment paper.
Slightly oil the paper with olive oil spray. Trim the top of the eggplant and cut it in half lengthwise.
Brush oil on both sides of the eggplant flesh, and score the eggplant flesh with a sharp knife to form small triangles.
Place both eggplant pieces, flesh down onto the baking sheet.
Bake for 20 minutes or until the eggplant skin is wilted and the flesh is soft and easy to scoop out the eggplant skin.
Let the eggplant cool down on the baking sheet, then use a fork to scrape out the flesh.
Use the baked eggplant flesh in the following method.
One-Pan Zaalouk
In this method, all ingredients are cooked together in one pan or pot. You can follow this method by adding the previously roasted eggplant flesh.
First, trim the top of the eggplant, peel off the skin, and cut it into small cubes.
Next, cut the tomatoes and use a spoon to remove the center of the tomatoes. It's called deseeding the tomatoes.
Cut the remaining tomato into small cubes.
In a large non-stick pan, warm olive oil over medium heat then add garlic.
Stir fry for 15 seconds, then add the diced eggplant, diced tomatoes, fresh chopped parsley, salt, cumin, cilantro, paprika, and cayenne pepper if used.
Cook, simmer covered for 10 to 15 minutes, stirring once in a while, until the eggplant softens and all the ingredients are soft and fragrant.
Uncover, and add the tomato paste and lemon juice. Stir to incorporate, and use a fork or potato masher to mash the ingredients into a chunky texture.
Keep cooking uncovered until a thick and rich texture forms and the consistency becomes almost puree-like.
Remove from the heat and place in a shallow serving bowl. Let the mixture cool down for 30 minutes at room temperature.
Then, film the bowl and place it in the fridge overnight or for at least 3 hours.
After that time, the texture of the time will be thicker, and the flavors will be amazing.
Serving Zaalouk
This Zaalouk dip is a cold dip. It must be refrigerated for a few hours before serving to enjoy its best texture and flavors.
Serve in a shallow bowl, with a generous amount of extra virgin olive oil on top and freshly chopped parsley.
You can also drizzle some spicy oil if you like.
Serve as a dip with:
Crusty bread like Moroccan bread or toasted baguette slices.
Raw vegetable sticks like cucumber.
Moroccan eggplant salad or Middle Eastern-inspired salads like my cucumber yogurt salad.
In a sandwich with fresh bread or in pita bread or Low-Carb Pita Bread with fresh herbs and mint.
This Zaalouk Moroccan eggplant dip is also the perfect side dish to grilled meat, eggs, or roasted vegetables.
These recipes are perfect for serving with this Zaalouk:
Allergy Swaps
This appetizer dip is naturally dairy-free, gluten-free, and vegan.
Below are some allergy substitution suggestions to match your dietary requirements:
Oil Choice – Olive oil is the most common oil used in Mediterranean cuisine. However, avocado oil is a healthy swap.
Cilantro – If you're part of the roughly 10 to 20% of people who don't enjoy the taste of cilantro, you can replace it with dried oregano or leave it out.
Storage Instructions
This dip can be stored for up to 4 days in the fridge in a sealed container. You can also freeze your dip in zip-lock bags or airtight boxes for up to 1 month.
Thaw the dip in the fridge the day before.
Frequently Asked Questions
Find below the answers to your most common questions about this easy Moroccan dip recipe.
What's The Difference Between Baba Ganoush And Zaalouk?
Zaalouk is made from eggplant and tomatoes, while Baba Ganoush is entirely made from oven-roasted eggplant.
As a result, they both have very different flavors and textures. Baba Ganoush has a creamy smooth texture with tahini flavors, while Zaalouk has olive oil and tomato flavors and a chunky texture.
More Eggplant Recipes
If you like this eggplant dip, you'll love these other eggplant recipes.
Have you tried making Zaalouk at home? Share a comment or review below to connect with me.
Zaalouk (Moroccan Eggplant Dip)
This one-pan Zaalouk recipe is the most easy flavorsome Moroccan eggplant dip for bread or a side to a Moroccan dish.
Nutrition Snapshot
Want My Kitchen Equipment?
Instructions
Peel and dice the eggplant into small cubes. Set aside.

Cut tomatoes in quarters and remove the watery center part with the seeds. Cut the flesh into small cubes. Set aside.

In a large saucepan, warm olive oil, and add diced eggplant, diced tomatoes, crushed garlic, chopped parsley, dry spices, and salt.

Cook, simmer over medium heat, covered, for about 15-20 minutes. The vegetable will soften and reduce in size.

Uncover, stir in tomato paste and lemon juice and keep cooking for 10 minutes on low-medium heat. Stir occasionally and cook until thick and most liquid is evaporated.

Use a fork to press and mash ingredients into a chunky dip.

Cool down completely on a plate, then refrigerate until cold. Serve cold with extra olive oil and freshly chopped parsley. Serve with toasted bread slices.
My Recipe Notes
Nutrition
Serving:
1
serving
Calories:
111.5
kcal
(6%)
Carbohydrates:
8.5
g
(3%)
Fiber:
3.2
g
(13%)
Net Carbs:
5.3
g
Protein:
1.6
g
(3%)
Fat:
8.9
g
(14%)
Saturated Fat:
1.2
g
(8%)
Polyunsaturated Fat:
1
g
Monounsaturated Fat:
6.3
g
Sodium:
46.7
mg
(2%)
Potassium:
354.7
mg
(10%)
Sugar:
4.4
g
(5%)
Vitamin A:
820.1
IU
(16%)
Vitamin C:
20.8
mg
(25%)
Calcium:
23.9
mg
(2%)
Iron:
0.8
mg
(4%)
Magnesium:
19.8
mg
(5%)
Zinc:
0.3
mg
(2%)
Posted In: