Eggplant Pizza Bites (Low-Carb, Keto)
These Eggplant Pizza Bites are easy vegetarian low-carb appetizers made of baked eggplant, tomato sauce, spinach, and cheese.
A simple delicious keto pizza recipe that also makes delicious keto vegan pizza bites using vegan cheese.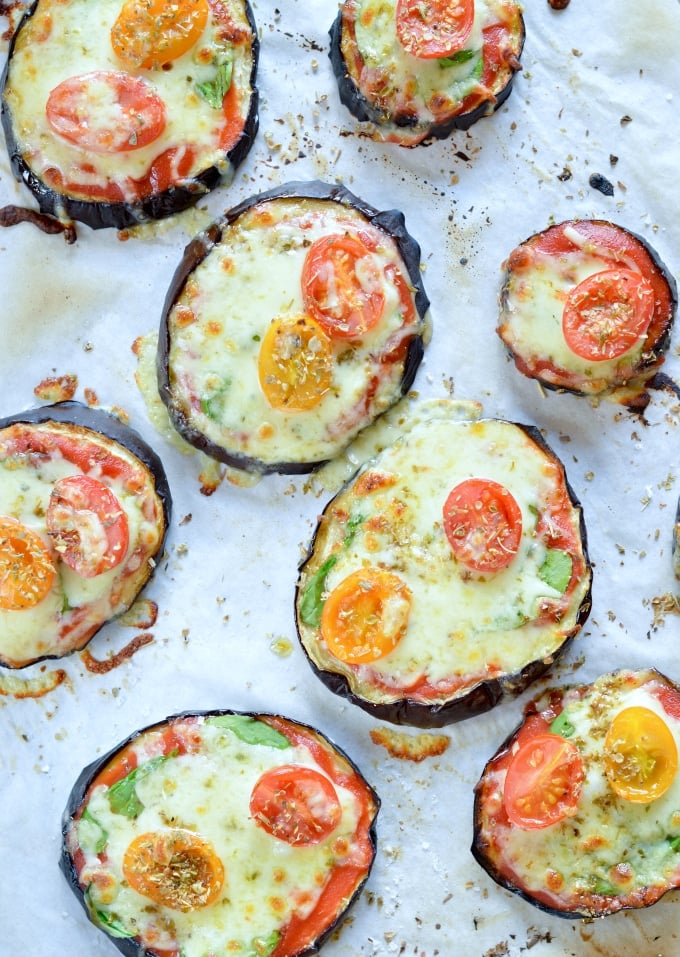 What Are Eggplant Pizza Bites?
Eggplant Pizza Bites are similar to my Keto Pizza Bites, but instead of having a doughy pizza crust, they have a slice of eggplant as a base.
It allows the bases to be extremely low in carbs while retaining all the taste and textures of classic pizzas.
Why You'll Love This Recipe
This eggplant pizza bite recipe is amazing as a quick low-carb appetizer, and it's also:
Gluten-Free
Egg-Free
Dairy-Free Option
Vegan Option
Low-Carb
Keto
Ready In Under 30 Minutes
How To Make Eggplant Pizza Bites
Everybody loves fun finger food made with vegetables and eggplants are a family-favorite vegetable.
If you love pizza and love eggplants, these delicious eggplant pizza bites will be for you!
Ingredients
All you need to make these delicious eggplant pizza bites are 5 ingredients:
Eggplant – keep the skin on, it adds fiber and the bites hold better together.
Tomato Sauce – I used my Keto Pizza Sauce but most low-sugar tomato passata will work.
Olive Oil – to spread on top of one side before grilling.
Cheese – I used mozzarella cheese but Parmesan is a great option as well. For a vegan option, you can use vegan 'cheese' made of cashews or vegan Parmesan provided it's low in carbs.
Toppings: I chose baby spinach leaves and a combo of orange and red cherry tomatoes to keep it keto-friendly. Feel free to add any keto vegetable of your choice on top like olives, diced capsicum, olives, etc.
Making Eggplant Pizza Bites
I used one eggplant in this recipe – which makes 10 slices.
Of course, there are mostly large bites but there are also a few smaller slices from the top of the eggplant that is perfect for a kid's hands.
Place all the eggplant slices on a baking sheet lined with lightly oiled parchment paper.
Sprinkle some salt on the eggplant and set them aside for 10 minutes or so. This will give the salt some time to absorb as much moisture as possible from the vegetables.
Pre-bake the eggplant slices for 15 minutes at 425°F (220°C).
Take the baking tray out of the oven and flip the eggplant slices before bringing them back to the oven for another few minutes under the grill of the oven.
Add your favorite toppings to the eggplants. For example, I started with my Keto Pizza Sauce, some fresh basil leaves or baby spinach, grated mozzarella, and slices of cherry tomatoes.
Take the pizza eggplant bites back to the oven for 3 to 5 minutes of cooking.
Serving Keto Eggplant Pizza Bites
These bites are perfect as a birthday finger food item with my homemade low-carb tortilla chips, Keto Mozzarella Sticks, andKeto Chicken Nuggets.
They hold very well in your hands. It is a very easy appetizer to serve at any time, and the flavor is amazing!
It tastes like pizza, without the crispy crust of course – but also only 1.7 grams of net carbs per bite!
The eggplant base is soft and melts in your mouth. It is not chewy at all. Even if you are not a big fan of eggplant, give this a go! It is divine!
More Keto Pizza Recipes
If you like keto pizza, you'll love these pizza recipes:
Have you made this keto low-carb pizza recipe? Share a comment or review below.
Eggplant Pizza Bites
Eggplant pizza bites an easy vegetarian low carb appetizer made of cheese, baked eggplant and spinach. Gluten-free, vegan note: use 'vegan cashew cheese'.
Ingredients
1

Eggplant

trimmed, cut in thick slices, skin on (about 300g)

½

teaspoon

Salt
Toppings
⅔

cup

Tomato Passata

(125g)

1

cup

Grated Mozzarella

¼

cup

Baby Spinach

⅓

cup

Cherry Tomatoes

finely sliced

1

teaspoon

Garlic Olive Oil

optional

1

teaspoon

Dried Oregano
This recipe may contain Amazon or other affiliate links. As an Amazon Associate I earn from qualifying purchases.
Instructions
Preheat your oven to 425°F (220°C).

Prepare a baking sheet covered with parchment paper and arrange the eggplant slices on the sheet. Make sure they don't overlap or touch each other.

Sprinkle the coarse sea salt on top. Set aside for 10 minutes, then bake for 15 minutes at 425°F (220°C).

Remove the baked eggplant slices from the oven, flip over the eggplant slices and switch the oven to broil/grill mode.

Brush some garlic olive oil on top of each eggplant slice – this is optional, I just love the extra flavor and moisture it adds to the slices.

Spread about a tablespoon of tomato sauce or keto pizza sauce over each eggplant slice.

Then, add your favorite toppings: a few baby spinach leaves, grated mozzarella cheese, and halved cherry tomatoes.

Add a sprinkle of dried oregano and return to the oven, broil mode, for 3-5 minutes or until the cheese is grilled and melted.
Notes
Make ahead: you can pre-bake the eggplant slices the day before and store them in the fridge in an airtight box. Rewarm for 5 minutes a 150C (300F), then spread the toppings and broil the cheese and serve! Veganise me: use vegan cheese in this recipe to make it vegan. My husband is vegan and loves vegan Parmesan or vegan cashew cheese that I make myself or even vegan 'mozzarella chee-ze' from the store.
Want My Kitchen Equipment?
Serving:
1
eggplant
Calories:
34
kcal
(2%)
Carbohydrates:
3.1
g
(1%)
Fiber:
1.3
g
(5%)
Net Carbs:
1.8
g
Protein:
4.2
g
(8%)
Fat:
0.6
g
(1%)
Sugar:
1.4
g
(2%)
Posted In: