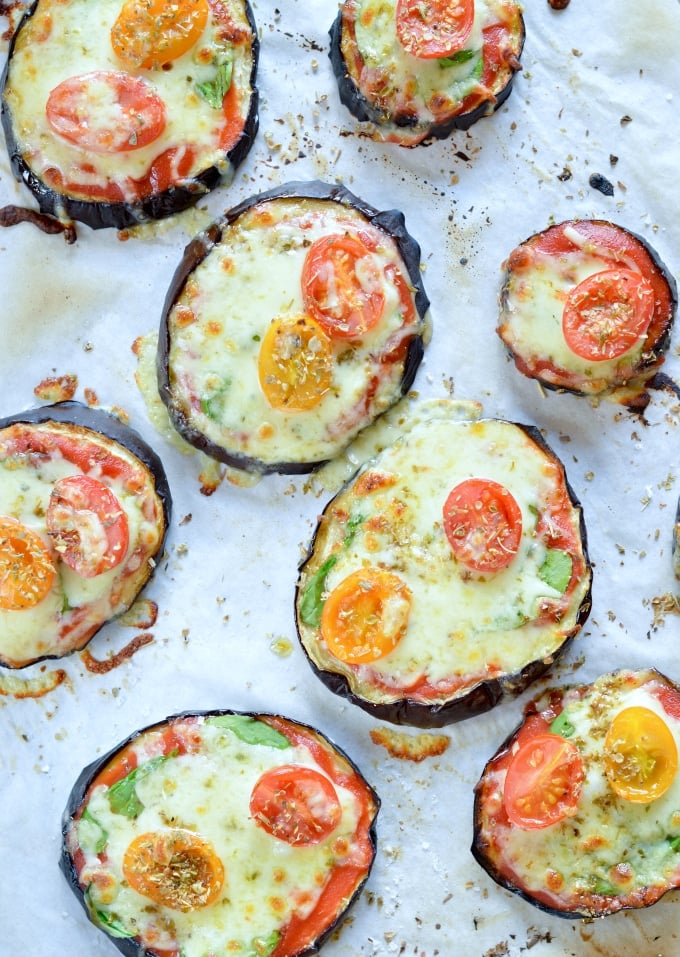 Eggplant pizza bites are easy vegetarian low carb appetizers made of baked eggplant, tomato sauce, spinach and cheese. A simple delicious gluten free appetizer that can easily be vegan-ized using 'vegan cashew cheese'.
Eggplant Pizza Bites – Vegetarian Low carb appetizer
You know how much I love fun finger food that involves vegetables right? Eggplant is my girl favorite vegetable and as her 5 th birthday is coming up, I am trying new fun recipes for her. She loves pizza, she loves eggplant so say hello to those delicious eggplant pizza bites.
All you need to make those delicious eggplant pizza bites are 5 ingredients:
Eggplant – keep the skin on, it adds fiber and the bites hold better together
Tomato sauce – I used 100% natural tomato passata. It contains only cooked tomatoes reduced into puree
Olive oil – to spread on top of one side before grilling
Cheese – I used mozzarella cheese but Parmesan is a great option too. My husband is vegan, for him I am using vegan 'cheeze' made of cashews or vegan Parmesan that I am buying in store.
Toppings: I choose baby spinach leaves and a combo of orange and red cherry tomatoes to keep it low carb friendly. Feel free to add the vegetarian topping you love like olives, diced capsicum, corn kernel, roasted chickpeas etc
Low Carb tasty bites
It pass the test of both kids tonight. Those will be on the birthday finger food table for sure with my homemade low carb tortilla chips. I was surprise how they hold pretty well in your hands. It is a very easy appetizer to serve any time and the flavor is amazing! It taste like pizza, without the crispy crust of course – but also only 1.7 g net carb per bites! The eggplant base is soft and melt in your mouth. It is not chewy at all. Even if you are not a big fan of eggplant, give this a go ! It is divine !
Eggplant pizza bites – small bites size fun food for kids
I used one eggplant in this recipe – which makes 10 slices. Of course there is mostly large bites – that I enjoyed myself ! but there is also few small bites from the top of the eggplant that are perfect for the kids hands. I serve this for dinner tonight and me and my 2 kids devour the whole eggplant ! Delicious !
Enjoy those simple eggplant pizza bites and tell me what is your favorite topping ?
xoxo Carine
Eggplant pizza bites
Eggplant pizza bites an easy vegetarian low carb appetizer made of cheese, baked eggplant and spinach. Gluten free, vegan note: use 'vegan cashew cheese'
Prep Time: 10 mins
Cook Time: 15 mins
Total Time: 25 mins
10 slices
Print The Recipe
1 eggplant , trimmed, cut in thick slices, skin on (about 300g)
1/2 teaspoon coarse sea salt
Toppings
2/3 cup tomato passata (125g)
1 cup grated mozzarella cheese
1/4 cup baby spinach leaves
1/3 cup cherry tomatoes finely sliced
1 teaspoon garlic olive oil - optional
1 teaspoon dried oregano
Preheat your oven to 220C (425 F)

Prepare a baking sheet covered with parchment paper and arrange the eggplant slices on the sheet. Make sure they don't overlap or touch each other.

Sprinkle the coarse sea salt on top. Set aside for 10 minutes. then bake for 15 minutes at 220C (425F).

Remove the baked eggplant slices from the oven, flip over the eggplant slices and switch the oven to broil/grill mode.

Brush some garlic olive oil on top of each eggplant slices - this is optional, I just love the extra flavor and moisture it adds to the slices.

Spread about a tablespoon of tomato sauce over each eggplant slices.

Then, add your favorite toppings : few baby spinach leaves, grated mozzarella cheese and half cherry tomatoes.

Add a sprinkle of dried oregano and return to the oven, broil mode, for 3-5 minutes or until the cheese is grilled and melted.

Serve immediately.
Make ahead: you can pre bake the eggplant slices the day before, store in the fridge in an airtight box. Rewarm for 5 minutes a 150C (300F), then spread the toppings, broil cheese and serve! Veganised me ! use vegan cheese in this recipe to make it vegan. My husband is vegan and loves vegan Parmesan or vegan cashew cheese that I make myself or even vegan 'mozzarella chee-ze' from the store.
Nutrition Facts
Eggplant pizza bites
Amount Per Serving (1 eggplant)
Calories 34 Calories from Fat 5
% Daily Value*
Fat 0.6g1%
Carbohydrates 3.1g1%
Fiber 1.3g5%
Sugar 1.4g2%
Protein 4.2g8%
Net Carbs 1.8g
* Percent Daily Values are based on a 2000 calorie diet.
Nutrition panel is for the whole eggplant turned into pizza bites. One eggplant serve 1 dinner.