Keto Pizza Bites (1.5g Net Carbs)
These easy cheesy Keto Pizza Bites are perfect as a quick keto snack or keto party food for game night with only 1.5 grams of net carbs per bite.
Bonus, this recipe is ready in 20 minutes, and no need to prepare a pizza dough. It just uses a few ingredients!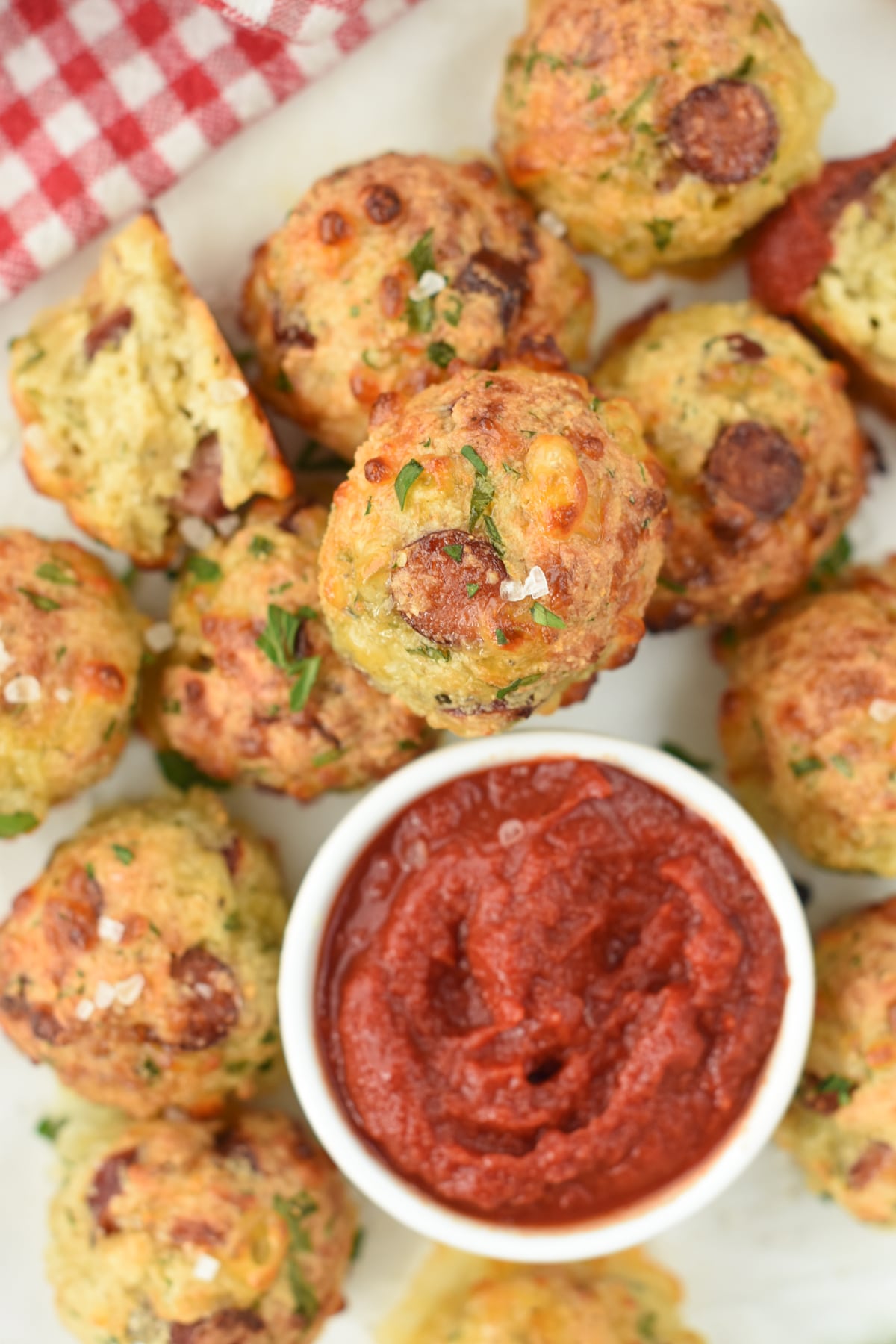 What Are Keto Pizza Bites?
Keto Cheese Pizza Bites are bite-size keto snacks or appetizers that bring out all the pizza flavors without the carbs from wheat-based pizza dough.
There are plenty of ways to make low-carb pizza bites. You can make:
Keto pepperoni pizza bites – place thin pepperoni slices in a muffin tin, fill with tomato sauce and cheese and bake until crispy.
Mini pizza using any keto pizza crust like my almond flour pizza crust, cut out small circles, and top them up as mini pizza.
But here, I am sharing a new way to make delicious diabetic-friendly pizza bites. Let's talk about it!
How To Make Keto Pizza Bites
Keto pizza balls or bites are easy 1-bowl, soft, cheesy bites full of pizza flavors.
Ingredients
All you need to make them are:
Grated mozzarella cheese– this refers to the hard part-skim mozzarella, don't use fresh mozzarella in this recipe. It releases too much water and won't work.
Eggs – the recipe can't work with egg replacer.
Almond flour
Whole psyllium husk – this is the key ingredient to add a chewy texture to your low-carb pizza balls.
Italian seasoning or dried oregano.
Fresh parsley or fresh basil, or any fresh herbs you love on your pizza.
Salt
Pepperoni stick thinly cut into slices or any cured meat you love in your pizza, including ham, bacon bits, or swap for some grated keto vegetables like zucchinis!
Combining Ingredients
There's nothing easier than this keto bite-size pizza!
All you need to do is combine the ingredients into a mixing bowl until it forms a sticky dough and holds together.
Shaping Balls
Then, shape 18 bite-size balls. The weight of each ball varies depending on the kind of meat you added to the balls.
For example, slices of pepperoni sticks are heavier than a thin pepperoni chopped thinly.
Divide the dough into golf-sized balls and form 18 even balls.
Baking
Preheat oven to 400°F (200°C). Line a baking sheet with parchment paper and lightly oil the paper to prevent the pizza balls from sticking to it.
Next, place each ball onto the paper, leaving half thumb space between each ball.
Bake in the center rack of the oven for about 20-25 minutes until the cheese melt and form soft, bouncy pizza bites.
The pizza bites are ready when their color is golden, and they bounce back if you push the top. Don't overbake, or the bites get hard and dry.
They should be soft, chewy, and bouncy like little pieces of keto bread filled with pizza flavors.
You can also bake these keto-friendly pepperoni pizza bites in a mini muffin pan.
Lightly oil the pan before adding the balls in the hole and bake until golden brown on top.
Serving size
This is a snack or appetizer recipe, and 3 to 4 pizza bites make a good, fulfilling snack. Jump to the recipe below for the full nutrition panel per bite.
Dip Ideas
The best part of these pizza bites is the dips, of course. Choose some of the keto-friendly dip options below:
Marinara sauce or your favorite pizza sauce, making sure there's no sugar added in the listed ingredients.
Storage Instructions
You can store baked pizza balls leftovers in the fridge in an airtight container for up to 3 days or freeze them for later.
These pizza bites can be frozen without baking. First, lay a large baking sheet with parchment paper and place the pizza bites on it, leaving some space between each ball.
Then freeze until the bites are hard and finally transfer to a storage box in your freezer. The pizza bites keep up to 3 months in the freezer.
Reheating
To reheat the uncooked frozen pizza bites, place the uncooked balls onto a baking tray covered with parchment paper. Make sure the balls don't touch each other and bake as usual, following the instructions in the recipe card below.
If you rewarm precooked pizza bites, set the oven to a lower temperature, around 300°F (150°C), and cook until warm in the center.
Swaps
If you have any food allergy, or you don't have any of the ingredients listed in this recipe, I have a few options for you below:
Nut-free – swap almond flour for the same amount of sesame flour or pumpkin seed flour. Both flours provide the same texture, and they are low-carb flours. However, coconut flour is not an option here, it dries out the dough, and it's not recommended.
Egg-free – there's, unfortunately, no egg-free option for this recipe. Please don't try egg replacers or flax eggs, the batter would spread too much, and it wouldn't taste good.
Whole Psyllium husk – the recipe can be made without husk if you balance with more almond flour and 1/4 teaspoon of xanthan gum. Plus, you will have to bake the balls in a mini muffin to prevent the bites from spreading too much.
Frequently Asked Questions
Can I Cook These Pizza Bites In An Air Fryer?
Yes, you can definitely pop these into your air fryer basket and bake them for 15 to 20 minutes.
More Keto Pizza Recipes
Enjoying pizza on a keto diet has never been so easy with my low-carb pizza recipes!
Below I listed my favorite keto-friendly recipes to enjoy pizza flavors without the carbs on your keto journey.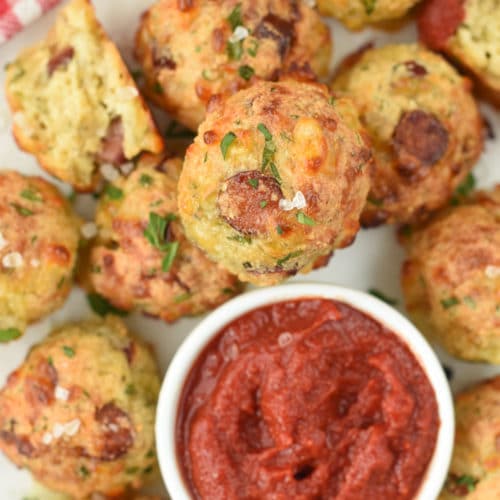 Keto Pizza Bites
Keto Pizza Bites are easy keto appetizers for game food night or a delicious savory snack for a quick pizza fix!
Ingredients
Homemade Sugar free ketchup to dip
This recipe may contain Amazon or other affiliate links. As an Amazon Associate I earn from qualifying purchases.
Instructions
Preheat oven to 400°F (200°C).

In a large mixing bowl, stir crushed garlic, almond flour, psyllium husk, dried herbs, finely chopped fresh herbs, salt, and grated mozzarella cheese.

Stir in beaten eggs and thinly sliced pepperoni sticks. Combine with a spoon at first, then knead with your hands, squeezing the batter to ensure that all the ingredients come together. It should take 1 minute of squeezing/kneading until it forms a consistent batter.

Form 18 balls of a similar same size – the weight varies depending on the meat you added in. Mine are golf-sized balls.

Place each ball onto a baking sheet covered with parchment paper. If your parchment paper tends to stick to the food, brush a teaspoon of olive oil on top to prevent the bites from sticking to the paper. You can also use a lightly oiled mini muffin tin for baking the bites.

Bake for 20-25 minutes or until the outside is golden and crispy. Don't overbake, or they get dry in the center.
Storage
Store up to 3 days in the fridge in an airtight container.

Freeze the uncooked or baked pizza bites in an airtight container leaving half a thumb of space between each ball to make sure they don't stick to each other.

Rewarm in a hot oven 300°F (150°C) on a cookie sheet covered with parchment paper. Bake for 8-10 minutes or until hot in the middle and crispy outside. No need to defrost before rewarming.
Notes
Note 1: This recipe doesn't work with egg replacers like flaxseed eggs or store-bought egg replacers. Note 2: You can swap fresh garlic for 1/4 teaspoon of garlic powder. Note 3: You can replace the almond flour with only sesame flour. The recipe won't work with coconut flour, nor any other flour. Note 4: You can skip the husk for extra almond flour and 1/4 teaspoon of xanthan gum. But the bites must be baked in a mini muffin tray, or they won't hold their shape. The result is less chewy without husk. Also, don't use husk powder like Metamucil in this recipe. It turns food blue or too wet. Note 5: You can swap pepperoni stick slices for small bites of any cured meat or grated, drained zucchinis. You must use husk if you use vegetables in the recipe.
Want My Kitchen Equipment?
Serving:
1
bite
Calories:
93.9
kcal
(5%)
Carbohydrates:
2.9
g
(1%)
Fiber:
1.5
g
(6%)
Net Carbs:
1.4
g
Protein:
6.8
g
(14%)
Fat:
6.4
g
(10%)
Saturated Fat:
1.7
g
(11%)
Polyunsaturated Fat:
0.6
g
Monounsaturated Fat:
1.2
g
Trans Fat:
0.1
g
Cholesterol:
48
mg
(16%)
Sodium:
234
mg
(10%)
Potassium:
60.5
mg
(2%)
Sugar:
0.3
g
Vitamin A:
91.9
IU
(2%)
Vitamin B12:
0.2
µg
(3%)
Vitamin D:
0.2
µg
(1%)
Calcium:
55.1
mg
(6%)
Iron:
0.7
mg
(4%)
Magnesium:
6.3
mg
(2%)
Zinc:
0.7
mg
(5%)
Posted In: