Crustless Pizza Recipe (Ready in 20 Minutes!)
This Keto Low-carb Crustless Pizza is an easy one-pan low-carb pizza dinner for all the pizza lovers who care about their carbs!
Get your pizza night sorted with this 20-minute dinner and only 2 grams of net carbs per serving.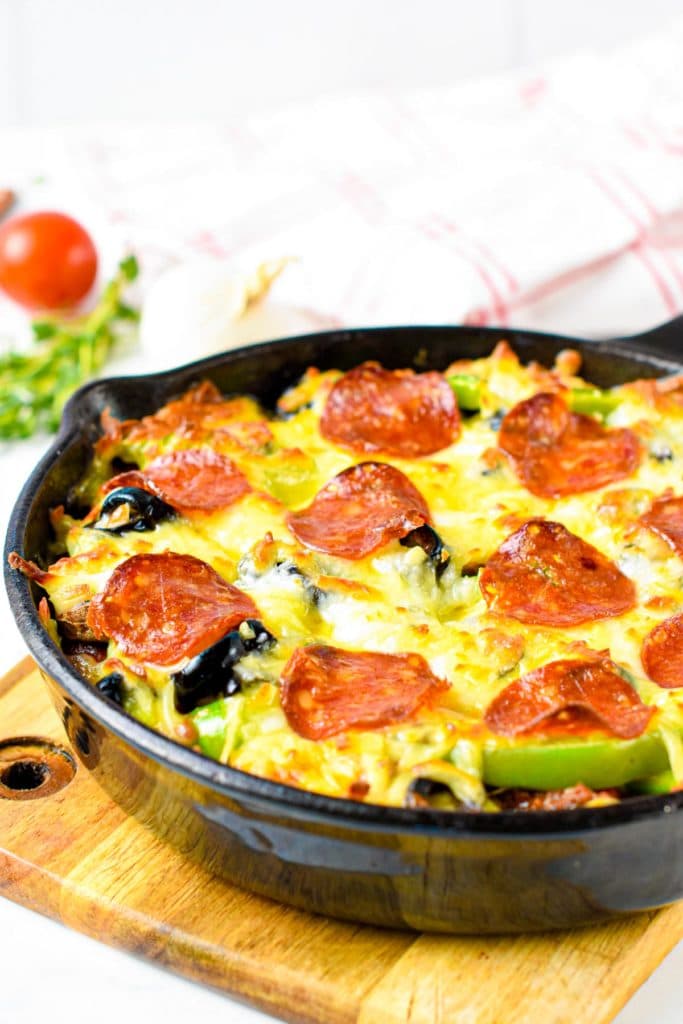 Pizza crusts are among the most popular recipes on Sweetashoney. My favorites are the keto pizza crust, coconut pizza crust, and thick keto pizza crust.
But someday, you might feel like a quick pizza meal, no baking, and a dish that can easily feed the whole family in 20 minutes.
So here's my crustless pizza recipe for you!
What's A Crustless Pizza?
A crustless pizza is a skillet pizza using ground meat as a base of the dish instead of a pizza crust.
Therefore, crustless pizzas are low in carbs and much quicker to prepare as no baking skills are required.
All you need is 20 minutes to make this quick and easy low-carb pizza casserole for dinner.
How To Make Crustless Pizza
A crustless pizza is the easiest keto dinner for pizza lovers!
It's a dish where you throw everything in a skillet, cook, and eat!
You will enjoy all the classic pizza flavors as you can include all your favorite pizza toppings in this recipe.
But, compared to a traditional pizza, the carb count per serving is so small that you can indulge with no guilt and even have some more!
Of course, it's not a pizza that you can eat with your hands for game night. It's more a dish to enjoy in a bowl as a Crustless Pizza bowl!
Ingredients
To make this simple low-carb pizza dinner, you needed:
Ground Beef – or any ground meat you love, including Italian sausage, ground pork, turkey, or chicken. If you are a vegetarian, you can skip the ground meat for cauliflower rice or broccoli rice!
Olive oil
Salt
Garlic powder
Mushrooms
Olives
Green bell peppers – one of the best keto-friendly vegetables on a pizza.
Shredded mozzarella cheese – or any other keto-friendly cheese.
Italian seasoning or Italian herbs
Jalapeno for a spicy kick! Totally optional, but if you love a spicy pizza, it's a must-add.
Homemade keto pizza sauce – follow my instructions to make it.
Freshly grated parmesan – option, you can just use more mozzarella, but I found the combination excellent!
Pepperoni slices or cured ham of preferred.
Cooking The Meat
First, select a 9-inch non-stick cast iron skillet and warm some olive oil over medium heat.
Then, add the meat, salt, Italian herbs, and garlic powder. Stir and cook meat until it's evenly cooked on all sides and the meat is not pink anymore.
Remove from heat and stir freshly grated parmesan with cooked meat. Spread the meat evenly in the skillet, then top it up with pizza sauce.
Assembling The Pizza
Next, add the sliced mushrooms, pieces of bell pepper, and olive slices, and top with shredded mozzarella.
Finally, add the pepperoni slices on top of the mozzarella to garnish.
Baking
Preheat the oven to 400°F (200°C). Place the skillet in the first rack from the top of the oven and bake for 8-15 minutes or until the cheese is melted and starts bubbling.
You can switch to broil mode for the last 2-3 minutes to grill the cheese and crisp the chorizo even more.
Serving
A crustless pizza recipe is made to be eaten in a bowl or plate. You serve the pizza in a bowl on top of shredded lettuce or on its own and top the pizza with spicy olive oil, jalapeno slices, or fresh basil leaves.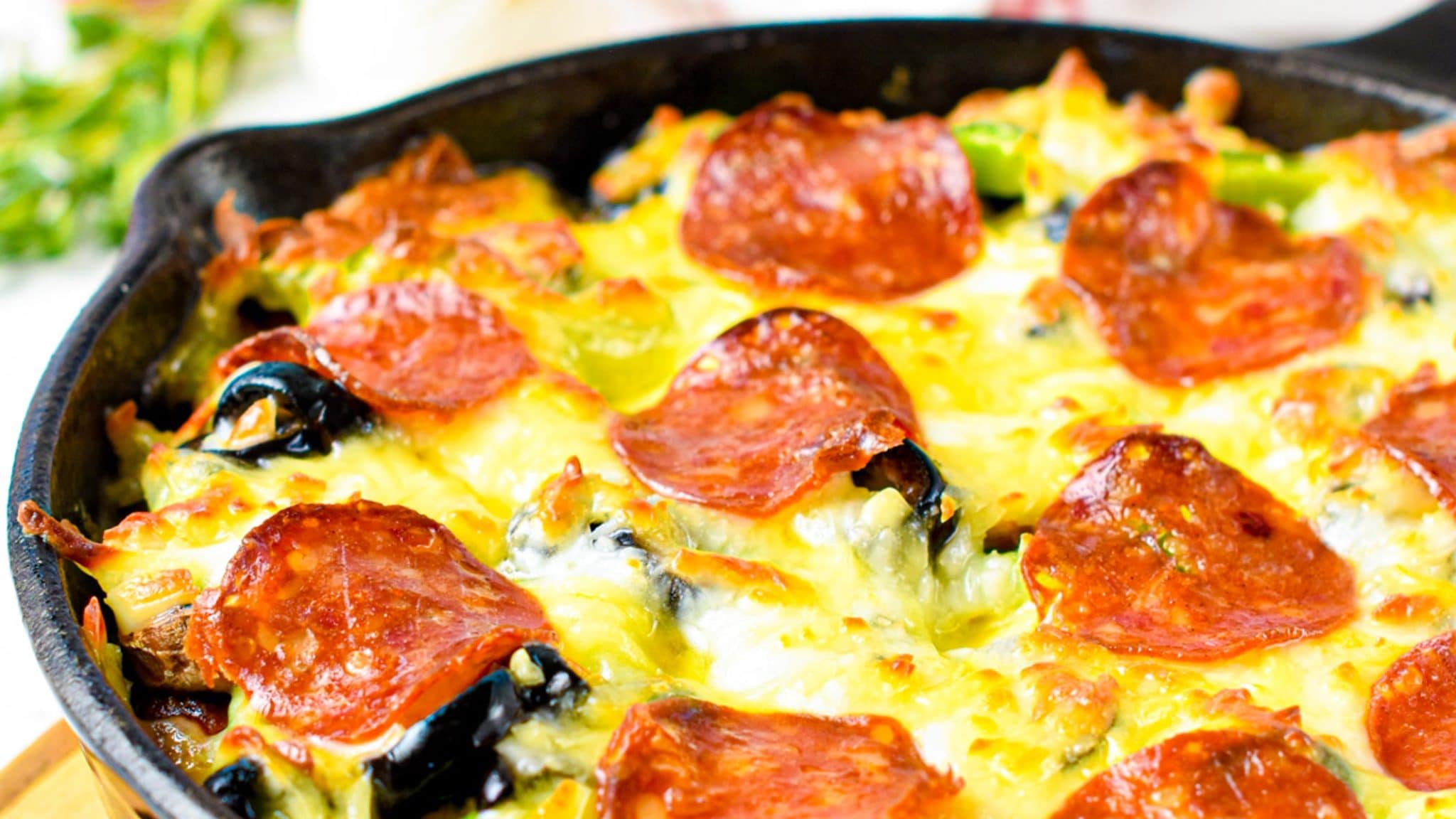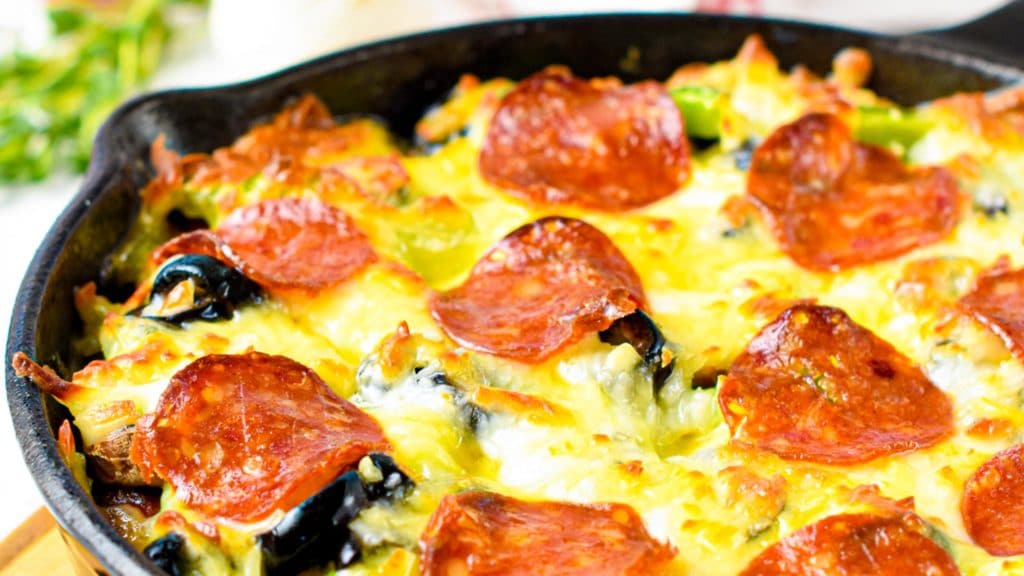 Storage
You can store leftovers in an airtight container in the fridge for up to 3 days. Or, you can freeze leftovers in individual batches, perfect for meal-prepping quick keto dinners.
Pop the batch in the fridge the day before and rewarm in a microwave-safe dish or in an air fryer until hot.
Frequently Asked Questions
Can I Cook This In An Air Fryer?
Yes, you can air fry the crustless pizza in an air fryer basket, but make sure you use a dish that fits the basket size. In fact, a skillet won't fit, so you have to use a size that matches.
Then, air-fry the crustless pizza recipe for 10 minutes at 350°F (180°C) until the cheese is grilled and melted.
Can I Make A Vegetarian Crustless Pizza?
Absolutely! There are plenty of keto vegetarian options to swap ground meat. You can use cauliflower rice, broccoli rice, or even crumbled tofu.
Tofu is a keto-friendly protein source for vegetarians and is low-carb.
Can I Swap Mushrooms or Red Bell Pepper?
There are plenty of low-carb keto-friendly vegetables that you can add to your pizza casserole instead of these two.
For example, you can add asparagus, tomatoes, zucchini, eggplants, or even artichokes hearts.
More Keto Low-Carb Recipe For Quick Dinners
Below I listed some more easy keto dinners in one pan that you will love!
Have you made this keto crustless pizza recipe? Share a comment or review below to let me know how much you love it!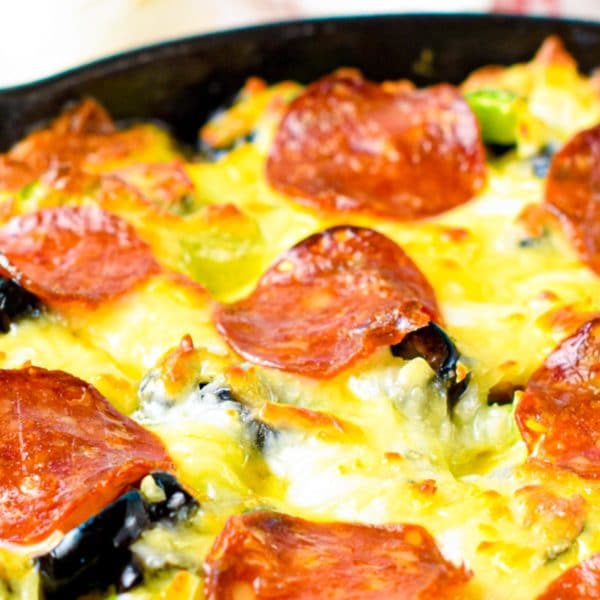 Crustless Pizza
This Keto Low-carb Crustless Pizza is an easy one-pan low-carb pizza dinner for all the pizza lovers who care about their carbs! Get your pizza night sorted with this 20-minute dinner and only 2 grams of net carbs per serving.
Yield:
8
slices (9-inch pizza)
Nutrition
Want My Kitchen Equipment?
Instructions
Preheat oven to 400°F (200°C).

In an 8-inch skillet, warm olive oil over medium heat, then cook ground meat for 5-6 minutes, breaking the meat apart with a wooden spoon. Cook until the meat is no longer pink.

Remove from the heat, stir in the garlic powder, grated parmesan, salt, and Italian herbs and pepper.

Spread the meat evenly in the skillet, then top up with pizza sauce, sliced pepper, sliced mushrooms, and sliced olives.

Sprinkle shredded mozzarella evenly over the skillet. Top up with pepperoni slices.

Bake for 10-15 minutes, switching to broil mode for 2-4 minutes or until cheese is melted and grilled on top.

Serve as a meal on its own or with lettuce on the side.
Storage
Store in the fridge for up to 3 days in an airtight container or freeze and thaw in the fridge the day before. Rewarm in the microwave or non-stick saucepan.
My Recipe Notes
Nutrition Facts
Crustless Pizza
Amount Per Serving (1 serving)
Calories 170.6
Calories from Fat 117
% Daily Value*
Fat 13g20%
Cholesterol 35.9mg12%
Sodium 401.6mg17%
Potassium 208.4mg6%
Carbohydrates 3.3g1%
Protein 10.3g21%
Net Carbs 2.3g
Vitamin A 260.8IU5%
Vitamin B12 1µg17%
Vitamin C 13.7mg17%
Vitamin D 0.1µg1%
Calcium 128.2mg13%
Iron 1.1mg6%
Magnesium 16.4mg4%
Zinc 1.8mg12%
* Percent Daily Values are based on a 2000 calorie diet.