Keto Pizza Sauce (Sugar-free)
An easy Keto Pizza Sauce recipe ready in 15 minutes and delicious to spread on top of any keto pizza crust.
Plus, this low-carb pizza sauce is also dairy-free and vegan-friendly!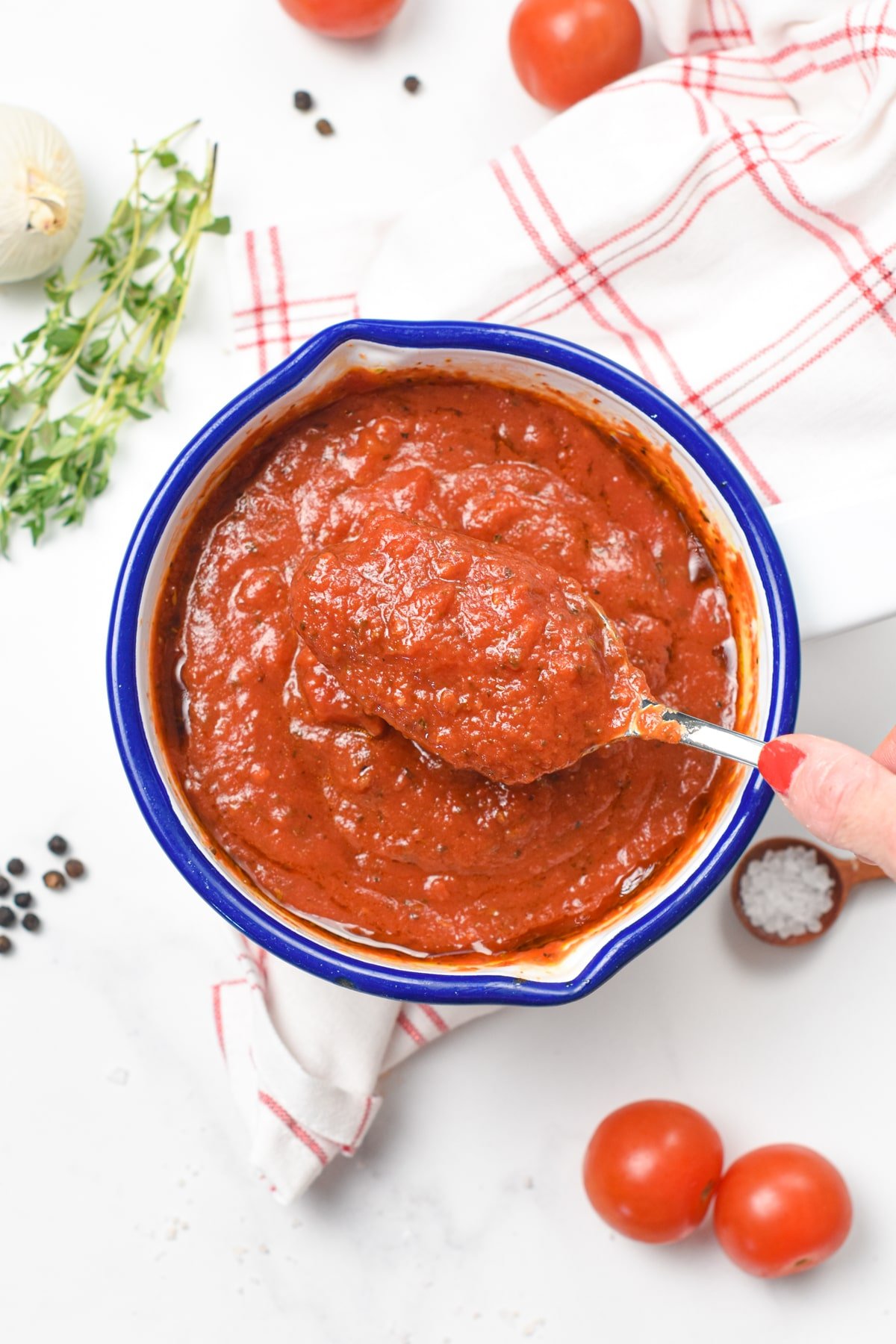 This keto pizza sauce is another keto staple to make at home for daily meals!
You will love this recipe on top of any keto pizza crust or keto pasta, and it's so easy to make that you will never buy store-bought canned tomato pizza sauce after that!
Is Pizza Sauce Keto?
Not all store-bought pizza sauces are keto-friendly.
You will be surprised to see how much added sugar some pizza sauce brands contain. Read the ingredients list first to make sure the store-bought tomato sauce is keto.
If you spot any of these hidden sugar names, don't buy!
How To Make Keto Pizza Sauce
You don't need to be a chef to make your own low-carb pizza sauce, and actually, as soon as you make this once, you will probably make homemade tomato sauce all the time.
Ingredients
All you need to make a keto-friendly pizza sauce at home are (details and quantities in the recipe cards at the bottom of the post):
Olive Oil
Crushed Garlic Cloves
Can of Crushed Tomatoes – check the ingredients listed on the box. You should only see tomatoes and evenly some preservatives or added salt but no sugar listed.
Tomato Puree – same here. Check the ingredient list and select a brand with no added sugar. I am using the Mutti brand, also known as a tomato passata.
Tomato Paste – most tomato pastes are sugar-free made of concentrated tomatoes but still, check the ingredients listed to select the best brand.
Salt
Pepper
Onion Powder
Italian Seasoning or Italian herbs – my seasoning doesn't contain salt, so I added salt to the recipe. Italian seasonings combine oregano, marjoram, parsley, basil, and rosemary.
Keto Sweetener of Choice for a touch of sweetness. It's optional, but I like a pinch of erythritol or allulose in my pizza sauce.
Cooking
First, warm some olive oil in a non-stick saucepan and stir fry the garlic until fragrant.
Then, stir in the remaining ingredients: can crushed tomatoes, tomato puree, tomato paste, salt, pepper, onion powder, and Italian herbs.
Stir, cover, and simmer for 10 minutes until the low-carb pizza sauce recipe is fragrant.
Remove from heat and stir a keto sweetener if desired.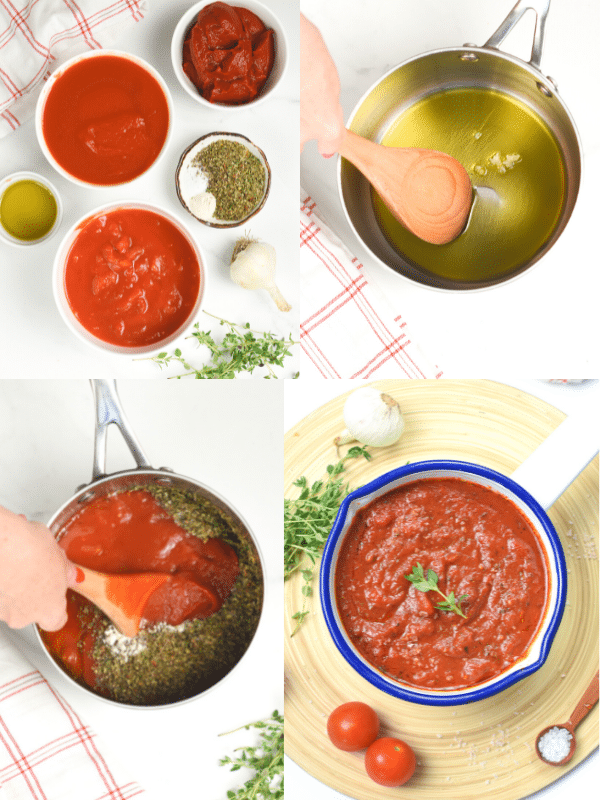 Serving
You can use this keto pizza sauce lukewarm or cold on top of my keto pizza crust recipes, in particular my hugely popular keto pizza crust.
You can also use this keto pizza sauce as a keto-friendly tomato sauce to dip food or make zucchini lasagna or keto pizza casserole.
Storage
You can store this homemade keto pizza sauce in the fridge in a glass mason jar or sealed container for up to 4 days.
You can also freeze the tomato sauce in airtight zip lock bags. Thaw for a few hours at room temperature or in the fridge overnight before using.
You can use the sauce cold on top of any pizza crust of your choice. Or you can rewarm the sauce in the microwave in a microwave-safe bowl or in a saucepan over medium heat.
Frequently Asked Questions
Can I Skip The Sugar-free Sweetener?
Absolutely yes! A traditional pizza sauce contains added sugar, and if you are used to this kind of sauce, you may want a sweet pizza sauce.
That's why I love to add erythritol as a keto-friendly sweet touch to my keto pizza sauce. But, this is optional, and the recipe works very well without it.
Can I Use Fresh Tomatoes?
Yes, you can replace the can of crushed tomatoes with fresh diced tomatoes if in season.
Can I Freeze The Pizza Sauce?
Yes, you can freeze the pizza sauce in plastic bags. First, fill the bag, remove as much air as possible, then place the sealed bags flat in the freezer.
The pizza sauce can be kept frozen for up to 6 months.
Can I Preserve Homemade Tomato Sauce?
I didn't try to preserve this recipe, so I can't recommend on method and technique to preserve this keto pizza sauce.
Recipe To Use Keto Pizza Sauce
Below are all my favorite keto recipes to use for your keto low-carb pizza sauce.
It's a great sauce to spread on pizza crust, dip baked savory bites or make keto casserole calling for tomato sauce.
Have you made this sugar-free pizza sauce recipe? Share a comment or review below to tell me how much you like it?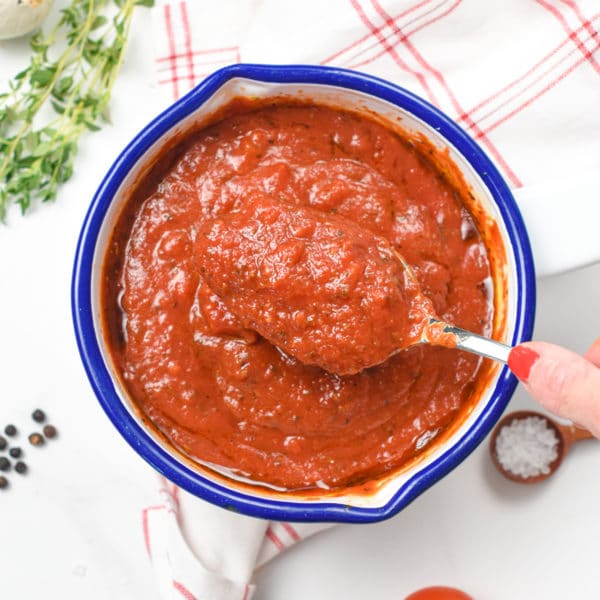 Keto Pizza Sauce
An easy Sugar-free Keto Pizza Sauce recipe to enjoy a delicious low-carb keto pizza night with no guilt!
Yield:
servings (1/2 cup, cover a 10-inch pizza base)
Serving Size:
1
serving (1/2 cup)
Ingredients
2

tablespoons

Olive Oil

2

Garlic Cloves

crushed or minced

1

can (14oz)

Crushed Tomatoes

14

oz

Tomato Puree

also called tomato passata, no sugar added

¾

cup

Tomato Paste

2

tablespoons

Dried Italian Herbs

mix of oregano, rosemary, basil

½

teaspoon

Onion Powder

½

teaspoon

Salt

¼

teaspoon

Ground Pepper

1-2

teaspoon

Erythritol
This recipe may contain Amazon or other affiliate links. As an Amazon Associate I earn from qualifying purchases.
Instructions
In a non-stick saucepan, warm olive oil. Cook garlic and cook for 30 seconds until fragrant.

Stir in all remaining ingredients: crushed tomatoes, tomato puree, tomato paste, herbs, onion powder, salt, and pepper.

Stir, cover, and simmer on low heat for 10 minutes until fragrant.

Stir in the sweetener if desired – starting with 1 teaspoon, then increase to taste.

Use on top of your favorite pizza – about 1/2 cup per 10-inch pizza.
Storage
Store the sauce in the fridge in a glass mason jar for up to 3 days or freeze in zip lock bags and thaw the day before in the fridge.
Want My Kitchen Equipment?
Serving Size:
1
serving (1/2 cup)
Yield:
servings (1/2 cup, cover a 10-inch pizza base)
Serving:
1
serving (1/2 cup)
Calories:
57.2
kcal
(3%)
Carbohydrates:
7.6
g
(3%)
Fiber:
1.6
g
(7%)
Net Carbs:
6
g
Protein:
1.6
g
(3%)
Fat:
3
g
(5%)
Saturated Fat:
0.4
g
(3%)
Polyunsaturated Fat:
0.4
g
Monounsaturated Fat:
2.1
g
Sodium:
166.7
mg
(7%)
Potassium:
377.2
mg
(11%)
Sugar:
4.3
g
(5%)
Vitamin A:
502.3
IU
(10%)
Vitamin C:
8.7
mg
(11%)
Calcium:
15.8
mg
(2%)
Iron:
1.3
mg
(7%)
Magnesium:
17.7
mg
(4%)
Zinc:
0.3
mg
(2%)
Posted In: