No-Noodle Zucchini Lasagna (Keto, Gluten-Free)
These Zucchini Lasagna are delicious no-noodle healthy beef lasagna made with zucchini instead of the classic pasta.
Rediscover your favorite Italian pasta dish without the carbs using flavorsome Italian seasoned beef, marinara sauce, and cheesy ricotta Parmesan white sauce.
What Is Zucchini Lasagna?
Zucchini lasagna is a noodle-free lasagna recipe.
It uses zucchini ribbons called zucchini noodles to replace the regular wheat lasagna sheets.
Therefore, this recipe is very low in carbs but retains all the classic Italian flavors.
Why You'll Love This Recipe
This recipe is very healthy, low in carbs, and so simple to make.
While it's 100% keto-friendly, it tastes exactly like classic lasagna and the whole family will love it. Plus it's perfect for reheating for a few days if you made a large dish.
How To Make Zucchini Lasagna
This recipe is made with only wholesome ingredients. The dish is made by alternating layers of zucchini noodles, meat in its sauce, and cheese sauce before adding cheese on top.
Ingredients
For the Zucchini Noodles:
Zucchini – zucchinis are a low-carb vegetable that can release quite a lot of water. After all, it's made of 95% water! Read my tips on how to remove as much moisture as possible to have lasagna that aren't watery.
Salt
For the meat sauce
Olive Oil – prefer an extra-virgin olive oil for better taste.
Diced Onion – fresh or frozen, pick what you prefer.
Green Pepper
Oregano
Italian Seasoning
Parsley – I like Italian parsley, but you can also add some fresh basil.
Garlic
Ground Beef – choose good quality grass-fed beef for the best taste.
Salt
Marinara sauce – tomatoes are keto-friendly vegetables. However, some tomato sauces contain added sugar. So always check the ingredients list. You must see only tomatoes, salt, or preservatives but no added sugar.
For the Ricotta Cheese Sauce:
Ricotta Cheese – ricotta is a low-carb cheese, perfect to give a very creamy taste.
Parmesan Cheese
Egg – prefer free-range eggs to get a strong yellow yolk with more flavors.
Slicing The Zucchinis
Zucchini noodles are long, thin ribbons of zucchini that mimic the regular lasagna sheets in a zucchini lasagna.
To create perfect zucchini layers for your lasagna, you must follow 3 steps.
For this recipe, you will use about 3 large zucchinis of about 10.5 ounces (300g) each.
First, wash the zucchinis, pat them dry with paper towels, keep the skin on, and trim the ends.
Next, use a mandolin set on 1/8-inch (0.3mm) thickness, and slice the zucchini lengthwise to form long, thin zucchini noodles.
Finally, place all the zucchini ribbons into a colander.
Salting The Zucchini Noodles
You must extract all the water from the zucchini before using your zucchini noodles to avoid a watery lasagna.
To do so, sprinkle 1 teaspoon of sea salt all over the prepared noodles.
Then, toss with your hands to bring the salt in contact with all the entire zucchini. Set aside 20 minutes to let the zucchini sweat and extract their water.
After this time, the zucchini noodles will be thinner, softer, and look sweaty on the surface.
Drying The Noodles
The last step consists of removing the water from the surface of each zucchini noodle.
The more water you pat dry, the less watery your lasagna dish will be.
First, lay a large piece of absorbent paper onto your countertop, about 12 inches (30 cm).
Then, lay each zucchini side by side, but do not let them overlap if you can. Press another paper towel on top and gently extract all the water from the zucchinis.
Your noodles are now ready to be used, set aside on a plate.
Making The Ricotta Cheese Sauce
This lasagna recipe is perfect for people on a keto diet because it doesn't use a regular white sauce that contains wheat flour, milk, and lots of carbs.
Instead, the white sauce is made with two cheese varieties: ricotta and parmesan.
Make the ricotta mixture by combining the cheese with the egg in a saucepan over medium high heat until it has melted and thickened.
Assembling Zucchini Lasagna
As for regular noodle lasagna, you will assemble layers of ingredients until you fill your 9-inch x 13-inch baking dish.
This recipe makes 3 layers of veggies, which means that for each layer, you will use about 1/3 of the total amount of each ingredient: meat sauce, white sauce, and zucchini noodles.
Since the shredded mozzarella cheese is also used on top of the dish, you will use only 1/4 of the total amount per layer.
Like any other lasagna dish, it doesn't have to be overly precise.
Do your best to add a similar amount of each sauce between the zucchini pasta layers to make the dish balanced.
However, it would still taste good if you did not. If you want to reduce saturated fat in this dish, you can use some low-fat shredded mozzarella.
Add about 1/2 cup of meat sauce to the bottom of the baking dish.
Top with zucchini slices to fully cover the pan, don't overlap the zucchini strips but place them side by side until you can't see the bottom of the pan or the meat tomato sauce.
Sprinkle 1/4 of the amount of shredded mozzarella cheese on top of the zucchini layers.
Add more meat sauce (about 1/3 of the amount of the remaining sauce).
Add dollops of ricotta cheese sauce, about 1/3 of the amount.
Top with zucchini ribbons, as before don't overlap, place them side by side until it fully hides the layer of meat/ricotta created under it.
Repeat these steps until the dish is full and finish with a layer of shredded mozzarella cheese.
Baking Zucchini Lasagna
Bake the dish at 400°F (200°C) for about 20 to 30 minutes.
You know it's ready when bubbles form on the sides of the baking dish, and the baked zucchinis are soft but still tender if you insert a knife into the dish.
Cool Down To Avoid Watery Servings
Zucchini lasagna can look unappealing even though they are extremely tasty!
In fact, even if you successfully extracted all the water from the zucchini, the dish can still be slightly more watery than regular lasagna simply because it consists of mostly liquid layers.
However, the longer the dish cools down, the less watery/soupy the lasagna will be.
If you really want to serve beautiful zucchini lasagna, make the dish ahead, and store it in the fridge overnight. Slice them cold the next day and rewarm in the microwave or oven on a single-serve dish/plate.
Honestly, I care about taste more than presentation when it comes to lasagna, so I usually only cool the dish for 15 minutes at room temperature.
Serving
Zucchini lasagnas are juicy, and there is nothing better than a piece of keto bread to dip in the meat marinara sauce!
I recommend a piece of my keto garlic bread or keto bread rolls. It will pair really well with this low-carb keto lasagna dish.
Storage Instructions
This zucchini lasagna is even better the next day.
Store them in the fridge, directly in the pasta dish, covered with plastic wrapping to prevent the top of the dish from drying out.
Keep it there for up to 4 days or freeze the zucchini lasagna in individual containers.
Defrost the fridge the day before. Rewarm them in a saucepan or microwave.
Frequently Asked Questions
Are Ricotta And Parmesan Keto-friendly?
Ricotta and Parmesan are among the lowest-carb cheese, with respectively 1.7 grams and 0.9 grams of net carbs per ounce.
Do Zucchini Lasagna Taste Like Classic Lasagna?
Very much so! Zucchini lasagna have a texture extremely similar to regular lasagna.
The sauce is rich and creamy, the meat brings its flavor, and the cheese tops it up.
Can I Use Other Vegetables?
There are other veggies you can use to replace the pasta such as eggplants, mushrooms, or spinach but none will quite make it taste like classic lasagna as well as zucchinis.
Can I Replace The Beef?
If you don't like beef, you can replace it with ground chicken, ground turkey, or even plant-based alternative meats.
How Do You Keep Zucchini Lasagna From Being Watery?
Zucchinis are full of water. 95% of their weight is water. So to prevent a zucchini lasagna from being watery, it's essential to dry the zucchini slices as much as possible.
You can also roast the zucchini noodles for a few minutes in the oven or use a food desiccator.
How do you slice zucchini lengthwise for lasagna?
The best way to slice zucchini lengthwise safely is to use a mandolin or food slicer.
Using a knife to do it can be dangerous!
More Zucchini Recipes
If you love this recipe, I have plenty more zucchini recipes for you to try, all are gluten-free!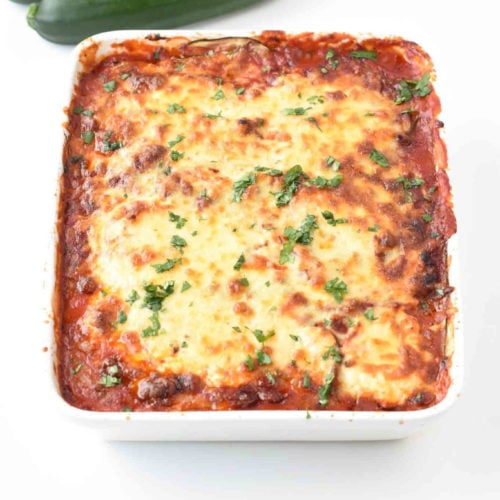 Zucchini Lasagna
This pasta-free zucchini lasagna uses zucchini to form the layers between the meat and cheese for a delicious healthy Italian dinner.
Ingredients
Zucchini 'noodles'
3

large

Zucchini

about (10oz/300g) each

1

teaspoon

Salt
Meat Sauce
1

tablespoon

Extra Virgin Olive Oil

⅓

cup

Onion

chopped

¾

cup

Bell Pepper

red or green, diced

1

lb

Ground Beef

2

teaspoons

Dried Oregano

½

teaspoon

Garlic Powder

¼

cup

Fresh Parsley

chopped

1

tablespoon

Italian Seasoning

24

oz

Marinara Sauce
Ricotta cheese sauce
1 ½

cup

Ricotta Cheese

or Cottage Cheese

1

large

Egg

½

cup

Shredded Parmesan

grated
This recipe may contain Amazon or other affiliate links. As an Amazon Associate I earn from qualifying purchases.
Instructions
Preheat the oven to 400°F (200°C). Grease a 9 x 13-inch baking dish with oil spray or olive oil. Set aside.
Prepare the zucchini ribbons
Trim zucchini ends, don't peel the skin off, then slice lengthwise into thin ribbons of about 1/4 inches (0.5 mm). It doesn't have to be precise. Just avoid too thin layers that will break into pieces. You can either use a mandolin or a knife to achieve this.

Place all the zucchini ribbons in a colander, sprinkle 1 teaspoon of salt over them and toss with your hands to bring the salt in contact with all the surface of the zucchini ribbons. Set aside 20 minutes to let the zucchini extract their water. Meanwhile, make the meat sauce.
Make the meat sauce
In a large saucepan or skillet, heat olive oil under medium heat.

Stir in diced onion and cook for 1-2 minutes until translucent and fragrant.

Stir in diced pepper and cook for 1 minute.

Add in ground beef, dried oregano, garlic powder, and Italian seasoning.

Cook and stir until the meat is no longer pink.

Add in marinara sauce, cover, bring to boil, then reduce heat to low and simmer for 10 minutes until sauce thickens slightly. Meanwhile, prepare the ricotta sauce.
Make the ricotta cheese sauce
In a medium-size mixing bowl, beat egg with Parmesan and ricotta cheese. Set aside.
Pat dry the zucchini noodles
To avoid watery zucchini lasagna, pat-dry each zucchini ribbon between pieces of absorbent paper. Lay a large piece of absorbent paper on your countertop, about 30 cm long. Arrange zucchini ribbons next to each other, don't overlap if you can, add the same size absorbent paper on top, and press gently to pat dry and remove excess water. Set side dried noodles on a plate.
Assemble the zucchini lasagna
You will form 3 layers of zucchinis with this recipe. Start by covering the bottom of the pan with 1/2 cup of meat sauce, then cover with zucchini ribbons. Place the zucchini noodle next to each other to fully cover the dish. Watch my video for technique.

Sprinkle 1/4 of the total amount of shredded mozzarella cheese all over the zucchini noodles, then spread the meat sauce (roughly 1/3 of the remaining volume of sauce).

Top up with dollops of ricotta cheese sauce, same roughly 1/3 of total volume. Repeat the layering process of adding zucchini ribbons, shredded mozzarella cheese, meat sauce, and ricotta dollops until 3 layers of zucchini are formed and no more sauce is left. To finish, top up with leftover grated mozzarella.

Bake uncovered for 20-30 minutes or until bubbles form on the side of the dish and the zucchinis are still tender if you insert a knife in the center of the dish. After this time, turn the oven to broil mode and broil cheese for 2-3 minutes if desired.
Serving
Zucchini lasagna always has a more watery aspect than regular lasagna when served. It is better served in a shallow bowl. To prevent it from becoming too watery, cool in the baking dish 15 minutes before cutting and serving. This recipe serves 12 portions.
Storage and freezing
This zucchini lasagna is even better the next day. Store in the fridge, directly in the pasta lasagna dish, covered with some wrap to prevent the top of the dish from drying out. Keep up to 4 days in the fridge or freeze in individual containers. Defrost the fridge the day before. Rewarm in a saucepan or microwave.
Want My Kitchen Equipment?
Serving:
1
serving
Calories:
300
kcal
(15%)
Carbohydrates:
8.8
g
(3%)
Fiber:
2.3
g
(10%)
Net Carbs:
6.5
g
Protein:
20.1
g
(40%)
Fat:
20.9
g
(32%)
Saturated Fat:
10.2
g
(64%)
Cholesterol:
83
mg
(28%)
Sodium:
798.2
mg
(35%)
Potassium:
606.2
mg
(17%)
Sugar:
5.5
g
(6%)
Vitamin A:
1197.8
IU
(24%)
Vitamin C:
32.3
mg
(39%)
Calcium:
298.5
mg
(30%)
Iron:
2.4
mg
(13%)
Posted In: