These Keto bread rolls are the best simple rolls to fix your buns cravings on a low-carb keto diet.
It's a crispy almond flour bread recipe that is also Vegan, Gluten-free, and Dairy-free.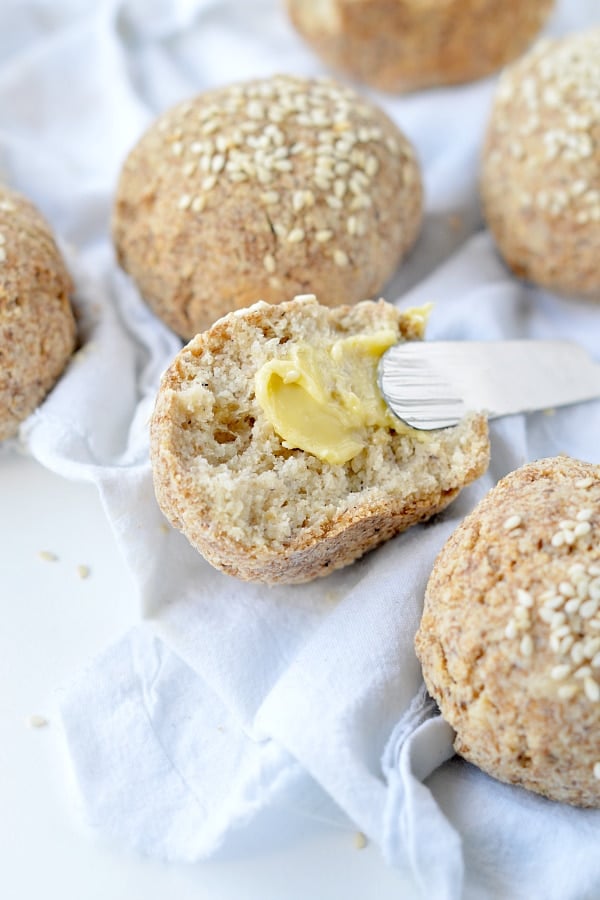 What Are Keto Bread Rolls?
Keto Bread Rolls are small bite-sized rolls made with low-carb flour that taste just like classic bread but without the carbs.
While a traditional bread roll made with wheat flour contains more than 15 grams of net carbs per serving these keto bread rolls have only 4.7 grams.
As a result, they are suitable for a keto diet.
Why You'll Love This Recipe
These low-carb bread rolls taste just like classic rolls but they are also:
Gluten-Free
Dairy-Free
Keto-Friendly (4.7g of Net Carbs)
Egg-Free
Paleo
Vegan
Not Fathead Dough!
How To Make Keto Bread Rolls
Don't get me wrong here, I love my eggs but I don't think eggs should be part of bread making.
Eggs always add too much moisture and an eggy flavor to bread and I simply don't like it. That's why I make all my keto bread egg-free.
My favorite on the blog are my keto bread loaf for breakfast, my keto coconut flour flatbread, or keto flaxseed wraps for lunch, and now these bread rolls.
Avoiding eggs in keto bread makes it more similar to traditional bread.
Ingredients
It tastes closer to real bread without the carbs. So these simple keto bread rolls are made of:
Almond Flour – or almond meal as you like, both work. I prefer ultra-fine almond flour as it's what gives the best texture. Some almond meals can make bread a bit gritty. Almond Flour is a low-carb flour.
Coconut Flour – Coconut flour is a healthy flour that brings a lot of fiber and nutrients and adds a delicious taste to keto recipes.
Psyllium husk – I am using whole psyllium husk, it's what adds a chewy/bready texture to low-carb bread. It contains mostly fiber so there add very few carbs to the recipe. Don't use Metamucil fiber supplements though, it's not the same product as whole psyllium husk fiber. Metamucil is a husk powder that is loaded with additives, only about 50% of it is psyllium husk. It can even turn food dry, purple, or blue.
Apple Cider Vinegar – as there's no gluten in this recipe, the combination of vinegar and baking powder gives a little raise to these keto bread rolls.
Baking Powder or baking soda – use half if you swap for baking soda.
Sea Salt – Salt is optional but I love to add a bit of salt to my bread. You can also add a touch of garlic powder.
Olive Oil or vegetable oil you like. I prefer using extra virgin olive oil. You can use melted butter if you prefer.
Water – use hot water, not boiling, think bath temperature.
Sesame Seeds – or poppy seeds to decorate the top of the bread rolls.
Serving Keto Rolls
There are plenty of options to enjoy the keto bread rolls as part of your keto diet.
I will share below all my favorite ways to enjoy these simple keto bread rolls.
Breakfast: simply cut them halfway and spread some fresh salty butter, and peanut butter, and add some homemade chia seed jam or fresh keto fruits. Delicious! My tip: toast them for extra crispiness, especially a few days later as they get softer. If you love eggs, you cook an egg or just egg whites in a pan and add it to the sliced buns.
Dinner: as a side to your favorite curry or to enjoy some creamy cheese like Camembert or a slice of Mozzarella Cheese. Both are keto-friendly cheese options. You can also use cream cheese in the buns.
Lunch: these are perfect to make small sandwiches or even burgers. They are delicious when filled with fresh avocado, mayonnaise, and any meat or roasted vegetables.
Storing Keto Rolls
These best keto dinner rolls don't contain eggs or dairy, meaning they store very well at room temperature. Also, they freeze really well if you plan to make ahead for a busy week.
Pantry: store your bread wrapped in a clean towel for up to 6 days. The towel will keep them fresh and prevents the bread from hardening. You can also place the towels in an airtight container. They will get softer within days but you can simply cut them halfway and toast them before eating to add a little crispiness. Otherwise, return to the hot oven for 5-8 minutes at 375°F (180°C) if you really want the bread crust to be extra crispy. I don't recommend storing them in the fridge as these low moisture bread rolls would absorb a low of humidity and become a bit soggy.
Freeze: feel free to double the recipe, bake the bread and freeze them for later. Defrost the day before on a plate at room temperature. Rewarm in your oven or in a toaster – cut halfway and toast them 1 minute on high. I recommend freezing them in zip-lock bags to prevent the bread texture from changing.
Frequently Asked Questions
Do I Need To Make Fathead Dough To Make Keto Rolls?
No, it's absolutely possible to make dairy-free and egg-free rolls. My recipe is delicious and tastes like real bread, not like eggs or cheese.
Do I Need A Food Processor Or Stand Mixer For Keto Buns?
No, you can do this recipe just by combining the flours in a mixing bowl.
Can I Use Psyllium Husk Powder?
Yes, you can, but powder being denser than whole husk, you have to use less of it.
Can I Use Oat Flour In Keto Barking?
Oat flour would work in this recipe, but it would not be keto-friendly anymore.
Can I Use Flax Meal Instead Of Psyllium Husk?
No, flaxseed meal wouldn't work in this recipe.
Is Almond Flour Keto Friendly?
Yes, with only 10 grams of net carbs per 100 grams, it's one of the most
More Keto Bread Recipes
If you like keto bread, you'll love these:
Enjoy the keto bread rolls and tag me on Instagram with your creation if you make some yourself. I love to see what you are making home!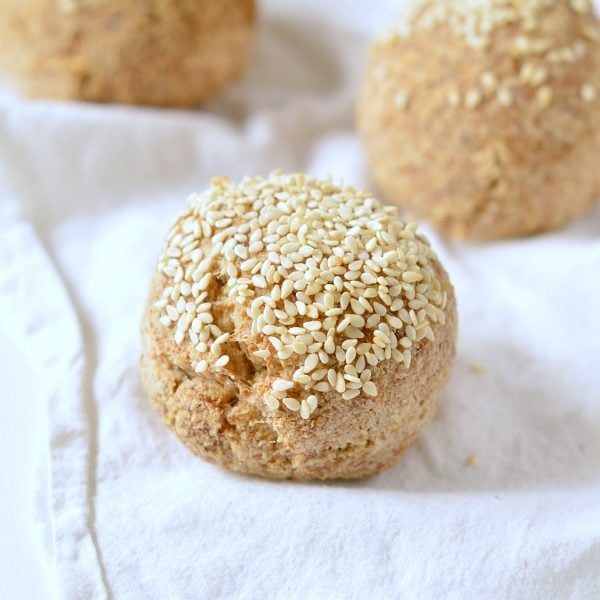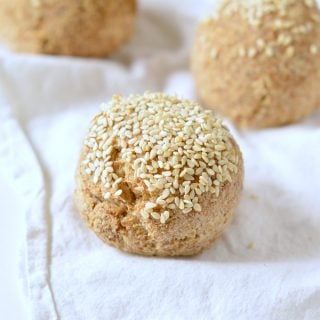 The Best Keto Bread Rolls
These Keto Bread Rolls are the best keto rolls that taste like real bread, not eggs. These delicious crispy bread rolls are made of almond flour, coconut flour, and psyllium husk, they are dairy-free, egg, free, vegan, and gluten-free.
Serving Size:
1
bread roll
Ingredients
Wet ingredients
2

teaspoons

Apple Cider Vinegar

1

tablespoon

Extra Virgin Olive Oil

1

cup

Hot Water

think hot bath temperature like 40C
Toppings
2

tablespoons

Sesame Seeds

optional
This recipe may contain Amazon or other affiliate links. As an Amazon Associate I earn from qualifying purchases.
Instructions
Preheat the oven to 375°F (180°C) Lay a baking tray with parchment paper. Set aside.

In a large mixing bowl add all the dry ingredients first: almond flour, coconut flour, whole psyllium husk, baking powder, and salt. Stir to combine.

Add the apple cider vinegar and olive oil, and stir in the hot water. Combine for 1 minute with a spatula, the water will absorb gradually, drying out the mixture to create the bread dough. It should stay a bit soft and sticky, that is normal, but you should be able to form a ball with your hand. If not, add slightly more husk 1 teaspoon at a time. You want the ball to hold together, it's OK if it's moist. Don't add more than 1 tablespoon of husk.

Set aside

10 minutes

to let the fiber absorb the liquid. The dough should be elastic, soft, and easy to divide into 6 small balls.

Roll each small ball between your hands and place them one by one on the baking tray. No need to leave more than half a thumb between each bread as they won't expand while baking.

With a pastry brush, brush the top of each bread ball with a bit of tap water.

Sprinkle some sesame seeds on top of each bread – optional but delicious!

Bake for

40-45 minutes

at 375°F (180°C). I recommend you place the tray at the very bottom of the oven for

30 minutes

then swap to the TOP level of the oven for

10-15 extra minutes

. If you love your bread crusty turn onto grill mode for an extra

5 minutes

after 40-45 minutes of baking time. Watch them closely to prevent the top from burning – if you use the grill method.

Fully cool down a cooling rack.

Slice halfway and enjoy like a bread roll with butter, ham, or cheese.

Store in the pantry for 5-6 days. I wrap mine in a towel to keep them fresh and rewarm them sliced in my toaster to add some crispiness. You can also freeze the bread and double the recipe to make more of it ahead.
Notes
Psyllium husk: don't use Metamucil fiber supplements in this recipe. It's not the same product as whole psyllium husk fiber. Metamucil is a husk powder that's not suitable for baking keto bread. It will turn it dry, purple, or blue.
Want My Kitchen Equipment?
Serving Size:
1
bread roll
Serving:
1
bread roll
Calories:
255.5
kcal
(13%)
Carbohydrates:
22
g
(7%)
Fiber:
17.3
g
(72%)
Net Carbs:
4.7
g
Protein:
6.1
g
(12%)
Fat:
15.9
g
(24%)
Saturated Fat:
2
g
(13%)
Polyunsaturated Fat:
0.8
g
Monounsaturated Fat:
2.2
g
Sodium:
346.1
mg
(15%)
Potassium:
14
mg
Sugar:
1.2
g
(1%)
Vitamin A:
0.2
IU
Calcium:
205.4
mg
(21%)
Iron:
1.9
mg
(11%)
Magnesium:
9.8
mg
(2%)
Zinc:
0.2
mg
(1%)
Posted In: