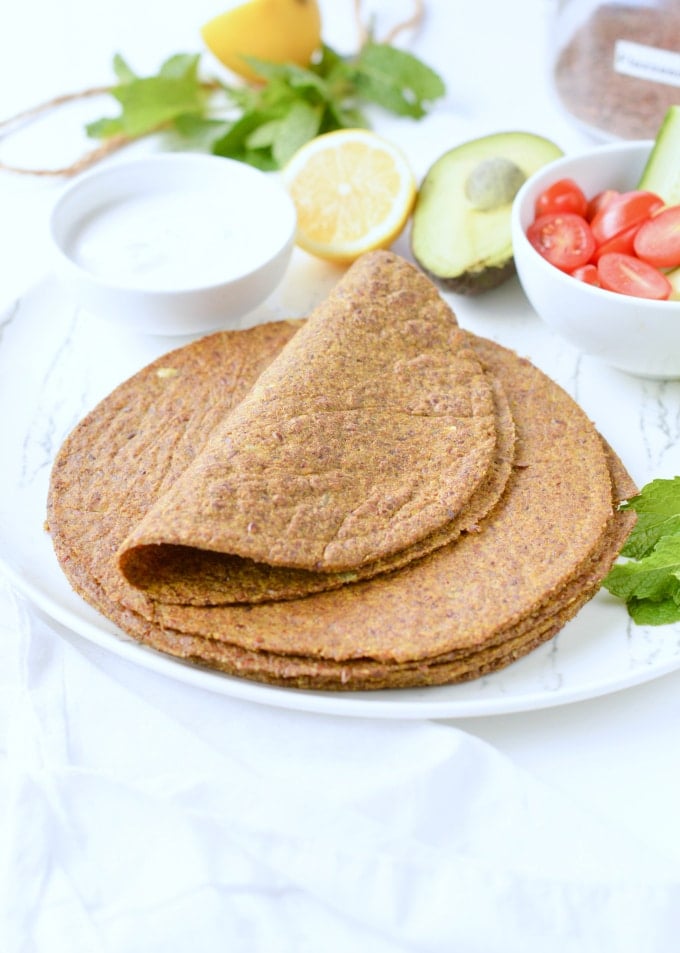 Flaxseed Wraps contains only 1.2 g net carbs – easy keto wraps recipe made with 4 simple ingredients. Loaded with protein and fiber, those flaxseed wraps will keep you full until the next meal while  boosting your body with wholefoods intake. Those are the
best low carb bread recipe
to integrate into your
low carb diet. 
Flaxseed wraps  Keto + Vegan + Gluten free
You know how much I love healthy finger food specially wraps! I have got a passion for low carbs wraps, crepes and tortillas. While I love my low carb spinach taco shells I can't make it anymore when hubby is home. There is eggs and cheese in this recipe – he is vegan so won't eat those anymore. That is why today I am sharing with you a totally new almost NO carb wrap recipe that is also vegan. Yep it  is a only  1.2 g net CARB recipe ! Net carbs are what your body actually absorbs:  carbs minus fibre that are not absorbed by your body. Amazing right. Plus, this is the most easy wrap recipe to make.
All you need are 4 basic ingredients.
Flaxseed meal – I make my own using flaxseed that I blend into a thin meal. I love to make my own because the one from my store is too thick. You need to use a flaxmeal that looks like almond meal, no pieces of flaxseed left or the recipe won't work as well. Get your meal as thin as possible using your blender  are buy a meal that don't contains pieces of seeds – large pieces won't absorb the amount of water in the recipe and the batter won't form a dough – it will stay sticky. Below is my own flaxseed meal made in less than 1 minute in my simple blender.
2. Boiling water – yes NO cold water or this recipe won't work. Make sure your remove the saucepan from heat before adding the meal  to avoid the meal to stick to the saucepan. Then, be patient stir until the mixture form a ball, un stick from the pan and you can hold it in your hand. Then, roll the dough between pieces of parchment paper to avoid the dough to stick to your benchtop or rolling pin.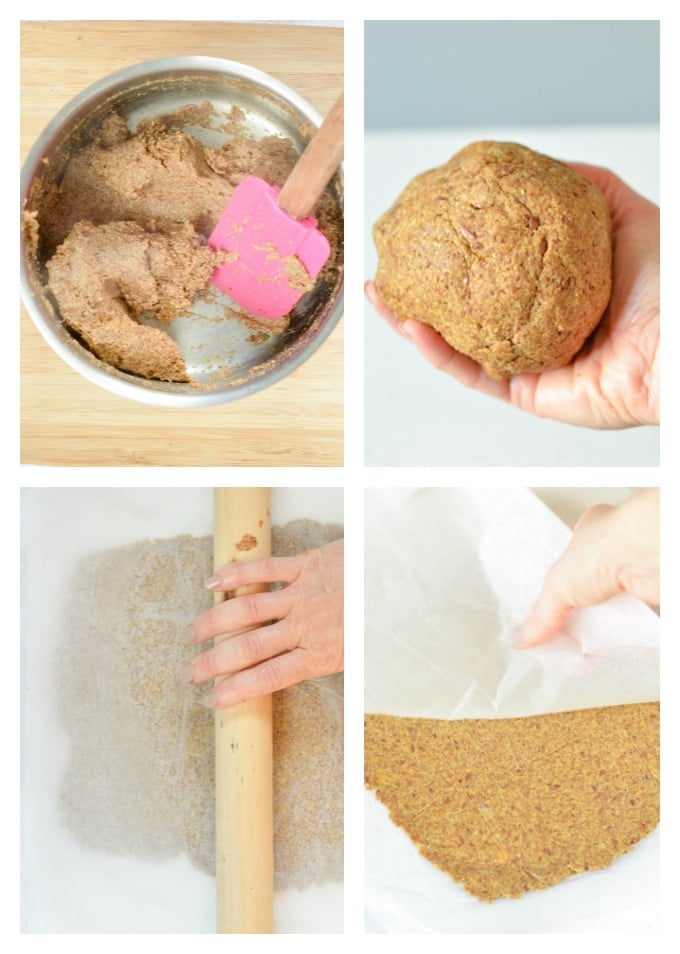 3. Spices – I used a combo of anti inflammatory spices: turmeric, ginger, garlic and onion. But use what you like of course!
Yes it holds together !
There is almost 30% fiber in flaxseed. When combines in boiling water the fiber absorb the water gradually forming an elastic dough ball. That elasticity from the fiber makes perfect wraps that won't break with any filling.
How to make round shape wraps ?
I used a saucepan lid that I place on top of my rolled dough to shape a lovely circle. It is optional but it makes such a cute wrap to serve! Reuse the leftover dough from the edge to make an extra wrap!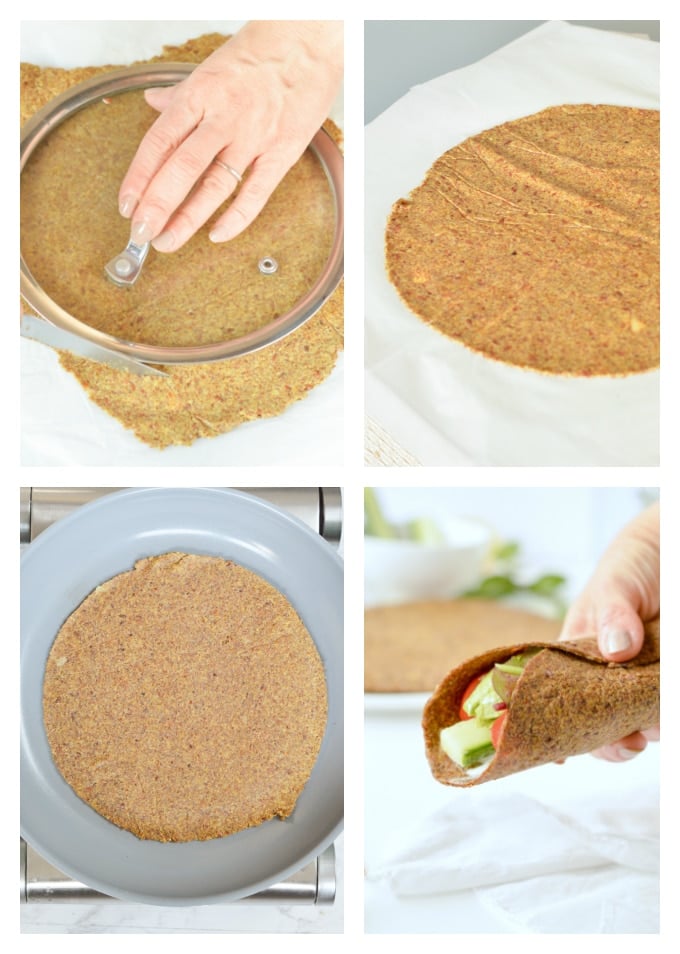 How to fill your flaxseed wraps?
Flaxseed wraps are blend in flavor specially if you are using golden flaxseed – brown flaxseed are slightly bitter. That is why I recommend to add my combo of spices in the batter to give an extra boost of flavor to those wraps. Otherwise the texture is soft, a bit grainy and delicious. Your filling will make all the difference. 
My favorite vegan low carb wraps filling are the one below, added in this order. I also add some homemade low carb tortillas chips on side.
a layer of dairy free coconut yogurt
mint leaves
fresh lettuce blend
cucumber sticks, skin on for extra fiber
cherry tomatoes
a drizzle of lemon juice
salt & pepper
LOTS of avocado slices – like avo per wrap !
Chili sauce or mustard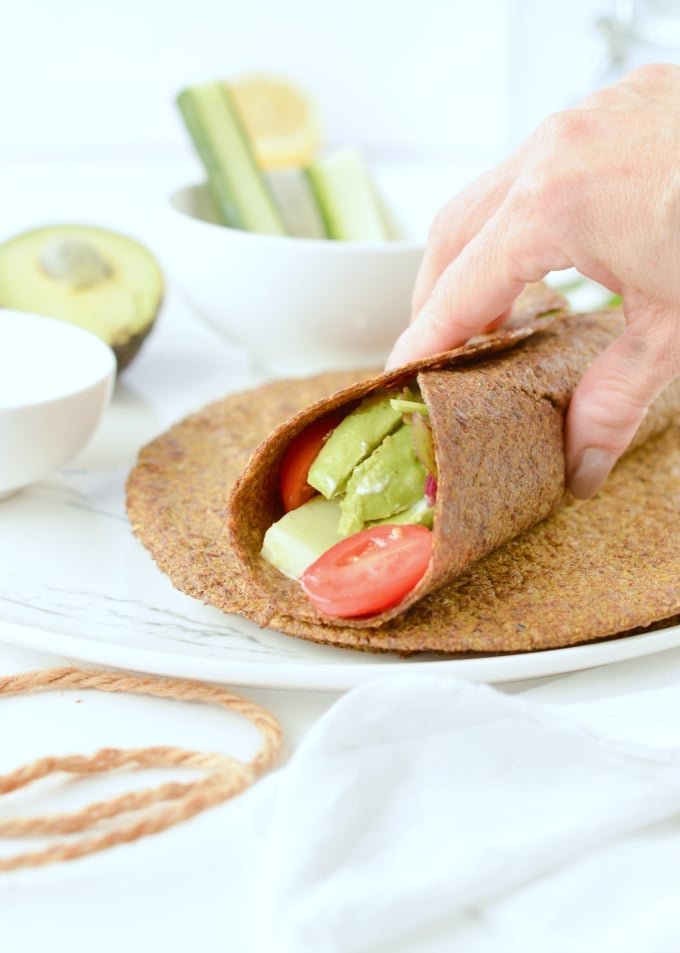 My husband love it simple. A drizzle of tahini, lettuce, cucumber and vegan barbecue sauce – this is not low carb but well he don't care about carbs 🙂
Watch the flaxseed wraps recipe video below and make them now !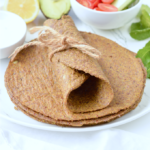 Print Recipe
Flaxseed Wraps Keto + Vegan
Flaxseed Wraps are almost NO carbs easy keto wraps recipe made with 4 ingredients - 1.2 g net carbs. 100% low carb + gluten free + vegan. An easy protein wrap recipe to enjoy finger food while boosting your body with wholefoods.

Ingredients
Spices - optional but delicious
Instructions
In a blender, add the flaxseed, blend on high speed until it forms a ground/meal. You can also use flaxseed meal from the store but make sure the meal is thin as almond meal or it won't absorb all the water in the recipe and gets sticky.

In a small saucepan, bring the water to boil.

Remove from heat, stir in all the spices and add the flaxseed meal all at once.

Stir immediately with a wooden spoon, until the meal absorb all the water, dry out and form a dough ball. As you stir, the dough will form, gradually un stick from the saucepan forming a dough ball. It take about 1-2 minutes max.

Remove the dough ball from the saucepan and transfer onto a piece of parchment paper, to avoid the dough to stick to your bench top. The dough should not be too stick if it is it means your meal wasn't thin enough and that is ok. Sprinkle extra meal onto the ball to make it less sticky.

Divide the ball into 4 dough ball of same size. Place one of the dough ball onto a piece of parchment paper. Place another piece of parchment paper on top to avoid the dough to stick to the roller pin. Press the dough ball with your hand slightly to flatten and stick the top parchment paper piece to the ball.

Roll with a rolling pin until flat but not too thin or it won't get soft when cooked. You aim for a 2-3 mm thickness. Peel off the top piece of parchment paper.

Take a round shape - like saucepan lid - place on top of dough and cut around the edges to make a circle. Remove the outside dough, form a ball and reuse later for another wrap if you like.

Remove lid and flip over the prepared wrap onto a nonstick pan - I used a ceramic non stick pan. Peel off the last piece of parchment paper and cook. If you are not using a non stick pan, spray some oil before adding the wrap into the pan.

Warm under high-medium heat and cook for 1-2 minutes or until the border get dry - center is soft - and you can easily slip a spatula under the wrap to flip over.

Cook for about 1 extra minute on the other side. Don't over cook or the wrap will get very crispy as tortillas chips ! It has to be dry but stay soft to roll.

Place the cooked wraps on a plate.

Repeat those steps with the rest of the batter until you form 4 wraps (or 5 if you use the leftover dough from the edge you can make an extra one ! ) It depends of how thick you made you wraps. You can reuse the same piece of parchment paper many times !

Serve them cold with filling of your choice or hot - you can also rewarm them in a sandwich press with your favorite filling.

Store in the fridge for 3 days, on a plate covered with a plastic wrap, to prevent them to dry.
Notes
Choosing flaxseed: golden flaxseed have a better taste than brown flaxseed - can be bitter. I recommend to use golden flaxseed if you don't appreciate the slight bitterness of brown flaxseed. Both have the same nutrition properties. Spices: use the spices you love like ground paprika, nutritional yeast, dried herbs. Spices are really recommended to add some flavor to the wrap as flaxseed could be very 'blend' in flavor. Ground/meal: it is important to use a ground that is thin as almond meal or it won't absorb all the water. If you bought ground flaxseed that is too thick - still can see pieces of flaxseed - process few minutes in a blender before use. Pan: use a non stick pan - ceramic are the best no need of oil. But if you are not using a non stick pan, spray some oil before adding the wrap into the pan. Freezing: Freeze them as regular wraps - make sure you wrap them flat, inside a zip plastic bag. Defrost 2-3 hour before or previous day. Slightly rewarm in a frying pan few sec - no oil. Or wrap the food you like in their and wrap in a sandwich press!  Net carbs per wraps (carbs take away fiber): 1.2 g
Nutrition
Serving:
1
large flaxseed wrap
|
Calories:
338
kcal
|
Carbohydrates:
18.5
g
|
Protein:
11.6
g
|
Fat:
26.6
g
|
Fiber:
17.3
g
|
Sugar:
1
g