Flaxseed Wraps (Keto, Vegan, Gluten-Free)
These flaxseed wraps are an easy 4-ingredient keto tortilla recipe with only 1.2 grams of net carbs.
You can finally eat a homemade wrap on your keto diet with this easy, healthy keto wrap recipe.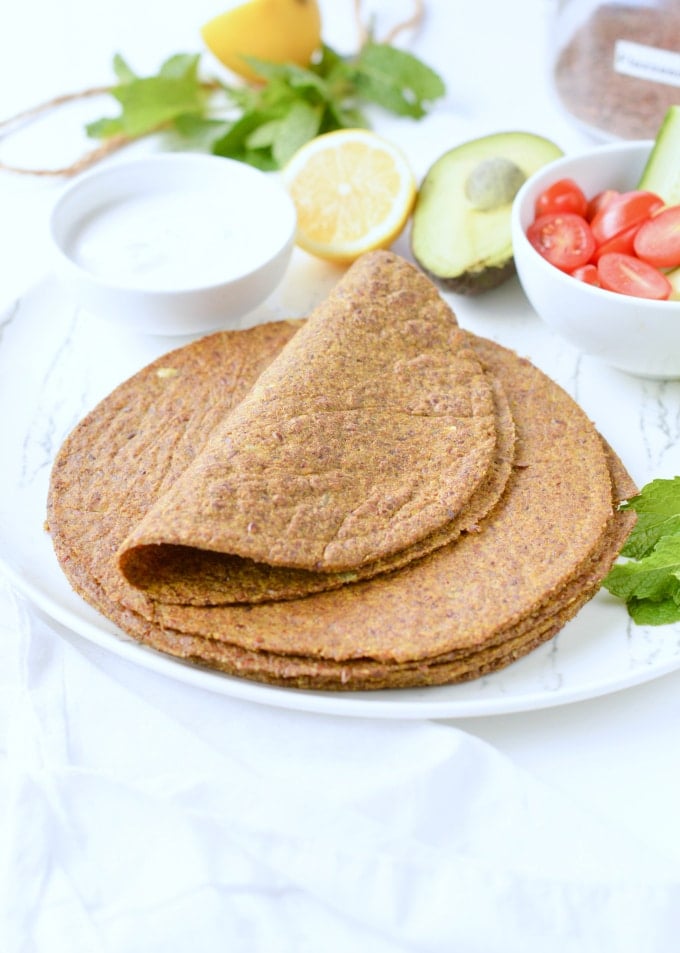 Bonus, the flaxseed wraps are vegan, gluten-free, and don't use eggs, dairy, or cheese.
Add superfood flaxseed to your keto diet now with this simple recipe and reach your fat macros easily and with taste! One of the best easy low-carb recipes for Mexican food lovers.
What Are Flaxseed Wraps?
You know how much I love healthy finger food especially wraps! I have a passion for creating keto wrap recipes.
This recipe is a keto version of my classic 2-ingredient tortillas or my flour tortilla recipe.
While I love my low-carb spinach taco shells, I won't make them anymore when hubby is home.
The tacos contain eggs and cheese, which are not compatible with his vegan diet.
That's why today I am sharing with you a totally new, almost no-carb wrap recipe that is also vegan.
But before sharing the recipe, let me answer a few questions that you're probably asking yourself.
Is Flaxseed Keto-Friendly? Is Flaxseed Low In Carbs?
Flaxseed is a great super-food to add to your keto diet plan. It contains 71% of fat from healthy omega-3 fatty acids, which is ideal for reaching your fat macros quickly.
Plus, it has only 3g net carbs per 100g, and 46% of the carbs in flaxseed are non-digestible fibers. If you are looking for a vegan and keto option, this is the one to eat.
Can you eat wraps on keto?
Yes, you can definitely have a good low-carb wrap on a keto diet if the wrap is made of low-carb flour.
The best keto wrap recipes are made of flaxseed, almond flour, or coconut flour. Typical keto wraps contain between 2g and 4g of net carbs per serve, which is within the acceptable range on a keto diet.
These flaxseed wraps are very low carb with only 1.2g of net carbs per wrap, so a big YES for all keto wrap lovers like me!
How Can I Use Flaxseed On A Keto Diet?
You can use raw flaxseed or ground flaxseed in many different recipes like keto wraps, flaxseed bread, and flaxseed crackers, or simply add some flaxseed powder to thicken a smoothie without adding sugar!
Find all my best flaxseed recipes.
What are the benefits of eating flaxseeds?
Flaxseeds or linseeds contain many beneficial nutrients for your health. The most important are:
Omega 3 fatty acids, also known as "the good fats," protect your heart, and they have been shown as beneficial nutrients to decrease triglycerides and lower blood pressure.
Lignans, flaxseed is the plant with the more lignans, an antioxidant found in the fiber part of flaxseeds. Lignans are also phytoestrogens, a plant nutrient that somehow could act like the female hormone estrogen. This is a very controversial topic, and scientists aren't sure how much lignans impact our hormones. While some studies seem to prove that it can help fight breast cancer, others demonstrated that phytoestrogens don't mimic estrogen at all and rather prevent the formation of blood tumors.
Fiber flaxseed contains 27g of fiber per 100g. Note that it is recommended to eat about 25g of fiber daily for women and 38g for men.
This said, let's have a little closer look at our flaxseed wrap recipe and its nutritional info.
Flaxseed wraps nutrition
One flaxseed wrap contains all your needs to reach your fat macros on a keto low-carb diet with 17.7 grams of fat per wrap, coming from healthy omega-3 fatty acids.
Bonus, it also covers 60% of your daily fiber intake with 11.6g of fiber per wrap, bringing those keto wraps to only 1.1g of net carbs.
A single wrap has as much as 11.6g of proteins to keep you full or refuel your muscle after a workout.
How To Make Flaxseed Wraps With 4 Ingredients
All you need to make those delicious flaxseed wraps are 4 basic ingredients.
Ingredients
Flaxseed meal – I make my own using flaxseed to blend into a fine meal. I love to make my own because the one from my store is too coarse. You need to use a flaxseed meal that looks like an almond meal, with no pieces of flaxseed left, or the recipe won't work either. Get your meal as fine as possible using your blender or buy a meal that doesn't contain unground seeds – large pieces won't absorb the same amount of water in the recipe, and the batter won't form a dough in the same way – it will remain way too sticky. Below is my flaxseed meal made in less than 1 minute in my simple blender.
Boiling water – Do not use cold water, or this recipe won't work. Make sure you remove the saucepan from the heat before adding the meal to make sure it doesn't stick to the saucepan. Then, be patient, and stir until the mixture forms a ball that doesn't stick to the pan and that you can hold in your hand. Then, roll the dough between pieces of parchment paper to prevent the dough from sticking to your benchtop or rolling pin.
Spices – I used a combo of spices with good anti-inflammatory properties: turmeric, ginger, garlic, and onion. But use what you like, of course!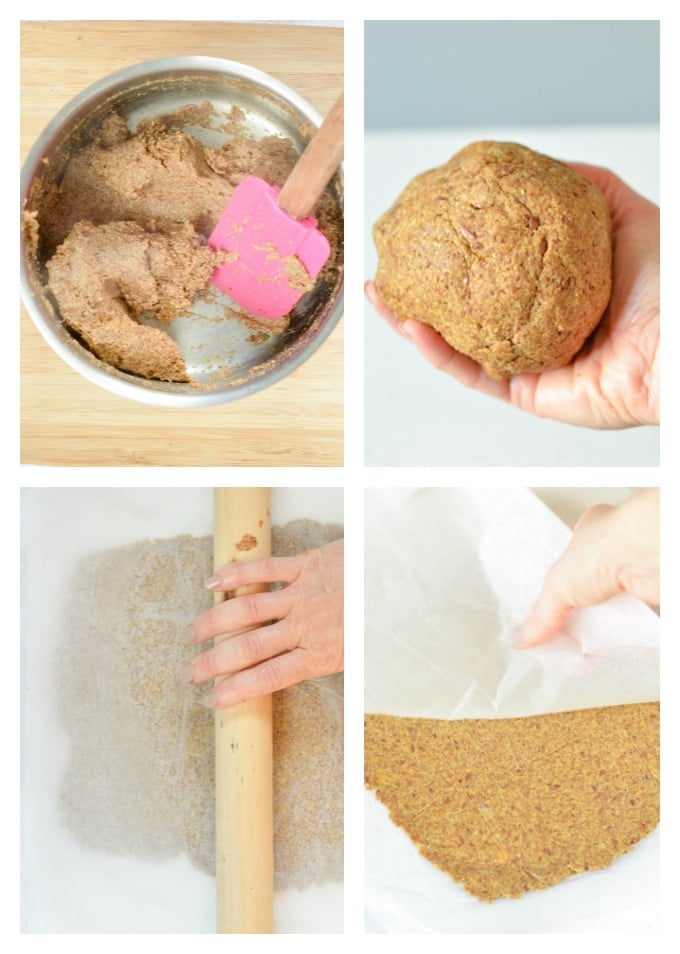 Making The Batter
When combined with boiling water, the fiber absorbs the water, gradually forming an elastic dough ball.
That elasticity from the dough will be critical to making perfect wraps that won't break when you start filling and folding them.
How to make round-shape wraps
I used a saucepan lid that I placed on top of my rolled dough to shape a lovely circle. It is optional, but it makes such a nice wrap to serve!
Reuse the leftover dough from the edge to make an extra wrap!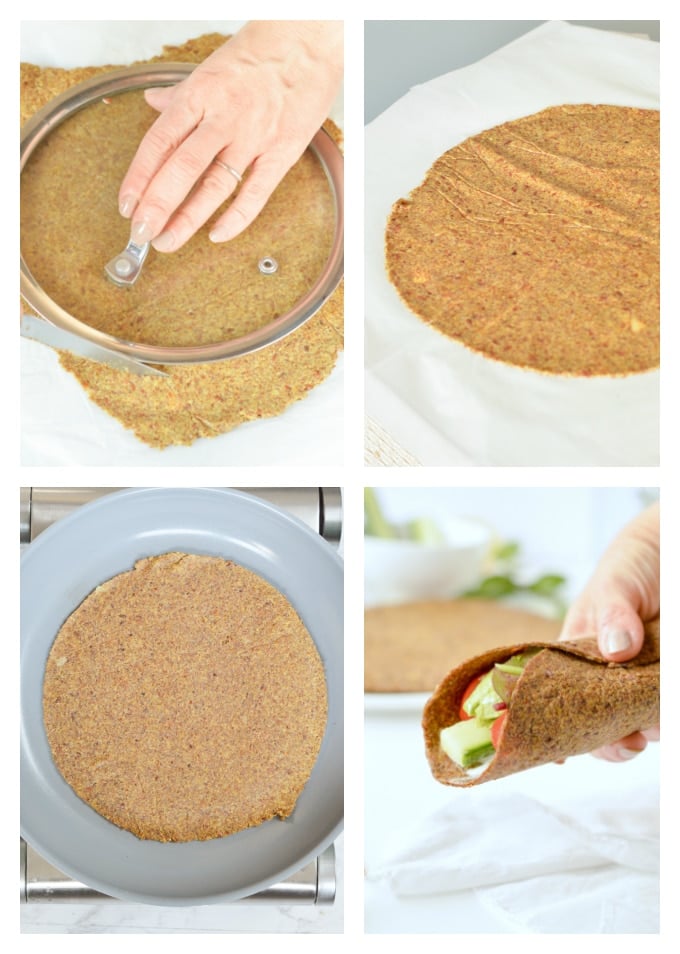 Flaxseed Wraps Fillings
Flaxseed wraps are bland in flavor, especially if you are using golden flaxseed – brown flaxseed is slightly bitter.
That's why I recommend adding my combo of spices in the batter to give these wraps an extra boost of flavor. Otherwise, the texture is soft, a bit grainy, and delicious.
Filling Options
Your filling will make all the difference. My favorite vegan, low-carb wrap fillings are the ones below, added in this order. I also add some homemade low-carb tortillas chips on the side.
a layer of dairy-free coconut yogurt
mint leaves
fresh lettuce blend
cucumber sticks, skin-on for extra fiber
cherry tomatoes
a drizzle of lemon juice
salt & pepper
many avocado slices – like half an avo per wrap!
Chili sauce or mustard
You can also use this recipe to make healthy Cheese Quesadillas.
Flaxseed Recipes For Breakfast
Flaxseed recipes are great for breakfast because of their high amount of plant-based protein and healthy fat that makes a fulfilling keto breakfast. My favorite flaxseed recipes for breakfast are: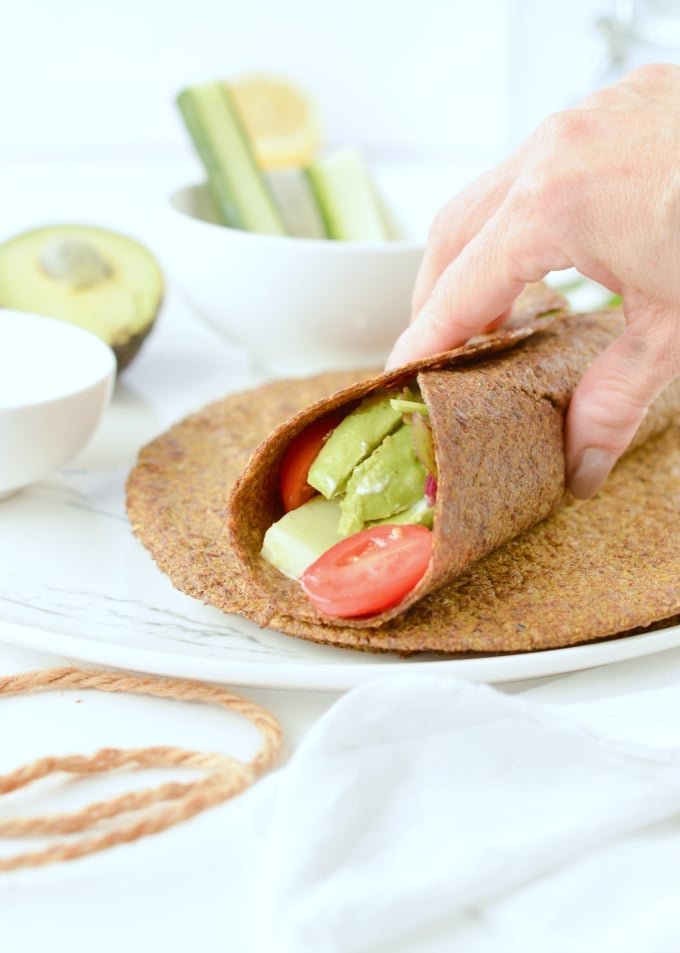 More Keto Tortilla Wrap Recipes
If you are looking for more low-carb tortilla wrap recipes, you can also try my other keto vegan wraps below.
They make delicious keto sandwich wraps for lunch.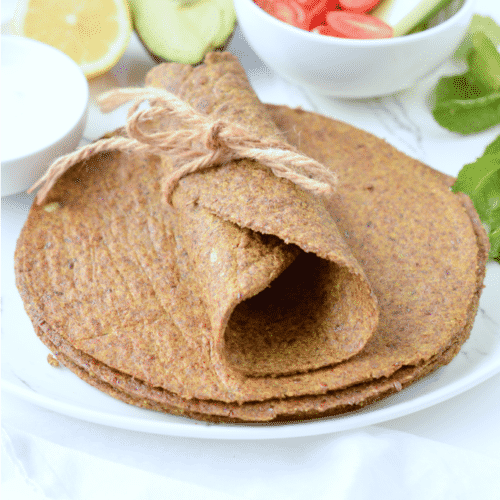 Flaxseed Wraps (Keto, Vegan)
Flaxseed Wraps are an almost no-carb, easy, keto wrap recipe made with 4 ingredients – 1.2g net carbs. 100% low-carb, gluten-free, and vegan. An easy protein wrap recipe to enjoy finger food while boosting your body with whole foods.
Serving Size:
1
large flaxseed wrap
Nutrition Snapshot
Want My Kitchen Equipment?
Ingredients
Spices – optional but delicious
Instructions
In a blender, add the flaxseed, blend at high speed until it forms a ground/meal. You can also use a flaxseed meal from the store but make sure the meal is as fine as almond meal, or it won't absorb all the water in the recipe, and it will get sticky.

In a small saucepan, bring the water to a boil.

Remove from the heat, stir in all the spices and add the flaxseed meal all at once.

Stir immediately with a wooden spoon until the meal absorbs all the water, dry out and form a dough ball. As you stir, the dough will form, it will gradually unstick from the saucepan forming a dough ball. It takes about 1-2 minutes max.

Remove the dough ball from the saucepan and transfer it onto a piece of parchment paper to prevent the dough from sticking to your benchtop. The dough should not be too sticky, or if it does become sticky, it means your meal wasn't fine enough, but that is ok. Just sprinkle some extra meal onto the ball.

Divide the ball into 4 dough balls of the same size. Place one of the dough balls onto a piece of parchment paper. Place another piece of parchment paper on top to prevent the dough from sticking to the rolling pin. Press the dough balls with your hands slightly to flatten and stick the top parchment paper piece to the ball.

Roll with a rolling pin until flat but not too thin, or it won't get soft when cooked. Aim for a 2-3mm thickness. Peel off the top piece of parchment paper.

Take a round shape – like a saucepan lid – place it on top of the dough, and cut around the edges to make a circle. Remove the left-over dough, form a ball, and reuse it later for another wrap if you like.

Remove the lid and flip over the prepared wrap onto a non-stick pan – I use a ceramic non-stick pan or tortilla press. Peel off the last piece of parchment paper and cook. If you are not using a non-stick pan, spray some oil before putting the wrap into the pan.

Warm under high-medium heat and cook for

1-2 minutes

or until the border gets dry – the center should be soft – and you can easily slip a spatula under the wrap to flip over.

Cook for about

1 extra minut

e on the other side. Don't overcook, or the wrap will get very crispy, like tortillas chips! It has to be dry but soft to roll.

Place the cooked wraps on a plate.

Repeat those steps with the rest of the batter until you form 4 wraps (or 5, if you use the leftover dough from the edges, you can make an extra one!). It depends on how thick you made your wraps. You can reuse the same piece of parchment paper many times!

Serve them cold with filling of your choice or hot – you can also rewarm them in a sandwich press with your favorite filling.

Store in the fridge for 3 days, on a plate covered with plastic wrap, to keep them moist.
Notes
Choosing flaxseed: golden flaxseed has a better taste than brown flaxseed. It can be bitter. I recommend using golden flaxseed if you don't appreciate the slight bitterness of brown flaxseed. Both have the same nutrition properties. Spices: use the spices you love, like ground paprika, nutritional yeast, and dried herbs. Spices are really recommended to add some flavor to the wrap, as flaxseed could be bland in flavor. Ground/meal: it is important to use finely ground meal, or it won't absorb all the water. If you bought ground flaxseed that is too thick – still can see pieces of flaxseed – process for a few minutes in a blender before use. Pan: use a non-stick pan – ceramics are the best, no need for oil. But if you are not using a non-stick pan, spray some oil before adding the wrap into the pan. Freezing: Freeze them as regular wraps – make sure you wrap them flat inside a ziplock plastic bag. Defrost 2-3 hours before, or do it the previous day. Slightly rewarm in a frying pan for a few seconds without oil. Or wrap the food you like in there and wrap in a sandwich press!
My Recipe Notes
Nutrition
Serving Size:
1
large flaxseed wrap
Serving:
1
large flaxseed wrap
Calories:
226.8
kcal
(11%)
Carbohydrates:
12.7
g
(4%)
Fiber:
11.6
g
(48%)
Net Carbs:
1.1
g
Protein:
7.8
g
(16%)
Fat:
17.7
g
(27%)
Saturated Fat:
1.5
g
(9%)
Polyunsaturated Fat:
12.1
g
Monounsaturated Fat:
3.2
g
Sodium:
306.5
mg
(13%)
Potassium:
353.6
mg
(10%)
Sugar:
0.8
g
(1%)
Vitamin A:
0.1
IU
Vitamin C:
0.5
mg
(1%)
Calcium:
110.4
mg
(11%)
Iron:
2.5
mg
(14%)
Magnesium:
166.2
mg
(42%)
Zinc:
1.8
mg
(12%)
Posted In: