How about some seriously easy low carb taco shells for your Friday ? Those spinach low carb taco shells are one of my best low carb bread recipe on the blog, scroll down and I tell you more.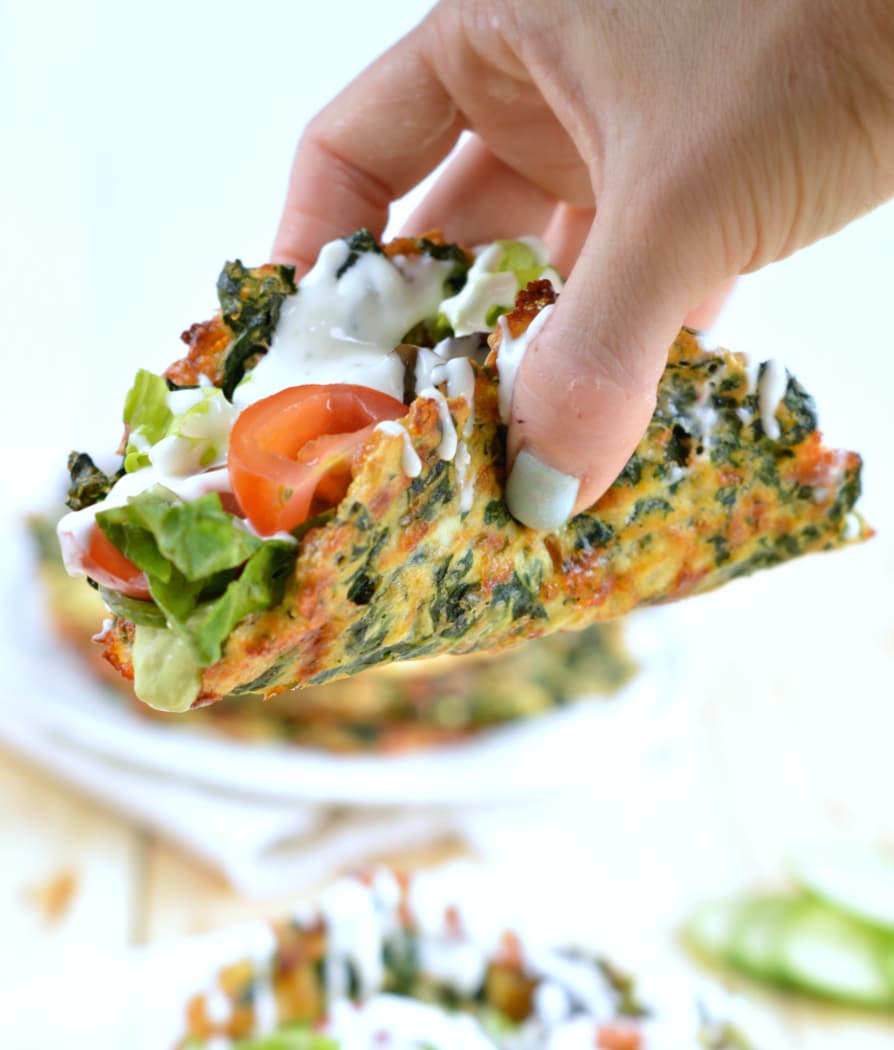 I know I already shared tons of healthy low carb recipes on this blog but I can't get enough of it. Blame the Auckland summer. The sun, beach and school holidays just makes me in the party mood! SO yes this Low Carb Taco Shells is surprisingly made of spinach! UGH! I know! Spinach again but you guys know my obsession with this vegetable! I can't spend a day without eating spinach. I seriously add spinach everywhere from my morning toast, to my smoothie -OH, and did you know that in 100g of spinach there is 46% of vitamin C bringing spinach as a top 1 sugar free substitute to orange juice in breakfast smoothies. Well, I have to find me good excuses to overeat spinach I guess lol SO let,s talk about the recipe now (scroll down! I will tell you my secret!)
Low Carb Taco Shells with Spinach
SO first I will reassure there is NO need to be a chef to make this recipe! It is basically a NO FAIL recipe. All you need is 5 ingredients and well drained cooked spinach. Yes, that is maybe the only tricky part of this recipe the spinach has to be super dry. It is actually very easy. Whatever you are using fresh or frozen spinach all you need to do is pressing the cooked spinach between absorbent paper until no more water left.
WATCH THE RECIPE VIDEO AND MAKE THE SPINACH TACO SHELLS NOW !
Honestly, the first time I tried this recipe I was not really sure it will hold together. BUT it actually did work pretty well! You can easily fill them fold them and add any sauce without a leak! It works perfectly like any soft taco recipe except this one is SUPER healthy. Plus, Emma – my 3 years old – absolutely love them SO if you are kiddo are picky eaters give it a try I am sure they will love it too. Personally, I filled my taco only with vegetables because it is summer and I am way TOO hot. So I added homemade guacamole – you can find my dairy free guacamole recipe here– shredded lettuce, tomatoes and cucumber slices and drizzle of cashew Aioli on top to add some creamy garlic taste. YEP! I also made the Aioli myself – you know  I am a crazy clean eating cook! For the Aioli I did not follow a special recipe. I simply used 1 cup of cashew nuts that I soaked in water for 3 hours. Blend the soaked cashew with salt, pepper and 1-2 gloves o garlic until creamy and smooth and add 2 tbsp. of tahini paste and 2 tbsp. coconut milk to the mixture to make the sauce a bit thicker.
But NOW you probably want to ask me if you can make-ahead this recipe! Absolutely! and you know what ? you can even eat those spinach taco cold. Usually this is how I organised myself. I simply prepare the batter few hours before dinner time, wrap my bowl with plastic wrap and store in the fridge. Then few hours before dinner, preheat oven to 200C (400F), arrange the taco batter on a baking tray covered with parchment paper and bake 15 minutes.You will get  4 soft low carb taco shells. If you bake them ahead, simply rewarm them 15 seconds in the microwave before filling them or eat them cold it is good too! I hope you enjoy this spinach taco recipe because it is probably my favorite recipe on the blog and maybe the most creative! And LOOK! I even made a quick video of me making those spinach soft taco recipe just to show you how EASY + TASTY+ HEALTHY this recipe is !!!
And you know I love to know you more so tell me, what is your veggie obsession? the one you CAN'T live without ??? 
Print Recipe
low carb taco shells
Soft Low carb spinach taco shells makes a delicious replacement to regular tacos.
Ingredients
4

oz

fresh spinach leaves

(100 g)

4

cups

boiling water

2

eggs

4

tablespoon

almond meal

or oat flour

1/2

cup

grated cheese

1/4

teaspoon

garlic powder

1/4

teaspoon

salt
Instructions
Preheat oven to 390 F (200 C).

Place the fresh spinach leaves into a large mixing bowl.

Cover the spinach leaves with 4 cups of boiling water. Cover. Set aside 2 minutes.

In another bowl add ice cubes, about 1 cup.

Using tongs remove the cooked spinach leaves from the mixing bowl and place them into the bowl filled with ice cubes. Stir the leaves into the ice cubes for few seconds to cool down.

Squeeze the spinach leaves with your hands to remove all the water. It will form a compact spinach 'ball.'

Pat dry the spinach between layers of absorbent paper to ensure that the cooked spinach are fully dry.

Finely chopped the cooked spinach on a chopping board.

Place them into a large mixing bowl and combine with grated cheese, eggs and almond meal, garlic powder and salt until it forms a sort of batter.

Scoop out the batter onto a baking tray covered with parchment paper. I recommend to spray some olive oil on the parchment paper too to avoid the shells to stick to the paper ! I used a mechanical ice cream scoop maker to scoop out the batter into 4 equal amount of taco shell batter.

Use your fingers to flatten each scoop of taco batter into a evenly flat thin circle that looks like a taco.

Bake at 390 F (200 C) for 15 minutes or until it is golden and crispy on sides. Depending on oven and thickness of your tacos you may have to reduce to 350 F (180C). Simply watch the color and texture while baking to avoid burning. It is baked when the border are crispy and slighty golden brown.

Cool down on a plate few minutes before eating.

Can be eaten lukewarm or cold with toppings of your choice.
Notes
Toppings ideas: lettuce, scramble eggs, tomatoes, avocado and sriracha sauce for a delicious breakfast or grilled vegetables, tofu, chicken. Any of your favorite taco fillings will be delicious in those shells/
Cheese: use any hard grated cheese like mozzarella, cheddar, emmental, edam or colby Freezing: freeze well in airtight container. Make sure the shells don't overlap or it make them difficult to defrost individually. Place a piece of parchment paper between each taco to avoid this problem. Defrost in less than 1 hour at room temperature. Rewarm in sandwich wrap or hot oven 1-2 minutes at 150 C (300f).
Nutrition
Serving:
1
shell
|
Calories:
75
kcal
|
Carbohydrates:
2.5
g
|
Protein:
4.8
g
|
Fat:
5.5
g
|
Fiber:
1.4
g
|
Sugar:
0.5
g
Nutrition panel is for one taco shell using almond flour. This recipe makes 4 taco shells.