How about some seriously easy cheese taco shells for your weekend? These low-carb taco shells are made with only 5 ingredients, 100% gluten-free, keto approved, and delicious! So scroll down, I will tell you more.
What are regular cheese taco shells?
Regular cheese taco shells are basically taco shells made with melted grated cheese. It's a one-ingredient keto recipe that's easy to make in a pan and makes a crispy taco shell.
While it's very easy to make a cheese taco shell, it's also bland in flavor.
Spinach taco shells, a flavorsome keto taco shells with vitamin C
Here I am introducing a new version of the keto taco shells you are used to eating: a spinach cheese taco shells recipe. You're probably wondering why adding spinach to cheese taco shells, right?
First, taste. I seriously love cheese taco shells, but I found them bland. Obviously, a taco shell made only with cheese can't have much flavor, and that's why spinach taco shells are tastier.
Secondly, vitamins. On a keto diet, you need your vitamin C, and while orange is a great source of vitamin C, it's also loaded with sugar. Check out our keto-friendly fruit list to figure out which fruit you can have on Keto!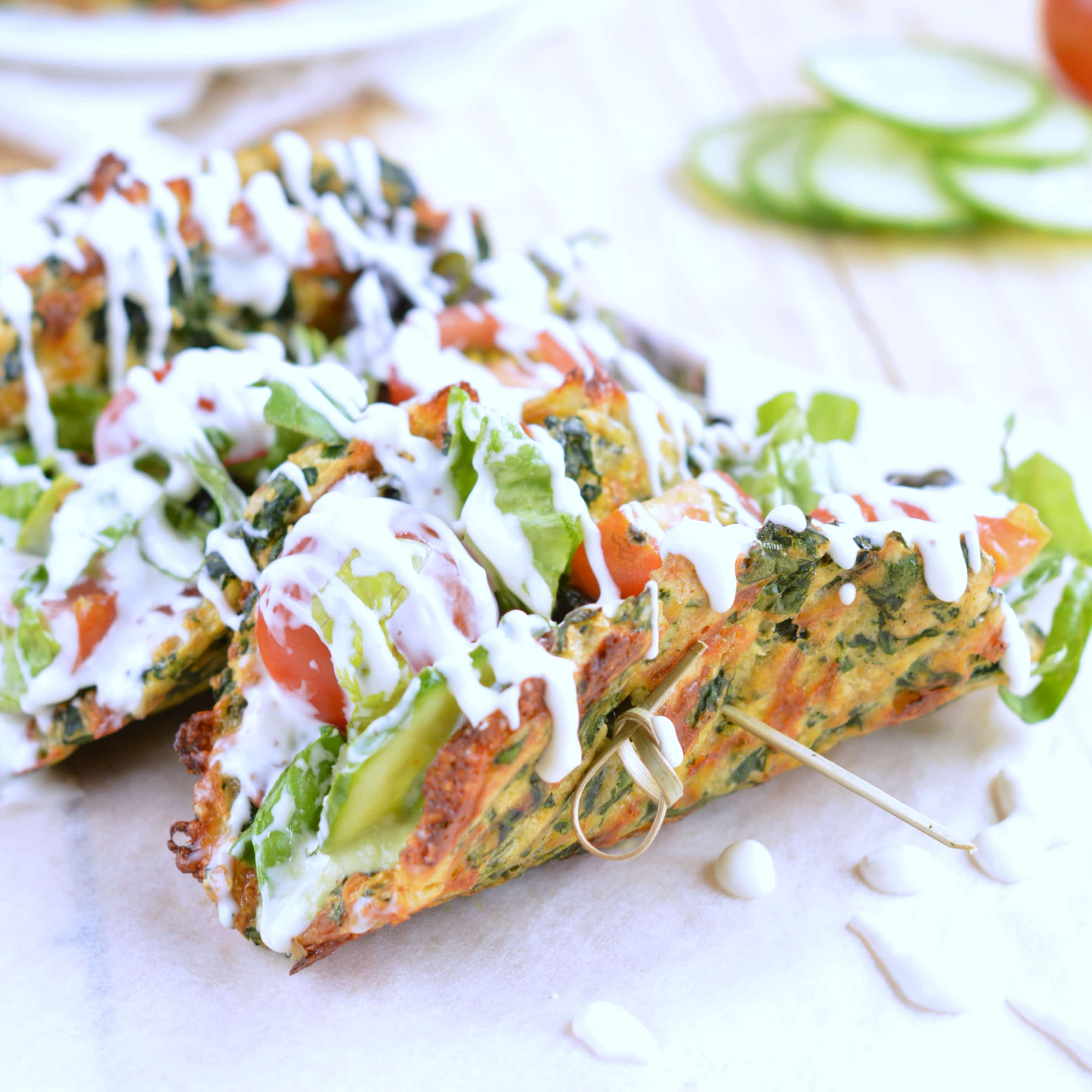 So, we call spinach to the rescue! Indeed, 100 grams of spinach brings you 46% of your DRI of vitamin C, meaning it's the top sugar-free breakfast food to start the day with energy.
ⓧ
Are you new to Keto?
Receive my Keto Quick Start email series to learn all about the Keto diet and kick start your keto journey!
Finally, spinach is one of the lowest carb vegetables, with only 3 grams of net carbs per 100g of cooked spinach. So it's the best way to add greens to your plate on a low-carb keto diet.
Easy 5-ingredient recipe
Apart from their amazing flavor and nutrient values, these Spinach Taco Shells are pretty easy to make. Bonus, you probably have all the basic 4 ingredients needed to make them now.
Let's look closer at the basic keto ingredients needed to make this healthy taco shell recipe.
Eggs – you must use eggs in this recipe. Don't try an egg substitute, or it wouldn't work.
Almond flour or almond meal – both work well. Or sunflower seed flour for a nut-free keto alternative.
Grated cheese – feel free to use any hard grated cheese you like to vary the flavor: mozzarella, Parmesan, cheddar, or smoked cheese.
Spinach – fresh or frozen, both work as long as you cook, drain and chop the spinach before using it in the recipe.
Garlic salt or any other dry spices like cumin, paprika, chili, or turmeric.
Healthy taco shells – baked recipe
Whether you eat keto, low-carb, or just want a healthy recipe for your Mexican night. These spinach taco shells are perfect!
They contain a lot of omega 3, vitamins C, protein, and only 1.1-gram net carbs per shell. Plus, these keto taco shells are baked, meaning you don't need to fry the cheese!
Keto taco shell filling ideas
You can use these low-carb taco shells for breakfast or dinner. Below are some filling ideas:
Breakfast taco – scrambled eggs, avocado, tomatoes.
Greek souvlaki – grilled chicken, tzatziki sauce, and cucumber stick.
Mexican taco – chicken or beef fajita, sour cream, guacamole, and cheddar.
Vegetarian taco – lettuce, tomatoes, avocado, cucumber, and aioli.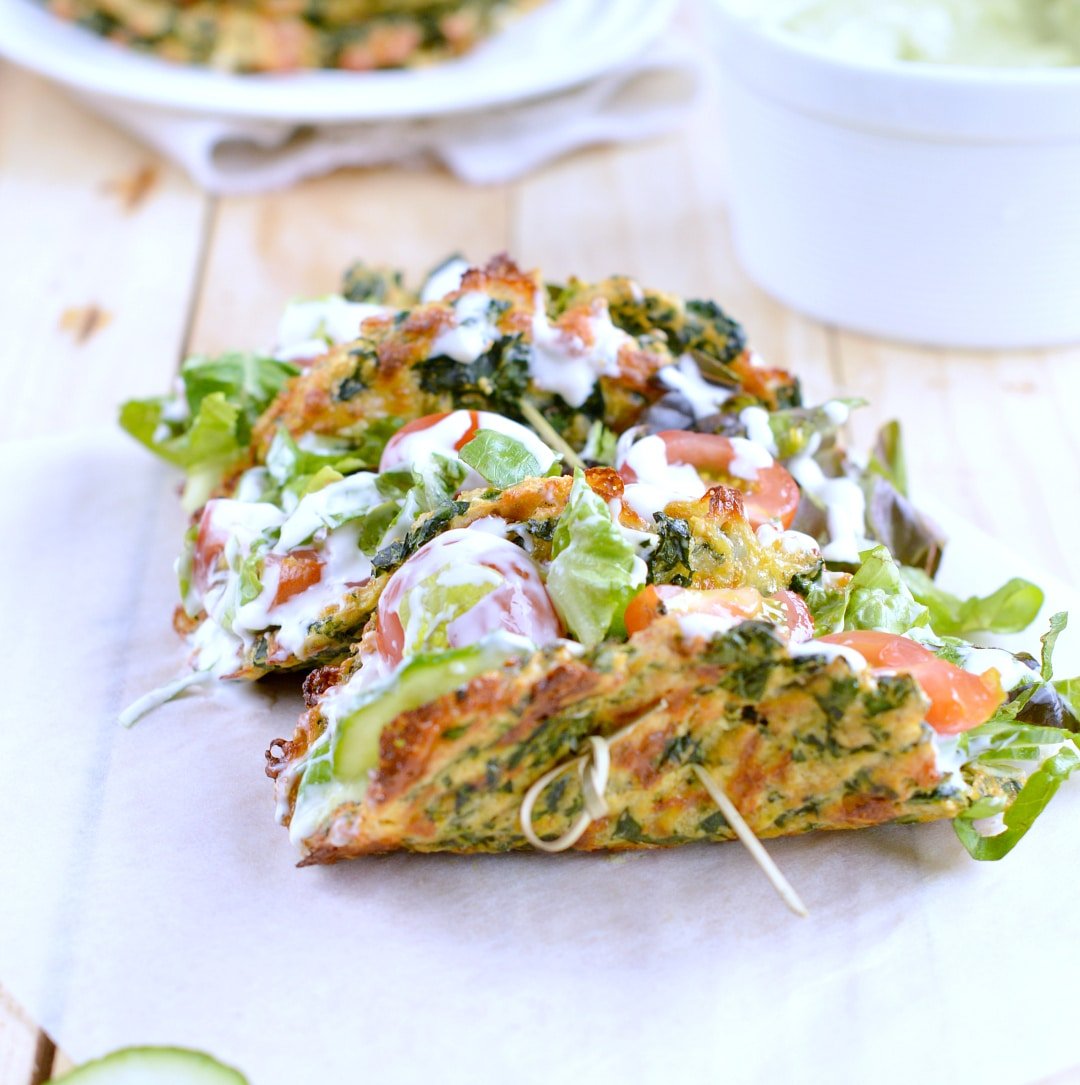 And you know I love to know you more, so tell me, what is your filling for these low-carb taco shells?
xoxo Carine
Recipe Card
Low-carb Taco Shells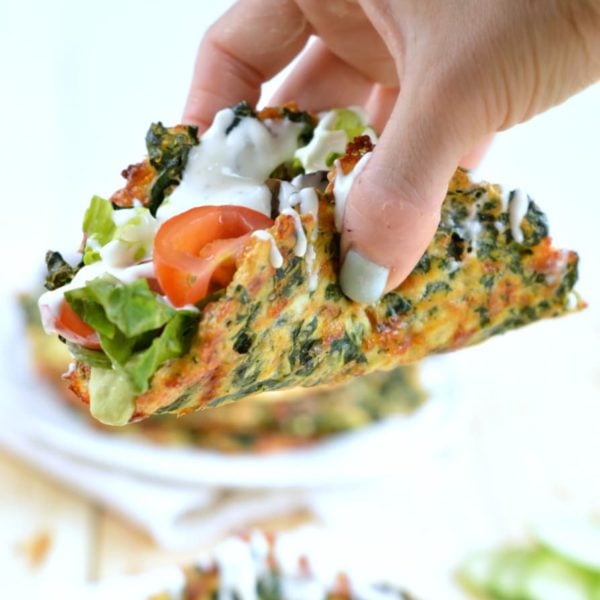 Soft Low-carb spinach taco shells makes a delicious replacement to regular tacos.
Ingredients
4

oz

Fresh Spinach Leaves

(100 g)

4

cups

Boiling Water

2

Eggs

4

tablespoons

Almond Flour

or oat flour

½

cup

Grated Cheese

¼

teaspoon

Garlic Powder

- optional

¼

teaspoon

salt

- optional
Instructions
Preheat oven to 390°F (200°C).

Place the fresh spinach leaves into a  large mixing bowl.

Cover the spinach leaves with 4 cups of boiling water. Cover. Set aside 2 minutes.

In another bowl add ice cubes, about 1 cup.

Using tongs remove the cooked spinach leaves from the mixing bowl and place them into the bowl filled with ice cubes. Stir the leaves into the ice cubes for few seconds to cool down.

Squeeze the spinach leaves with your hands to remove all the water. It will form a compact spinach 'ball.'

Pat dry the spinach between layers of absorbent paper to ensure that the cooked spinach is fully dry.

Finely chop the cooked spinach on a chopping board.

Place them into a large mixing bowl and combine with grated cheese, eggs, and almond meal, garlic powder, and salt until it forms a sort of batter.

Scoop out the batter onto a baking tray covered with parchment paper. I recommend spraying some olive oil on the parchment paper to prevent the shells from sticking to the paper! I used a mechanical ice cream scoop maker to scoop out the batter into 4 equal amounts of taco shell batter. 

Use your fingers to flatten each scoop of taco batter into an evenly flat thin circle that looks like a taco. 

Bake at 390°F (200°C) for 15 minutes or until it is golden and crispy on the sides. Depending on the oven and thickness of your tacos, you may have to reduce to 350°F (180°C). Simply watch the color and texture while baking to avoid burning. It is baked when the borders are crispy and slightly golden brown.

Cool down on a plate for a few minutes before eating.

Can be eaten lukewarm or cold with toppings of your choice.
Toppings ideas: lettuce, scramble eggs, tomatoes, avocado and sriracha sauce for a delicious breakfast or grilled vegetables, tofu, chicken. Any of your favorite taco fillings will be delicious in those shells/
Cheese: use any hard grated cheese like mozzarella, cheddar, emmental, edam or colby Freezing: freeze well in airtight container. Make sure the shells don't overlap or it make them difficult to defrost individually. Place a piece of parchment paper between each taco to avoid this problem. Defrost in less than 1 hour at room temperature. Rewarm in sandwich wrap or hot oven 1-2 minutes at 150 C (300f).
My Recipe Notes
Tools
Starting Keto
What Is Keto Diet?
Macro Calculator
Sweetener Converter
Keto Meal Plans
Keto Recipe Ebooks
Intermittent Fasting
Keto Fruits
Keto Vegetables
Keto FLours
Fighting Keto Flu
Keto Sweeteners
Nutrition Facts
Low-carb Taco Shells
Amount Per Serving (1 shell)
Calories 75
Calories from Fat 50
% Daily Value*
Fat 5.5g8%
Carbohydrates 2.5g1%
Protein 4.8g10%
Net Carbs 1.1g
* Percent Daily Values are based on a 2000 calorie diet.