These Taco Stuffed Avocados are the easiest keto tacos to fix a Mexican food craving in only 20 minutes.
Plus, this recipe has only 2.6 grams of net carbs per serving and uses avocados as taco shells, so you don't have to bake your own!
You will love the juicy, spicy Mexican chicken filling topped with sour cream, cheddar, cilantro, and jalapenos. Keep reading to learn more about this easy keto Mexican recipe.
What Are Keto Taco Stuffed Avocados?
Swap the carb-loaded taco shells for healthy fat from the avocado! Yes, taco-stuffed avocados are your Mexican tacos served in an avocado shell.
It means that you won't have to bake your own keto taco shells, simply prepare your Mexican chicken filling and fill your ripe avocados with it to enjoy all the delicious flavors of Mexican food without the carbs.
How To Make Stuffed Avocado
Before telling you more about how to prepare an avocado for a stuffed avocado recipe, let's answer this common question. Are avocados keto-friendly?
Yes, avocado is a keto-approved vegetable particularly high in healthy fat and containing only 2 grams of net carbs per 100 grams.
Apart from that, avocados contain a good amount of nutrients and minerals, essentials for a keto lifestyle to meet your nutrient needs and keep your skin and hair glowing!
So you will love avocados on keto! They keep you healthy and beautiful too.
Ripe avocados
First, choose the right avocado. It means a slightly firm avocado that resists the pressure of your thumb. It should be slightly soft on the surface but not mushy.
Another way to check if the avocado is ripe is to remove the little stem on top of it. In fact, a ripe avocado has a green color under the stem.
If it's darker, the avocado is overripe, and it won't work for this stuffed avocado recipe.
Cut and pit the avocado
Next, you must cut the avocado lengthwise to create a taco or boat-like shape. For this, use a sharp knife and cut along the length to form two even avocado 'taco shells'.
Next, you need to pit the seed from the avocado.
The safest way to pit the seed from an avocado is to place the avocado on a flat chopping board, then gently tap the blade of a knife onto the seed to anchor the blade into it.
Then, hold the avocado in one hand, holding the knife handle in the other hand, and twist clockwise to pit the seed gently without damaging the flesh.
The seed will be attached to the blade. To release the seed from the blade, scrape the blade onto the side of the kitchen bin.
This saves using your hands and cutting yourself as the seed can be strongly attached to the blade.
Scoop some avocado flesh
You must remove some of the avocado flesh to make some space for the taco meat. Always use a spoon and work from 0.5 cm (0.2 inches) from the border.
Be careful not to dig too deep as you don't want to reach the avocado skin. In fact, what you want is to keep a nice thick layer of avocado flesh all around the shell.
Also, make sure you keep the scooped flesh in a separate bowl to mash with lemon juice and salt and make an avocado dip that you will spread on top of your stuffed avocados in the next step.
Serving Suggestions
Avocados oxidize, meaning they brown really fast. That is why it's recommended to fill only the amount of stuffed avocado you intend to serve straight away.
One serving is half an avocado and carries about 60 grams of cooked Mexican chicken. If you want to store leftovers, store the meat in an airtight container separately from the avocado.
Storage
Store leftovers of ripe, unopened avocado at room temperature.
However, if you have avocado halves opened and you want to keep them fresh, brush them with lemon juice and place them in a sealed box in the fridge for up to 24 hours.
The next day, rewarm the meat in a frying pan under medium heat or in a microwave-safe bowl. Open one ripe avocado or reuse the leftover halves from the fridge to serve a stuffed avocado.
Preparing The Taco Meat
This Mexican chicken stuffed avocado recipe uses minced chicken as meat. However, if you love beef, go for it!
The recipe will work the same, and the carbs will stay the same. Other options are minced pork, turkey, or minced mushrooms for a keto vegetarian twist.
Homemade taco seasoning mix
The key to making delicious taco meat is to use chicken taco seasoning mix recipe. In fact, most store-bought seasonings are loaded with cornstarch, cornflour, and sugar that will add carbs to your plate.
Read my full post on how to make homemade chicken taco seasoning for meat. It is the easiest 5-minute recipe, and it will store for at least 6 months in your pantry.
Use a healthy oil that resists high temperatures like sunflower seed oil or avocado oil, or coconut oil. These oils are keto-approved and will keep their nutritional properties to fry meat at high temperatures.
Serving Mexican Chicken Stuffed Avocados
These Stuffed Avocados can be served with many things! One suggestion is my Cauliflower Rice to add some low-carb Mexican flavors.
Serve the avocado cold, unbaked with hot meat
I know it is tempting to bake these avocados to melt the cheese but don't do so if you are not familiar with baked avocado.
Some people don't appreciate the flavor and mushy texture of baked avocado so I rather recommend serving the avocado cold with hot meat and cold cheese.
In fact, the combo of fresh ripe avocado, cheese, sour cream, and juicy hot meat is absolutely amazing on its own and a perfect fresh keto summer dinner.
A great change to the classic keto taco salad!
Avocado Toppings
First, add the hot juicy meat into the avocado shell. Next, add the fresh creamy toppings.
My favorites are a dollop of sour cream and homemade avocado puree that I make with the leftover flesh from the avocado shells.
Finally, add a liberal amount of grated cheddar and some zing with jalapeno slices and fresh cilantro. Other ideas are chopped tomatoes and red onions.
While both are higher in carbs, adding 1 teaspoon of each per serving will add a burst of flavor without compromising much on carbs, less than 0.5g added per serving!
Serve a self-service table
Since you can't store stuffed avocado leftovers very well it is better to serve all the toppings on the table and let everyone stuff their own avocado just before eating.
More Mexican Food Recipes
Check out my other keto Mexican food recipes on the blog to add to this delicious recipe.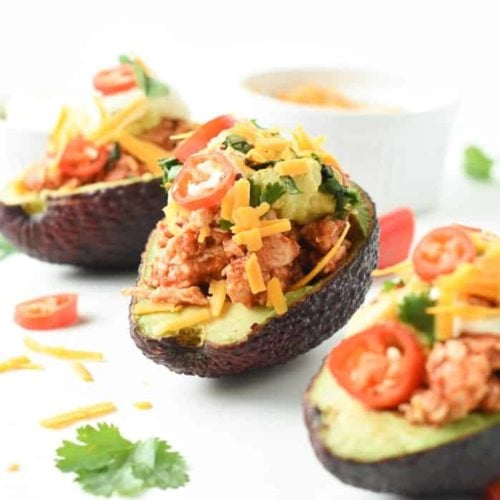 Taco Stuffed Avocados
A delicious keto Mexican food recipe to use ripe avocado.
Yield:
servings (1/2 avocado per serving)
Ingredients
2

ripe

Avocado

(size 210 g each, 7.4 oz each)
Mashed avocado
½

teaspoon

Salt

1

tablespoon

Lemon Juice
To serve
1

tablespoon

Sour Cream

or greek yogurt if low carb

2

tablespoons

Mashed Avocado

¼

cup

Grated Cheddar

½

tablespoon

Fresh Cilantro

few

slice

Jalapenos
This recipe may contain Amazon or other affiliate links. As an Amazon Associate I earn from qualifying purchases.
Instructions
In a large frying pan, warm olive oil under medium heat.

Add ground chicken and fry halfway, then add your homemade taco seasoning mix and salt.

Stir and fry until meat is cooked.

Stir in tomato passata, reduce to low heat, cover and simmer for 2 minutes until the sauce thickens and forms bubbles.

Meanwhile, prepare the avocados.

Halve the avocado lengthwise and remove the pit – watch my recipe video for tips on how to do this safely. Spoon out some of the avocado flesh, don't go too deep, as you want to keep 0.5 cm (0.2 inches) of avocado flesh all around the shell.

Place the avocado flesh you removed into a medium-size bowl. Add lemon juice, salt, and mash to form an avocado puree.

Remove the meat from heat and arrange the table with all the taco fillings on the table: cooked meat, sour cream, jalapeno slices, cheddar, cilantro, mashed avocado.

Fill each avocado shell as you go (don't make ahead!). Fill one shell with 60g/2 oz cooked meat.

Top up each avocado with a dollop of sour cream, mashed avocado, grated cheddar, jalapeno slices, and fresh cilantro.

Eat with a fork straight into the shell, combining the meat, toppings, and flesh from the side of the avocado shell.
Storage
Store leftover meat in the fridge in an airtight container for up to 3 days. Rewarm before serving in the microwave or frying pan.

Open the avocado just before serving. Store ripe, unopened avocado at room temperature. Store opened avocado in the fridge for 24 hours, brush the flesh with lemon juice, and place them in an airtight container.
Want My Kitchen Equipment?
Yield:
servings (1/2 avocado per serving)
Serving:
1
avocado
Calories:
295.3
kcal
(15%)
Carbohydrates:
9.6
g
(3%)
Fiber:
7
g
(29%)
Net Carbs:
2.6
g
Protein:
13.9
g
(28%)
Fat:
24
g
(37%)
Saturated Fat:
5.5
g
(34%)
Cholesterol:
57.7
mg
(19%)
Sodium:
167.6
mg
(7%)
Potassium:
834.1
mg
(24%)
Sugar:
1.4
g
(2%)
Vitamin A:
302.5
IU
(6%)
Vitamin C:
11.1
mg
(13%)
Calcium:
69.7
mg
(7%)
Iron:
1.2
mg
(7%)
Posted In: