These Keto Pumpkin Brownies are vegan, paleo brownies with a thick, fudgy, gooey texture.
A healthy pumpkin brownie recipe that you won't believe is good for you! These pumpkin brownies are flourless, vegan, gluten-free, and sugar-free, so keep reading to learn more!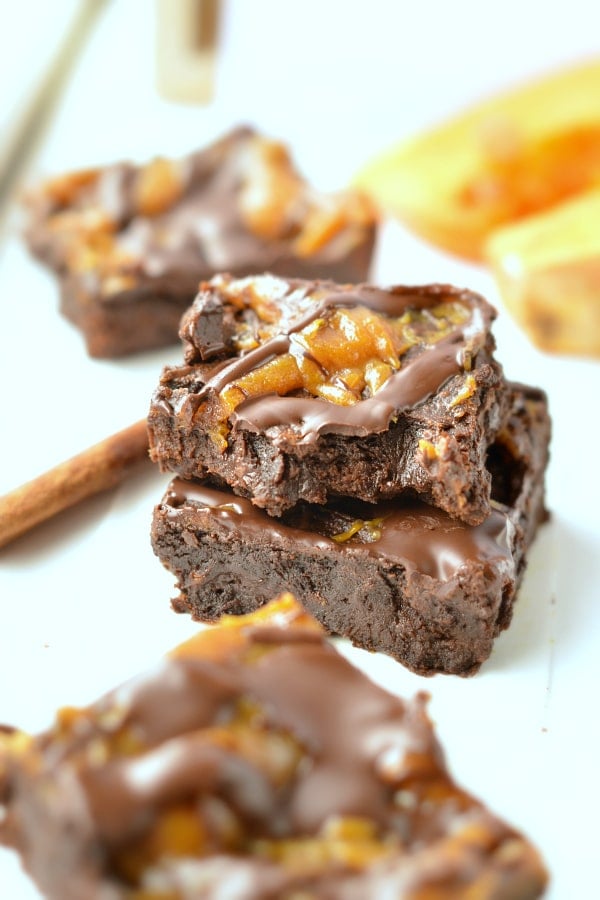 Why You'll Love These Brownies
What I love the most about this recipe? There is no flour and no eggs.
Pumpkin puree is magic. It binds all the others ingredients together perfectly well to create the most delicious fudgy healthy pumpkin brownies.
No refined sugar, no flour, and only natural ingredients full of protein and fiber.
How To Make Keto Pumpkin Brownies
If you are craving pumpkin spice flavor, these Keto Pumpkin Brownies are here for you!
Gooey, fudgy paleo pumpkin brownies made with only 6 ingredients, a food processor, and a single bowl!
Ingredients
Almond butter – I recommend you choose creamy, smooth almond butter for a fudgier texture. You can also make the recipe with peanut butter or cashew butter. Make sure those have NO sugar added and NO added oil!
Pumpkin puree – I am using 100% natural canned pumpkin puree. There is nothing else in the can, no added stuff. I don't recommend homemade pumpkin puree for this recipe, as homemade puree can sometimes be more liquid, especially if the pumpkin has been boiled. Pumpkin is a good keto-friendly vegetable with a good amount of gut-friendly fibers. Learn how to make your own pumpkin puree.
Sugar-free flavored maple syrup – I am using Monk fruit syrup in this recipe. It is sugar-free, low-carb, keto-friendly, and 100% natural! If you don't watch the carbs, any regular liquid sweetener can be used like maple syrup, agave, or brown rice syrup. To learn more about sweeteners or to convert them, try my sweetener converter.
Unsweetened cocoa powder
Vanilla essence
Pumpkin pie spices – this is not optional. This is delicious and brings all the extra flavor to your keto pumpkin brownies.
Making The Batter
Combine the batter ingredients in a food processor: pumpkin puree, almond butter, sugar-free maple syrup, pumpkin spices, and vanilla.
Blend the pumpkin brownie batter for 30 seconds until it's smooth and consistent.
Add the unsweetened cocoa powder and blend again for 30 seconds until it's sticky and shiny.
Incorporate the chocolate chips using a silicone spatula or a wooden spoon to avoid breaking the chips.
Transfer the brownie batter to a square baking pan lined with lightly oiled parchment paper.
Baking The Brownies
Bake the pumpkin brownies at 350°F (180°C) for 20 to 25 minutes until the edges start to crisp.
Remove the brownies from the oven and let them cool down for 15 minutes in the pan to finish cooking the bottom of the batter.
Then take them out of the pan and let them cool down for another 15 minutes on a cooling rack.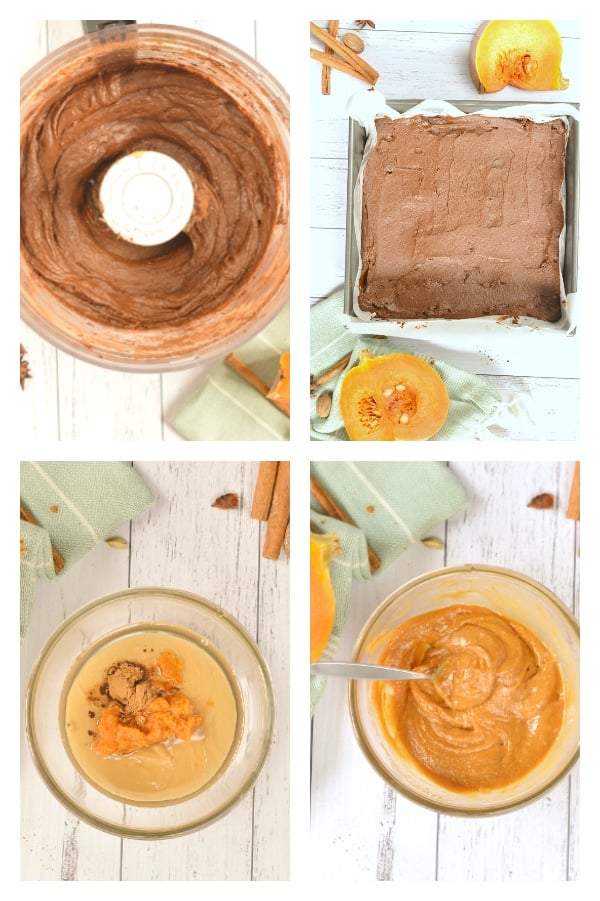 Pumpkin Glazing
This is optional but so good! I created a simple pumpkin glaze to drizzle on the brownie to add an extra boost of pumpkin flavor.
All you have to do to create this is to combine:
Pumpkin puree
Nut butter – use creamy almond butter or peanut butter (not paleo but low carb!) or cashew butter.
Melted coconut oil – refined coconut oil has no coconut flavor.
Pumpkin pie spices
Stevia drops – optional.
Allergy Swaps
You can substitute the following ingredients if you have any allergies.
Almond-free: replace the almond butter with sunflower seed butter or tahini.
Coconut-free: replace the coconut oil with melted butter.
Storage Instructions
You can store the pumpkin brownies for up to 4 days in the fridge using a cake box to prevent the brownies from drying.
You can also store them at room temperature for up to 2 days – keep them in the pantry.
These Keto Pumpkin Brownies can be frozen in zip-lock bags. Reheat them in the oven for 10 minutes or in the air fryer.
More Keto Pumpkin Desserts
If you like keto desserts made with pumpkin, you'll love these!
I love to create keto brownie recipes. If you loved this one, share a comment or review below.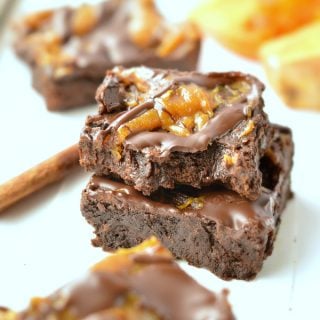 Keto Pumpkin Brownies
Keto Pumpkin Brownies are healthy, vegan, flourless homemade brownies, 100% Keto-friendly.
Nutrition Snapshot
Want My Kitchen Equipment?
Instructions
Preheat oven to 350°F (180°C).

Line a square brownie pan with parchment paper. Set aside.

In a food processor, using the S blade attachment, add the pumpkin puree, almond butter, sugar-free maple-flavored syrup, pumpkin spices, and vanilla.

Blend on high speed for 30 seconds or until it forms a consistent batter with a lovely orange color.

Add unsweetened cocoa powder and blend again for 30 seconds until it forms a thick, sticky, and shiny brownie batter.

Stir in the chocolate chips using a spatula or the pulse mode of your food processor.

Transfer the brownie batter into the prepared brownie pan and spread evenly using a silicone spatula. The batter is sticky, and that is what you want.

Sprinkle extra sugar-free chocolate chips on top. Lightly press them into the batter using the spatula.

Bake for 20-25 minutes or until the top and edges are set.

Remove from the oven, let cool down 15 minutes into the brownie pan.

Transfer onto a cooling rack. Meanwhile, prepare the pumpkin glaze.
Pumpkin glaze
In a medium mixing bowl, add nut butter, melted coconut oil, pumpkin spices, pumpkin puree, and pumpkin stevia drops.

Combine with a spoon until it forms creamy glazing.

Drizzle on top of the cool brownie until no more is left. The glazing won't harden it will stay moist and soft.
Chocolate drizzle – optional
In a microwave-safe bowl, melt the sugar-free chocolate chips with melted coconut oil. Microwave by 30-second bursts, stir and repeat until fully melted. Drizzle on top of the pumpkin glazing.

You can freeze the brownies for 10 minutes to set the chocolate drizzle and add an extra fudgy texture.

Store the brownie for up to 4 days in the fridge using a cake box to prevent the brownie from drying. You can also store it at room temperature for up to 2 days.

Keto Pumpkin Brownies can be frozen in ziplock bags.
Notes
Almond butter: it is very important to use fresh, smooth nut butter to prevent the brownie batter from drying. This recipe works with any nut butter with NO added oil, NO added sugar. Use pure nut butter for success. Nut allergy: you can use sunflower butter or tahini in this recipe.
My Recipe Notes
Nutrition
Serving:
1
slice
Calories:
154.5
kcal
(8%)
Carbohydrates:
8.4
g
(3%)
Fiber:
4.4
g
(18%)
Net Carbs:
4
g
Protein:
5.6
g
(11%)
Fat:
13.3
g
(20%)
Saturated Fat:
2.2
g
(14%)
Sodium:
3.4
mg
Potassium:
269.3
mg
(8%)
Sugar:
1.6
g
(2%)
Vitamin A:
2529
IU
(51%)
Vitamin C:
0.6
mg
(1%)
Calcium:
83.2
mg
(8%)
Iron:
1.7
mg
(9%)
Posted In: