These easy keto pumpkin pancakes are the most delicious keto fall breakfast with a moist, slightly sweet texture and only 1.8 grams of net carbs!
Bonus, they are gluten-free pumpkin pancakes made with keto flours, so keep reading to learn more!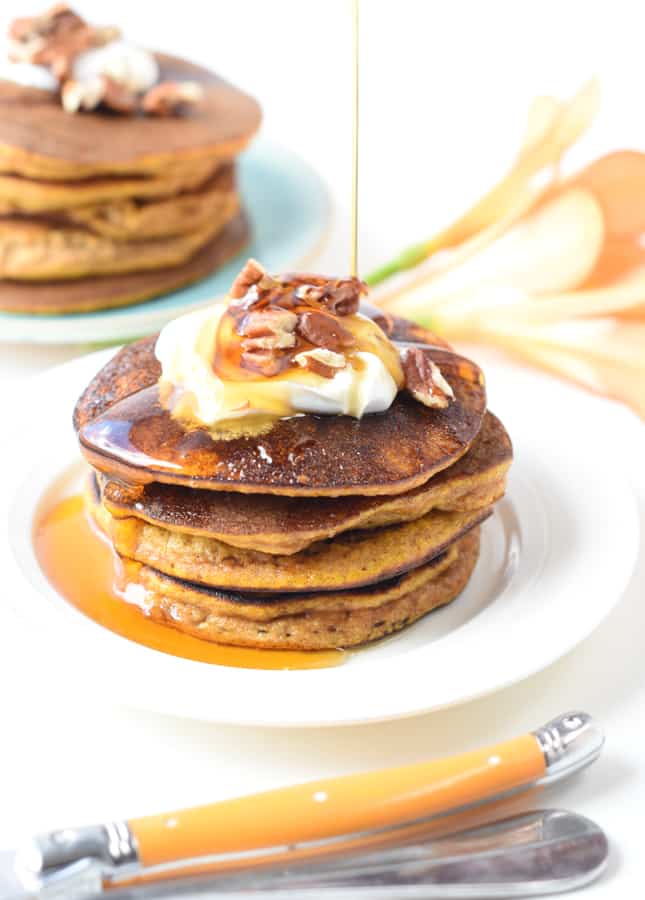 Is Pumpkin Keto?
Yes, pumpkin is a keto-friendly vegetable which means you can enjoy pumpkin spice keto pancakes on your keto journey.
In fact, pumpkin contains only 4 grams of net carbs per 100 grams, which is less than green beans or eggplant!
So it's a great Fall keto vegetable to add to your plate and turn classic pancakes into healthy ones!
How To Make Keto Pumpkin Pancakes
The best keto pumpkin pancake recipe is not only a pancake that tastes good with few carbs. You also what your keto pancake recipe to be:
Easy to flip – The pancake won't fall apart in your pancake griddle.
Egg-free flavor – nobody likes eggy flavor in their pancakes. But this keto pumpkin pancake recipe often calls for a large number of eggs. This is because pumpkin puree adds a lot of moisture to the pancake batter. So eggs hold the batter together, avoiding the addition of high carbs flour.
Full of fall flavors.
Making The Batter
So the trick to achieving all of the above and especially making keto low-carb pumpkin pancakes without an eggy flavor is to use a combination of keto flour!
We won't be making a keto pumpkin pancake with almond flour only!
No, here you are going to combine almond flour and coconut flour. Almond flour provides a fluffy texture, and coconut flour adds lots of fiber that suck up the pumpkin puree moisture.
It means that the light addition of coconut flour in this recipe avoids adding too many eggs and also makes the pancakes easier to flip.
Ingredients
Eggs – use large eggs at room temperature.
Pumpkin puree – I am using canned pumpkin puree for this recipe. It has no additives, only 100% organic pumpkin puree. Note that this is not the same as pumpkin pie filling which is full of added sugar. Learn how to make your own pumpkin puree.
Almond flour
Coconut flour
Vanilla extract
Baking powder
Pumpkin pie spices
Erythritol – read my review of keto-friendly sweeteners to see my 4 favorite sweeteners.
Making the Keto Pancake batter
First, in a large bowl, whisk eggs with pumpkin puree, vanilla, and sweetener.
Then, whisk in almond flour, coconut flour, baking powder, and spices. Finally, set aside the batter on the benchtop for 10 minutes.
This waiting time gives time to the fiber in the pancake batter to absorb liquid.
Cooking The Pancakes
This is the most crucial part of this recipe: cooking and flipping keto pancakes can be tricky!
Even more, when it comes to pumpkin pancakes that contain more moisture than other keto pancake recipes, do these are my tips for an easy-to-flip pancake.
Heat a non-stick pancake griddle or pan over medium heat.
Wait for at least 1 minute before adding the pancake batter. You want the entire pan surface to be hot, not only the center.
Spray coconut oil or avocado oil all over the pan.
Pouring The Batter
Don't add a large amount of oil or butter to the pan. You don't want to fry your pancakes.
Also, these keto low-carb pumpkin pancakes take a little while to cook, and therefore butter is not recommended.
It tends to brown/darken the pancakes too much, even turning them black and adding a burning flavor to the pancakes.
Scoop 2 tablespoons of batter, not more, or they will be impossible to flip, too heavy.
Spread the batter in the pan thinly- this pancake batter won't spread by itself. It needs your help.
Spread the keto pumpkin pancakes thinly using the back of a spoon, and apply a circular motion onto the batter to spread large and thin.
This doesn't mean they won't be fluffy pancakes. They will be for sure! But if you don't spread them as thin, they will never cook.
Let them cook slowly!
You need at least 3 minutes over medium heat for the batter to cook. You know they are ready to flip when the sides are dry.
Don't increase the heat. Keep cooking the pancakes gently over medium heat, or they will brown too fast. The outside layer will set too fast, but the middle won't cook.
Keto Pancake Toppings
These keto pumpkin pancakes with coconut flour are even better with some toppings.
The most keto-friendly keto pancake toppings are:
Unsweetened whipped cream
Coconut yogurt -this recipe is also dairy-free, which means they are paleo pumpkin pancakes approved! For a paleo keto topping, use coconut yogurt.
Chopped pecan
Sugar-free maple-flavored syrup – this tastes like maple syrup without the carbs!
Butter
Bacon – you will love pumpkin and bacon together! it's an amazing combo for a fall keto breakfast.
Storage Instructions
You can store these healthy pumpkin pancakes in the fridge for up to 3 days, preferably in an airtight container to prevent them from drying up.
Rewarm the leftover pancakes in a toaster or onto a pancake griddle over low heat.
More Healthy Pancake Recipes
If you love low-carb, keto, or healthy pancake recipes, I recommend you also try some of the recipes below.
They are all gluten-free, grain-free, and keto-approved breakfasts.
More Keto Pumpkin Recipes
If you like your keto recipes full of pumpkin, try these: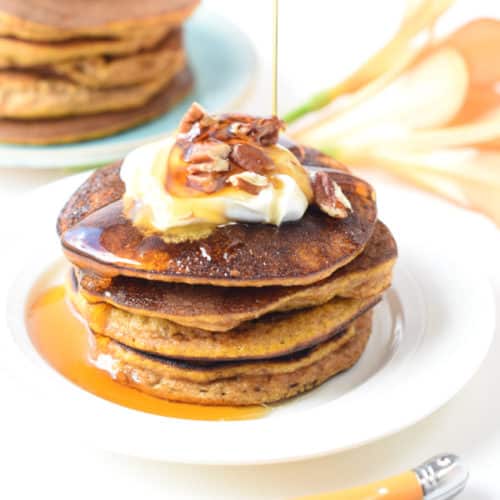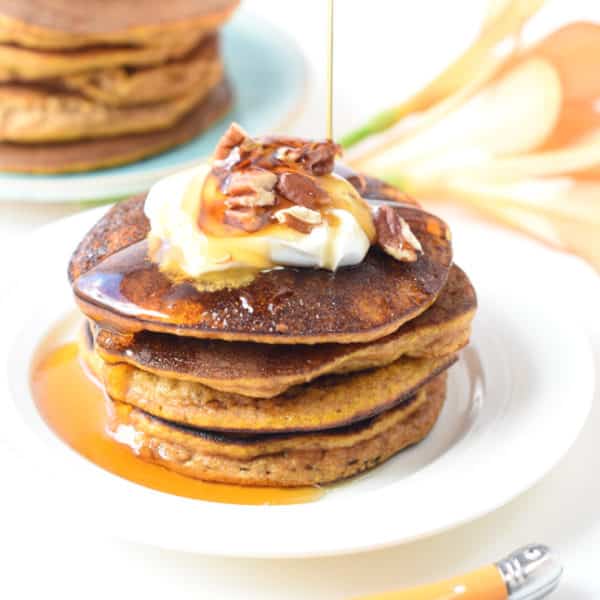 Keto Pumpkin Pancakes
A delicious fall keto pancake recipe with pumpkin puree and keto low carb flours and only 1.8g of net carb per pancake.
Yield:
pancakes (2 tbsp batter per pancake)
Serving Size:
1
Pancake ( 2 tbsp of batter each)
Ingredients
Liquid ingredients
4

large

Eggs

at room temperature

½

cup

Pumpkin Puree

not Pumpkin pie filling!

1

tablespoon

Erythritol

½

teaspoon

Vanilla Extract
Dry ingredients
½

cup

Almond Flour

scoop and level method

2

tablespoons

Coconut Flour

scoop and level method

1

teaspoon

Baking Powder

1

teaspoon

Pumpkin Pie Spices

or ground cinnamon
To cook the pancakes
This recipe may contain Amazon or other affiliate links. As an Amazon Associate I earn from qualifying purchases.
Instructions
In a large mixing bowl, beat eggs with pumpkin puree, erythritol, and vanilla.

Stir in almond flour, coconut flour, baking powder, and erythritol until the batter is smooth.

Set aside for 10 minutes before cooking.

Heat a pancake griddle or crepe pan over medium heat, not high heat, or the pancakes will burn easily. It takes at least 1 minute to heat up the pan evenly, be patient.

Spray oil all over the pan. Add 2 tablespoons of batter to the pan. The batter won't spread by itself, so use the back of the spoon to spread the batter in circular motions into about a 3-inch diameter pancake (it means a thin pancake!). Don't use more batter per pancake, and make sure you spread them as thin, or they will be hard to flip.

Cook for 3 minutes over medium heat or until the sides of the pancakes are dry.

Gently slide a spatula under the pancake to flip. The first pancake may be more difficult to flip as it takes time for the entire pan surface to get warm. If too soft keep cooking longer before flipping.

Cook for 1-2 more minutes on the other side or until completely cooked.

Served with sugar-free maple-flavored syrup, unsweetened whipped cream, and chopped pecan on top.
Want My Kitchen Equipment?
Serving Size:
1
Pancake ( 2 tbsp of batter each)
Yield:
pancakes (2 tbsp batter per pancake)
Serving:
1
Pancake ( 2 tbsp of batter each)
Calories:
65.8
kcal
(3%)
Carbohydrates:
3.2
g
(1%)
Fiber:
1.4
g
(6%)
Net Carbs:
1.8
g
Protein:
3.7
g
(7%)
Fat:
4.5
g
(7%)
Saturated Fat:
1
g
(6%)
Cholesterol:
67.6
mg
(23%)
Sodium:
67.7
mg
(3%)
Potassium:
48
mg
(1%)
Sugar:
0.7
g
(1%)
Vitamin A:
1831.3
IU
(37%)
Vitamin C:
0.5
mg
(1%)
Calcium:
47
mg
(5%)
Iron:
0.7
mg
(4%)
Posted In: