Low-Carb Protein Pancakes
These Low-Carb Protein Pancakes are healthy protein pancakes made from low-carb protein powder and almond flour.
They are keto-friendly, gluten-free, and perfect as a high-protein breakfast for people with diabetes.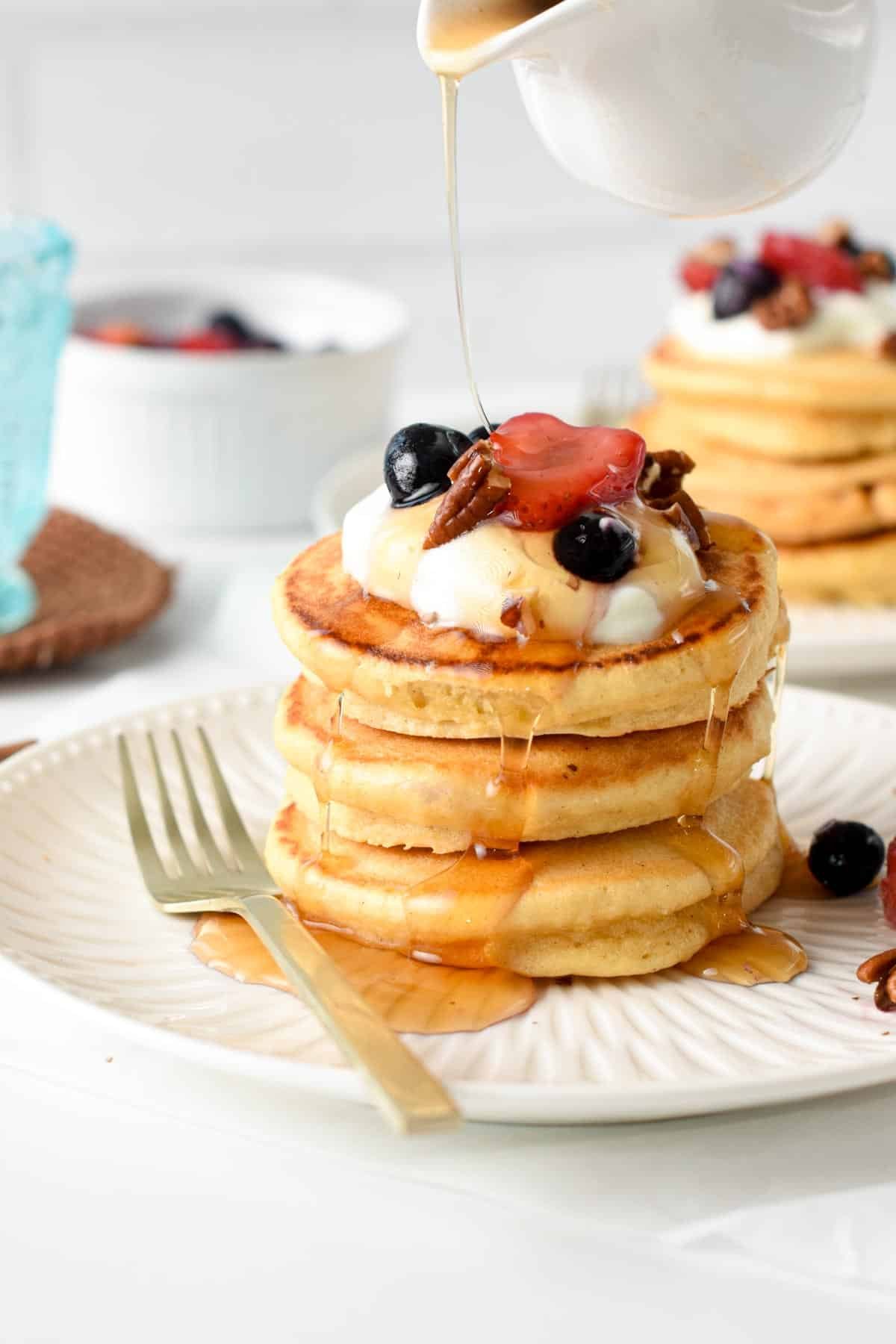 I love adding protein to my breakfast, and when I don't feel like making a keto protein shake, I bake keto protein pancakes as an alternative to classic old-fashioned pancakes.
These protein powder pancakes are super easy to make and packed with 10 grams of protein per serving of 4 small pancakes.
This is my recommended serving size for a fulfilling, low-carb, high-protein breakfast.
How To Make Low-Carb Protein Pancakes
To make a low-carb protein pancake recipe using protein powder, you need 7 simple ingredients.
Ingredients
Large Eggs – This is not optional or replaceable with any egg-free substitutes. Low-carb protein pancakes are made out of eggs, or they don't hold their shape.
Vanilla Pea Isolate Protein Powder – Don't use another protein powder this recipe has been developed with this powder, and you will end up with a very different texture and result if you swap for a different type of protein powder.
Almond Flour – Almond flour is a keto-friendly flour rich in fiber and micronutrients. It's a great flour that you can use to make many almond flour recipes.
Almond Milk or any non-dairy milk you like.
Egg White – Make sure you measure egg white with precision.
Baking Powder
Cinnamon
Measuring Ingredients
It's not difficult to make low-carb protein pancakes, but if you don't measure your ingredients well, the pancakes can be very disappointing.
So get your scale and weigh the protein powder accurately to avoid surprises. Use measuring cups for the other ingredients.
Choosing The Protein Powder
The best low-carb protein powder for baking is unflavored pea isolate protein powder.
I also tested egg white protein powder and peanut protein powder.
The ratio changes drastically based on the protein powder you use, so read the recipe card notes for the adjustments needed for the powder you choose.
Note that I don't recommend whey protein powder for this recipe.
Pancake Batter
To make the pancake batter, you have two options.
Blender Option
Place all ingredients in a blender and blend on medium speed – speed 4 of my Vitamix.
Transfer to a mixing bowl and let it rest for 10 minutes before using.
Mixing Bowl Option
Whisk the eggs, egg white, almond milk, and vanilla if used until well combined.
Add the pea isolate protein powder, almond flour, erythritol, cinnamon, and baking powder.
Whisk and scrape the sides of the bowl until the batter is slightly thick, smooth, and well combined.
Resting The Batter
The trick to baking with protein powder is patience. The protein needs time to bind with the liquid ingredients, so let the batter rest at room temperature for 10 minutes.
Meanwhile, clean dishes and warm a pancake griddle over medium-high heat. Slightly oil the surface with olive oil spray.
Cooking The Pancakes
To make small pancakes, measure 2 1/2 tablespoons of batter.
In a 9-inch crepe pan, you can fit 3 to 4 pancakes at once. You may add more or less depending on the size of your pancake pan.
Cook for about 2 to 3 minutes until the sides start to dry out, then slide a spatula under the pancake and flip to cook on the other side.
Let the other side cook for a minute to fully cook the low-carb protein powder pancakes.
Cool the cooked pancakes on a wire rack and cover them with foil to keep them warm while cooking the remaining batter.
Allergy Swaps
Below are some allergy swaps if needed:
Nut-Free – Pick nut-free dairy-free milk like coconut milk or hemp milk. Swap 2 tablespoons of almond flour for 2 teaspoons of coconut flour or 1/4 cup of sesame flour.
Storage Instructions
These low-carb protein pancakes can be stored for up to 3 days in a sealed box in the fridge.
You can freeze keto protein pancakes for up to 3 months in zip-lock bags or airtight containers.
Thaw them in the fridge the day before and rewarm them on a hot pancake griddle or in a bread toaster.
Serving
These protein pancakes are delicious on their own or topped with:
A dollop of Greek yogurt for a boost of protein.
Berries – like raspberries, blueberries, or strawberries.
Sugar-free maple syrup
Sugar-free chocolate chips
Butter
A drizzle of almond butter or peanut butter for a boost of protein.
Frequently Asked Questions
Below you will find my answers to your most common questions about these low-carb pancakes with protein powder.
Can I Use Whey Protein Powder?
I didn't try whey protein powder in this recipe. I personally enjoy the texture of pea protein isolate better.
It makes fluffy pancakes that are not packed or hard.
If you use a different protein powder, you will probably have to adjust the amount of almond flour to make the batter smooth and slightly thick because some protein powder, like egg white powder, doesn't absorb liquid as much.
Can I Skip The Eggs?
No, the recipe won't work without eggs or using egg replacers like flax eggs.
More Healthy Pancake Recipes
If you like easy, healthy pancakes, you'll love these:
Have you tried this kept protein powder pancake recipe? Share a comment or review below to connect with me.
Low-Carb Protein Pancakes
These Low-Carb Protein Pancakes are the most delicious, fluffy almond flour pancakes packed with protein powder to add fulfilling protein to your low-carb breakfast plate.
Yield:
pancakes (2 1/2 tbsp each)
Serving Size:
2
pancake (2 1/2 tbsp. each)
Nutrition Snapshot
Want My Kitchen Equipment?
Ingredients
Optional – only if protein powder is unflavored
Instructions
In a mixing bowl, beat the egg, egg white, almond milk, and vanilla extract if used.

Whisk in the pea isolate protein powder, almond flour, baking powder, cinnamon, and baking powder. The batter should be smooth and slightly thick, not runny or ultra-dense. If too runny, add more almond flour, if too dense add a splash more almond milk.

Set aside for 10 minutes at room temperature to thicken.

Warm a pancake griddle or crepe pan, over medium-high heat and lightly oil the surface with oil spray.

Pour 2 1/2 tablespoons of batter per pancake and cook for 2-3 minutes until the sides start to dry out. Slide a spatula under the pancake and flip them to the other side. Cook them for an extra 1 minute.

Cool down on a wire rack while cooking the remaining batter.
Storage
Store pancakes in a sealed container in the fridge for up to 3 days, or freeze for up to 3 months in an airtight container. Thaw in the fridge and rewarm in a hot non-stick pan.
Notes
Note 1: If you are using another protein powder, you will obviously end up with different results, and you will need to adjust the amount of almond flour depending on the protein powder used.
I didn't test whey protein powder. I tested unflavored egg white protein powder. You will need 1 cup of almond flour for this protein powder instead of 3 tablespoons. For peanut protein powder, add 2/3 cup almond flour.
My Recipe Notes
Nutrition
Serving Size:
2
pancake (2 1/2 tbsp. each)
Yield:
pancakes (2 1/2 tbsp each)
Serving:
2
pancake (2 1/2 tbsp. each)
Calories:
74.9
kcal
(4%)
Carbohydrates:
1.6
g
(1%)
Fiber:
0.5
g
(2%)
Net Carbs:
1.1
g
Protein:
8.3
g
(17%)
Fat:
3.9
g
(6%)
Saturated Fat:
0.6
g
(4%)
Polyunsaturated Fat:
0.4
g
Monounsaturated Fat:
0.7
g
Trans Fat:
0.01
g
Cholesterol:
62
mg
(21%)
Sodium:
183.7
mg
(8%)
Potassium:
33.8
mg
(1%)
Sugar:
0.3
g
Vitamin A:
90.5
IU
(2%)
Vitamin B12:
0.2
µg
(3%)
Vitamin C:
0.01
mg
Vitamin D:
0.3
µg
(2%)
Calcium:
74.5
mg
(7%)
Iron:
1.8
mg
(10%)
Magnesium:
3
mg
(1%)
Zinc:
0.2
mg
(1%)
Posted In: