Greek Yogurt Protein Pancakes (30g Protein)
These Greek Yogurt Pancakes are easy, healthy oatmeal yogurt pancakes packed with as much as 30 grams of proteins per serving to keep you full for hours.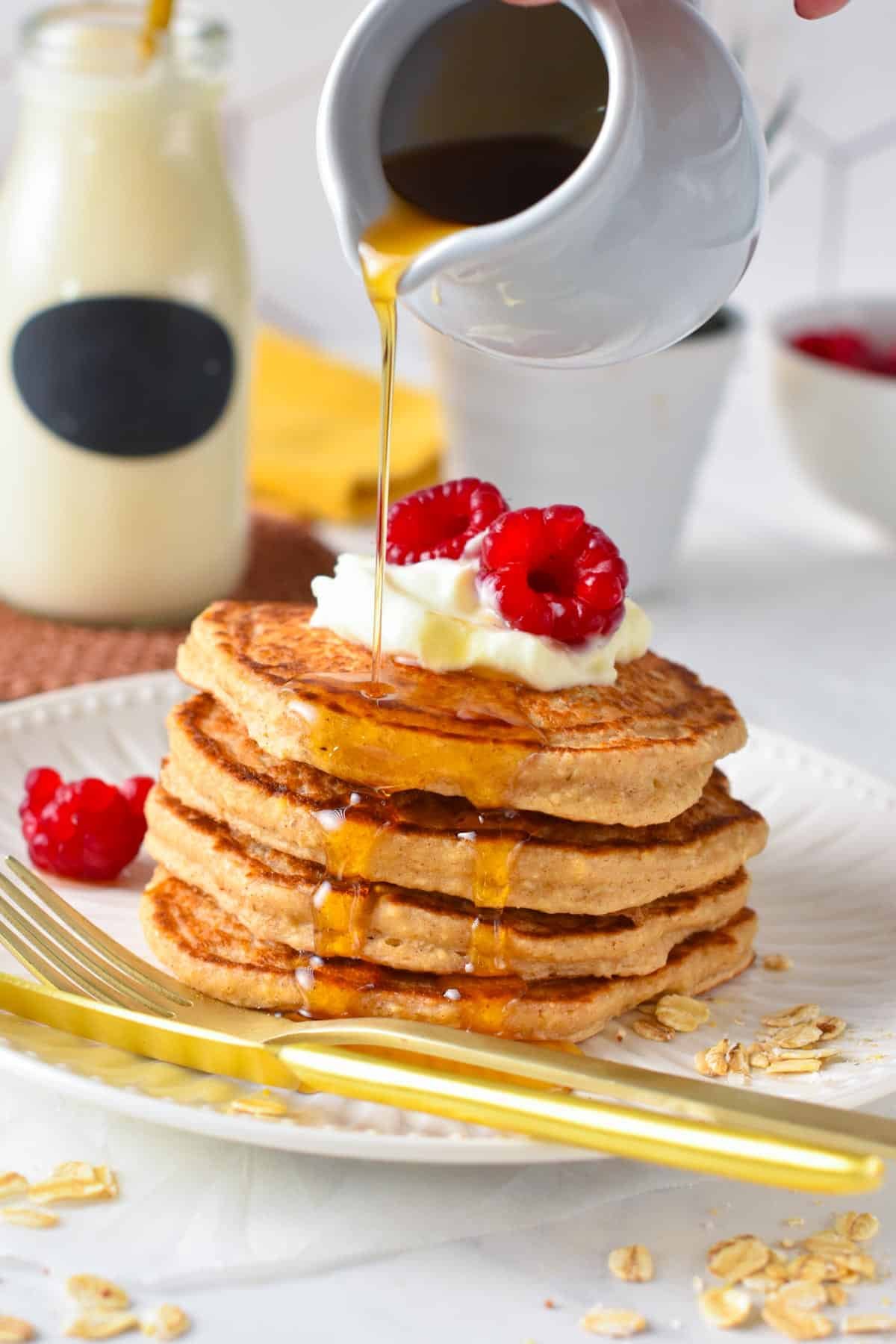 Did you know that adding at least 25 grams of protein to your breakfast is the key to feeling satisfied and reducing cravings?
It's even more potent than decreasing carbs as it keeps you full, builds muscles, and may help burn fat if you work out.
Adding these Greek yogurt protein pancakes to my morning routine is amazing because they are so easy to make, so good, that I meal prep batches for days ahead.
Here's how to make delicious filling protein pancakes with Greek yogurt.
How To Make Greek Yogurt Pancakes
It's so easy to make these yogurt pancakes with protein powder that you will make them again and gain.
Ingredients
All you need to make this recipe is a blender, to combine all the ingredients together into a smooth pancake batter.
Greek Yogurt – I used plain Greek yogurt, feel free to use vanilla Greek yogurt and remove the sweetener from the recipe.
Milk of Choice – Almond milk works very well, or use skim milk to boost the protein.
Large Egg
Vanilla Pea Protein Powder – I am using a clean protein powder made from just 3 ingredients: pea proteins, natural sweetener, and vanilla flavor. Feel free to use any protein powder, like whey, soy, or hemp powder.
Old-Fashioned Oats – Don't swap it for almond flour, the pancakes fall apart and get fragile.
Crystal Sweetener of Choice – like erythritol or coconut sugar.
Baking Powder
Cinnamon
Preparation
This blender protein pancake recipe is the most easy one bowl pancake recipe.
Throw all the ingredients into a high-speed blender, or NutriBullet: egg, milk, Greek yogurt, oats, baking powder, sweetener, cinnamon, and protein powder.
Blend on high speed until the batter is smooth, with no bits and pieces of oats.
Transfer the batter to a mixing bowl. Whisk again, adjust, adding a splash of extra milk if the pancake mixture thickens too much.
Warm a pancake griddle or non-stick skillet or crepes pan over medium heat. Grease the surface with cooking oil spray and pour 1/4 cup of pancake batter into the warm griddle.
Cook the pancakes for 2 to 3 minutes on one side or until the sides start to dry out and bubbles form in the center of the pancakes.
Slide a spatula under the pancake and flip on the other side. Cook for an extra 1 minute until set and dry in the center.
Serving
These easy protein pancakes are delicious plain, or with some toppings like:
A drizzle of pure maple syrup – feel free to use sugar-free maple syrup to cut down the calories.
A dollop of Greek Yogurt
Fresh fruits like berries – we love raspberries, strawberries, or blueberries.
Banana Slices
Slices Almonds
Shredded Coconut
Dollop of Peanut Butter or almond butter
Chocolate Chips
Storage Instructions
This recipe yields 6 pancakes or 3 pancakes per breakfast.
To store leftover pancakes, place them in a sealed airtight container in the fridge and keep fresh for up to 3 days. Otherwise, freeze the pancakes in freezer bags and keep them for up to one month.
Thaw the day before and rewarm in a warm griddle, microwave, or bread toaster.
Allergy Swaps
Here are some option to make this recipe if you have some food allergies
Nut-Free – Swap almond milk for any other milk you love like skim milk, coconut milk, or oat milk.
Gluten-Free – Pick a gluten free certified oat brands.
Oats – If you don't have a blender, you can use ready-made oat flour and whisk all the ingredients in a mixing bowl. The recipe doesn't work with almond flour or coconut flour. It might work using wheat flour, but the texture will be denser.
Egg-Free – An egg replacer, like 1/4 cup mashed banana, unsweetened applesauce, or flaxegg should work in this recipe.
Dairy-Free – Dairy-free Greek yogurt works in this recipe.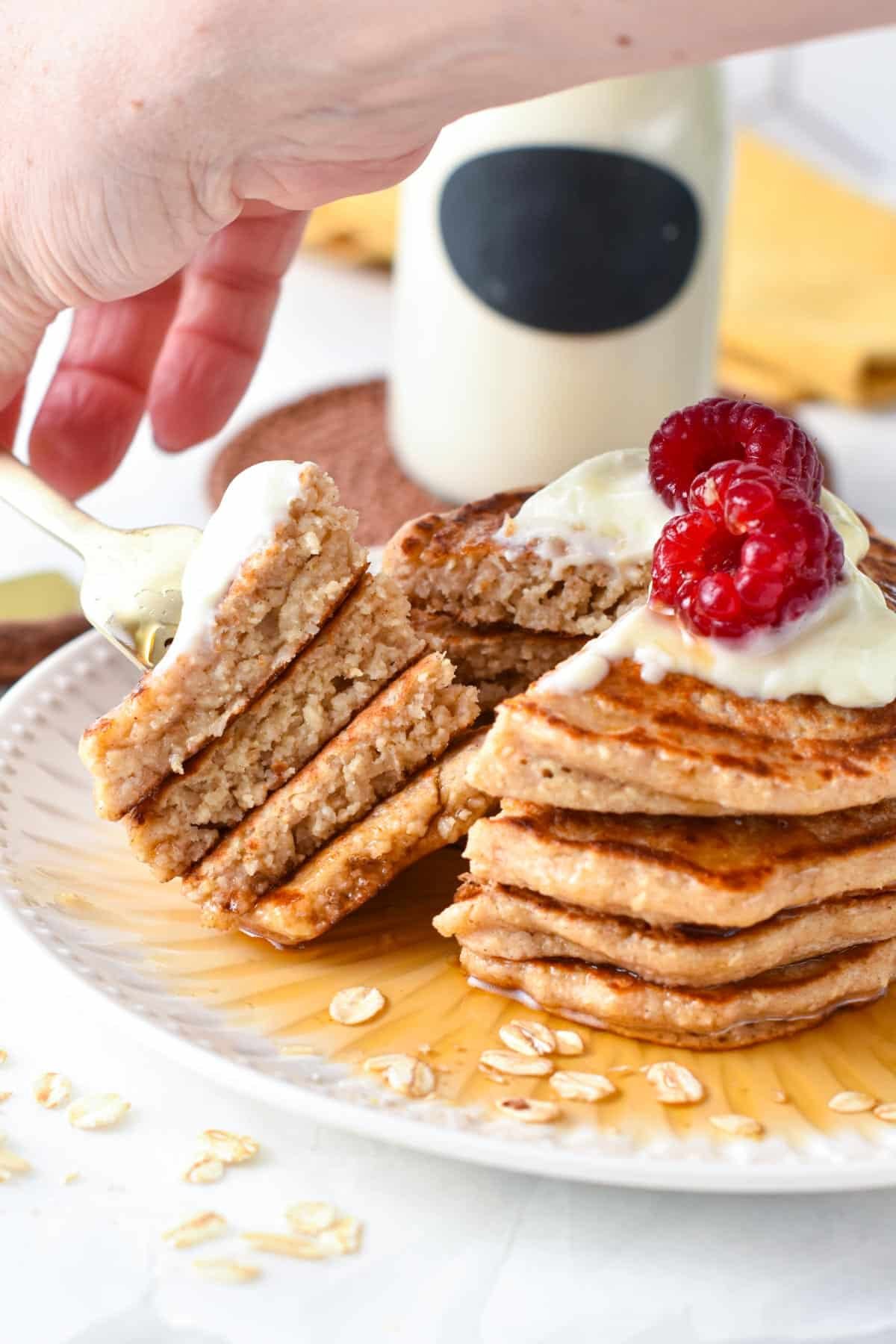 Frequently Asked questions
Here are my answers to your most common questions about making this easy yogurt pancake recipe.
Can I substitute Greek Yogurt for oil in pancakes?
Yes, most of the time you can swap oil for yogurt. But, yogurt add moisture in the batter and may need a little bit more flour or the pancakes won't cook as well
Can you substitute Greek yogurt for milk in pancakes?
Yes, you can replace milk for yogurt instead of milk, if the batter looks a bit too thick, add a little water to thin out
Are protein pancakes healthy?
Yes, protein pancakes are good for you packed with nutrient-dense ingredients like whole grains oats, protein powder and sometimes yogurt. Because of their high protein content, they are filling to avoid craving through the morning.
Greek Yogurt Protein Pancakes
These Greek Yogurt Protein Pancakes are wholesome, nutritious, high-protein pancakes made from Greek Yogurt. One serving contains 30 grams of proteins to keep you full until lunchtime.
Yield:
servings (3 pancakes each)
Serving Size:
1
serving (3 pancakes each)
Nutrition Snapshot
Want My Kitchen Equipment?
Instructions
In a high-speed blender, add all the ingredients: egg, milk, Greek yogurt, oats, protein powder, cinnamon, and baking powder.

Blend on high-speed until the batter is lightly thick and smooth.

Transfer the pancake batter into a mixing bowl.

Warm a pancake griddle or non-stick skillet over medium heat and grease the surface with cooking oil spray.

Add 1/4 cup of pancake batter per pancake and cook for 2-3 minutes until it dries out on the sides of the pancake.

Flip and cook an extra minute on the other side.

Serve 3 pancakes per breakfast with a drizzle of syrup of choice, fresh berries, peanut butter, or extra yogurt.
Storage
Store the leftover pancakes in the fridge in an airtight container for up to 3 days or freeze pancakes for up to 1 month in zip-lock bags.

Thaw in the fridge the day before.
Notes
Note 1: If you remove the protein powder, make sure you decrease the yogurt to 1/2 cup, or the pancakes will be too moist to cook thoroughly.
My Recipe Notes
Nutrition
Serving Size:
1
serving (3 pancakes each)
Yield:
servings (3 pancakes each)
Serving:
1
serving (3 pancakes each)
Calories:
421.7
kcal
(21%)
Carbohydrates:
51.6
g
(17%)
Fiber:
6.3
g
(26%)
Net Carbs:
45.3
g
Protein:
30.3
g
(61%)
Fat:
10.9
g
(17%)
Saturated Fat:
4
g
(25%)
Polyunsaturated Fat:
1.9
g
Monounsaturated Fat:
2.5
g
Trans Fat:
0.01
g
Cholesterol:
132.9
mg
(44%)
Sodium:
555.7
mg
(24%)
Potassium:
403.2
mg
(12%)
Sugar:
7.7
g
(9%)
Vitamin A:
283.7
IU
(6%)
Vitamin B12:
0.6
µg
(10%)
Vitamin C:
0.01
mg
Vitamin D:
1.2
µg
(8%)
Calcium:
526.6
mg
(53%)
Iron:
3.5
mg
(19%)
Magnesium:
100.9
mg
(25%)
Zinc:
2.8
mg
(19%)
Posted In: