Almond Flour Banana Pancakes
These Almond Flour Banana Pancakes are healthy pancakes sweetened with bananas.
It's a great healthy breakfast recipe packed with 15 grams of proteins per serving of 3 pancakes and no sugar added.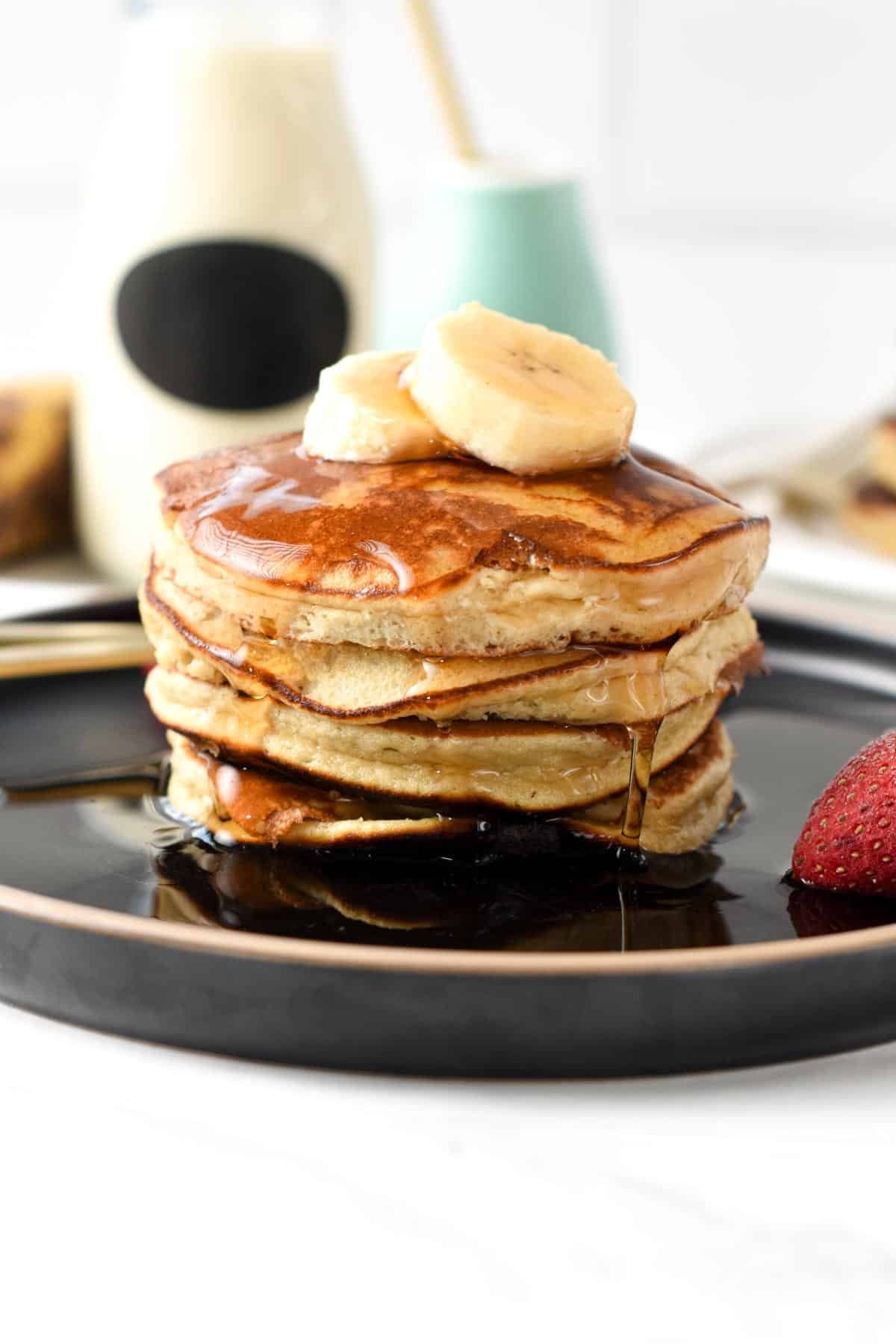 Bananas On A Low-Carb Diet
I love baking with almond flour for breakfast because it's a high-protein, low-carb flour that keeps you full for hours.
But adding banana to almond flour is even better! The texture of your baked goods is ultra fluffy, adding a natural, sweet flavor without using any added sweetener.
If you love working out in the morning, almond flour and banana make the perfect combo.
It keeps the whole recipe pretty low in carbs but adds enough natural sugar from bananas to refuel your muscles.
So even if I love following a low-carb diet, on high-cardio days, I appreciate a post-workout breakfast using this combo of ingredients to refuel the muscles.
Why You'll Love These Pancakes
You can easily make a range of almond flour banana baked goods like almond flour banana muffins or almond flour banana bread.
You can add ripe bananas into an almond flour pancake recipe for a quick and easy high-protein breakfast.
They are naturally:
Dairy-Free
Paleo
Low-Carb
Gluten-Free
Grain-Free
How To Make Almond Flour Banana Pancakes
It's super easy to make banana pancakes with almond flour and a great breakfast recipe to use your ripe bananas sitting on the kitchen counter.
Ingredients
All you need to make them are:
Almond Flour – You need to use ultra-fine almond flour with a nice golden color. Stay away from almond meals that make pancakes gritty and dark in color.
Eggs – This recipe won't work with flax eggs or egg replacers, so stick to the eggs for the best texture.
Ripe Bananas or yellow bananas both work. The riper the bananas, the sweeter the pancakes will be. Note that carbs in bananas vary depending on their maturity, so pick wisely based on your health goals.
Vanilla Extract – For extra flavors.
Almond Milk – You can use unsweetened almond milk or any other plant-based milk such as oat milk, cashew milk, or coconut milk.
Baking Powder
Optional – You can add a granulated sweetener to boost the sweetness of the pancakes if desired. It can be a low-carb granulated sweetener like erythritol, allulose, or coconut sugar for a healthy refined sugar-free option.
Olive Oil or coconut oil to cook the pancakes.
Mashing The Bananas
First, peel and mash the banana roughly with a fork on a chopping board.
Measure the amount needed by the recipe, not more or less, because it will impact the texture of your pancakes.
Too much banana makes the pancakes difficult to flip, so please take the extra minutes to measure your amount of mashed bananas.
Place the ingredients in the jug of a high-speed blender.
Blending Ingredients
In the blender's jug, add the eggs, olive oil, vanilla extract, almond flour, baking powder, sweetener, and a pinch of xanthan gum.
The latter is optional, but it makes the pancakes easier to flip. Then, blend on high speed for 20 to 30 seconds until the batter is smooth.
Heat a large pancake griddle or crepe pan over medium-high heat.
Grease the surface with coconut oil or olive oil using a spray or a piece of absorbent kitchen paper to rub the surface and spread the oil evenly in a small layer.
Making The Pancakes
Pour 1/4 cup of almond flour banana pancake batter on the pan and cook the pancake for 2 to 3 minutes until the sides start to dry out.
Then, slide a spatula under the pancake and flip them to the other side. Keep cooking for 1 minute or until set.
Cool down on a wire rack while cooking the remaining pancake batter.
Serving
Serve the banana almond flour pancakes plain or stack with a drizzle of maple syrup and banana slices on the top.
You can also serve these pancakes with:
Shredded Coconut
Chopped Nuts like walnuts or pecans
Whipped Cream
Butter
Berries
Add-Ons
You can have fun adding some crunchy ingredients into the pancake batter, including:
Chopped Walnuts
Chopped Pecans
Pinch of Ground Cinnamon
Dark Chocolate Chips
Allergy Swaps
Below I listed some easy swaps you can use in this pancake recipe to adjust the recipe to your diet requirements.
Low-Carb Keto-Friendly – You can reduce the amount of banana in the recipe to 1/2 small banana to keep some flavors without using too much of it. Instead, add a splash of almond milk if the batter is too thick or dry.
Nut-Free – You can swap the almond flour with sesame flour or sunflower seed flower or use my oat flour pancake recipe. You can swap almond milk for any milk you love, including hemp milk, oat milk, coconut milk, or even regular milk, if you like dairy milk products more.
Frequently Asked Questions
Below I listed the answers to your most frequent questions about these almond flour banana pancakes.
Can I Make The Pancakes Without Eggs?
No, this recipe won't work with vegan egg replacers like flax eggs or store-bought egg replacer mix.
You must use eggs, or the batter won't hold together.
Can I Prepare The Batter Without A Blender?
You can make this recipe without a blender, but the pancakes will be denser when all the ingredients are mixed in a bowl together.
That's the reason why it's preferable to use a blender to make the batter smooth.
Can I Add Blueberries To The Recipe?
Yes, you can add 1/2 cup of fresh or frozen blueberries to make blueberry banana pancakes with almond flour.
Can I Use Coconut Flour Instead Of Almond Flour?
No, you can't swap almond flour with the same amount of coconut flour because both flours have different properties and nutrition profiles.
Use my coconut flour pancake recipe if you prefer to use coconut flour.
More Pancake Recipes
Below are more healthy pancake recipes for you to try:
Did you try these almond flour banana pancakes? Share a comment or review below to let me know how it went.
Almond Flour Banana Pancakes
These almond flour Banana Pancakes are healthy almond flour pancakes sweetened with bananas. A great healthy pancake recipe packed with 6 grams of protein per pancake and no sugar added.
Nutrition Snapshot
Want My Kitchen Equipment?
Instructions
Peel, mash the bananas and measure 3/4 cup of mashed bananas. Place in the jug of a high-speed blender.

In the blender jug, add the eggs, olive oil, vanilla extract, almond flour, baking powder, sweetener (if used) and xanthan gum – this makes the pancakes easier to flip without breaking.

Heat a large non-stick pancake pan or griddle over medium-high heat.

Apply vegetable oil to the pan with kitchen absorbent paper towels or spray oil on the pan.

Ladle 2 tablespoons of batter onto the griddle for each pancake and spread with the back of a spoon to expand on the pan. Don't make too large pancakes, or they get difficult to flip.

Cook on low-medium heat for 2-3 minutes then slide a flat tool gently under the pancake and flip.

Cook on the other side for 1-2 minutes or until golden brown.

Serve the almond flour banana pancakes with butter, banana slices, or maple syrup.

Store the pancakes in the fridge in an airtight container for up to 3 days. Rewarm on a pan, sandwich press, or in the toaster. They can be frozen in an airtight zip-lock bag and defrosted in the toaster before serving.
Notes
Note 1: Any oil works or melted butter.
My Recipe Notes
Nutrition
Serving:
1
pancake
Calories:
140
kcal
(7%)
Carbohydrates:
9.7
g
(3%)
Fiber:
2
g
(8%)
Net Carbs:
7.7
g
Protein:
5.3
g
(11%)
Fat:
9.7
g
(15%)
Saturated Fat:
1.2
g
(8%)
Polyunsaturated Fat:
0.5
g
Monounsaturated Fat:
1.5
g
Trans Fat:
0.01
g
Cholesterol:
62
mg
(21%)
Sodium:
100.5
mg
(4%)
Potassium:
94.7
mg
(3%)
Sugar:
4.4
g
(5%)
Vitamin A:
102.6
IU
(2%)
Vitamin B12:
0.1
µg
(2%)
Vitamin C:
1.7
mg
(2%)
Vitamin D:
0.3
µg
(2%)
Calcium:
79
mg
(8%)
Iron:
1
mg
(6%)
Magnesium:
7.6
mg
(2%)
Zinc:
0.2
mg
(1%)
Posted In: