Keto Pancakes (1-Bowl Recipe)
These Keto Pancakes are the best fluffy low-carb pancakes for keto beginners.
They are easy to make in one bowl with the best pancake texture and only 2.3 grams of net carbs per serving.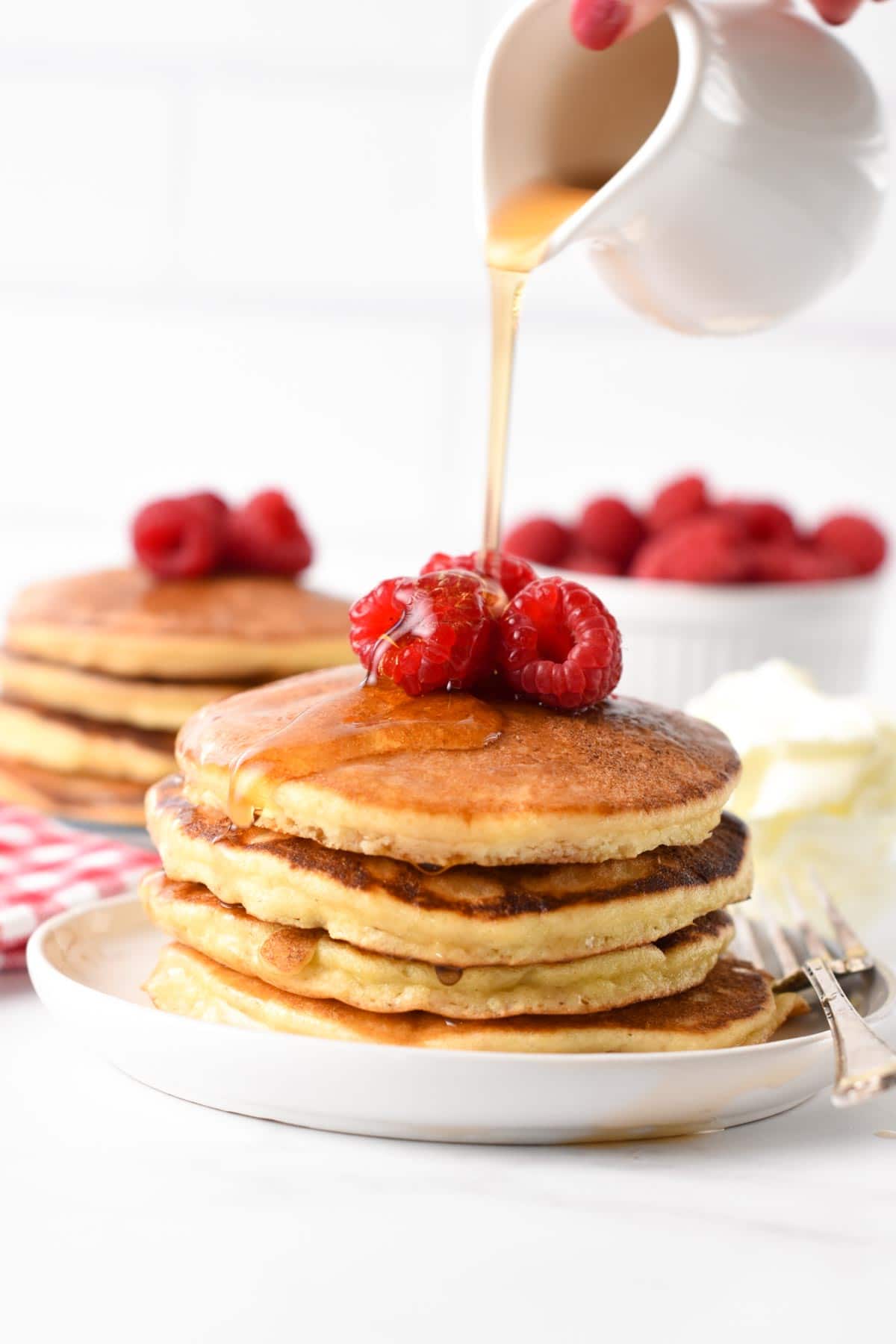 What Are Keto Pancakes?
Keto Pancakes are similar to the classic old-fashioned pancakes, but they are made with low-carb ingredients to reduce the number of net carbs per serving.
They typically swap the all-purpose flour for a low-carb flour alternative such as almond flour and the sugar for a keto-friendly sweetener such as erythritol.
Are Classic Pancakes Keto?
A classic pancake contains more than 25 grams of net carbs, which is about 10 times more than this keto pancake recipe, so they are not keto-friendly at all.
One of these keto pancakes has only 2.3 grams of net carbs, but it tastes just like a classic pancake, I would challenge you to taste the difference!
Why You'll Love This Recipe
These pancakes are delicious, and they are:
Ready in Under 20 Minutes
Only 6 Ingredients
Very Fluffy and Airy
Beginner-Friendly
Gluten-Free
Dairy-Free
Low-Carb
Keto
How To Make Keto Pancakes
This pancake recipe is almost impossible to fail, and they are ready to eat in less than 20 minutes!
Ingredients
You only need the following 6 required ingredients to make these keto pancakes:
Almond Flour – Almond Flour is a keto-friendly flour that contains just about 10 grams of net carbs per 100 grams compared to 70 grams of net carbs in all-purpose flour. I love almond flour recipes as the flour behaves very similarly to regular flour.
Baking Powder – Baking powder contributes to making these pancakes fluffy, so don't skip it! It needs to be fresh or the powder would be less efficient.
Erythritol – Use classic erythritol or any of your favorite crystal sweeteners such as allulose, tagatose, or xylitol.
Eggs – It's essential to use eggs at room temperature. Taking them out of the fridge 30 minutes before the recipe is perfectly safe as the FDA recommends no more than one hour in hot weather and up to 2 hours elsewhere.
Vanilla Almond Milk – For keto-friendly pancakes, it's essential to use unsweetened almond milk and it must be at room temperature to avoid making lumps. I like to pick vanilla almond milk for the touch of vanilla, but you can also boost the vanilla flavor by adding vanilla extract to the batter.
Coconut Oil – I prefer to use unrefined coconut oil. It needs to be melted for this recipe.
Making The Batter
Start the keto pancake batter by combining the dry ingredient in a mixing bowl: almond flour, baking powder, and crystal sweetener.
Whisk the dry pancake ingredients until they are well combined to avoid lumps in the pancakes.
Pour the almond milk while whisking, and add the melted (but not hot) coconut oil, eggs, and the optional vanilla extract.
Stir the batter until it's well combined. You can use a hand mixer for this, but it also works with a regular whisk.
Cooking The Pancakes
Warm a large non-stick pancake pan or skillet over medium-high heat.
Use a paper towel to rub some butter or coconut oil on the non-stick pan to make it easier to flip the keto pancakes.
Ladle three tablespoons of pancake batter per pancake onto the griddle for each pancake.
You might be able to cook several pancakes at once if your pan is wide enough, just make sure they don't touch each other.
Let the keto low-carb cook for about 2 minutes on the first side and flip them when the edges of the pancakes turn brown and the center starts forming small bubbles.
Cook on the other side until it gets golden brown which takes about a minute.
Repeat until all the batter has been turned into pancakes.
Changing The Flavor
You can customize your fluffy keto pancakes with the following additions to the batter:
Sugar-Free Chocolate Chips – either store-bought ones or homemade sugar-free chocolate chips added to the batter.
Fresh Berries – you can add any of your favorite berries to the batter, such as blueberries or raspberries.
Cheese – you can replace the sweetener with some grated cheese to make savory pancakes.
Serving Keto Pancakes
These low-carb keto pancakes make a delicious low-carb breakfast. You can make them perfect by doing the following combinations:
Sweet Keto Pancakes: A drizzle of Homemade Keto Maple Syrup, a few fresh raspberries, some blueberries, and a few sliced almonds.
Chocolate Keto Pancakes: Spread some of my Keto Nutella Recipe on top of the warm pancakes and sprinkle some chopped peanuts and sugar-free chocolate chips.
Savory Keto Pancakes: fry some bacon and place the hot strips on the pancakes and drizzle some of my Keto Banana Pudding, some sugar-free syrup, and a nut of fresh butter.
Storage Instructions
You can store these easy keto pancakes for up to 3 days in an airtight container in the fridge.
Rewarm them on a pan, in the toaster, or with a sandwich press.
These low-carb pancakes can also be frozen for up to 3 months if you keep them in individual zip-lock bags.
Defrost them in the toaster to get the best keto pancakes again before serving with your favorite toppings above.
Allergy Swaps
If you are allergic to some of the ingredients, you can make the following substitutions.
Almond Flour – You can replace the almond flour with sunflower seed flour in the same ratio. Do not use coconut flour in this recipe. For coconut flour pancakes, use my dedicated Coconut Flour Pancake Recipe.
Erythritol – You can substitute erythritol with any other crystal sweetener, such as allulose, tagatose, or xylitol. You can also use blends of erythritol and monk fruit or erythritol and stevia, but these are slightly sweeter than pure erythritol.
Almond Milk – You can use any plant-based milk in this recipe such as coconut milk or soy milk.
Coconut Oil – Coconut oil can be replaced with melted butter.
Frequently Asked Questions
Can I Use This Batter To Make Waffles?
Yes, you can turn this keto pancake batter into keto waffles. Make sure to grease the waffle iron before pouring the batter.
What are keto pancakes made of?
Keto pancakes use sugar-free sweeteners instead of sugar and low-carb flour, such as almond flour, instead of all-purpose flour.
Are pancakes high in carbs?
One classic pancake typically contains about 25 grams of carbs, while one of these keto pancakes has only 2.3 grams of net carbs.
What is the secret to light fluffy keto pancakes?
Fresh baking powder contributes to creating fluffy pancakes, and it's essential not to add too much almond flour – don't compact it when measuring.
More Pancake Recipes
If you like Pancakes, you'll love these other recipes:
Keto Pancakes
These Keto Pancakes are the best fluffy low-carb pancakes for keto beginners.
They are easy to make in one bowl with the best pancake texture and only 2.3 grams of net carbs per serving.
Yield:
pancakes (3 tablespoons each)
Serving Size:
1
pancake (3 tbsp)
Nutrition Snapshot
Want My Kitchen Equipment?
Instructions
In a medium mixing bowl, whisk together the dry ingredients: almond flour, baking powder, and erythritol.

Whisk in unsweetened almond milk, melted coconut oil, eggs, and vanilla until combined.

Heat a large non-stick pancake pan or griddle over medium-high heat.

Rub butter or oil into the pan with kitchen absorbent paper towels.

Ladle 3 tablespoons of batter onto the griddle for each pancake.

Flip the pancakes over when the edges are set. It takes about 2 minutes on low-medium heat.

Keep cooking on the other side until golden brown.

Serve with butter and sugar-free flavored maple syrup.

Store in the fridge in an airtight container for up to 3 days. Rewarm on a pan, sandwich press, or in the toaster. Can be frozen in an airtight zip-lock bag and defrosted in the toaster before serving.
My Recipe Notes
Nutrition
Serving Size:
1
pancake (3 tbsp)
Yield:
pancakes (3 tablespoons each)
Serving:
1
pancake (3 tbsp)
Calories:
145.1
kcal
(7%)
Carbohydrates:
4.3
g
(1%)
Fiber:
2
g
(8%)
Net Carbs:
2.3
g
Protein:
6.1
g
(12%)
Fat:
12.5
g
(19%)
Saturated Fat:
2.5
g
(16%)
Polyunsaturated Fat:
0.4
g
Monounsaturated Fat:
0.8
g
Trans Fat:
0.01
g
Cholesterol:
62
mg
(21%)
Sodium:
82.9
mg
(4%)
Potassium:
23.7
mg
(1%)
Sugar:
0.8
g
(1%)
Vitamin A:
90
IU
(2%)
Vitamin B12:
0.1
µg
(2%)
Vitamin D:
0.3
µg
(2%)
Calcium:
85.8
mg
(9%)
Iron:
1
mg
(6%)
Magnesium:
2.2
mg
(1%)
Zinc:
0.2
mg
(1%)
Posted In: