Almond Flour Recipes
This recipe may contain Amazon or other affiliate links. As an Amazon Associate I earn from qualifying purchases.
Almond Flour is one of the best low-carb flours to replace all-purpose flour in keto and gluten-free recipes.
It's easy to find, tastes delicious and there's an endless list of recipes you can make with it.
I've listed below my favorite Almond Flour Recipes to enjoy anything from a sweet breakfast treat to a yummy side dish, a classic bread loaf, or an almond flour cake.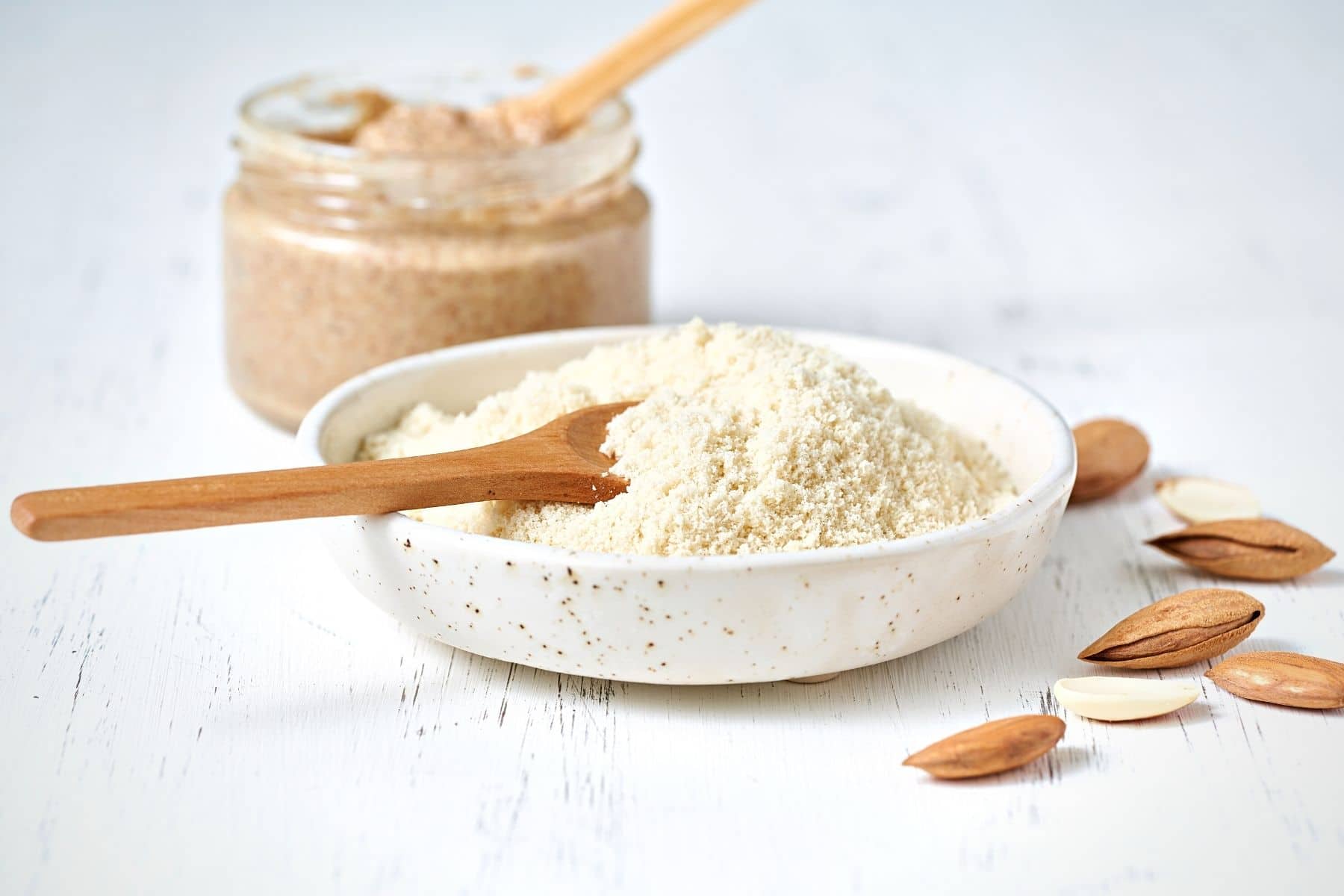 What Is Almond Flour?
Almond Flour is a low-carb flour made with ground almonds. It has just about 10 grams of net carbs per 100 grams (compared to more than 75 grams for all-purpose flour.
It is similar in use to coconut flour, but not interchangeable.
There are various types of ground almonds, that may have different names when purchased in grocery stores.
Almond Meal: almond meal is typically a coarser version of ground almond. While it works fine in some recipes, many almond flour recipes actually require a finer version.
Almond Flour: when called almond flour, ground almonds are most of the time much finer than in the almond meal alternative. It is the preferred option for almond flour recipes.
The other choice you might find is between blanched and unblanched almonds.
Blanched Almond Flour refers to a flour made from almonds that had their skin peeled generally by boiling.
Unblanched Almond Flour, on the other hand, is made with whole almonds with their brownish skin still on. As a result, unblanched almond flour is slighlty darker in taste.
There is almost no nutritional difference between the two, and any nutrients that are lost in the blanching process are likely to be lost in baking anyways.
When cooking, unblanched almond flour tends to give a slightly darker color as well as a mildly grittier texture to the food.
Is Almond Flour Healthy?
Almond flour is full of vitamins, minerals, and antioxidants (values are per 1/4 cup serving):
Minerals: Manganese (31% RDI), Magnesium (19% RDI), Copper (16% RDI), Phosphorous (13% RDI), Calcium, Iron
Vitamins: Vitamin E (35% RDI)
Macronutrients: Fat (14 grams), Net Carbs (2 grams), Fiber (3 grams), Protein (6 grams)
These properties may contribute to:
Lowering Blood Sugar: compared to many other flour, its low carbohydrates content makes almond flour one of the lowest carb flours. Magnesium found in almond flour is also known to help with lowering blood sugar levels.
Gluten-Free: Almond Flour has no gluten at all, so it's suitable for celiac and gluten-intolerant people.
Lowers Bad Cholesterol: regular consumption of almonds (not just almond flour) has been linked to a reduction in LDL cholesterol that can cause heart disease.
Antioxidant: Vitamin E present in Almond Flour contributes to lowering the free radicals in the bloodstream which in turns reduces oxidative stress.
Frequently Asked Questions
What Can I Make With Almond Flour?
I have made hundreds of recipes with almond flour from keto desserts to bread, muffins, crepes, or pancakes.
My absolute favorite ones are listed below.