Keto Pop Tarts – Strawberry Low-carb Pastry
These Keto Pop Tarts are a keto pastry recipe with a delicious buttery, flaky texture filled with strawberry chia seed jam.
Plus, these homemade strawberry pop tarts are vegan, gluten-free, and paleo.
What Are Keto Pop Tarts?
A keto pop tart is a single-serve low-carb pastry with a buttery, flaky dough filled with sugar-free jam or cream cheese.
They are delicious for breakfast or dessert with a dollop of whipped cream on top.
Why You'll Love This Recipe
This Keto Pastry recipe is amazing because it is:
Truly Flakey
Gluten-Free
Keto
Dairy-Free Option
Egg-Free
Vegan Option
Paleo
Ready In 30 Minutes
How To Make Keto Pop Tarts
Let's face it, most low-carb pastry doughs are very fragile and break up easily when rolling.
I am sharing with you a no-fail keto pastry dough that rolls perfectly and won't break!
Key Ingredients
The key is to use xanthan gum and not eggs! Keep reading to see all the ingredients you need to make this perfect keto pie dough.
Almond flour – you absolutely need to use fine blanched almond flour. Learn how to choose your keto flours.
Coconut flour – fresh with no lumps. Coconut flour contains a huge amount of fiber that is highly moisture-absorbent. It means that if you are using an old bag of coconut flour, it may have lumps, and it would make it difficult to measure precisely. Break any lump, pack, and level your cup to measure this precisely.
Butter – or dairy-free vegan butter, melted. Learn why butter is a keto-friendly dairy product.
Xanthan gum
Apple cider vinegar – or lemon juice
Unsweetened almond milk – or unsweetened coconut milk.
Sugar-free crystal sweetener – erythritol, monk fruit stevia blend, or allulose – learn why I'm recommending these keto-friendly sweeteners. The recipe works unsweetened as well!
Gluten-free Pop Tart Recipe
This recipe is also gluten-free as it is only using wheat-free low-carb flour.
Bonus, if you are using dairy-free butter, the recipe makes delicious keto vegan pop tarts as well, so everyone can share!
Rolling The Dough
The dough is stickier than wheat-based pastry dough.
Therefore, you must roll the dough between two pieces of parchment paper or silicone mats.
This will prevent the dough from sticking to the rolling pin.
Best Keto Pop Tart Fillings
There are infinite possible fillings. I recommend my keto berry chia seed jam recipe using any keto fruits you like in the recipe.
My favorite flavor is keto strawberry pop tarts, but raspberry and blueberry taste amazing too. Other ideas are:
Cream cheese – warm cream cheese with sugar-free crystal sweetener. Spread in the pastry with some fresh berries on top. Cream cheese is perfectly keto-friendly!
Fresh berries – strawberries, blueberries, raspberries. They will cook in the oven and naturally create a fruit compote in the pastry.
Curd or custard
Frequently Asked Questions
What can I use this low-carb pastry dough for?
This all-purpose flaky keto pastry dough is very flexible and easy to roll without breaking. It that can be used for:
How Many Carbs In Keto Pastry?
This Keto Pastry recipe brings only 6.6 grams of net carbs per pop tart serving.
More Keto Desserts
If you like keto pastries, you'll love these other recipes:
Made these keto pop tarts yet? Share a picture with me on Instagram.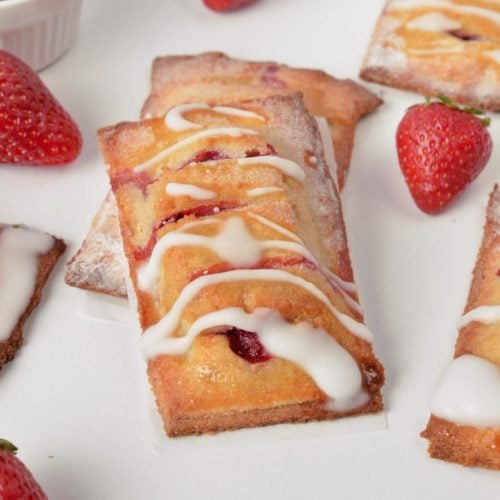 Keto Strawberry Pop Tarts
These Keto Pop Tarts are delicious keto pastry dough with a buttery, flaky texture and filled with sugar-free chia seed jam.
Serving Size:
1
strawberry pop tart
Nutrition Snapshot
Want My Kitchen Equipment?
Instructions
Before you start, make sure you measure all the ingredients precisely in grams/oz or cups. If you use cups, firmly pack the flour in the cup and level it.

Preheat the oven to 350°F (180°C). Line a baking tray with parchment paper. Set aside.

In a large mixing bowl, whisk all the dry ingredients: almond flour, coconut flour, sugar-free crystal sweetener, and xanthan gum.

Add in unsweetened almond milk, melted butter, and apple cider vinegar.

Combine with a spoon at first, and knead the dough with your hands until you can shape a ball.

Wrap the pastry dough ball into a piece of parchment paper or cling film wrap.

Remove the dough from the freezer and divide the dough ball in half. Roll each half between two pieces of parchment paper into 1/4-inch thick rectangles of about 1.5 x 2.3 inches ( 4cm x 6 cm). You will get around 16 small rectangles in total, 8 from each half dough ball. For larger tarts, double the size of each rectangle and make only 6 pop tarts (net carbs per serving will therefore double).

Transfer rectangles of dough onto the prepared baking tray, leaving a 1-thumb space between each rectangle. The dough won't expand while baking, but the jam may run out of pastry, so it's better to leave some space between each pop tart.

Spread 1/2 tablespoon of cream cheese (or vegan coconut yogurt) in the center of each rectangle of dough, leaving a half-inch (1 cm) edge around the edges. Layer 1/2 tablespoon of chia seed jam on each rectangle over the cream cheese and add a few slices of fresh strawberries (optional). Make sure you don't cover the borders of the rectangle with the filling, or you won't be able to close the tart. Use less filling if needed (this can happen if you roll your dough thicker and didn't manage to cut out enough rectangles).

Lay the other rectangles over the filling and seal the edges by pressing with your fingertips. If desired, cut the top dough with a knife to form gills.

Brush the top of each pop tart with beaten eggs or unsweetened almond milk if vegan.

Bake for 25 minutes on the center rack of your until the crust is golden brown. You can add a piece of foil on top of the pop tarts if the crust browns too dark/too fast and bring the tray to a level lower in the oven.

Meanwhile, in a small bowl combine sugar-free powdered sweetener with almond milk. Add more almond milk to make the glazing more liquid or add more powdered sweetener to thicken.

Cool the pop tarts down on a rack for 2 hours. Drizzle the glazing onto the cold pop tarts.

Store in an airtight container in the fridge for up to 3 days or freeze individually and defrost the day before at room temperature.
My Recipe Notes
Nutrition
Serving Size:
1
strawberry pop tart
Serving:
1
strawberry pop tart
Calories:
363.2
kcal
(18%)
Carbohydrates:
13.6
g
(5%)
Fiber:
7
g
(29%)
Net Carbs:
6.6
g
Protein:
8.9
g
(18%)
Fat:
32.8
g
(50%)
Saturated Fat:
10.9
g
(68%)
Polyunsaturated Fat:
1.3
g
Monounsaturated Fat:
4.9
g
Trans Fat:
0.4
g
Cholesterol:
37.7
mg
(13%)
Sodium:
173.3
mg
(8%)
Potassium:
33.7
mg
(1%)
Sugar:
2.2
g
(2%)
Vitamin A:
457.7
IU
(9%)
Vitamin B12:
0.1
µg
(2%)
Vitamin C:
0.1
mg
Calcium:
97.1
mg
(10%)
Iron:
1.5
mg
(8%)
Magnesium:
5
mg
(1%)
Zinc:
0.2
mg
(1%)
Posted In: