Keto Mini Donuts – Egg-free, No Pan Needed!
These Keto Mini Donuts are delicious, moist bite-size keto-friendly donuts with the most flavorsome cinnamon sugar!
Bonus, these keto donuts don't require any fancy tool like mini-donut pans, and they are also egg-free and vegan-friendly.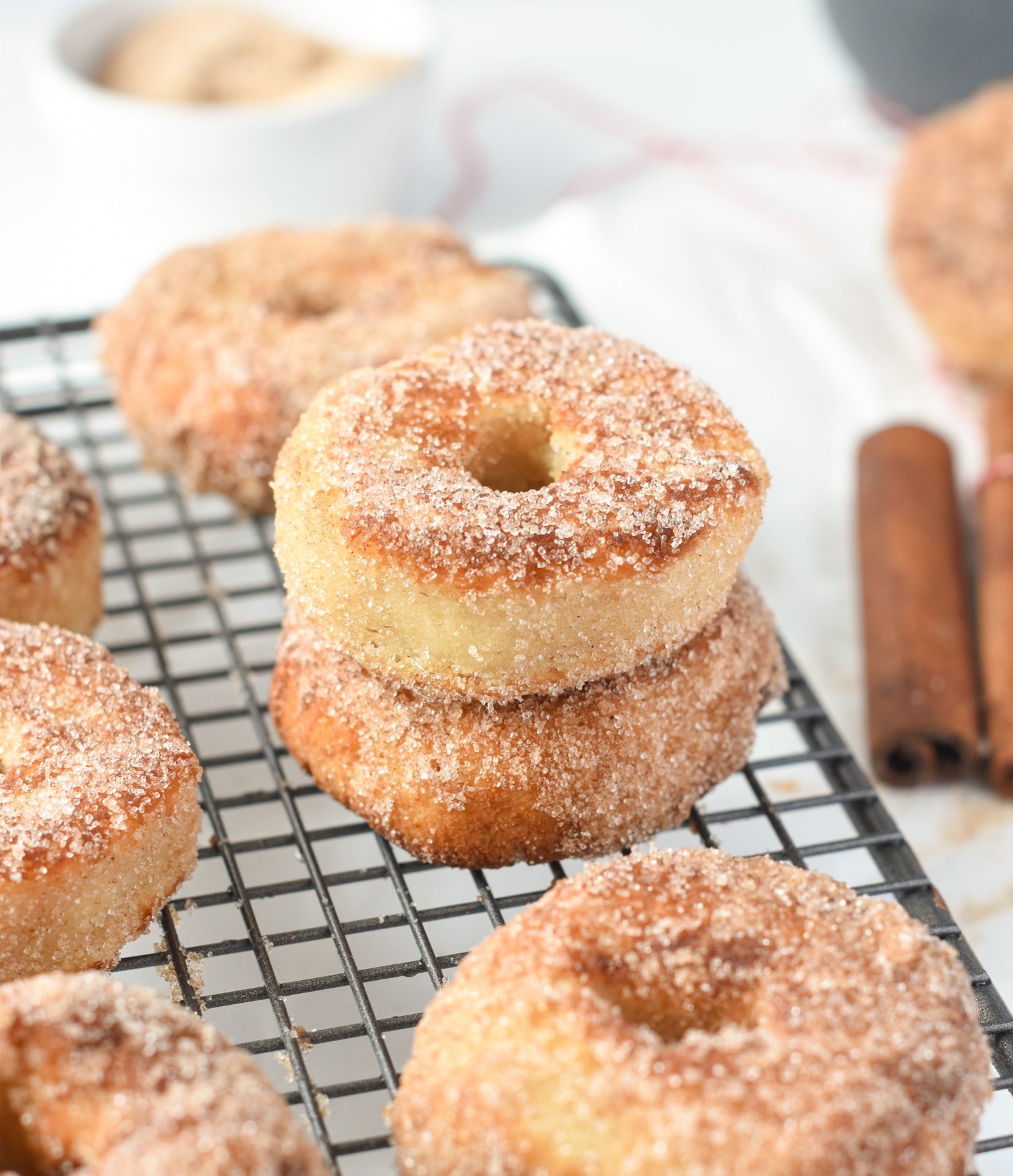 Are All Donuts Keto?
Unfortunately, no. All classic donut recipes or store-bought donuts are very high in carbs because they are made with all-purpose flour and sugar.
But you can make amazing keto donuts at home so let's see how to cut the carbs and enjoy a donut on your keto journey.
What Are Mini Keto Donuts?
These keto donuts are bite-size low-carb donuts, perfect for fixing your donuts cravings without the sugar and carbs. They are naturally:
Keto-friendly
Egg-free
Gluten-free
Grain-free
Low-carb
Vegan
How To Make Keto Mini Donuts
I love mini donuts for a keto breakfast! They are great for portion control and the best fulfilling keto-baked good ever, full of fiber and healthy fats.
Plus, this recipe is super easy to make. You don't need any donuts pan, and you can also use your air fryer for baking them and avoid frying!
Ingredients
To make this keto donut recipe without eggs, you need the ingredients below:
Apple Cider Vinegar – This is to activate the raising agents even more and make the donuts fluffier. You can swap for any vinegar or lemon juice.
Active Dried Yeast – You can totally skip yeast, but the flavor is amazing in the dough, so highly recommended. If you skip the yeast, keep following the recipe identically just without yeast, don't decrease liquid or any other ingredients.
Almond Flour – You can't replace almond with some other keto flours in this recipe.
Coconut Flour – Same here, the combination of flours makes the recipe delicious, so don't swap or skip any.
Whole Psyllium Husk – Husk powder works as well, but the donut batter may come out dryer with it, and you may have to add more water to work out the dough.
Erythritol or any granulated keto sweetener you love. Use my sweetener converter to calculate the ratio.
Salt
Vanilla Extract
Baking Powder
Melted Coconut Oil or melted butter.
Lukewarm Water – It means 100°F (40°C). That's the temperature you need to activate the yeast and the husk fiber quickly to form a dough.
Activating The Yeast
First, add the yeast and lukewarm water into a bowl. You can add a pinch of inulin to feed the yeast or a pinch of real sugar.
Don't worry! The yeast consumes all the sugar, and there will be no sugar left in the recipe.
Set aside until the yeast foams up.
Combine dry ingredients to the wet ingredients
In another bowl, whisk all the dry together until well combined. This is a very important step because if you don't combine flours and husk, the husk will form lumps in the dough.
Next, pour the activated yeast onto the dry ingredients along with melted coconut oil and vanilla extract.
Knead and rest
Stir with a spoon at first, then knead by hand until the dough dries up and comes together into a ball. It can take up to 1 minute as the fiber needs time to activate and hold the flours together.
Cover the bowl with plastic wrap and set it aside in a warm, dark place for 30 minutes. You can also add a towel on top of the bowl to increase the warmth of the bowl and boost yeast.
After that time, the dough should smell yeasty and be a bit sticky. That's normal. It is also easy to roll into small balls. The dough is not going to rise because it has no gluten!
Form mini keto donuts
Wet your hand with water and divide the dough into 12 portions that you roll into balls in your hands.
Place each ball on a baking tray covered with lightly oiled parchment paper. Press down the balls, and then use your thumb to form a hole in the center.
If the sides crack, wet your fingers and rub the cracks with water to fix them.
Frying or air frying
I don't recommend baking the mini donuts in the oven. They don't firm up well and remain fragile and crumble apart.
There are only two ways to cook these egg-free keto donuts.
1. Air frying
I prefer the air fryer keto donuts method for best results. First, preheat the air fryer to 400°F (200°C). Brush the top of each low-carb donut with melted coconut generously and spray or brush the air fryer basket with oil.
Place each sugar-free donut in the basket, making sure they don't touch each other, and air fry for 10-12 minutes until golden and crispy outside.
Carefully remove from the basket and cool down on a rack for 2-3 minutes.
Then, brush melted coconut oil onto the air-fried grain-free donuts and roll them into the sugar-free cinnamon sugar to coat evenly.
2 . Frying in oil
The best oil to fry these keto donuts is coconut oil. While avocado oil is healthier and has a higher smoke point, it also adds a flavor and yellow color to these low-carb donuts that I don't like.
So, warm one tablespoon of coconut oil in a small non-stick skillet and add the donuts to the hot oil. Fry 2-3 minutes on one side over high heat, then flip and keep cooking until golden brown on both sides.
Place on a plate covered with absorbent paper to remove extra oil, then immediately roll into the sugar-free cinnamon sugar coating to cover the donuts.
Set aside on a rack and keep cooking the remaining donuts.
Serving ideas
These keto donuts are delicious dipped into some of my sweet sauce below:
More Keto Pastry Recipes
If you like this recipe, you'll love these: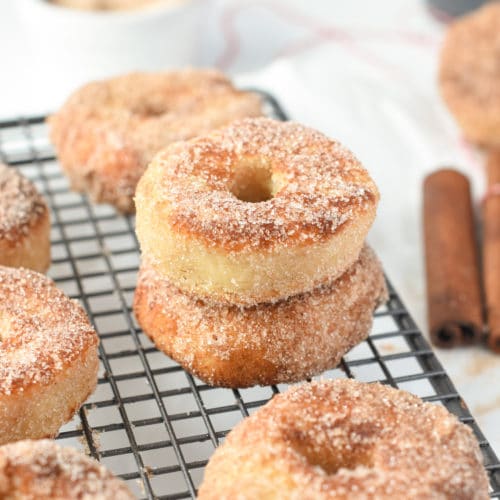 Keto Mini Donuts
Fluffy soft mini low-carb donuts with almond flour and egg-free for a delicious, sweet breakfast.
Yield:
Mini donuts (30g each, 1 oz)
Serving Size:
1
donut (1 oz, 30g)
Ingredients
Sugar-free cinnamon sugar coating
⅓

cup

Erythritol

1

teaspoon

Cinnamon
To brush air fried donuts or fry
2-3

tablespoons

Melted Coconut Oil
This recipe may contain Amazon or other affiliate links. As an Amazon Associate I earn from qualifying purchases.
Instructions
In a small bowl, whisk active dried yeast and lukewarm water. Set aside 10 minutes until foamy. You can add a pinch of real sugar to feed yeast. No sugar will be left in the recipe as yeast use sugar to form CO2.

In another mixing bowl, whisk the dry ingredients: almond flour, coconut flour, psyllium husk, salt, erythritol, and baking powder.

Make a well in the center of the dry ingredients and pour in melted coconut oil and lukewarm water with yeast, vanilla extract, and apple cider vinegar. Combine with a spatula. The batter is moist at first and will come together as you knead the dough with your hand.

Knead for 1 minute, form a ball. Cover the bowl with plastic wrap and place a kitchen towel on top to keep it dark and warm. Set it aside in a warm place for 30 minutes to let the fiber bind the ingredients together. The dough won't rise as there's no gluten involved, but the fiber will bind, and the yeast will flavor the dough.

Meanwhile, prepare the cinnamon coating. In a small bowl, stir erythritol and cinnamon. Set it aside.

Uncover the bowl, wet your hands with water to prevent the dough from sticking to your fingers – the dough is sticky, and that's normal. Next, divide the dough ball into 14 portions of 30 grams/1oz each and roll each portion into a small ball.

Place each ball onto a piece of oiled parchment paper. Press the dough slightly to flatten into a circle shape, then use your thumb to form a hole in the center of each donut – scroll up in this post to look at my step-by-step pictures if you are a visual learner. If the sides of the donuts crack, wet your fingers and rub the sides to reshape and fix the cracks.
Air fryer method
Brush top of each donut with melted coconut oil and place them in the air fryer preheated to 200°C (400°F) for 8-12 minutes or until golden brown – I kept the piece of parchment paper under the donuts, it makes it easier to carry in the basket. After 8 minutes, check the color and baking every 2 minutes, remove from the air fryer when crispy outside and golden.

Remove from the air fryer and cool on a rack for 2 minutes. Brush both sides of each donut with melted coconut oil and dip them into the cinnamon coating to cover with sugar-free sweetener.
Frying method
Warm one tablespoon of coconut oil in a small non-stick skillet, then add the donuts into the hot oil and fry for 2 minutes on one side until golden. Then flip and fry one minute on the other side.

Remove the donuts from the oil with tongs, place them on a plate covered with absorbent paper for 1 minute to soak up the extra oil, then roll into the sugar-free cinnamon sugar to coat.

Repeat these steps until all the low-carb mini donuts are cooked and coated.
Storage
Store for up to 4 days in the fridge. Place them on a plate covered with plastic wrap to prevent them from drying out. Rewarm 1-2 minutes in the air fryer if desired.

Freeze well for up to 2 months.
Notes
Note 1: Lukewarm refers to water at 100°F (40°C). Under this temperature. Your dough will take a long time to come together and the yeast won't get activated.
Note 2: You need ultra-fine almond flour with a golden color and thin texture. You can't make the recipe with almond meal that is coarse and dark in color. If you have a nut allergy, use sesame seed flour.
Note 3: You can't replace coconut flour with more almond flour in this recipe.
Note 4: You need whole husk not husk powder nor husk supplement brands like Metamucil that only contains 50% husk. It will turn the food wet, uncooked, and even sometimes change food color into purple or blue.
You can't replace husk with xanthan gum either, as the dough wouldn't come together.
Note 5: Any oil works in the recipe, including coconut oil, melted butter, or ghee.
Note 6: Troubleshooting. If the dough is too wet to roll, add more husk (1 teaspoon at a time), knead 1 minute after each addition, and rest the dough for 10 minutes. If the dough is too dry, add more water (1 teaspoon at a time).
Want My Kitchen Equipment?
Serving Size:
1
donut (1 oz, 30g)
Yield:
Mini donuts (30g each, 1 oz)
Serving:
1
donut (1 oz, 30g)
Calories:
118.3
kcal
(6%)
Carbohydrates:
7.1
g
(2%)
Fiber:
4.5
g
(19%)
Net Carbs:
2.6
g
Protein:
3.7
g
(7%)
Fat:
9.2
g
(14%)
Saturated Fat:
1.7
g
(11%)
Polyunsaturated Fat:
0.1
g
Monounsaturated Fat:
0.1
g
Sodium:
4.2
mg
Sugar:
0.7
g
(1%)
Calcium:
42.2
mg
(4%)
Iron:
0.7
mg
(4%)
Posted In: