How To Make Cinnamon Sugar (Ratio & Recipe)
Learn how to make cinnamon sugar with just two ingredients. There's a sugar-free, diabetes-friendly option to use this sugar in cinnamon rolls and French toast recipes.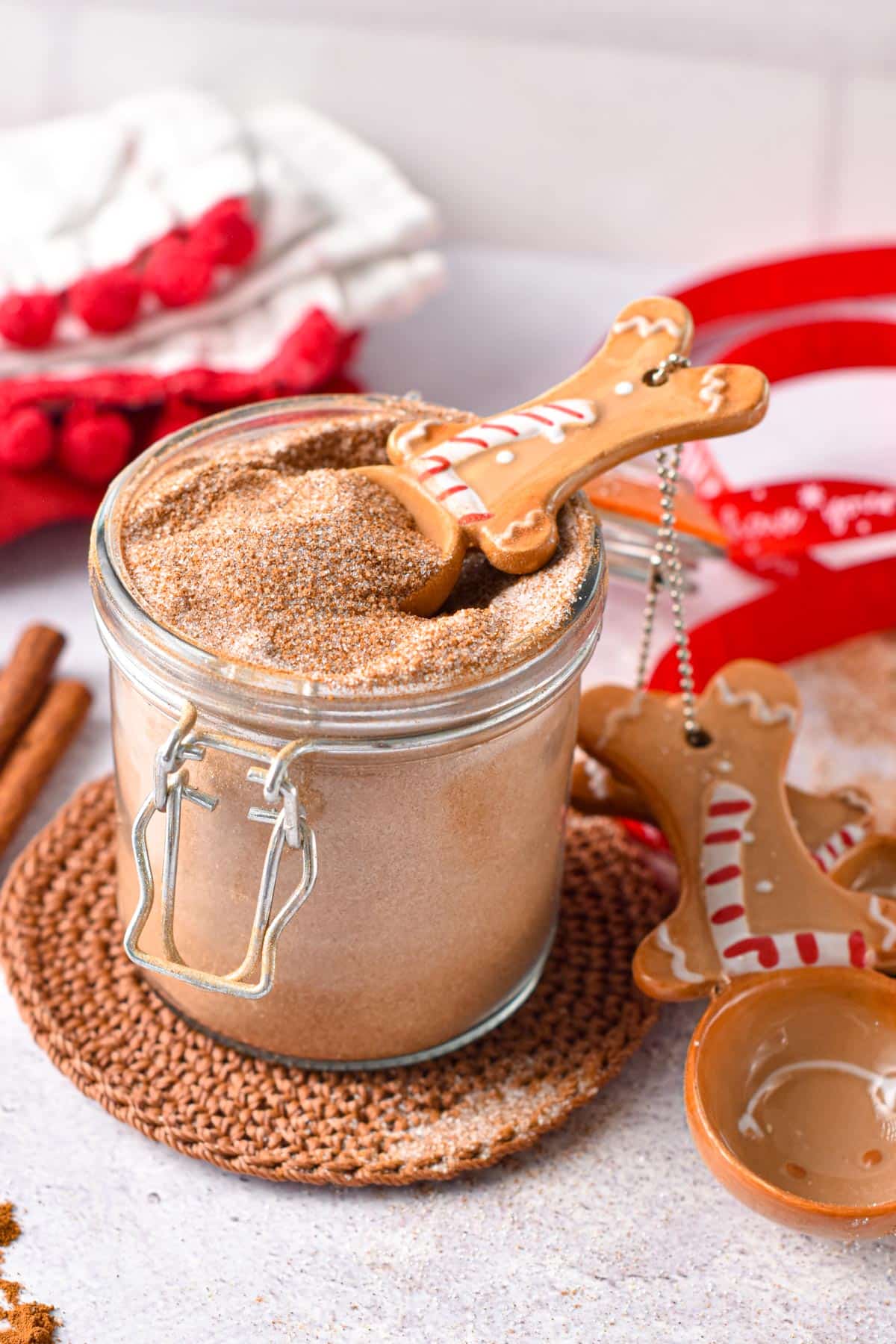 I love cinnamon sugar to spice up my classic crepes or bake keto cinnamon rolls or keto French toast.
Cinnamon sugar is amazingly versatile and a great way to add fall flavors to any baked goods or drink. You can use this to sweeten coffee, hot chocolate, or tea!
Let's see how to make the best cinnamon sugar mix every time.
How To Make Cinnamon Sugar
The main issue with many cinnamon sugar recipes is that they forget to provide a ratio of cinnamon to sugar. Most recipes call for one cup of sugar and four tablespoons of cinnamon.
But, if you don't need a whole cup of cinnamon sugar, you might just need to know the best cinnamon sugar ratio.
Perfect Cinnamon Sugar Ratio
The best ratio for a sweet medium cinnamon flavor is:
One part of cinnamon for four parts of sugar. So for 16 tablespoons of sugar (1 cup of granulated sugar), you need 1 tablespoon of cinnamon.
If you want to prepare only 1/4 cup of sugar with cinnamon, use 1/4 cup of granulated sugar for 1/4 tablespoon of cinnamon which is about 3/4 of a teaspoon.
Calculator
To make it easier to calculate, use the slider below!
For of Sugar (or sweetener),
You need of cinnamon.
Ingredients
All you need are 2 ingredients to make this delicious blend.
Ground Cinnamon – You can make cinnamon sugar with any kind of granulated sweetener. So you can use brown sugar, white sugar, coconut sugar, or sugar-free crystal sweetener like erythritol.
Cinnamon – You need pure Ceylon cinnamon for best results in this recipe.
Types Of Cinnamon
There are four types of cinnamon available, and the one you choose can impact the taste and flavor of this recipe.
Ceylon Cinnamon – Tt has a strong flavor and soft texture. It's the one I use in this recipe that provides a darker color and strong cinnamon flavor.
Korintje Cinnamon – It has a milder flavor and makes up 70% of all cinnamon sold in the US. You may need a higher cinnamon ratio if you use it to achieve a strong cinnamon flavor in the blend.
Saigon Cinnamon – This cinnamon variety is very sweet, not spicy, and not recommended for this recipe.
Royal Cinnamon – Royal cinnamon is super sweet and spicy, albeit too sweet for this recipe.
Preparation
To make the mix, add both ingredients (1) into a small bowl (2) and use a small whisk to combine (3) or a fork. Whisk until both ingredients are well incorporated (4), and no lumps show (5).
Storage Instructions
Store cinnamon sugar in a sealed glass mason jar or jar with an airtight lid.
You can store it in your pantry up to the date of use of the sugar used in the recipe. It means that if the shelf time of your sugar is one year, your cinnamon sugar mix will also last a year.
For extra flavors, you can also add cinnamon sticks to the jar.
How To Use Cinnamon Sugar
Homemade Cinnamon sugar is one of the most common sugar used in:
Allergy Swaps
If you want to use this recipe and have some allergies to white sugar, try the options below.
Paleo – Use coconut sugar and the same ratio.
Sugar-free – Use xylitol, erythritol, or allulose in the same ratio.
Frequently Asked Questions
Below are my answers to your most common questions about this cinnamon sugar recipe.
Can I Use Sugar-Free Crystal Sweeteners?
Yes, any keto sweetener with a 1:1 replacement ratio to sugar works, like erythritol, allulose, or xylitol.
Can I Use Saigon cinnamon?
Yes, you can, but it's sweeter and less spicy than Ceylon cinnamon. You may want to increase the ratio to 1.5 part cinnamon for 4 parts sugar, so 1.5 tablespoons of Saigon cinnamon for 1 cup of sugar.
Recipe To Use Cinnamon Sugar
Below are some easy recipes where you can use cinnamon sugar. It can add flavor to breakfast food, baked goods, or hot drinks.
More Cinnamon Recipes
Here's some more cinnamon recipes for you to try.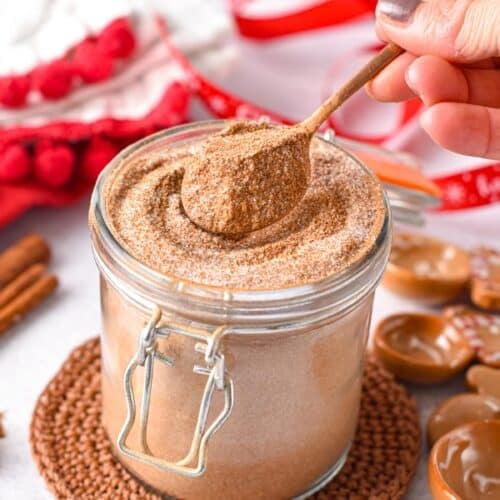 How to Make Cinnamon Sugar
Learn How to Make Cinnamon Sugar with just two ingredients. Plus, there's a sugar-free diabetes-friendly option to use this sugar in any cinnamon rolls or French toast recipes.
Serving Size:
1
Tablespoon
Ingredients
1

tablespoon

Ceylon Cinnamon

note 1

1

cup

Granulated Sweetener

note 2
This recipe may contain Amazon or other affiliate links. As an Amazon Associate I earn from qualifying purchases.
Instructions
In a small bowl, whisk 1 part of cinnamon for 4 parts of sugar, so 1 tablespoon of cinnamon for 16 tablespoons of sugar (1 cup).

Store for up to 1 year in the pantry in an airtight glass mason jar.
Notes
Note 1: Ceylon cinnamon is the best for this recipe because it has a spicy flavor. If you are using Saigon cinnamon, use 1.5 tablespoons for 1 cup of sugar (ratio of 1.5 to 4). Note 2: any granulated sweetener works, including brown sugar, sugar-free sweeteners like erythritol, xylitol, allulose, or coconut sugar if paleo.
Want My Kitchen Equipment?
Serving Size:
1
Tablespoon
Serving:
1
Tablespoon
Calories:
1.2
kcal
Carbohydrates:
11.8
g
(4%)
Fiber:
0.3
g
(1%)
Net Carbs:
11.5
g
Protein:
0.02
g
Fat:
0.01
g
Saturated Fat:
0.002
g
Polyunsaturated Fat:
0.001
g
Monounsaturated Fat:
0.001
g
Sodium:
0.1
mg
Potassium:
2.2
mg
Sugar:
0.01
g
Vitamin A:
1.5
IU
Vitamin C:
0.02
mg
Calcium:
5
mg
(1%)
Iron:
0.04
mg
Magnesium:
0.3
mg
Zinc:
0.01
mg
Posted In: