This keto pumpkin spice latte is a frothy, creamy, low-carb latte recipe. The best keto morning bulletproof latte recipe to celebrate the fall season with only 4 grams of net carbs!
Plus, this keto pumpkin latte is very easy to make in 15 minutes and comes with a dairy-free option.
What's A Pumpkin Spice Latte?
It is a coffee drink popular in the fall, combining strong espresso, pumpkin pie spices, and steamed milk.
It's often served with whipped cream and a sprinkle of extra pumpkin spice.
Can I Have A Latte On Keto?
You can drink a keto latte with almond milk on a keto diet, but you can't order a regular coffee latte without making a few adjustments to your order.
In fact, most lattes are made of regular milk. Therefore they are high in carbs and sugar, and sometimes, if you order a keto pumpkin spice latte from Starbucks, it will contain sugar-loaded vanilla syrup.
How To Order Takeaway Keto Latte
So while I think it is better to make your own keto latte recipe at home, let me share my tips to order a keto-friendly latte from Starbucks or any local coffee store.
This is how to order a keto-friendly latte from a coffee shop:
Sugar-free sweetener – ask for no sweetener and add yours or ask for a sugar-free natural sweetener like stevia or erythritol.
Unsweetened almond milk or heavy cream or half-half – almond milk has no added sugar but be aware that some brands of coconut milk contain sugar, so avoid ordering this option.
Unsweetened heavy whipping cream on top to avoid the addition of sugar.
Sugar-free vanilla syrup – if you order a pumpkin spice latte or PSL from Starbucks, ask for 2-3 pumps of sugar-free vanilla syrup. Otherwise, it will come with sugar-loaded syrup that is not keto-approved.
This being said, if you really love a pumpkin spice latte, it is far healthier to make your own at home.
You will avoid the sugar-free syrup from the cafe store. These are usually made of artificial sweeteners, not the best on your keto journey.
Let me show you how to make Starbucks pumpkin spice latte low-carb and 100% keto-friendly!
How To Make Keto Pumpkin Spice Latte
It is very easy to make a keto-friendly pumpkin latte at home.
Ingredients
All you need are 5 simple ingredients and 15 minutes.
Strong espresso coffee – brewed black coffee provides the best flavor.
Pumpkin puree – canned pure pumpkin puree has no sugar added or additives. Learn how to make your own pumpkin puree.
Pumpkin spices – a combination of ground cinnamon, nutmeg, and ginger.
Unsweetened almond milk
Erythritol – or xylitol, to sweeten.
Bulletproof pumpkin latte addition
These ingredients are optional but recommended for a creamier keto pumpkin latte and start the day with healthy fats.
Butter or ghee or cocoa butter if you want to make a keto vegan latte
MCT oil or coconut oil
Optional latte toppings ideas
A keto latte is better with toppings. Below are the best keto-friendly pumpkin latte toppings you can use.
Unsweetened whipped cream – to serve on top of your low-carb latte.
Sugar-free maple syrup – optional, to serve on top of the cream.
Vanilla extract
Bulletproof Pumpkin Latte Step-By-Step
A bulletproof pumpkin latte is the best keto-friendly drink for fall breakfast.
It's a high-fat breakfast drink with an amazing vanilla latte and pumpkin spice flavors and even more if I tell you that the carb count is 4 grams of net carbs per serving!
Step 1: Prepare the pumpkin milk
The best way to make a flavorsome low-carb pumpkin spice latte is to first cook the pumpkin puree with spices for a few minutes.
Then, whisk in the milk of your choice. See the next paragraph for the best keto-friendly milk drinks. Finally, whisk in butter and MCT oil.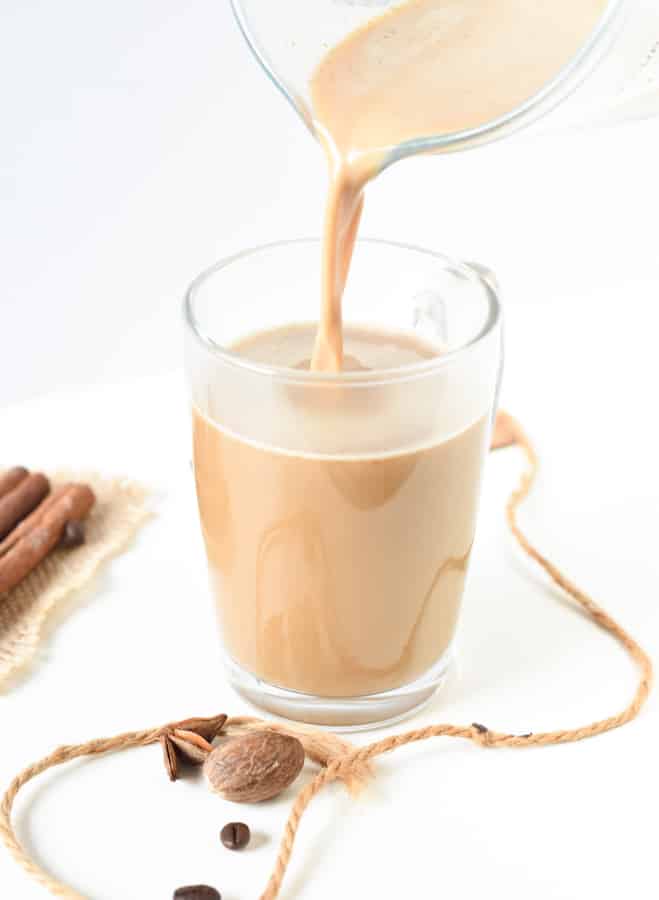 Step 2: Combine froth pumpkin milk and black coffee
Pour the hot pumpkin spice milk onto the hot black coffee and serve with unsweetened whipped cream and a drizzle of sugar-free vanilla syrup if desired.
Step 3: Serve with toppings
A pumpkin spice latte won't be the same without its most popular toppings. The best keto-friendly options for your pumpkin latte are:
Unsweetened whipped cream – or whipped coconut cream if dairy-free.
A drizzle of sugar-free vanilla syrup
A pinch of pumpkin pie spices
Frequently Asked Questions
What Is The Best Milk For Keto Latte
Keto lattes are not using regular cow milk. In fact, regular milk contains sugar from lactose, and it is not recommended on a keto diet. The best milk to make a keto latte are:
Unsweetened almond milk – bland in flavor, milky, with no sugar, and extremely low-carb milk, is your best option!
Unsweetened coconut milk – adds a coconut flavor, so you will have to love coconut.
Half-half – if you are just starting your keto journey, you may find it difficult to switch your regular milk for almond milk. Another option for you, called half-half, consists of replacing the amount of unsweetened almond milk in the recipe with half heavy cream and half unsweetened almond milk. This creates a frothier, milky drink without adding as many carbs as if you used whole milk.
Can I Make A Bulletproof Pumpkin Latte Recipe?
On a keto diet, you fuel your body with fat, not sugar or carbs. It means that you won't use regular milk in your latte recipe to avoid the carbs and sugar from lactose.
Consequently, keto latte recipes use unsweetened almond milk or coconut milk that is less creamy or frothy.
The trick to creating a creamy keto pumpkin spice latte is to add a touch of butter and MCT oil to your drink. It will create the creamiest coffee and helps you burn fat as you will fuel your body with pure, healthy fat.
To do so, add your pumpkin milk into a blender with butter and MCT oil and blend to froth. Then, assemble the drink as usual.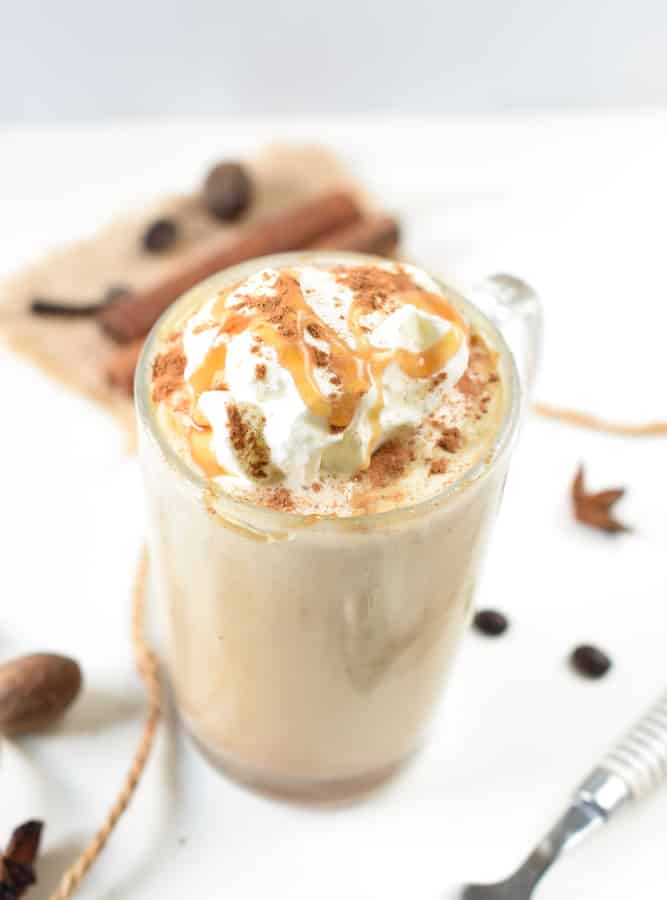 More Keto-Friendly Drink Recipes
If you love this pumpkin spice bulletproof coffee latte, you may also like my other keto drink recipes, including keto hot chocolate and iced coffee too!
Have you made this keto-friendly pumpkin spice latte? Share a picture with me on Instagram. I love to see your creation.
Keto Pumpkin Spice Latte
A creamy keto bulletproof latte for Fall breakfasts.
Serving Size:
1
pumpkin spice latte
Ingredients
2

tablespoons

Pumpkin Puree

(not pumpkin pie filling)

½

teaspoon

Pumpkin Pie Spices

see note to make your own

1-2

tablespoons

Erythritol

adjust to how sweet you like your coffee!

½

teaspoon

Vanilla Extract

1

cup

Unsweetened Almond Milk

½

cup

Strong Brewed Coffee
Optional Add-ons for a bulletproof pumpkin latte
1

teaspoon

MCT Oil

or coconut oil if dairy-free

1

teaspoon

Unsalted Butter

or ghee or cocoa butter if dairy-free
This recipe may contain Amazon or other affiliate links. As an Amazon Associate I earn from qualifying purchases.
Instructions
Prepare the pumpkin spice milk
In a small saucepan, under low/medium heat, whisk pumpkin puree, pumpkin spices, vanilla, and erythritol. Stir and cook for 1 minute or until fragrant (like pumpkin pie!).

Stir in unsweetened almond milk and simmer your pumpkin spiced milk for 1 minute, or until it forms bubbles on the side of the pan. OPTIONAL: If you want to make a bulletproof pumpkin spice latte, add the pumpkin milk in a blender along with butter and MCT oil and blend until frothy. For a classic keto pumpkin latte, skip this step and go to the 'assemble the drink' step.
Assemble the latte
Add the hot brewed coffee into a coffee mug (minimum two 17fl oz cups).

Top your coffee with the hot pumpkin spice milk.

Serve with two tablespoons of unsweetened whipping cream, a drizzle of sugar-free vanilla syrup and a pinch of ground nutmeg or pumpkin spices.
Notes
Pumpkin pie spices: 1/4 teaspoon ground cinnamon + 1/8 teaspoon ground nutmeg + 1/8 teaspoon ground ginger
Nutrition panel is for the entire recipe, includes toppings.
Want My Kitchen Equipment?
Serving Size:
1
pumpkin spice latte
Serving:
1
pumpkin spice latte
Calories:
234.6
kcal
(12%)
Carbohydrates:
5.7
g
(2%)
Fiber:
1.6
g
(7%)
Net Carbs:
4.1
g
Protein:
2.5
g
(5%)
Fat:
22.8
g
(35%)
Saturated Fat:
13.3
g
(83%)
Cholesterol:
51.9
mg
(17%)
Sodium:
376.8
mg
(16%)
Potassium:
119.9
mg
(3%)
Sugar:
1.9
g
(2%)
Vitamin A:
5234.8
IU
(105%)
Vitamin C:
1.3
mg
(2%)
Calcium:
319.5
mg
(32%)
Iron:
0.6
mg
(3%)
Posted In: