Keto Bulletproof Latte The Best Fat Burning Coffee
This Keto latte or Fat Burning Coffee will help you reach your daily fat macro and burn fat while enjoying the most delicious dairy-free bulletproof coffee.
An easy low-carb keto recipe, 100% Dairy-free, Paleo, Vegan, and Gluten-free.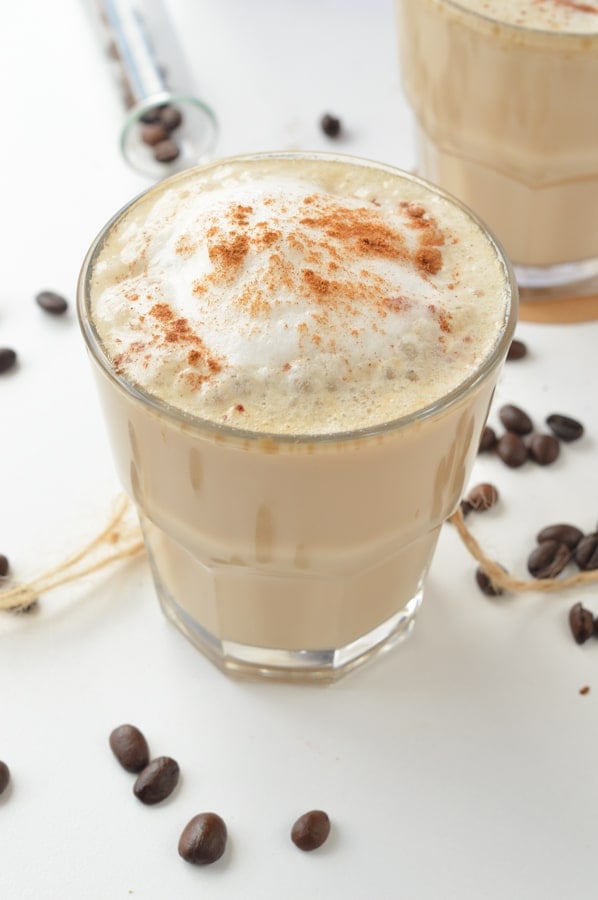 What Is A Keto Latte?
A keto latte is a variant of the popular coffee latte. It's a coffee drink made with espresso, healthy fat, and dairy-free steamed milk.
My keto latte is 100% dairy-free and uses only wholesome plant-based ingredients to help you burn fat while enjoying an easy-to-digest coffee drink.
While some dairy products are acceptable on a keto diet, they may be more difficult to digest, and this fat-burning coffee will be easy on your guts.
What Is Bulletproof Coffee?
Bulletproof is a commercial brand that makes a special fat-loaded coffee. It's so popular that it has become a synonym for coffee made to support your ketogenic diet.
So it's like a regular coffee or latte, just made with additional fat. So you'll find recipes made with MCT oil or sometimes coconut oil plus either butter or ghee.
Bulletproof coffees can be used while you are doing your intermittent fasting. Since fat doesn't alter your blood sugar levels, bulletproof coffees won't break your fast!
It can also be used to reach your fat macros easily, or as a drink to help with the effects of the keto flu.
How To Make Keto Latte
You need very few ingredients to make this keto latte.
Ingredients
I am listing below any substitution you can make to create different keto bulletproof lattes to your taste or to what you have available.
Brewed Espresso – Make your own good-quality coffee. Your keto latte can't be good with bad coffee, but it can be excellent with great coffee.
MCT Oil or coconut oil – this contributes to the high-fat and high-protein content of the latte.
Heavy Cream or Coconut cream. Both are keto-friendly ingredients.
Erythritol – or any other crystal sweetener.
Unsalted Butter or Cocoa butter. This is the special ingredient that turns this latte into a bulletproof latte.
Unsweetened Vanilla Almond Milk – because it will taste even better with the touch of vanilla.
Ground Cinnamon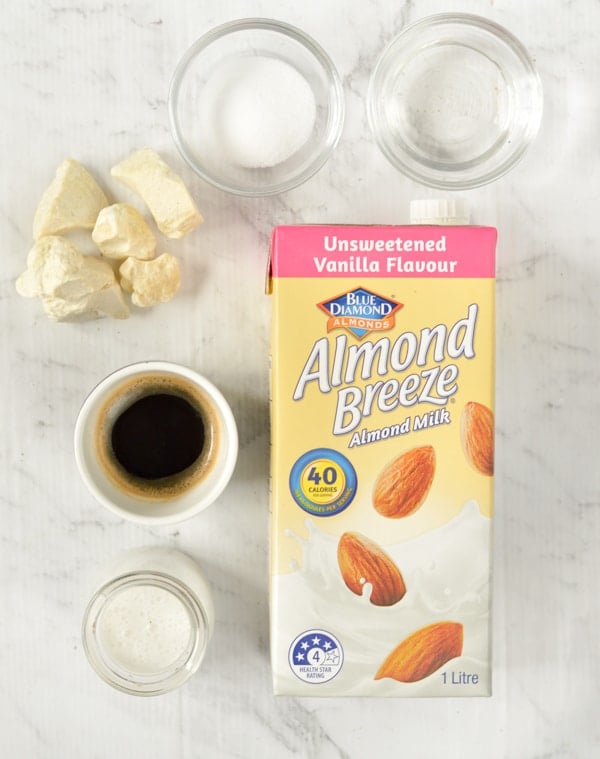 Making Good Quality Coffee
I used my Nespresso coffee machine and served 1 long espresso to reach 1/4 cup of espresso coffee. I recommend making a blend of Nespresso coffee capsules at home.
Choose a coffee intensity that matches the time of day. If you drink your keto latte in the morning, I recommend the maximum coffee strength – a capsule from 9 to 12 on the strength scale.
For afternoon coffee drinkers, a level 6 or less will be better to avoid caffeine impacting your night's sleep. If you don't have a coffee machine, you can use freshly brewed coffee.
Choosing The Right Fat
A Keto Latte is useful, in particular, if you are doing intermittent fasting, because it brings a good amount of fat while keeping you in ketosis.
Let's have a look at what you can pick:
Cocoa Butter
Most keto latte recipes will suggest you use butter as a creamer.
I don't really think it is easy to digest, and the flavor of butter in coffee is not for everyone. That's why I recommend you use a plant-based fat source, cocoa butter.
Cocoa butter is the fat used to create chocolate. It has a silky smooth texture with a delicious 'white chocolate' flavor. It has no dairy, no sugar.
It is 100% pure plant-based fat including contains oleic acid, a monounsaturated fat that decreases the risk of heart disease.
MCT Oil
is a must-have on a keto diet. MCT stands for Medium Chain Triglycerides. You can see MCT oil as a super fuel for your body.
MCT oil is quickly burned and used by your body cells, boosting your fat burning process and helping you lose weight faster.
Cream
I love to use coconut cream as a dairy-free option, but you can use heavy cream if preferred.
Picking The Dairy-free Milk
Almond milk
I love to use Unsweetened Vanilla Almond Milk.
This almond milk has no sugar added, few net carbs, and it's the only dairy-free milk creating a lovely silky foam when frothed.
It makes your keto latte even better than the real thing.
Coconut Milk
If you are allergic to almonds, you can use coconut milk instead. Pick the beverage option, not the canned coconut milk version.
Sweetening And Flavoring
It's up to you to sweeten your coffee. I recommend 1 or 2 teaspoons of erythritol or Monk fruit sugar. You can also use stevia drops if preferred.
Cinnamon not only adds a delicious spicy flavor to your latte, but it also helps decrease blood sugar levels making this spice a great addition to a keto latte.
Why Is It A Fat Burning Coffee?
This keto latte is a fat-burning coffee recipe as it contains 52% of fat to help you fuel your body with the necessary amount of fat to reach ketosis.
Ketosis is the natural state your body enters on a keto diet to start burning fat as the first source of energy.
Frequently Asked Questions
Can I Make A keto Cappuccino Or Keto Caramel Latte?
You can't use flavored syrup on a keto diet as they contain a huge amount of sugar. I don't recommend artificial sweeteners either, as they can kick you out of ketosis.
The trick to creating a quick caramel latte, vanilla latte, or keto cappuccino is to use flavored Nespresso capsule or flavored stevia drops like caramel or vanilla.
Which Tools Do I Need For Keto Latte?
A Blender
You absolutely need a blender, any kind of blender that will pulse the espresso with oils at high speed. It's this process that will create a delicious bulletproof coffee, the base of the keto latte.
If you don't have a blender, you will end up with 2 layers, one with the coffee and one with the oil. It won't get creamy, and it wouldn't taste good.
I use a KitchenAid professional blender, but a simple NutriBullet would work just as well.
A Milk Frother
A milk frother is great for foaming almond milk. It's highly recommended to make a creamy-smooth latte using Almond Breeze Unsweetened Almond milk.
Keep in mind this is the only brand that froths so well! It creates the best milk foam. You won't regret it!
More Keto Breakfast Drinks
If you enjoy breakfast drinks like this keto latte, you'll love these: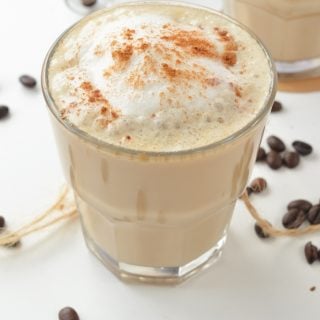 Keto Bulletproof Latte
This Keto Fat Burning Latte Coffee will help you reach your daily fat macro and burn fat while enjoying the most delicious dairy-free Bulletproof coffee. A keto Latte is a variant of the popular coffee latte. It is a coffee drink made with espresso, healthy fat, and dairy-free steamed milk. Dairy-free, sugar-free, vegan.
Nutrition Snapshot
Want My Kitchen Equipment?
Ingredients
Step 1: Bulletproof coffee
Instructions
Step 1: Prepare the Bulletproof coffee
In a blender, add hot brewed espresso, MCT oil, cream, sugar-free sweetener, and cocoa butter – to prevent lumps, melt this in the microwave for 30 seconds.

Blend on high speed for 30-45 seconds or until the oil is combined with the coffee and it forms a creamy light brown coffee mixture.

Serve into a mug. Set aside while you froth the almond milk.
Step 2: Serve the Keto latte
In a coffee frother, add unsweetened vanilla almond milk. Push the frother start button. Almond Breeze almond milk creates a lovely light foam after 45 seconds.

Pour the hot frothed almond milk on top of the previous coffee mixture.

Sprinkle ground cinnamon on top for extra flavor.
Notes
You must use a blender for this recipe or the oil won't blend with the coffee. It is this process that creates a lovely creamy bulletproof coffee, the base of your keto latte.
My Recipe Notes
Nutrition
Serving:
1
latte
Calories:
318.1
kcal
(16%)
Carbohydrates:
1.8
g
(1%)
Fiber:
0.3
g
(1%)
Net Carbs:
1.5
g
Protein:
3.1
g
(6%)
Fat:
34.2
g
(53%)
Saturated Fat:
26.1
g
(163%)
Cholesterol:
62.6
mg
(21%)
Sodium:
231.2
mg
(10%)
Sugar:
0.1
g
Vitamin A:
690.9
IU
(14%)
Calcium:
119.5
mg
(12%)
Posted In: