Sweetener Converter
THIS POST MAY CONTAIN AFFILIATE LINKS, WHICH MEANS THAT I MAKE A SMALL COMMISSION OFF ITEMS YOU PURCHASE AT NO ADDITIONAL COST TO YOU. PLEASE SEE MY
FULL DISCLOSURE POLICY
FOR DETAILS
Do you have a Sweetener but the recipe calls for another one?
Look no further! This Sweetener Converter can take most of the common sweeteners and convert them to another one!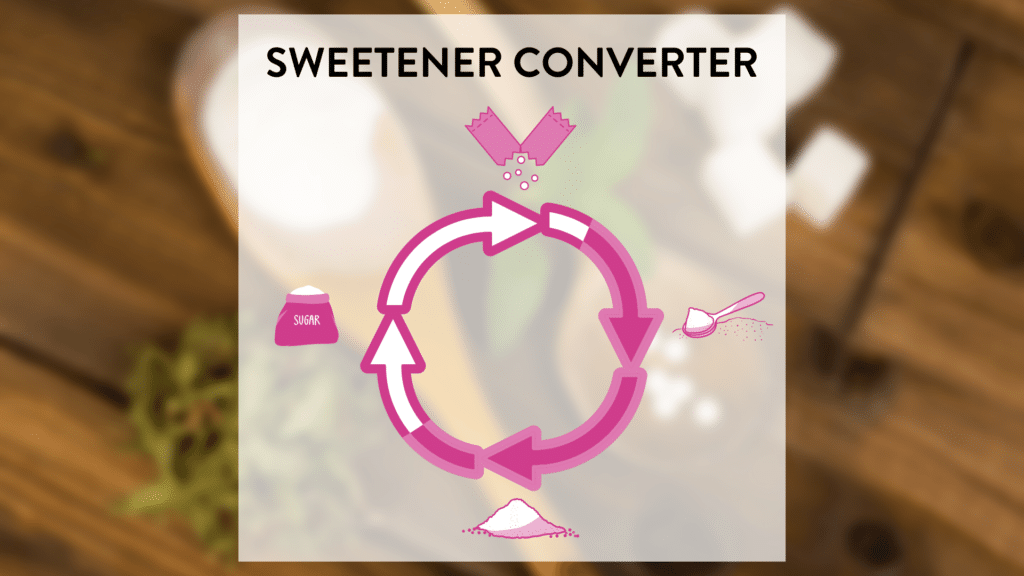 Which Sweeteners are fine on a Low-Carb Diet?
Not all sweeteners are keto-friendly! To learn which are the best keto-friendly sweeteners, read my full review of 15+ Sweeteners.
But in short, there are 3 main families of sweeteners:
Sugar Alcohols: very similar to classic table sugar, but some of these sweeteners are not digested by our body, making them 0 carbs!
Artificial Sweeteners: they are all 0-carb sweeteners, but aren't necessarily healthy. Plus they are just not usable in baking at all.
Natural Sweeteners: some natural sweeteners are very low in carbs (allulose, stevia), some are much higher (honey, coconut sugar).
The most commonly used sweetener is Erythritol because it behaves just like sugar. However it is less sweet, so it requires slightly larger quantities to reach the same sweetness.
So Erythritol is often found blended with a potent sweetener like Stevia or Monk Fruit to reach the exact same sweetness and behavior as regular sugar.
How do I convert volumes from one keto sweetener to the other?
It's just maths! Converting sugar or another sweetener to any of the keto-friendly sweeteners is easy!
But instead of giving a complicated formula, we've built a converter. Use the button below and
Chose the volume to convert from (e.g. the recipe says 1 cup)
Select a sweetener to convert from (e.g. the recipe mentions Erythritol)
Chose the sweetener to convert to (e.g. you have some Lakanto Powdered)
You get your result, 1/2 a cup!
Let us know in the comment section below if you would like other brands or sweeteners added to the list!
Converter
Sweetener Converter