Vegan Bulletproof Coffee with MCT Oil
This Vegan Bulletproof Coffee is the perfect vegan keto breakfast drink to start the day.
An easy 3-ingredient coffee latte, with no dairy, no sugar, and healthy fat from MCT oil and cacao butter.
Is Bulletproof Coffee Vegan?
The classic Bulletproof Coffee recipe created by Dave Asprey is not vegan as the original recipe contains butter.
Butter is a dairy coming from animal sources and therefore it is not vegan-friendly. However, there is an easy way to replace butter and make a vegan version of keto coffee.
Why You'll Love This Recipe
This Vegan Bulletproof Coffee is like a classic bulletproof, it is:
Dairy-Free
Egg-Free
Gluten-Free
Paleo
Nut-Free
Grain-Free
Vegan
How To Make Vegan Bulletproof Coffee
A vegan bulletproof coffee is a vegan keto recipe to support your weight loss journey.
It is a typical keto recipe served for breakfast or during your fasting window, to replace your regular coffee latte. In fact, regular coffee latte contains dairy like milk or heavy cream that are:
All you need to make this creamy vegan keto coffee, a plant-based fat source that
brings enough fat to your drink to make a creamy, latte coffee
doesn't add carbs
Cacao Butter And MCT Oil
Some recipes suggest almond butter as a butter replacement in vegan bulletproof coffee.
While it is a tasty option, I don't recommend this choice because almond butter adds carbs to your drink.
Bulletproof coffee is the best drink for burning fat since it is carb-free.
But if you use almond butter it will add carbs to your drink and slows down your fat-burning metabolism. So it is preferable to use pure plant-based fat in your drink to keep it zero carbs.
Therefore, this vegan keto drink will only provide energy to your body, helping you fast for longer without breaking your ketosis.
Ingredients
The best way to make a zero-carb, easy, vegan keto coffee drink is to use:
Cacao butter – this is the most natural plant-based substitute for grass-fed butter in a vegan keto coffee. Cacao butter is pure fat, it won't add carbs to your coffee but creates the best creamy smooth texture, similar to coconut milk or any plant-based milk.
MCT oil – or unrefined coconut oil. This ingredient is the key to creating a fat-burning coffee. In fact, MCT oil, also known as Medium Chain Tryglycerid oil, is a small chain of fat easily assimilated by your kidney. Therefore it quickly brings energy to your body helping you stay in ketosis in the morning and keeping you full and satisfied. It's the best oil to help you fast longer without feeling hungry.
Coffee – strong black coffee, you can choose your favorite coffee like organic coffee, brewed or instant.
Blending the ingredients
The key to making a tasty, creamy vegan bulletproof coffee with cacao butter is to:
Melt the cacao butter before adding it to the coffee.
Blend all the ingredients together in a blender or in a high cup with an immersion blender.
Coffee Flavoring
If you want to serve this vegan bulletproof coffee as a keto snack, instead of breakfast, it is fine to add some keto vegan ingredients that slightly up the carbs of your drink. Some tasty additions are:
Cacao powder – add 1 teaspoon of unsweetened cocoa powder to your blender.
Sugar-free vanilla syrup – add 2 teaspoons of keto fiber syrup to the blender, they are vegan-friendly and many flavors can be used like vanilla, caramel, cinnamon, and more!
Keto sweetener – a pinch of erythritol, stevia drops, or monk fruit. This won't add net carbs to your drinks, so you can use these even if you intend to serve this coffee for breakfast during your intermittent fasting period.
Keto coffee creamer – try adding my keto pumpkin creamer or keto condensed milk in your bulletproof for extra flavors!
Frequently Asked Questions
Is It Safe To Blend Hot Liquid In A Blender?
Yes, most blenders can handle the temperature of hot coffee.
If you are unsure, refer to your blender instructions to check if hot liquids can be added to your jug.
Have you made this vegan bulletproof coffee with MCT oil? Share your feedback with me below or share your picture on Instagram.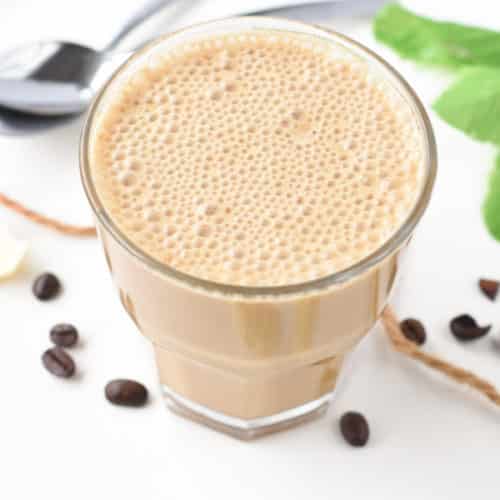 Vegan Bulletproof Coffee
This vegan bulletproof coffee is the best keto coffee to start the day with good fat and zero carbs.
Nutrition Snapshot
Want My Kitchen Equipment?
Ingredients
1

cup

Brewed Strong Black Coffee

1

tablespoon

Cacao Butter

melted

1

tablespoon

MCT Oil

or melted unrefined coconut oil
Instructions
Melt the cacao butter over medium heat in a saucepan. Stir constantly with a spatula until fully melted.

In a blender, add hot brewed coffee, melted cacao butter, and MCT oil. Add 1-2 teaspoons of erythritol or a few stevia drops to sweeten your coffee (optional).

Blend on high speed until creamy and frothy.
Immersion blender method
If you don't have a blender, or if you believe your blender can't handle a hot drink, add the ingredients into a tall mug and use an immersion blender or milk frother to froth the ingredients together.
My Recipe Notes
Nutrition
Serving:
1
coffee
Calories:
223.7
kcal
(11%)
Carbohydrates:
0.1
g
Net Carbs:
0.1
g
Protein:
0.4
g
(1%)
Fat:
25.3
g
(39%)
Saturated Fat:
14.4
g
(90%)
Sodium:
136.8
mg
(6%)
Potassium:
116.1
mg
(3%)
Vitamin A:
500.8
IU
(10%)
Posted In: